Abstract
Oxycodone is one of the most abused prescription drugs. Iatrogenic factors that lead to oxycodone-related death, such as mis-prescribing, present an opportunity for death prevention if identified early. This study investigated deaths involving oxycodone in Australia to explore potentially inappropriate prescribing and the coroner's investigation. The National Coronial Information System identified cases from 2001 to 2011 where oxycodone was detected by toxicological analysis. There were 806 oxycodone-related deaths, with a significant increase in the 11-year period, from 21 deaths in 2001, up almost sevenfold in 2011 (139 deaths). Most deaths were caused by combined drug toxicity (63.4 %) or oxycodone toxicity alone (11.8 %). Most individuals were male (59.1 %), aged 35–44 years (26.7 %), who died unintentionally (56.4 %), with mental illness (52.1 %) and/or a history of acute or chronic pain (46.2 %). 312 cases (39 %) described a legitimate prescription for oxycodone, of which most involved non-cancer related chronic pain. About three quarters of the indications were deemed appropriate. There were at least 43 different indications treated with oxycodone that were inappropriate. The majority of oxycodone-related cases involved minor to no description of the drugs involved (n = 600; 74.4 %). A moderate description of oxycodone involvement was given in 162 cases (20.1 %), while only 44 cases (5.5 %) involved a thorough examination and recommendations from the coroners on oxycodone and other drugs involved in death. This study emphasized the need for medical practitioners to exercise caution when prescribing oxycodone and for coroners to provide more consistent and detailed information regarding drug use, in order to identify and implement preventive strategies.
Access options
Buy single article
Instant access to the full article PDF.
US$ 39.95
Tax calculation will be finalised during checkout.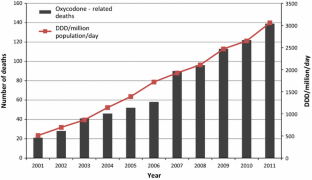 References
1.

Ogle A, Moore K, Barrett B, Young MS, Pearson J. Clinical history and characteristics of persons with oxycodone-related deaths in Hillsborough County, Florida in 2009. Forensic Sci Int. 2012;223(1–3):47–52.

2.

Giraudon I, Lowitz K, Dargan PI, Wood DM, Dart RC. Prescription opioid abuse in the United Kingdom. Br J Clin Pharmacol. 2013;76(5):823–4.

3.

Hall WD, Farrell MP. Minimising the misuse of oxycodone and other pharmaceutical opioids in Australia. Med J Aust. 2011;195(5):248–9.

4.

Bruera E, Byock I. The oxycodone crisis: taking a stand. Patient Care. 2002;36(2):11.

5.

Borwein A, Kephart G, Whelan E, Asbridge M. Prescribing practices amid the OxyContin crisis: examining the effect of print media coverage on opioid prescribing among physicians. J Pain. 2013;14(12):1686–1693 e1.

6.

Van Zee A. The promotion and marketing of oxycontin: commercial triumph, public health tragedy. Am J Public Health. 2009;99(2):221–7.

7.

Rintoul AC, Dobbin MD, Drummer OH, Ozanne-Smith J. Increasing deaths involving oxycodone, Victoria, Australia, 2000–09. Inj Prev. 2011;17(4):254–9.

8.

Kenan K, Mack K, Paulozzi L. Trends in prescriptions for oxycodone and other commonly used opioids in the United States, 2000–2010. Open Med. 2012;6(2):e41–7.

9.

Al-Asmari AI, Anderson RA, Cooper GA. Oxycodone-related fatalities in the west of Scotland. J Anal Toxicol. 2009;33(8):423–32.

10.

Darke S. Oxycodone poisoning: not just the 'usual suspects'. Addiction. 2011;106(6):1035–6.

11.

Wolf BC, Lavezzi WA, Sullivan LM, Flannagan LM. One hundred seventy two deaths involving the use of oxycodone in Palm Beach County. J Forensic Sci. 2005;50(1):192–5.

12.

Roxburgh A, Bruno R, Larance B, Burns L. Prescription of opioid analgesics and related harms in Australia. Med J Aust. 2011;195(5):280–4.

13.

Calcaterra S, Glanz J, Binswanger IA. National trends in pharmaceutical opioid related overdose deaths compared to other substance related overdose deaths: 1999–2009. Drug Alcohol Depend. 2013;131(3):263–70.

14.

Royal Australasian College of Physicians. Prescription opioid policy: improving management of chronic non-maligant pain and prevention of problems associated with prescription opioid use (Sydney). www.racp.edu.au/page/policy-and-advocacy/. (Accessed 27 May 2014).

15.

Kuehn BM. FDA tightens indications for using long-acting and extended-release opioids to treat chronic pain. JAMA. 2013;310(15):1547–8.

16.

Leong M, Murnion B, Haber PS. Examination of opioid prescribing in Australia from 1992 to 2007. Intern Med J. 2009;39(10):676–81.

17.

Jung B, Reidenberg MM. Physicians being deceived. Pain Med. 2007;8(5):433–7.

18.

Bohnert AS, Valenstein M, Bair MJ, Ganoczy D, McCarthy JF, Ilgen MA, Blow FC. Association between opioid prescribing patterns and opioid overdose-related deaths. JAMA. 2011;305(13):1315–21.

19.

Okie S. A flood of opioids, a rising tide of deaths. N Engl J Med. 2010;363(21):1981–5.

20.

The Royal Australasian College of Physicians. Prescription opioid policy: improving management of chronic non-malignant pain and prevention of problems associated with prescription opioid use. 2009. www.ranzcp.org/Files/ranzcp-attachments/Resources/Submissions/CNMP-pdf.aspx.

21.

Huxtable CA, Roberts LJ, Somogyi AA, MacIntyre PE. Acute pain management in opioid-tolerant patients: a growing challenge. Anaesth Intensive Care. 2011;39(5):804–23.

22.

Kuehn BM. Opioid prescriptions soar: increase in legitimate use as well as abuse. JAMA. 2007;297(3):249–51.

23.

Bugeja L, Ranson D. Coroners' recommendations: a lost opportunity. J Law Med. 2005;13(2):173–5.

24.

Webster LR, Dasgupta N. Obtaining adequate data to determine causes of opioid-related overdose deaths. Pain Med. 2011;12:S86–92.

25.

Pilgrim JL, Gerostamoulos D, Drummer OH. The role of toxicology interpretations in prevention of sudden death. Forensic Sci Med Pathol. 2012;8(3):263–9.

26.

eMIMS. 1996–2010. www.mims.com.au. (Accessed 2009–2010).

27.

ATC/DDD Index. Norwegian Institute of Public Health. 2012. www.whocc.no/atc_ddd_index/. (Accessed 23 July 2012).

28.

Australian Institute of Health and Welfare (AIHW). Overweight and obesity. www.aihw.gov.au/overweight-and-obesity/. (Accessed 7 July 2014).

29.

Hall W, Lynskey M, Degenhardt L. Trends in opiate-related deaths in the United Kingdom and Australia, 1985–1995. Drug Alcohol Depend. 2000;57(3):247–54.

30.

Roxburgh A, Burns L, Drummer OH, Pilgrim J, Farrell M, Degenhardt L. Trends in fentanyl prescriptions and fentanyl-related mortality in Australia. Drug Alcohol Rev. 2013;32:269–75.

31.

Cicero TJ, Surratt H, Inciardi JA, Munoz A. Relationship between therapeutic use and abuse of opioid analgesics in rural, suburban, and urban locations in the United States. Pharmacoepidemiol Drug Saf. 2007;16(8):827–40.

32.

Dasgupta N, Kramer ED, Zalman MA, Carino S Jr, Smith MY, Haddox JD, et al. Association between non-medical and prescriptive usage of opioids. Drug Alcohol Depend. 2006;82(2):135–42.

33.

Paulozzi LJ, Ryan GW. Opioid analgesics and rates of fatal drug poisoning in the United States. Am J Prev Med. 2006;31(6):506–11.

34.

Rintoul AC, Dobbin M. Prescription opioid deaths: we need to treat sick populations, not just sick individuals. Addiction. 2014;109(2):185–6.

35.

Riley J, Eisenberg E, Muller-Schwefe G, Drewes AM, Arendt-Nielsen L. Oxycodone: a review of its use in the management of pain. Curr Med Res Opin. 2008;24(1):175–92.

36.

Lanier WA. Prescription opioid overdose deaths—Utah, 2008–2009. Atlanta: Centers for Disease Control and Prevention; 2010.

37.

Paulozzi LJ, Logan JE, Hall AJ, McKinstry E, Kaplan JA, Crosby AE. A comparison of drug overdose deaths involving methadone and other opioid analgesics in West Virginia. Addiction. 2009;104(9):1541–8.

38.

Porucznik CA, Johnson EM, Sauer B, Crook J, Rolfs RT. Studying adverse events related to prescription opioids: the Utah experience. Pain Med. 2011;12(Suppl. 2):S16–25.

39.

Braden JB, Russo J, Fan MY, Edlund MJ, Martin BC, DeVries A, et al. Emergency department visits among recipients of chronic opioid therapy. Arch Intern Med. 2010;170(16):1425–32.

40.

Macintyre PE, Loadsman JA, Scott DA. Opioids, ventilation and acute pain management. Anaesth Intensive Care. 2011;39(4):545–58.

41.

Harrison CM, Charles J, Henderson J, Britt H. Opioid prescribing in Australian general practice. Med J Aust. 2012;196(6):380–1.

42.

Stark RJ, Valenti L, Miller GC. Management of migraine in Australian general practice. Med J Aust. 2007;187(3):142–6.

43.

Kelly AM, Knott J, Bennetts S, Huckson S. Treatment of migraine in Australian Emergency Departments. Emerg Med Australas. 2009;21(4):333–4.

44.

Cepeda MS, Fife D, Chow W, Mastrogiovanni G, Henderson SC. Assessing opioid shopping behaviour: a large cohort study from a medication dispensing database in the US. Drug Saf. 2012;35(4):325–34.

45.

Burgess FW, Pawasauskas J. Opioid therapy and prescription drug diversion. Med Health R I. 2008;91(9):268–70.

46.

Joranson DE, Gilson AM. Wanted: a public health approach to prescription opioid abuse and diversion. Pharmacoepidemiol Drug Saf. 2006;15(9):632–4.

47.

Acute Pain Management: Scientific evidence 3e. Australian and New Zealand College of Anaesthetists and Faculty of Pain Medicine, Melbourne. 2010. www.anzca.edu.au/fpm/resources/books-and-publications. Accessed 27 May 2014.

48.

Havens JR, Leukefeld CG, DeVeaugh-Geiss AM, Coplan P, Chilcoat HD. The impact of a reformulation of extended-release oxycodone designed to deter abuse in a sample of prescription opioid abusers. Drug Alcohol Depend. 2014;139:9–17.

49.

National pharmaceutical drug misuse framework for action (2012–2015): a matter of balance. www.nationaldrugstrategy.gov.au/internet/drugstrategy/Publishing.nsf/content/9C52D7D6E2C14A72CA257C3F001F009D/$File/National%20PDM%20Framework.pdf. (Accessed 7 July 2014).

50.

Brill D. Real-time prescription monitoring will combat abuse. Med Obs. 2010.

51.

Bugeja L, Ranson D. Coroners' recommendations: do they lead to positive public health outcomes? J Law Med. 2003;10:399–400.

52.

Chou R, Fanciullo GJ, Fine PG, Adler JA, Ballantyne JC, Davies P, et al. Clinical guidelines for the use of chronic opioid therapy in chronic noncancer pain. J Pain. 2009;10(2):113–30.
Acknowledgments
The authors thank the National Coronial Information System for their help in obtaining mortality data and Dr. Malcolm Dobbin for his assistance with the data analysis. We also acknowledge the assistance of pathologists, forensic technicians and toxicologists, at the Victorian Institute of Forensic Medicine.
About this article
Cite this article
Pilgrim, J.L., Yafistham, S.P., Gaya, S. et al. An update on oxycodone: lessons for death investigators in Australia. Forensic Sci Med Pathol 11, 3–12 (2015). https://doi.org/10.1007/s12024-014-9624-x
Accepted:

Published:

Issue Date:
Keywords
Prescribing

Coroner

Death

Toxicity

Oxycodone