Abstract
Purpose
In forensic investigations, crime scene reconstructions are created based on a variety of three-dimensional image modalities. Although the data gathered are three-dimensional, their presentation on computer screens and paper is two-dimensional, which incurs a loss of information. By applying immersive virtual reality (VR) techniques, we propose a system that allows a crime scene to be viewed as if the investigator were present at the scene.
Methods
We used a low-cost VR headset originally developed for computer gaming in our system. The headset offers a large viewing volume and tracks the user's head orientation in real-time, and an optical tracker is used for positional information. In addition, we created a crime scene reconstruction to demonstrate the system.
Discussion
In this article, we present a low-cost system that allows immersive, three-dimensional and interactive visualization of forensic incident scene reconstructions.
Access options
Buy single article
Instant access to the full article PDF.
USD 39.95
Price excludes VAT (USA)
Tax calculation will be finalised during checkout.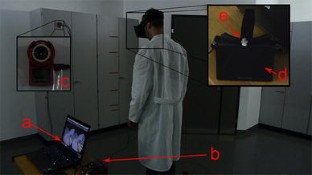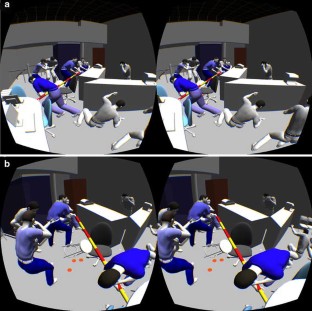 References
Bolliger MJ, Buck U, Thali MJ, Bolliger SA. Reconstruction and 3D visualisation based on objective real 3D based documentation. Forensic Sci Med Pathol. 2012;8:208–17.

Thali MJ, Braun M, Buck U, Aghayev E, Jackowski C, Vock P, et al. VIRTOPSY—scientific documentation, reconstruction and animation in forensic: individual and real 3D data based geo-metric approach including optical body/object surface and radiological CT/MRI scanning. J Forensic Sci. 2005;50:428–42.

Dirnhofer R, Jackowski C, Vock P, Potter K, Thali MJ. VIRTOPSY: minimally invasive, imaging-guided virtual autopsy. Radiogr Rev Publ Radiol Soc N Am. 2006;26:1305–33.

Buck U, Albertini N, Naether S, Thali MJ. 3D documentation of footwear impressions and tyre tracks in snow with high resolution optical surface scanning. Forensic Sci Int. 2007;171:157–64.

Buck U, Naether S, Braun M, Bolliger S, Friederich H, Jackowski C, et al. Application of 3D documentation and geometric reconstruction methods in traffic accident analysis: with high resolution surface scanning, radiological MSCT/MRI scanning and real data based animation. Forensic Sci Int. 2007;170:20–8.

Buck U, Naether S, Räss B, Jackowski C, Thali MJ. Accident or homicide-virtual crime scene reconstruction using 3D methods. Forensic Sci Int. 2013;225:75–84.

Lin Q, Xu Z, Li B, Baucom R, Poulose B, Landman BA, et al. Immersive virtual reality for visualization of abdominal CT. In: Proceedings of the SPIE, 2013, p. 8673.

Völter S, Krämer KL, Niethard FU, Ewerbeck V. Virtual reality in orthopedics: principles, possibilities and perspectives. Z Für Orthop Ihre Grenzgeb. 1995;133:492–500.

Brault S, Bideau B, Kulpa R, Craig CM. Detecting deception in movement: the case of the side-step in rugby. PLoS One. 2012;7:e37494.

Oculus VR|Oculus Rift. Virtual reality headset for immersive 3D gaming. Irvine, CA: Oculus VR. http://www.oculusvr.com. Accessed 8 Jan 2014.
About this article
Cite this article
Ebert, L.C., Nguyen, T.T., Breitbeck, R. et al. The forensic holodeck: an immersive display for forensic crime scene reconstructions. Forensic Sci Med Pathol 10, 623–626 (2014). https://doi.org/10.1007/s12024-014-9605-0
Accepted:

Published:

Issue Date:

DOI: https://doi.org/10.1007/s12024-014-9605-0
Keywords