Abstract
Tattooing refers to marking of the skin by puncturing and introducing pigmented material. Although it derives from a Polynesian word, tautau, decorative tattooing has been found in most societies over many centuries. The purpose of tattooing has varied from simple decoration, to a marker of social rank, criminal and noncriminal group membership, or a particular rite of passage in tribal communities. Tattooing may be used in medicine to mark areas for radiotherapy, and may occur inadvertently associated with certain occupations such as coal mining. Forensically, tattoos may be very useful in assisting with body identification if facial features or fingers have been damaged or removed. Aspects of a decedent's history may also be deduced from certain tattoos such as military tattoos in service personnel, rudimentary line tattoos with antisocial and anti-police messages in ex-prisoners, and syringes, marihuana leaves or mushrooms in illicit drug users. Tattoos have become more common in recent years in younger individuals in the West and so should be expected to be found with increasing incidence at the time of forensic autopsy examinations. Increasing population movements also mean that less common tattoos may be encountered during forensic evaluations.
This is a preview of subscription content, log in to check access.
Access options
Buy single article
Instant access to the full article PDF.
US$ 39.95
Tax calculation will be finalised during checkout.
Subscribe to journal
Immediate online access to all issues from 2019. Subscription will auto renew annually.
US$ 99
Tax calculation will be finalised during checkout.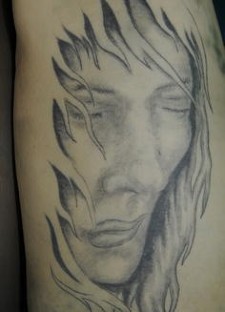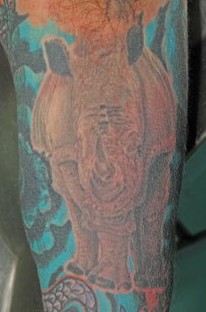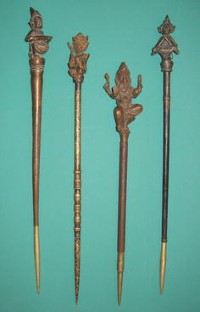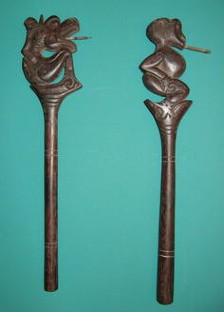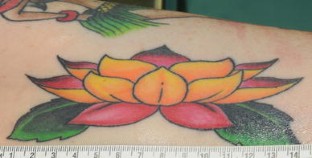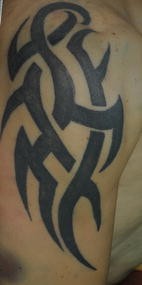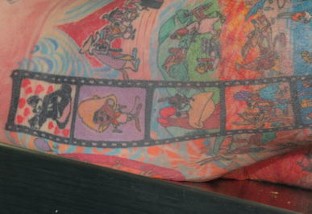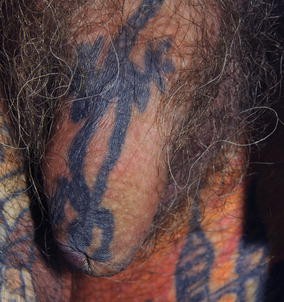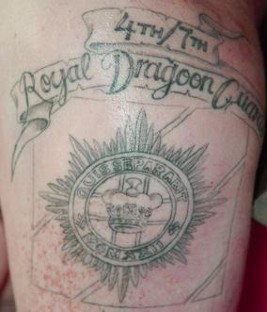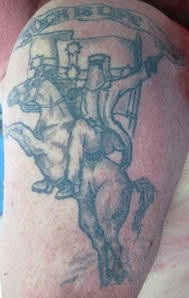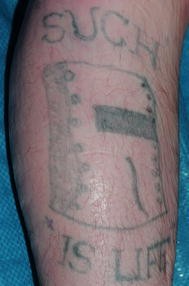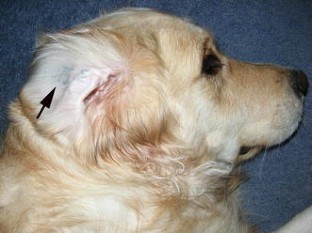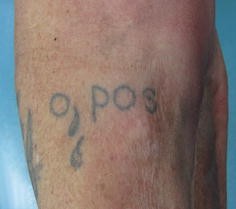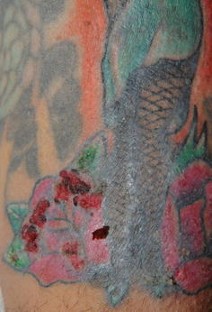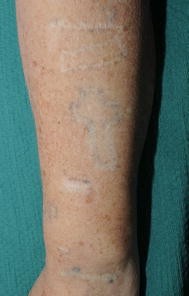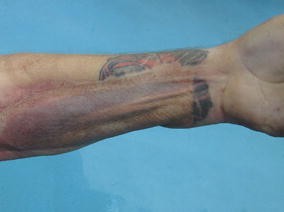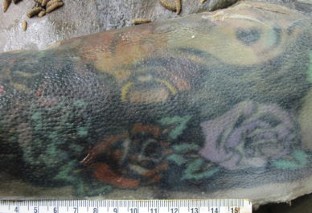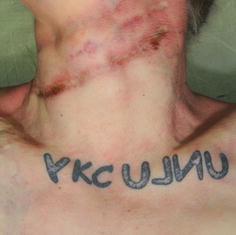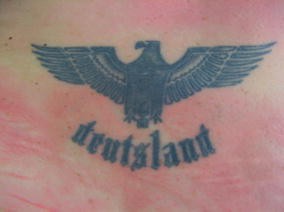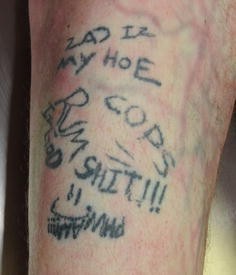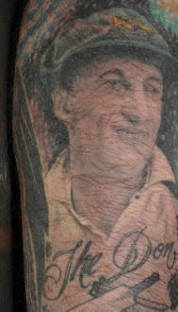 References
1.

Roberts TA, Ryan SA. Tattooing and high risk behavior in adolescents. Pediatrics. 2002;110:1058–63.

2.

Caplan J. 'Speaking scars': the tattoo in popular practice and medico-legal debate in nineteenth-century Europe. Hist Workshop J. 1997;44:107–42.

3.

Sperry K. Tattoos and tattooing. Part I: history and methodology. Am J Forensic Med Path. 1991;12:313–9.

4.

Murphy WA Jr, zur Nedden D, Gostner P, Knapp R, Recheis W, Seidler H. The Iceman: discovery and imaging. Radiology. 2003;226:614–29.

5.

http://www.archaeologiemuseum.it/en/node/262. Accessed 2 July 2013.

6.

Hansen JPH, Melgaard J, Nordqvist J. The mummies of Qilakitsoq. National Geographic. 1985;167:191–207.

7.

Cains G, Byard RW. The forensic and cultural implications of tattooing. In: Tsokos M, editor. Forensic pathology reviews, vol. 5. Totowa: Humana Press; 2008. p. 197–220.

8.

Langlois NEI, Little D. Tattoos, medico-legal significance. In: Payne-James J, Byard RW, Corey TS, Henderson C, editors. The encyclopedia of forensic and legal medicine, vol. 4. Amsterdam: Elsevier; 2005. p. 263–8.

9.

Swift B. Body art and modification. In: Rutty GN, editor. Essentials of autopsy practice: recent advances, topics, and developments. London: Springer; 2004. p. 159–86.

10.

Green T. The Tattoo Encyclopedia: a guide to choosing your tattoo. New York: Simon & Schuster; 2003.

11.

Baldaev D, Vasiliev S, Sidorov A. Russian criminal tattoo encyclopaedia, vol. 3. London: Fuel Publishers; 2008.

12.

http://www.dailymail.co.uk/news/article-1382041/Ashes-ashes-dust-tattoos-Memorial-body-ink-using-cremated-remains-loved-ones-grows-popularity.html. Accessed 30 June 2013.

13.

Raspa RF, Cusack J. Psychiatric implications of tattoos. Am Fam Physician. 1990;41:1481–6.

14.

Picton B. Murder, suicide or accident. The Forensic pathologist at work. London: Robert Hale and Company; 1971.

15.

Tsur H, Kaplan HY. Camouflaging hairless areas on the male face by artistic tattoo. Plast Reconstr Surg. 1993;92:357–60.

16.

Kim JJ. A cultural psychiatric study on tattoos of young Korean males. Yonsei Med J. 1991;32:255–62.

17.

Požgain I, Barkić J, Filaković P, Koić O. Tattoo and personality traits in Croatian veterans. Yonsei Med J. 2004;45(2):300–5.

18.

Byard RW. Ned Kelly tattoos—origins and forensic implications. J Forensic Leg Med. 2011;18:276–9.

19.

Stephens MB. Behavioral risks associated with tattooing. Fam Med. 2003;35:52–4.

20.

Carroll ST, Riffenburgh RH, Roberts TA, Myhre EB. Tattoos and body piercings as indicators of adolescent risk-taking behaviors. Pediatrics. 2002;109:1021–7.

21.

Avery DL, Spyker JM. Foot tattoo of neonatal mice. Lab Anim Sci. 1977;27:110–2.

22.

Tsokos M, Byard RW, Püschel K. Extensive and mutilating craniofacial trauma involving defleshing and decapitation. Unusual features of fatal dog attack in the young. Am J Forens Med Pathol. 2007;28:131–6.

23.

Spear SL, Arias J. Long-term experience with nipple-areola tattooing. Ann Plast Surg. 1995;35:232–6.

24.

Anastas CN, McGhee CN, Webber SK, Bryce IG. Corneal tattooing revisited: excimer laser in the treatment of unsightly leucomata. Aust N Z J Opthalmol. 1995;23:227–30.

25.

Shatz BA, Thavorides V. Colonic tattoo for follow-up of endoscopic sessile polypectomy. Gastrointest Endosc. 1991;37:59–60.

26.

Balogou AA, Dodzro KC, Grunitzky EK. Traditional tattoos with neurological diseases in Togo. Bull Soc Pathol Exot. 2000;93:361–4.

27.

Juhl MH. A tattoo in time: I want my last wish to be clearly visible so it will be honored by the doctor who treats me. Newsweek. 1997;130:19.

28.

Barclay P, King H. Tattoo medi-alert. Anaesthesia. 2002;57:625.

29.

O'Neil M, Dubrey SW, Grocott-Mason R. An unusual tattoo. Heart. 2003;89:474.

30.

Sperry K. Tattoos and tattooing. Part II: Gross pathology, histopathology, medical complications, and applications. Am J Forensic Med Path. 1991;13:7–17.

31.

Casper JL. A handbook of the practice of forensic medicine, vol. 1. London: New Sydenham Society; 1861. p. 109.

32.

Friedman T, Westreich M, Mozes SN, Dorenbaum A, Herman O. Tattoo pigment in lymph nodes mimicking metastatic malignant melanoma. Plast Reconstr Surg. 2003;111:2120–2.

33.

Long GE, Rickman LS. Infectious complications of tattoos. Clin Infect Dis. 1994;18:610–9.

34.

Nishioka Sde A, Gyorkos TW, MacLean JD. Tattoos and transfusion-transmitted disease risk: implications for the screening of blood donors in Brazil. Braz J Infect Dis. 2002;6:172–80.

35.

Makkai T, McAllister I. Prevalence of tattooing and body piercing in the Australian community. Commun Dis Intell Q Rep. 2001;25:67–72.

36.

Ghorpade A. Inoculation (tattoo) leprosy: a report of 31 cases. J Eur Acad Dermatol Venereol. 2002;16:494–9.

37.

Jacob CI. Tattoo-associated dermatoses: a case report and review of the literature. Dermatol Surg. 2002;28:962–5.

38.

Leggiadro RJ, Boscamp JR, Sapadin AN. Temporary tattoo dermatitis. J Pediatr. 2003;142:586.

39.

Mortimer NJ, Chave TA, Johnston GA. Red tattoo reactions. Clin Exp Dermatol. 2003;28:508–10.

40.

Papageorgiou PP, Hongcharu W, Chu AC. Systemic sarcoidosis presenting with multiple tattoo granulomas and an extra-tattoo cutaneous granuloma. J Eur Acad Dermatol Venereol. 1999;12:51–3.

41.

Khan IU, Moiemen NS, Firth J, Frame JD. Malignant melanoma disguised by a tattoo. Br J Plast Surg. 1999;52:598.

42.

Douglas MJ, Swenerton JE. Epidural anaesthesia in three parturients with lumbar tattoos: a review of possible implications. Can J Anaesth. 2002;49:1057–60.

43.

Prahlow J, Byard RW. An atlas of forensic pathology. New York: Springer Publishers; 2012.

44.

Byard RW, Winskog C. Potential problems arising during international disaster victim identification exercises. Forensic Sci Med Pathol. 2010;6:1–2.

45.

Coppleston VM. Shark attack. Melbourne: Pacific Books; 1986. p. 14–22.
About this article
Cite this article
Byard, R.W. Tattoos: forensic considerations. Forensic Sci Med Pathol 9, 534–542 (2013). https://doi.org/10.1007/s12024-013-9476-9
Accepted:

Published:

Issue Date:
Keywords
Tattoos

Disaster victim identification

Gangs

Yakuza

Tribal marking