Abstract
Purpose
Intra-vaginal traces can serve as supporting physical evidence of vaginal penetration in sex-crime cases. Vaginal trace sampling guidelines prescribe using a speculum and swabs or swabs only. The use of Locard's exchange theory requires samples of trace materials to always be contamination-free and of accurately known origin. If traces from the outer genital area are accidentally introduced into the vagina during sampling, these traces may be recorded as originating in a location where they were not present at the time of evidence collection. The goal of this study was to assess the risks of false positive findings in vitro of traces found inside the vagina due to trace dislocation caused by current vaginal trace sampling methods (swab-only or with speculum), and for a new method that uses a sleeve accessory to prevent trace dislocation.
Methods
Starch solution was applied to the labia of three clean female genitalia mock-ups with vaginas of various diameters and structures. The speculum, swab-only, and sleeve methods were each used 30 times on each mock-up, giving a total of 90 repetitions of each method. Iodine was used to determine whether any starch traces had been introduced vaginally.
Results
The speculum and swab-only methods gave 100 and 63–87 % false positive results respectively due to trace dislocation. The sleeve method reduced this to 2 % (0 % after correction).
Conclusions
The results suggest that there is a need to conduct clinical in vivo studies to determine whether these results translate into everyday practice and to ensure reliable trace sampling in sex-crime cases.
Access options
Buy single article
Instant access to the full article PDF.
USD 39.95
Price includes VAT (USA)
Tax calculation will be finalised during checkout.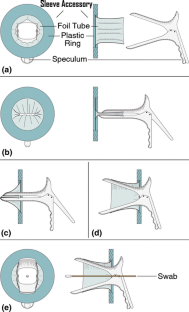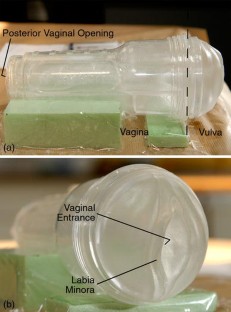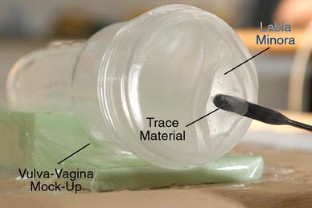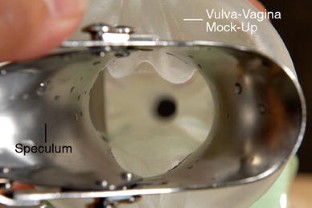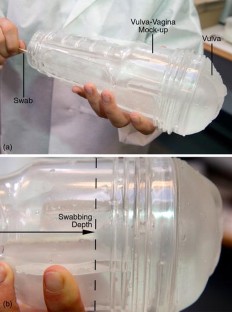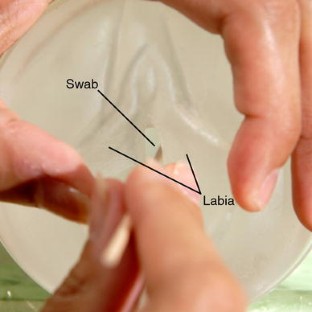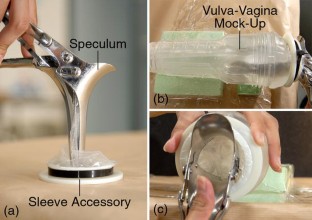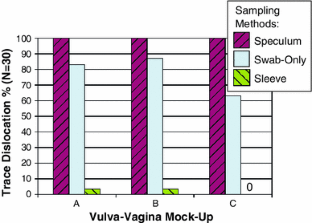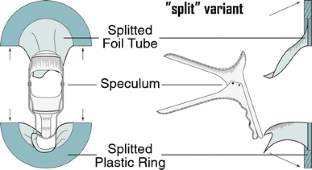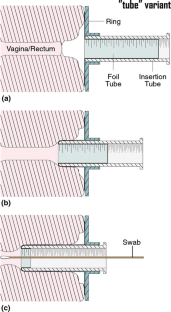 References
1.

Hazelwood RR, Burgess AW, Bigbee PD, Brown K, Burgess AG, Dowdell EB, et al. Practical aspects of rape investigation: a multidisciplinary approach. Practical aspects of criminal and forensic investigations. 3rd ed. Boca Raton: CRC Press LLC; 2001.

2.

Littel K. A national protocol for sexual assault medical forensic examinations. Washington: U.S. Department of Justice, Office on Violence Against Women; 2004 September. Report No: NCJ 206554.

3.

Nederlands Forensisch Instituut. Richtlijn voor bemonsteren van sporen bij zedendelicten: FT-norm 250.10 (Guidelines for sampling of traces in immoral offences: FT-norm 250.10). Rijswijk, The Netherlands: Gemeenschappelijk Research en Advies Materialen; 2002.

4.

World Health Organization/United Nations High Commissioner for Refugees. Clinical management of rape survivors: developing protocols for use with refugees and internally displaced persons. Revised ed. Geneva, Switzerland; 2004.

5.

Adams JA, Girardin B, Faugno D. Adolescent sexual assault: documentation of acute injuries using photo-colposcopy. J Pediatr Adol Gynecol. 2001;14(4):175–80.

6.

Edgardh K, Ormstad K. The adolescent hymen. J Reprod Med Obstet Gyn. 2002;47(9):710–4.

7.

Edgardh K, von Krogh G, Ormstad K. Adolescent girls investigated for sexual abuse: history, physical findings and legal outcome. Forensic Sci Int. 1999;104(1):1–15.

8.

Jones JS, Rossman L, Hartman M, Alexander CC. Anogenital injuries in adolescents after consensual sexual intercourse. Acad Emerg Med. 2003;10(12):1378–83.

9.

World Health Organization. Guidelines for medico-legal care for victims of sexual violence. Geneva, Switzerland; 2003.

10.

Sexual Assault Forensic Examiner Program. Guidelines for the care of the sexual assault patient. Augusta, Maine; 2011.

11.

Iowa Department of Public Health. Sexual assault: a protocol for adult forensic and medical examination. 2011.

12.

State of New Hampshire Office of the Attorney General. Sexual assault: an acute care protocol for medical/forensic evaluation. 6th ed. 2011.

13.

Nederlands Forensisch Instituut. Onderzoeksset zedendelicten (Investigation set sexual offences). Rijswijk, The Netherlands: Gemeenschappelijk Research en Advies Materialen; 2010.

14.

Bechtel K, Carroll M. Medical and forensic evaluation of the adolescent after sexual assault. Clin Pediatr Emerg Med. 2003;4(1):37–46.

15.

Marieb EN. Human anatomy & physiology. 6th ed. San Francisco: Benjamin Cummings; 2004.

16.

Johnson SA, Gorman DM, Adams MJ, Briscoe BJ. The friction and lubrication of human stratum corneum. Tribol Ser. 1993;25:663–72.

17.

Meyers MA, Chen PY, Lin AYM, Seki Y. Biological materials: structure and mechanical properties. Progress Mater Sci. 2008;53(1):1–206.

18.

Shubin SA. Inventor device for discreet sperm collection. US patent 5,782,818. 21 July; 1998.

19.

Crowley SR. Sexual assault: the medical-legal examination. 1st ed. Stamford: Appleton & Lange; 1999.

20.

Girardin BW, Faugno DK, Seneski PC, Slaughter L, Whelan M. Color atlas of sexual assault. 1st ed. St. Louis: Mosby-Year Book Inc.; 1997.

21.

McConkey TE, Sole ML, Holcomb L. Assessing the female sexual assault survivor. Nurse Pract. 2001;26(7 Pt 1):28–30, 3.

22.

Gribbin C. Sexual assault and rape. Curr Obstet Gyn. 2004;14(5):356–62.

23.

New York State Division of Criminal Justice Services. A body of evidence: using the NYS sexual offense evidence collection kit [video]. New York: NYS DCJS; 2012.

24.

Du Mont J, Parnis D. Constructing bodily evidence through sexual assault evidence kits. Griff Law Rev. 2001;10(1):63–76.

25.

Allery JP, Telmon N, Blanc A, Mieusset R, Rougé D. Rapid detection of sperm: comparison of two methods. J Clin Forensic Med. 2003;10(1):5–7.

26.

Brück S, Evers H, Heidorn F, Müller U, Kilper R, Verhoff MA. Single cells for forensic DNA analysis—from evidence material to test tube. J Forensic Sci. 2011;56(1):176–80.

27.

Jones AW. Which articles and which topics in the forensic sciences are most highly cited? Sci Justice. 2005;45(4):175–82.

28.

von Wurmb-Schwark N, Mályusz V, Fremdt H, Koch C, Simeoni E, Schwark T. Fast and simple DNA extraction from saliva and sperm cells obtained from the skin or isolated from swabs. Leg Med. 2006;8(3):177–81.

29.

Harris R. Arriving at an anti-forensics consensus: examining how to define and control the anti-forensics problem. Digit Investig. 2006;3(Supplement 1):44–9.
Acknowledgments
The sleeve prototype ring was manufactured by "DEMO," the central workshop of the Delft University of Technology.
About this article
Cite this article
Loeve, A.J., Bilo, R.A.C., Emirdag, E. et al. In vitro validation of vaginal sampling in rape victims: the problem of Locard's principle. Forensic Sci Med Pathol 9, 154–162 (2013). https://doi.org/10.1007/s12024-013-9426-6
Accepted:

Published:

Issue Date:
Keywords
Rape

Sexual assault

Traces

Sampling

Swab

Evidence