Abstract
Anthropological examination of defleshed bones is routinely used in medico-legal investigations to establish an individual's biological profile. However, when dealing with the recently deceased, the removal of soft tissue from bone can be an extremely time consuming procedure that requires the presence of a trained anthropologist. In addition, due to its invasive nature, in some disaster victim identification scenarios the maceration of bones is discouraged by religious practices and beliefs, or even prohibited by national laws and regulations. Currently, three different radiological techniques may be used in the investigative process; plain X-ray, dental X-ray and fluoroscopy. However, recent advances in multi-detector computed tomography (MDCT) mean that it is now possible to acquire morphological skeletal information from high resolution images, reducing the necessity for invasive procedures. This review paper considers the possible applications of a virtual anthropological examination by reviewing the main juvenile age determination methods used by anthropologists at present and their possible adaption to MDCT.
Access options
Buy single article
Instant access to the full article PDF.
USD 39.95
Price includes VAT (USA)
Tax calculation will be finalised during checkout.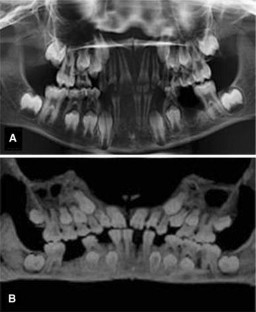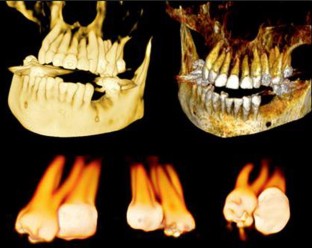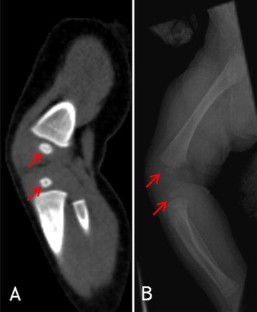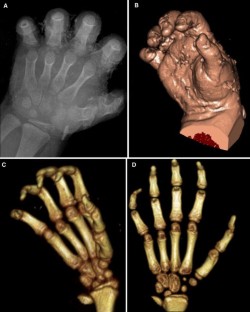 References
1.

Byers SM. Introduction to Forensic Anthropology. Boston, MA: Pearson Education Inc; 2008.

2.

Robinson C, Eisma R, Morgan B, Jeffery A, Graham AM, Black S, et al. Anthropological measurement of lower limb and foot bones using multi-detector computed tomography. J Forensic Sci. 2008;53:1289–95.

3.

Barker C, Cox M, Flavel A, Laver J, Loe L. Mortuary procedures II—skeletal analysis I: basic procedures and demographic assessment. In: Cox M, Flavel A, Hanson I, Laver J, Wessling R, editors. The scientific investigation of mass graves: towards protocols and standard operating procedures. New York: Cambridge University Press; 2008. p. 295–382.

4.

Interpol. Interpol Resolution: Disaster Victim Identification. 1996. http://www.interpol.int/Public/DisasterVictim/guide/appendices.asp#d . Accessed 23 Mar 2010.

5.

Kahana T, Hiss J. Review article: forensic radiology. Br J Radiol. 1999;72:129–33.

6.

Harcke HT, Bifano JA, Koeller KK. Forensic radiology: response to the pentagon attack on September 11. Radiology. 2002;223:7–8.

7.

Harcke HT, Levy AD, Abbott RM, Mallak CT, Getz JM, Champion HR, et al. Autopsy radiography: digital radiographs (DR) vs multidetector computed tomography (MDCT) in high-velocity gunshot-wound victims. Am J Forensic Med Pathol. 2007;28:13–9.

8.

Reid A, Schneider-Kolsky ME, O'Donnell CJ. Comparison of computed radiography and multi-detector computed tomography in the detection of post mortem metacarpal index. Forensic Sci Int. 2008;177:192–8.

9.

Kahana T, Ravioli JA, Urroz CL, Hiss J. Radiographic identification of fragmentary human remains from a mass disaster. Am J Forensic Med Pathol. 1997;18:40–4.

10.

Hines E, Rock C, Viner M. Radiography. In: Thompson T, Black S, editors. Forensic human identification. Boca Raton, FL: CRC Press; 2006. p. 221–8.

11.

Aaron A, Weinstein D, Thickman D, Eilert R. Comparison of orthoroentgenography and computed tomography in the measurement of limb-length discrepancy. J Bone Jt Surg Am. 1992;74:897–902.

12.

Anderson NG, Fenwick JL, Wells JE. Intrinsic measurement bias on computed tomography scout view is unpredictable: computed tomography pelvimetry using a phantom. Aust Radiol. 2006;50:127–31.

13.

Dedouit F, Telmon N, Costagliola R, Otal P, Florence LL, Joffre F, et al. New Identification possibilities with postmortem multislice computed tomography. Int J Leg Med. 2007;121:507–10.

14.

Dedouit F, Telmon N, Costagliola R, Otal P, Joffre F, Rougé D. Virtual anthropology and forensic identification: report of one case. Forensic Sci Int. 2007;173:182–7.

15.

Haglund WD, Fligner CL. Confirmation of human identification using computerized tomography (CT). J Forensic Sci. 1992;38:708–12.

16.

Hayakawa M, Yamamoto S, Motani H, Yajima D, Sato Y, Iwase H. Does imaging technology overcome problems of conventional post-mortem examination? A trial of computed tomography imaging for postmortem examination. Int J Leg Med. 2006;120:24–6.

17.

Leth PM. Computerized tomography used as a routine procedure at postmortem investigations. Am J Forensic Med Pathol. 2009;30:219–22.

18.

Plattner T, Thali MJ, Yen K, Sonnenschein M, Stoupis C, Vock P, et al. Virtopsy–postmortem multislice computed tomography (MSCT) and magnetic resonance imaging (MRI) in a fatal scuba diving incident. J Forensic Sci. 2003;48:1–9.

19.

Rutty GN. Are invasive autopsies necessary? Forensic Sci Med Pathol. 2005;2:71–3.

20.

Rutty GN, Robinson C, Jeffery A, Morgan B. Mobile computed tomography for mass fatality investigations. Forensic Scie Med Pathol. 2007;3:138–45.

21.

Rutty GN, Robinson C, Jeffery A, Morgan B. The role of mobile computed tomography in mass fatality incidents. J Forensic Sci. 2007;52:1343–9.

22.

Smith DR, Limbird KG, Hoffman MJ. Identification of human skeletal remains by comparison of bony details of the cranium using compyterized tomographic (CT) scans. J Forensic Sci. 2002;47:1–3.

23.

Thali MJ, Schweitzer W, Yen K, Vock P, Ozdoba C, Spielvogel E, et al. New horizons in forensic radiology. Am J Forensic Med Pathol. 2003;24:22–7.

24.

Thali MJ, Yen K, Schweitzer W, Vock P, Ozdoba C, Dirnhofer R. Into the decomposed body-forensic digital autopsy using multislice-computed tomography. Forensic Sci Int. 2003;134:109–14.

25.

Thali MJ, Markwalder T, Jackowski C, Sonnenschein M, Dirnhofer R. Dental CT imaging as a screening tool for dental profiling: advantages and limitations. J Forensic Sci. 2006;51:113–9.

26.

Verhoff MA, Ramsthaler F, Kra¨hahn J, Deml U, Gille RJ, Grabherr S, et al. Digital forensic osteology—possibilities in cooperation with the virtopsy project. Forensic Sci Int. 2008;174:152–6.

27.

Rutty GN, Morgan B, O'Donnell C, Leth PM, Thali M. Forensic institutes across the world place CT or MRI scanners or both into their mortuaries. J Trauma. 2008;65:493–4.

28.

Seeram E. Computed tomography: physical principles clinical applications, and quality control. Philadelphia, PA: Saunders; 2001.

29.

Hildebolt CF, Vannier MW, Knapp RH. Validation study of skull three-dimensional computerized tomography measurements. Am J Phys Anthropol. 1990;82:283–94.

30.

Rutty GN, Robinson C, Morgan B, Vernon L, Black S, Adams C, et al. Fimag: the United Kingdom disaster victim/forensic identification imaging system. J Forensic Sci. 2009;54:1438–42.

31.

Weber GW, Schäfer K, Prossinger H, Gunz P, Mitteröcker P, Seidler H. Virtual anthropology: the digital evolution in anthropological sciences. J Physiol Anthropol Appl Hum Sci. 2001;20:69–80.

32.

Scheuer L, Black S. Developmental juvenile osteology. San Diego: Academic Press; 2000.

33.

Maresh MM, Deming J. The growth of the long bones in 80 infants. Roentgenograms versus anthropometry. Child Dev. 1939;10:91–106.

34.

Cattaneo C. Anthropology: age determination of remains. In: Jamieson A, Moenssens A, editors. Wiley encyclopedia of forensic science. New York: Wiley; 2009.

35.

Schmeling A, Reisinger W, Geserick G, Olze A. Age estimation of unaccompanied minors, part 1. General considerations. Forensic Sci Int. 2006;159S:S61–4.

36.

Schmeling A, Geserick G, Reisinger W, Olze A. Age estimation. Forensic Sci Int. 2007;165:178–81.

37.

Konigsberg LW, Herrmann NP, Wescott DJ, Kimmerle EH. Estimation and evidence in forensic anthropology: age-at-death. J Forensic Sci. 2008;53:541–57.

38.

Cunha E, Baccino E, Martille L, Ramsthaler F, Prieto J, Schuliar Y, et al. The problem of aging human remains and living individuals: a review. Forensic Sci Int. 2009;193:1–13.

39.

Scheuer L. Application of osteology to forensic medicine. Clin Anat. 2002;15:297–312.

40.

Mincer HH, Harris EF, Berryman HE. The A.B.F.O. study of third molar development and its use as an estimator of chronological age. J Forensic Sci. 1993;38:379–90.

41.

Maber M, Liversidge HM, Hector MP. Accuracy of age estimation of radiographic methods using developing teeth. Forensic Sci Int. 2006;159:S68–73.

42.

Cavalcanti MGP, Rocha SS, Vannier MW. Craiofacial measurements based on 3D-CT volume rendering: implications for clinical applications. Dentomaxillofacial Radiol. 2004;33:170–6.

43.

Grabherr S, Cooper C, Ulrich-Bochsler S, Uldin T, Ross S, Oesterhelweg L, et al. Estimation of sex and age of "Virtual Skeletons"—a feasibility study. Eur Radiol. 2009;19:419–29.

44.

Logan WHG, Kronfeld R. Development of the human jaws and surrounding structures from birth to the age of fifteen years. JADA. 1933;20:379–427.

45.

Schour I, Massler M. Rate and gradient of growth in human deciduous teeth with special reference to neonatal ring. J Dent Res. 1937;16:349–50.

46.

Demirjian A. A new system of dental age assessment. Hum Biol. 1973;45:211.

47.

Kosa F. Age estimation from the fetal skeleton. In: Iscan MY, editor. Age markers in the human skeleton. Springfield, IL: Carles C Thomas; 1989. p. 21–54.

48.

Smith SL, Buschang PH. Longitudinal models of long bone growth during adolescence. Am J Hum Biol. 2005;17:731–45.

49.

Smith SL, Buschang PH. Variation in longitudinal diaphyseal long bone growth in children three to ten years of age. Am J Hum Biol. 2004;16:648–57.

50.

Greulich W, Pyle SI. Radiographic atlas of skeletal development of the human hand and wrist. 2nd ed. Stanford: Stanford University Press; 1959.

51.

Tanner JM, Whitehouse RH, Marshall WA, Healy MJR, Goldstein H. Assessment of skeletal maturity and prediction of adult height (TW2 method). London: Academic Press; 1975.

52.

Schour I, Massler M. The development of the human dentition. J Am Dent Assoc. 1941;28:1153–60.

53.

Demirjian A, Goldstein H, Tanner JM. A new system of dental age assessment. Hum Biol. 1973;45:211–27.
Acknowledgments
We wish to acknowledge Dr C. Adams (odontology) and Mr P. Webster (imaging) who are members of the Developing Human Research Group but whose areas of expertise did not encroach onto this section of the project.
About this article
Cite this article
Brough, A.L., Rutty, G.N., Black, S. et al. Post-mortem computed tomography and 3D imaging: anthropological applications for juvenile remains. Forensic Sci Med Pathol 8, 270–279 (2012). https://doi.org/10.1007/s12024-012-9344-z
Accepted:

Published:

Issue Date:
Keywords
Forensic

Anthropology

Multi-detector computed-tomography

Virtual

Imaging