Abstract
Amphicrine phenotype in medullary thyroid carcinoma (MTC) is a rare phenomenon characterized by tumor cells that show both endocrine differentiation (calcitonin secretion) and exocrine differentiation (mucin production and secretion). Not much is known about the pathobiology of amphicrine MTCs. This report undertook a case-based review approach by discussing the cytological, histopathological, and ultrastructural features of this rare enigmatic entity, expanding on the radiological and novel MUC immunohistochemistry findings from a 28-year-old MEN2B syndrome patient with C cell hyperplasia and multifocal MTC with amphicrine features. The patient had widespread hematogenous metastases at presentation. MUC immunoexpression analysis revealed evidence of micro-lumina formation, and unique to-date unreported expression patterns of MUC1, MUC5AC, and MUC6 in an amphicrine subtype of MTC. Review of the literature identified five other MTC cases with well-documented amphicrine features. Of these six cases, two were associated with MEN2B syndrome, and four had metastatic disease. Follow-up was available in three patients, and two died of disease. Recognition of this rare subtype of MTC may be of clinical interest given their frequent link to MEN2B syndrome and biological aggressiveness.
Access options
Buy single article
Instant access to the full article PDF.
USD 39.95
Price excludes VAT (USA)
Tax calculation will be finalised during checkout.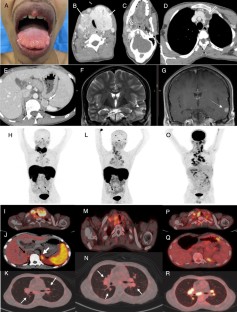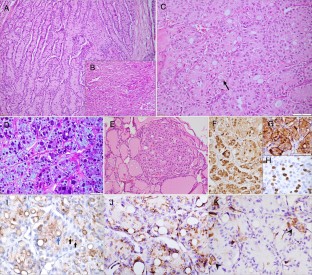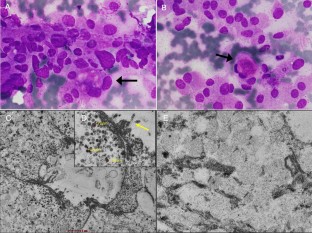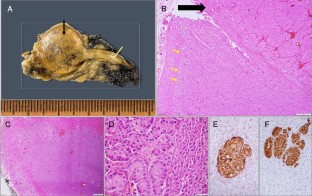 References
Wells SA, Asa SL, Dralle H et al. (2015) Revised American Thyroid Association Guidelines for the Management of Medullary Thyroid Carcinoma. Thyroid 25:567–610. https://doi.org/10.1089/thy.2014.0335

Randle RW, Balentine CJ, Leverson GE et al. (2017) Trends in the presentation, treatment, and survival of patients with medullary thyroid cancer over the past 30 years. Surgery 161:137–146. https://doi.org/10.1016/j.surg.2016.04.053

Zaatari GS, Saigo PE, Huvos AG (1983) Mucin production in medullary carcinoma of the thyroid. Arch Pathol Lab Med 107:70–74

Farhat NA, Onenerk AM, Krane JF et al. (2017) Primary Benign and Malignant Thyroid Neoplasms With Signet Ring Cells: Cytologic, Histologic, and Molecular Features. American Journal of Clinical Pathology 148:251–258. https://doi.org/10.1093/ajcp/aqx074

Mlynek M-L, Richter HJ, Leder L-D (1985) Mucin in carcinomas of the thyroid. Cancer 56:2647–2650. https://doi.org/10.1002/1097-0142(19851201)56:11<2647::AID-CNCR2820561119>3.0.CO;2-8

Golouh R, Us-krasovec, Auersperg et al. (1985) Amphicrine — Composite Calcitonin and Mucin-Producing — Carcinoma of the Thyroid. Ultrastructural Pathology 8:197–206. https://doi.org/10.3109/01913128509142153

Baloch ZW, Asa SL, Barletta JA, Ghossein RA, Juhlin CC, Jung CK, LiVolsi VA, Papotti MG, Sobrinho-Simões M, Tallini G, Mete O. Overview of the 2022 WHO Classification of Thyroid Neoplasms. Endocr Pathol. 2022 Mar;33(1):27-63.

Haleem A, Akhtar M, Ali MA, Iqbal Z (1990) Fine-needle aspiration biopsy of mucus-producing medullary carcinoma of thyroid: Report of a case with cytologic, histologic, and ultrastructural correlations. Diagnostic Cytopathology 6:112–117. https://doi.org/10.1002/dc.2840060208

Dominguez-Malagon H, Macias-Martinez V, Molina-Cardenas H, Suster S (1997) Amphicrine Medullary Carcinoma of the Thyroid with Luminal Differentiation: Report of an Immunohistochemical and Ultrastructural Study. Ultrastructural Pathology 21:569–574. https://doi.org/10.3109/01913129709016373

Osaka M, Soga J, Tamiya Y, Suzuki T (1999) Dedifferentiation of neoplastic cells in medullary thyroid carcinoma: report of a case. Surg Today 29:1189–1194. https://doi.org/10.1007/BF02482271

Kinjo M, Yohena C, Kunishima N (2003) Intracytoplasmic Lumina in Medullary Carcinoma of the Thyroid Gland. Acta Cytologica 47:663–667. https://doi.org/10.1159/000326585

Mardi K (2021) Cytodiagnosis of mucin-producing medullary carcinoma of the thyroid gland. South Asian J Cancer 02:210–210

Dhanisha SS, Guruvayoorappan C, Drishya S, Abeesh P (2018) Mucins: Structural diversity, biosynthesis, its role in pathogenesis and as possible therapeutic targets. Critical Reviews in Oncology/Hematology 122:98–122. https://doi.org/10.1016/j.critrevonc.2017.12.006

Lau SK, Weiss LM, Chu PG (2004) Differential expression of MUC1, MUC2, and MUC5AC in carcinomas of various sites: an immunohistochemical study. Am J Clin Pathol 122:61–69. https://doi.org/10.1309/9R66-73QE-C06D-86Y4

Ho SB, Shekels LL, Toribara NW et al. (1995) Mucin Gene Expression in Normal, Preneoplastic, and Neoplastic Human Gastric Epithelium. Cancer Res 55:2681

Wang X-T, Kong F-B, Mai W et al. (2016) MUC1 Immunohistochemical Expression as a Prognostic Factor in Gastric Cancer: Meta-Analysis. Dis Markers 2016:9421571. https://doi.org/10.1155/2016/9421571

Jing X, Liang H, Hao C et al. (2019) Overexpression of MUC1 predicts poor prognosis in patients with breast cancer. Oncology Reports 41:801–810. https://doi.org/10.3892/or.2018.6887

Do S-I, Kim K, Kim D-H et al. (2013) Associations between the Expression of Mucins (MUC1, MUC2, MUC5AC, and MUC6) and Clinicopathologic Parameters of Human Breast Ductal Carcinomas. J Breast Cancer 16:152–158. https://doi.org/10.4048/jbc.2013.16.2.152

Betge J, Schneider NI, Harbaum L et al. (2016) MUC1, MUC2, MUC5AC, and MUC6 in colorectal cancer: expression profiles and clinical significance. Virchows Arch 469:255–265. https://doi.org/10.1007/s00428-016-1970-5

Wang J, Guli Q-R, Ming X-C et al. (2018) Primary mucinous carcinoma of thyroid gland with prominent signet-ring-cell differentiation: a case report and review of the literature. Onco Targets Ther 11:1521–1528. https://doi.org/10.2147/OTT.S158975

Alves P, Soares P, Fonseca E, Sobrinho-Simões M (1999) Papillary thyroid carcinoma overexpresses fully and underglycosylated mucins together with native and sialylated simple mucin antigens and histo-blood group antigens. Endocr Pathol 10:315–324. https://doi.org/10.1007/BF02739774

Bèche I, Ruffet E, Zweibaum A et al. (1997) MUC1 Mucin Gene, Transcripts, and Protein in Adenomas and Papillary Carcinomas of the Thyroid. Thyroid 7:725–731. https://doi.org/10.1089/thy.1997.7.725

Li Q, Jin W-X, Jin Y-X et al. (2018) Clinical effect of MUC1 and its relevance to BRAF V600E mutation in papillary thyroid carcinoma: a case–control study. Cancer Manag Res 10:1351–1358. https://doi.org/10.2147/CMAR.S161501

Renaud F, Gnemmi V, Devos P et al. (2014) MUC1 Expression in Papillary Thyroid Carcinoma Is Associated with BRAF Mutation and Lymph Node Metastasis; the Latter is the Most Important Risk Factor of Relapse. Thyroid 24:1375–1384. https://doi.org/10.1089/thy.2013.0594

Li Y, Gao W, Cai X et al. (2021) Exploring Somatic Alteration Associating With Aggressive Behaviors of Papillary Thyroid Carcinomas by Targeted Sequencing. Frontiers in Oncology 11:4029. https://doi.org/10.3389/fonc.2021.722814

Farahmand L, Merikhian P, Jalili N et al. (2018) Significant Role of MUC1 in Development of Resistance to Currently Existing Anti-cancer Therapeutic Agents. Curr Cancer Drug Targets 18:737–748. https://doi.org/10.2174/1568009617666170623113520

Pillai K, Pourgholami MH, Chua TC, Morris DL (2015) MUC1 as a Potential Target in Anticancer Therapies. American Journal of Clinical Oncology 38:108–118. https://doi.org/10.1097/COC.0b013e31828f5a07
Ethics declarations
Competing interests
The authors declare no competing interests.
Ethics Approval
Ethical approval was waived by the institutional review board in view of the retrospective nature of the study and all the procedures being performed were part of the routine care.
Consent to Participate
Informed consent was taken.
Consent for Publication
Informed consent was taken.
Conflict of Interest
The authors declare no competing interests.
Additional information
Publisher's Note
Springer Nature remains neutral with regard to jurisdictional claims in published maps and institutional affiliations.
About this article
Cite this article
Khandakar, H., Agarwal, S., Sharma, M.C. et al. Amphicrine Medullary Thyroid Carcinoma — a Case-Based Review Expanding on Its MUC Expression Profile. Endocr Pathol 33, 378–387 (2022). https://doi.org/10.1007/s12022-022-09725-1
Accepted:

Published:

Issue Date:

DOI: https://doi.org/10.1007/s12022-022-09725-1
Keywords
Amphicrine carcinoma

Amphicrine subtype medullary thyroid carcinoma

Medullary thyroid carcinoma

MiNEN

MEN2B syndrome

RET

MUC1

MUC5AC

MUC6

Radiology