Abstract
Hyperparathyroidism, commonly observed in asymptomatic middle-aged women, with mild hypercalcemia, is usually caused by a benign adenoma. Some cases present with more severe manifestation and greater hypercalcemia. Within this spectrum, several familial/genetic associations have been discovered. While the majority are caused by benign disease, adenomas, or hyperplasia, a small proportion (< 1%) are associated with malignant tumors and present with more severe symptoms. Although usually sporadic, recent reports document various gene mutations that strongly predispose to the development of parathyroid carcinoma. An increasing number of cases of hyperparathyroidism, benign or malignant, require and benefit from genetic analysis. We describe a 25-year-old male with hyperparathyroidism presenting with a pathological fracture, brown tumors, hypercalcemia, and markedly elevated parathyroid hormone levels. There was no family history of hyperparathyroidism or jaw tumors. Surgical removal revealed a single large tumor confirmed to be malignant. Immunohistochemical analysis revealed the absence of parafibromin and decreased APC (adenomatosis polyposis coli) expression. Genetic analysis revealed a rare germline nonsense mutation (R76X) in the parafibromin gene, HRPT2/CDC73. Parathyroid carcinoma should be suspected as a cause of hyperparathyroidism when clinical manifestations are severe, particularly in young individuals, < 59 years. Immunohistochemistry may lead to suspicion for a germline mutation as a significant contributor despite absence of a family history. The discovery of a germline mutation in parathyroid carcinoma alters the clinical management of the index case and that of family members. Long-term follow-up studies of such patients are necessary to develop evidence-based clinical guidelines.
This is a preview of subscription content, log in to check access.
Access options
Buy single article
Instant access to the full article PDF.
US$ 39.95
Price includes VAT for USA
Subscribe to journal
Immediate online access to all issues from 2019. Subscription will auto renew annually.
US$ 99
This is the net price. Taxes to be calculated in checkout.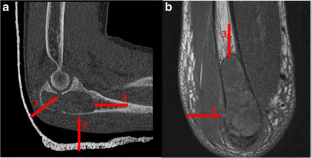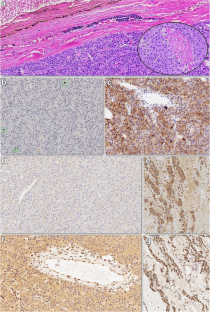 References
1.

Wei CH, Harari A (2012). Parathyroid carcinoma: update and guidelines for management. Curr Treat Opt Oncol. 13:11–23.

2.

Hindié E, Ugur O, Fuster D, O'Doherty M, Grassetto G, Urena P, Kettle A, Gulec SA, Pons F, Rubello D. (2009) 2009 EANM parathyroid guidelines. Eur J Nucl Med Mol Imaging. 36:1201–1216.

3.

Marcocci C, Cetani F, Rubin MR, Silverberg SJ, Pinchera A, Bilezikian JP (2008) Parathyroid carcinoma. J Bone Miner Res 23:1869–1880.

4.

Cetani F, Pardi E, Marcocci C. (2016) Update on parathyroid carcinoma. J Endocrinol Invest. 39: 595–606.

5.

Erovic BM, Goldstein DP, Kim D, Mete O, Brierley J, Tsang R, Freeman JL, Asa SL, Rotstein L, Irish JC. (2013) Parathyroid cancer: outcome analysis of 16 patients treated at the Princess Margaret Hospital. Head Neck. 35:35–39.

6.

Harari A, Waring A, Fernandez-Ranvier G, Hwang J, Suh I, Mitmaker E, Shen W, Gosnell J, Duh QY, Clark O (2011) Parathyroid carcinoma: a 43-year outcome and survival analysis. J Clin Endocrinol Metab. 96:3679–3686.

7.

Busaidy NL, Jimenez C, Habra MA, Schultz PN, El-Naggar AK, Clayman GL, Asper JA, Diaz EM Jr, Evans DB, Gagel RF, Garden A, Hoff AO, Lee JE, Morrison WH, Rosenthal DI, Sherman SI, Sturgis EM, Waguespack SG, Weber RS, Wirfel K, Vassilopoulou-Sellin R (2004) Parathyroid carcinoma: a 22-year experience. Head Neck 26:716–726

8.

Clayman GL, Gonzalez HE, El-Naggar A, Vassilopoulou-Sellin R (2004) Parathyroid carcinoma: evaluation and interdisciplinary management. Cancer 100:900–905.

9.

Lek M, Karczewski KJ, Minikel EV, Samocha KE, Banks E, Fennell T, O'Donnell-Luria AH, Ware JS, Hill AJ, Cummings BB, Tukiainen T, Birnbaum DP, Kosmicki JA, Duncan LE, Estrada K, Zhao F, Zou J, Pierce-Hoffman E, Berghout J, Cooper DN, Deflaux N, DePristo M, Do R, Flannick J, Fromer M, Gauthier L, Goldstein J, Gupta N, Howrigan D, Kiezun A, Kurki MI, Moonshine AL, Natarajan P, Orozco L, Peloso GM, Poplin R, Rivas MA, Ruano-Rubio V, Rose SA, Ruderfer DM, Shakir K, Stenson PD, Stevens C, Thomas BP, Tiao G, Tusie-Luna MT, Weisburd B, Won HH, Yu D, Altshuler DM, Ardissino D, Boehnke M, Danesh J, Donnelly S, Elosua R, Florez JC, Gabriel SB, Getz G, Glatt SJ, Hultman CM, Kathiresan S, Laakso M, McCarroll S, McCarthy MI, McGovern D, McPherson R, Neale BM, Palotie A, Purcell SM, Saleheen D, Scharf JM, Sklar P, Sullivan PF, Tuomilehto J, Tsuang MT, Watkins HC, Wilson JG, Daly MJ, MacArthur DG, and Exome Aggregation C. (2016) Analysis of protein-coding genetic variation in 60,706 humans. Nature, 536:285–291.

10.

Genomes Project C, Auton A, Brooks LD, Durbin RM, Garrison EP, Kang HM, Korbel J, Marchini JL, McCarthy S, McVean GA, and Abecasis GR. (2015) A global reference for human genetic variation. Nature 526:68–74.

11.

Kircher M, Witten DM, Jain P, O'Roak BJ, Cooper GM, Shendure J. (2014) A general framework for estimating the relative pathogenicity of human genetic variants. Nat Genet 46 (3); 310–317.

12.

Sim N, Kumar P, Hu J, Henikoff K, Schneider G, NG PC. (2012) SIFT web server: predicting effects of amino acid substitutions on proteins. Nuc Acids Res 40; 452–457.

13.

Adzhubei IA, Schmidt S, Peshkin L, Ramensky VE, Gerasimova A, Bork P, Kondrashov AS, Sunyaev SR (2010) A method and server for predicting damaging missense mutations. Nat Meth 7: 248–249.

14.

Duan K, Mete O. (2016) Familial hyperparathyroidism syndromes. Diagnostic Histopathol 22: 92–100.

15.

Thakker RV (2016) Genetics of parathyroid tumours. J Int Med 280:574–583.

16.

Lin L, Czapiga M, Zhang J, Simonds WF. (2007) Nuclear localization of the parafibromin tumour suppressor protein implicated in the hyperparathyroidism-jaw tumour syndrome enhances its proapoptotic function. Mol Cancer Res 5:183–193.

17.

Woodard G.E, Lin L, Zhang J, Agarwal SK, Marx SJ, Simonds WF. (2005) Parafibromin, product of the hyperparathyroidism-jaw tumour syndrome gene HRPT2, regulates cyclin D1/PRAD1 expression. Oncogene 24:1272–1276.

18.

Newey PJ, Bowl MR, Cranston T, Thakker RV. (2010). Cell division cycle protein 73 homolog (CDC73) mutations in the hyperparathyroidism-jaw tumor syndrome (HPT-JT) and parathyroid tumors. Human Mutation. 31:295–307.

19.

Sun W, Kuang XL, Liu YP, Tian LF, Yan XX, Xu W. (2017). Crystal structure of the N-terminal domain of human CDC73 and its implications for the hyperparathyroidism-jaw tumor (HPT-JT) syndrome. Sci. Rep 7:1–9.

20.

Cetani F, Pardi E, Ambrogini E, Viacava P, Borsari S, Lemmi M, Cianferotti L, Miccoli P, Pinchera A, Arnold A, Marcocci C. (2007). Endocrine Related Cancer 14:493–499.

21.

Hahn MA, Marsh DJ (2007) Nucleolar localization of parafibromin is mediated by three nucleolar localization signals. Fed Europ Biochem Soc 581:5070–5074

22.

Cardoso L, Stevenson M, Thakker RV. (2017). Molecular genetics of syndromic and non-syndromic forms of parathyroid carcinoma. Hum Mutat. 38:1621–1648.

23.

Li H, Pamukcu R & Thompson WJ (2002) Beta-Catenin signaling: therapeutic strategies in oncology. Cancer Biology & Therapy 1:621–625.

24.

Albuquerque C, Breukel C, van der Luijt R, Fidalgo P, Lage P, Slors FJ, Leitao CN, Fodde R, Smits R. (2002). The 'just-right' signaling model: APC somatic mutations are selected based on a specific level of activation of the beta-catenin signaling cascade. Human Molecular Genetics 11:1549–1560.

25.

Crabtree M, Sieber OM, Lipton L, Hodgson SV, Lamlum H, Thomas HJW, Neale K, Phillips RKL, Heinimann K, Tomlinson IPM. (2003). Refining the relation between 'first hits' and 'second hits' at the APC locus: the 'loose fit' model and evidence for differences in somatic mutation spectra among patients. Oncogene 22:4257–4265.

26.

Juhlin CC, Nilsson IL, Johansson K, Haglund F, Villablanca A, Hoog A, Larsson C. (2010). Parafibromin and APC as screening markers for malignant potential in atypical parathyroid adenomas. Endocr Pathol 21:166–177.

27.

Andreasson A, Sulaiman L, do Vale S, Martins JM, Ferreira F, Miltenberger-Miltenyi G, Batista L, Haglund F, Bjorck E, Nilsson IL, Hoog A, Larsson C, Juhlin CC. (2012). Molecular characterization of parathyroid tumors from two patients with hereditary colorectal cancer syndromes. Fam. Cancer 11:355–362

28.

Shattuck TM, Valimaki S, Obara T, Gaz RD, Clark OH et al. (2003). Somatic and germ-line mutations of the HRPT2 gene in sporadic parathyroid carcinoma. N Eng J Med 349:1722–1729.

29.

Gill, A.J. (2014) Understanding the genetic basis of parathyroid carcinoma. Endocr Pathol. 25:30–34

30.

Knudson AG. (2001). Two genetic hits (more or less) to cancer. Nature Reviews. 1:157–170

31.

Siu WK, Law YC, Lam CW, Mak CM, Wong GWK, Ho AYY, Ho KY, Loo KT, Chiu SC, Chow LTC, Tong SF, Chan AYW. (2011) Novel nonsense CDC73 mutations in Chinese patients with parathyroid tumours. Fam Canc. 10:695–699.

32.

Kim J, Guermah M, Roeder RG. (2010) The human PAF1 complex acts in chromatin transcription elongation both independently and cooperatively with SII/TFIIS. Cell. 140:491–503.
Acknowledgements
AK and NS contributed equally to this work and share first authorship. We thank the following physicians for providing clinical information relevant to this report: Dr. Catherine Kelly, Department of Medicine, Dr. Patrick Kennedy, Dr. Jagbir Khinda, and Dr. Robert Bleakney, Joint Department of Medical Imaging, and Dr. Christina MacMillan, Department of Laboratory Medicine and Pathobiology, University of Toronto.
Ethics declarations
Conflict of Interest
The authors declare that they have no conflict of interest.
Electronic Supplementary Material
About this article
Cite this article
Kapur, A., Singh, N., Mete, O. et al. A Young Male with Parafibromin-Deficient Parathyroid Carcinoma Due to a Rare Germline HRPT2/CDC73 Mutation. Endocr Pathol 29, 374–379 (2018). https://doi.org/10.1007/s12022-018-9552-5
Keywords
Parafibromin

Parathyroid carcinoma

HRPT2/CDC73