Abstract
The transcription factor Yin Yang 1 (YY1) has an important regulatory role in tumorigenesis, but its implication in thyroid cancer has not been yet investigated. In the present study, we have analyzed the expression of YY1 in differentiated thyroid cancer and assessed the association of YY1 expression with clinical features. Expression of YY1 was evaluated in human thyroid cancer cell lines, a series of matched normal/tumor thyroid tissues and in a thyroid cancer tissue microarray, using real-time PCR, Western blot, and/or immunohistochemistry. YY1 was overexpressed in thyroid cancer cells, at transcription and protein levels. A significant increase of YY1 mRNA was also observed in tumor thyroid tissues. Moreover, immunohistochemical analysis of the thyroid cancer tissue microarray revealed that both papillary thyroid cancer (PTC) and follicular thyroid cancer (FTC) present increased YY1 protein levels (48 and 19 %, respectively). After stratification by the level of YY1 protein, positive YY1 expression identifies 88 % of patients with PTC. The association of YY1 expression with clinicopathological features in PTC and FTC showed that YY1 expression was related with age at diagnosis. Our data indicates for the first time overexpression of YY1 in differentiated thyroid cancer, with YY1 being more frequently overexpressed in the PTC subtype.
Access options
Buy single article
Instant access to the full article PDF.
US$ 39.95
Tax calculation will be finalised during checkout.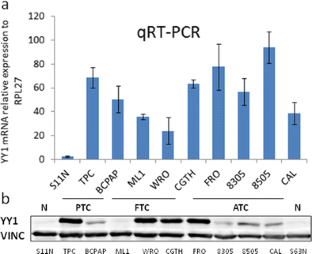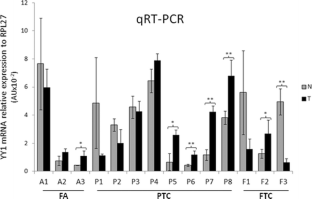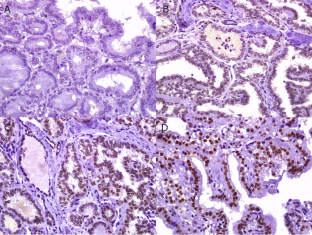 References
1.

Grande E, Díez JJ, Zafon C, Capdevila J. (2012) Thyroid cancer: molecular aspects and new therapeutic strategies. J Thyroid Res 847108.

2.

Enewold L, Zhu K, Ron E et al. (2009) Rising thyroid cancer incidence in the United States by demographic and tumor characteristics, 1980-2005. Cancer Epidemiol Biomarkers Prev 18: 784–791.

3.

Li N, Du XL, Reitzel LR, Xu L, Sturgis EM. (2013) Impact of enhanced detection on the increase in thyroid cancer incidence in the United States: review of incidence trends by socioeconomic status within the surveillance, epidemiology, and end results registry, 1980-2008. Thyroid 23: 103–110.

4.

Lee YM, Lee JB. (2013) Prognostic value of epidermal growth factor receptor, p53 and galectin-3 expression in papillary thyroid carcinoma. J Int Med Res 41: 825-834.

5.

Deng Z, Cao P, Wan MM, Sui G. (2010) Yin Yang 1: a multifaceted protein beyond a transcription factor. Transcription 1: 81-84.

6.

Zhang Q, Stovall DB, Inoue K, Sui G. (2011) The oncogenic role of Yin Yang 1. Crit Rev Oncog 16: 163-197.

7.

Furlong EE, Rein T, Martin F. (1996) YY1 and NF1 both activate the human p53 promoter by alternatively binding to a composite element, and YY1 and E1A cooperate to amplify p53 promoter activity. Mol Cell Biol 16: 5933–5945.

8.

Lee MH, Lahusen T, Wang RH et al. (2011) Yin Yang 1 positively regulates BRCA1 and inhibits mammary cancer formation. Oncogene 31: 116-127.

9.

Castellano G, Torrisi E, Ligresti G et al. (2009) The involvement of the transcription factor Yin Yang 1 in cancer development and progression. Cell Cycle 8: 1367–1372.

10.

Zaravinos A, Spandidos DA. (2010) Yin yang 1 expression in human tumors. Cell Cycle 9: 512–522.

11.

Shin E, Lee KB, Park SY et al. (2011) Gene expression profiling of human hepatoblastoma using archived formalin-fixed and paraffin-embedded tissues. Virchows Arch 458: 453–465.

12.

Castellano G, Torrisi E, Ligresti G et al. (2010) Yin Yang 1 overexpression in diffuse large B-cell lymphoma is associated with B-cell transformation and tumor progression. Cell Cycle 9: 557–563.

13.

Begon DY, Delacroix L, Vernimmen D, Jackers P, Winkler R. (2005) Yin Yang 1 cooperates with activator protein 2 to stimulate ERBB2 gene expression in mammary cancer cells. J Biol Chem 280: 24428-24434.

14.

Wan M, Huang W, Kute TE et al. (2012) Yin Yang 1 plays an essential role in breast cancer and negatively regulates p27. Am J Pathol 180: 2120-2133.

15.

Seligson D, Horvath S, Huerta-Yepez S et al. (2005) Expression of transcription factor Yin Yang 1 in prostate cancer. Int J Oncol 27: 131-141.

16.

Baritaki S, Chatzinikola AM, Vakis AF et al. (2009) YY1 Over-expression in human brain gliomas and meningiomas correlates with TGF-beta1, IGF-1 and FGF-2 mRNA levels. Cancer Invest 27: 184-192.

17.

de Nigris F, Botti C, de Chiara A et al (2006) Expression of transcription factor Yin Yang 1 in human osteosarcomas. Eur J Cancer 42: 2420-2424.

18.

Chinnappan D, Xiao D, Ratnasari A, Andry C, King TC, Weber HC. (2009) Transcription factor YY1 expression in human gastrointestinal cancer cells. Int J Oncol 34: 1417-1423.

19.

Romitti M, Ceolin L, Siqueira D, Ferreira C, Wajner S, Maia A. (2013) Signaling pathways in follicular cell-derived thyroid carcinomas. International Journal of Oncology 42: 19–28.

20.

Xing M. (2013) Molecular pathogenesis and mechanisms of thyroid cancer. Natural Reviews, Cancer 13: 184–199.

21.

Cancer Genome Atlas Research Network ( 2014) Integrated genomic characterization of papillary thyroid carcinoma Cell 159: 676-690.

22.

Jeon Y, Lee JT (2011) YY1 tethers Xist RNA to the inactive X nucleation center. Cell 146: 119-133.

23.

Xing, M (2007) Gene methylation in thyroid tumorigenesis. Endocrinology 148: 948–953.

24.

Hou, P, Liu, D, Xing, M (2011). Genome-wide alterations in gene methylation by the BRAF V600E mutation in papillary thyroid cancer cells. Endocr Relat Cancer 18: 687–697.

25.

Mancikova V, Buj R, Castelblanco E, et al. (2014) DNA methylation profiling of well-differentiated thyroid cancer uncovers markers of recurrence-free survival. Int J Cancer 135: 598-610.

26.

Abe H, Ogawa T, Wang L, Kimura M, Tanaka T, Morita R et al. (2014) Promoter-region hypermethylation and expression downregulation of Yy1 (Yin yang 1) in preneoplastic liver lesions in a thioacetamide rat hepatocarcinogenesis model. Toxicol Appl Pharmacol 280: 467-474.

27.

Zhu W, Olson SY, Garbán H (2011). Transcription regulator Yin-yang 1: from silence to cancer. Crit Rev Oncog 16: 227-238.

28.

Berchuck A, Iversen ES, Lancaster JM et al. (2005) Patterns of gene expression that characterize long-term survival in advanced stage serous ovarian cancers. Clin Cancer Res 11: 3686-3696.

29.

Powe DG, Akhtar G, Habashy HO et al. (2009) Investigating AP-2 and YY1 protein expression as a cause of high HER2 gene transcription in breast cancers with discordant HER2 gene amplification. Breast Cancer Res 11: R90.

30.

Naidoo K, Clay V, Hoyland JA et al. (2011) YY1 expression predicts favourable outcome in follicular lymphoma. J Clin Pathol 64: 125-129.

31.

Tran Cao HS, Johnston LE, Chang DC, Bouvet M. (2012) A critical analysis of the American Joint Committee on Cancer (AJCC) staging system for differentiated thyroid carcinoma in young patients on the basis of the Surveillance, Epidemiology, and End Results (SEER) registry. Surgery 152: 145-151.

32.

Lang BH, Lo CY, Chan WF, Lam KY, Wan KY. (2007) Prognostic factors in papillary and follicular thyroid carcinoma: their implications for cancer staging. Ann Surg Oncol 14: 730-738.

33.

Nixon IJ, Shaha AR. (2013) Management of regional nodes in thyroid cancer. Oral Oncol 49: 671-675.
Acknowledgments
We thank all the subjects participating in this study and Cristian Valiente for his technical support. This work was partially funded by the Spanish Ministry of Education and Science (project SAF2007-6338) and the Generalitat de Catalunya (CIRIT; 2009SGR-725). J. Arribas was supported by a predoctoral fellowship (PIF) from the Universitat Autònoma de Barcelona.
Conflict of Interest
The authors declare that they have no conflict of interest.
Ethical Approval
Patient's data were obtained and handled in accordance with the ethical standards of the Human Ethics Committee of the Hospital (Comitè Ètic d'Investigació Clínica, CEIC, Hospital Universitari Vall d'Hebron) and with the 1964 Helsinki declaration and its later amendments or comparable ethical standards.
About this article
Cite this article
Arribas, J., Castellví, J., Marcos, R. et al. Expression of YY1 in Differentiated Thyroid Cancer. Endocr Pathol 26, 111–118 (2015). https://doi.org/10.1007/s12022-015-9359-6
Keywords
YY1

Thyroid cancer

Differentiated thyroid cancer

YY1 expression

Transcription factor Yin Yang 1