Abstract
Purpose
The adequate extent of surgery for 1–4 cm low-risk papillary thyroid carcinoma (PTC) is unclear. Our objective was to analyze the applicability of the 2015 ATA Guidelines recommendation 35B (R35) for the management low-risk PTC.
Methods
This multicentre study included patients with low-risk PTC who had undergone total thyroidectomy (TT). Retrospectively we selected those who met the R35 criteria for the performance of a thyroid lobectomy (TL). The aim was to identify the proportion of low-risk PTC patients treated using TT who would have required reintervention had they had a TL in accordance with R35.
Results
We identified 497 patients (400 female; 80.5%). Median tumor size (mm): 21.2 (11–40). A tumor size ≥2 cm was found in 252 (50.7%). Most of them, 320 (64.4%), were in Stage I (AJCC 7th Edition). Following R35, 286 (57.5%) would have needed TT. Thus, they would have required a second surgery had they undergone TL. The indications for reintervention would have included lymph node involvement (35%), extrathyroidal extension (22.9%), aggressive subtype (8%), or vascular invasion (22.5%). No presurgical clinical data predict TT.
Conclusions
The appropriate management of low-risk PTC is unclear. Adherence to ATA R35 could lead to a huge increase in reinterventions when a TL is performed, though the need for them would be questionable. In our sample, more than half of patients (57.5%) who may undergo a TL for a seemingly low-risk PTC would have required a second operation to satisfy international guidelines, until better preoperative diagnostic tools become available.
Access options
Buy single article
Instant access to the full article PDF.
US$ 39.95
Tax calculation will be finalised during checkout.
Subscribe to journal
Immediate online access to all issues from 2019. Subscription will auto renew annually.
US$ 119
Tax calculation will be finalised during checkout.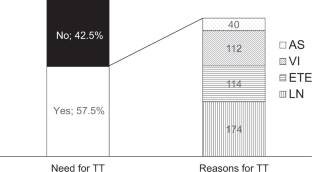 References
1.

J. Rojo Álvaro, B. Bermejo Fraile, E. Menéndez Torre, E. Ardanaz, M. Guevara, E. Anda Apiñániz, Increased incidence of thyroid cancer in Navarra (Spain). Evolution and clinical characteristics, 1986–2010. Endocrinología Diabetes y Nutrición 64, 303–309 (2017)

2.

B.R. Haugen, E.K. Alexander, K.C. Bible, G.M. Doherty, S.J. Mandel, Y.E. Nikiforov, F. Pacini, G.W. Randolph, A.M. Sawka, M. Schlumberger et al. 2015 American Thyroid Association Management Guidelines for Adult Patients with Thyroid Nodules and Differentiated Thyroid Cancer: The American Thyroid Association Guidelines Task Force on Thyroid Nodules and Differentiated Thyroid Cancer. Thyroid 26, 1–133 (2016)

3.

F.A. Verburg, C. Aktolun, A. Chiti, S. Frangos, L. Giovanella, M. Hoffmann, I. Iakovou, J. Mihailovic, B.J. Krause, W. Langsteger et al. EANM and the EANM Thyroid Committee. Why the European Association of Nuclear Medicine has declined to endorse the 2015 American Thyroid Association management guidelines for adult patients with thyroid nodules and differentiated thyroid cancer. European Journal of Nuclear Medicine and Molecular Imaging 43, 1001–1005 (2016)

4.

R. Udelsman, A.R. Shaha, Is total thyroidectomy the best possible surgical management for well-differentiated thyroid cancer? Lancet Oncology 6, 529–531 (2005)

5.

C. Zafon, J.J. Díez, J.C. Galofré, D.S. Cooper, Nodular thyroid disease and thyroid cancer in the era of precision medicine. European Thyroid Journal 6, 65–74 (2017)

6.

W.P. Kluijfhout, J.D. Pasternak, J. Lim, J.S. Kwon, M.R. Vriens, O.H. Clark, W.T. Shen, J.E. Gosnell, I. Suh, Q.Y. Duh, Frequency of high-risk characteristics requiring total thyroidectomy for 1–4 cm well-differentiated thyroid cancer. Thyroid 26, 820–824 (2016)

7.

P.W. Owens, T.P. McVeigh, E.J. Fahey, M. Bell, D.S. Quill, M.J. Kerin, A.J. Lowery, Differentiated thyroid cancer: how do current practice guidelines affect management? European Thyroid Journal 7, 319–326 (2018)

8.

J.B. Choi, S.G. Lee, M.J. Kim, T.H. Kim, E.J. Ban, C.R. Lee, J. Lee, S.W. Kang, J.J. Jeong, K.H. Nam et al. Oncologic outcomes in patients with 1-cm to 4-cm differentiated thyroid carcinoma according to extent of thyroidectomy. Head and Neck 41, 56–63 (2019)

9.

B.H. Lang, T.W. Shek, K.Y. Wan, The significance of unrecognized histological high-risk features on response to therapy in papillary thyroid carcinoma measuring 1-4 cm: implications for completion thyroidectomy following lobectomy. Clinical Endocrinology 86, 236–242 (2017)

10.

J.H. Park, J.H. Yoon, Lobectomy in patients with differentiated thyroid cancer: indications and follow-up. Endocrine Related Cancer 26, R381–R393 (2019)

11.

D.S.A. McLeod, L. Zhang, C. Durante, D.S. Cooper, Contemporary debates in adult papillary thyroid cancer management. Endocrine Reviews 40, 1481–1499 (2019)

12.

R.M. Gartland, C.C. Lubitz, Impact of extent of surgery on tumor recurrence and survival for papillary thyroid cancer patients. Annals of Surgical Oncology 25, 2520–2525 (2018)

13.

S. Vargas-Pinto, M.A. Romero Arenas, Lobectomy compared to total thyroidectomy for low-risk papillary thyroid cancer: a systematic review. Journal of Surgery Research 242, 244–251 (2019)

14.

A.R. Shaha, Lobectomy vs total thyroidectomy - have we resolved the debate? International Journal of Surgery 38, 141–142 (2017)

15.

K.Y. Bilimoria, D.J. Bentrem, C.Y. Ko, A.K. Stewart, D.P. Winchester, M.S. Talamonti, C. Sturgeon, Extent of surgery affects survival for papillary thyroid cancer. Annals of Surgery 246, 375–381 (2007)

16.

B.M. Barney, Y.J. Hitchcock, P. Sharma, D.C. Shrieve, J.D. Tward, Overall and cause-specific survival for patients undergoing lobectomy, near-total, or total thyroidectomy for differentiated thyroid cancer. Head and Neck 33, 645–649 (2011)

17.

S.R. Rajjoub, H. Yan, N.A. Calcatera, K. Kuchta, C.E. Wang, W. Lutfi, T.A. Moo-Young, D.J. Winchester, R.A. Prinz, Thyroid lobectomy is not sufficient for T2 papillary thyroid cancers. Surgery 163, 1134–1143 (2018)

18.

P.I. Haigh, D.R. Urbach, L.E. Rotstein, Extent of thyroidectomy is not a major determinant of survival in low- or high-risk papillary thyroid cancer. Annals of Surgical Oncology 12, 81–89 (2005)

19.

A.H. Mendelsohn, D.A. Elashoff, E. Abemayor, M.A. St John, Surgery for papillary thyroid carcinoma: is lobectomy enough? Archives of Otorhinolaryngology-head & Neck. Archives of Otorhinolaryngology Head and Neck Surgery 136, 1055–1061 (2010)

20.

I.J. Nixon, I. Ganly, S.G. Patel, F.L. Palmer, M.M. Whitcher, R.M. Tuttle, A. Shaha, J.P. Shah, Thyroid lobectomy for treatment of well differentiated intrathyroid malignancy. Surgery 15, 571–579 (2012)

21.

K. Matsuzu, K. Sugino, K. Masudo, M. Nagahama, W. Kitagawa, H. Shibuya, K. Ohkuwa, T. Uruno, A. Suzuki, S. Magoshi et al. Thyroid lobectomy for papillary thyroid cancer: long-term follow-up study of 1,088 cases. World Journal of Surgery 38, 68–79 (2014)

22.

M.A. Adam, J. Pura, L. Gu, M.A. Dinan, D.S. Tyler, S.D. Reed, R. Scheri, S.A. Roman, J.A. Sosa, Extent of surgery for papillary thyroid cancer is not associated with survival: an analysis of 61,775 patients. Annals of Surgery 260, 601–605 (2014)

23.

M.J. Kim, M.C. Lee, G.H. Lee, H.S. Choi, S.W. Cho, S.J. Kim, K.E. Lee, Y.J. Park, D.J. Park, Extent of surgery did not affect recurrence during 7-years follow-up in papillary thyroid cancer sized 1-4 cm: preliminary results. Clinical Endocrinology 87, 80–86 (2017)

24.

G. Li, R. Li, L. Song, W. Chen, K. Jiang, H. Tang, T. Wei, Z. Li, R. Gong, J. Lei et al. Implications of extrathyroidal extension invading only the strap muscles in papillary thyroid carcinomas. Thyroid 30, 57–64 (2020)

25.

J.S. Radowsky, R.S. Howard, H.B. Burch, A. Stojadinovic, Impact of degree of extrathyroidal extension of disease on papillary thyroid cancer outcome. Thyroid 24, 241–244 (2014)

26.

S.E. Moore, K. Kasaian, S. Jones, A. Melck, S.M. Wiseman, Clinical importance of bilateral disease in patients with papillary thyroid cancer. Canadian Journal of Surgery 59, 213–215 (2016)

27.

B.S. Koo, H.S. Lim, Y.C. Lim, Y.H. Yoon, Y.M. Kim, Y.H. Park, K.S. Rha, Occult contralateral carcinoma in patients with unilateral papillary thyroid microcarcinoma. Annals of Surgical Oncology 17, 1101–1105 (2010)

28.

H. Mazeh, Y. Samet, D. Hochstein, I. Mizrahi, I. Ariel, A. Eid, H.R. Freund, Multifocality in well-differentiated thyroid carcinomas calls for total thyroidectomy. American Journal of Surgery 201, 770–775 (2011)

29.

Y. Ito, H. Masuoka, M. Fukushima, H. Inoue, M. Kihara, C. Tomoda, T. Higashiyama, Y. Takamura, K. Kobayashi, A. Miya et al. Excellent prognosis of patients with solitary T1N0M0 papillary thyroid carcinoma who underwent thyroidectomy and elective lymph node dissection without radioiodine therapy. World Journal of Surgery 34, 1285–1290 (2010)

30.

J.C. Galofré, The dilemma of papillary thyroid microcarcinoma management. To operate or not to operate, that is the question. Endocrinología, Diabetes y Nutrición 66, 469–471 (2019)

31.

J.J. Díez, J.C. Galofré, A. Oleaga, E. Grande, M. Mitjavila, P. Moreno, Grupo de Trabajo de Cáncer de Tiroides de la Sociedad Española de Endocrinología y Nutrición. Consensus statement for accreditation of multidisciplinary thyroid cancer units. Endocrinología y Nutrición 63, e1–e15 (2016)

32.

P. Perros, K. Boelaert, S. Colley, C. Evans, R.M. Evans, G. Gerrard Ba, J. Gilbert, B. Harrison, S.J. Johnson, T.E. Giles, L. Moss et al. British Thyroid Association. Guidelines for the management of thyroid cancer. Clinical Endocrinology 81(Suppl 1), 1–122 (2014)
Ethics declarations
Conflict of interest
The authors declare that they have no conflict of interest.
Ethics
The Clínica Universidad de Navarra Ethical Committee approved this study. All procedures performed in studies involving human participants were in accordance with the ethical standards of the institutional and national research committee and with the 1964 Helsinki declaration and its later amendments or comparable ethical standards.
Additional information
Publisher's note Springer Nature remains neutral with regard to jurisdictional claims in published maps and institutional affiliations.
About this article
Cite this article
Anda Apiñániz, E., Zafon, C., Ruiz Rey, I. et al. The extent of surgery for low-risk 1–4 cm papillary thyroid carcinoma: a catch-22 situation. A retrospective analysis of 497 patients based on the 2015 ATA Guidelines recommendation 35. Endocrine 70, 538–543 (2020). https://doi.org/10.1007/s12020-020-02371-9
Received:

Accepted:

Published:

Issue Date:
Keywords
Papillary Thyroid Carcinoma

Total Thyriodectomy

Lobectomy

Initial Management

Low Risk

Risk Factors