Abstract
Purpose
Metastases of differentiated thyroid cancer (DTC) in sites different from lungs and bone are unusual (UM); their impact in management and prognosis remains unknown. Our aim was to evaluate the prevalence of UM, to describe their characteristics and to analyze their impact in disease outcome and mortality.
Methods
We retrospectively reviewed the file records from 8 different centers. Those patients with DTC and UM were included. UM were diagnosed by: (i) biopsy/cytology and/or (ii) radioiodine (RAI) uptake associated to elevated thyroglobulin (Tg) levels and/or c) presence of one or more structural lesion/s with 18-FDG uptake in the PET/CT scan and elevated Tg levels.
Results
Thirty-six (0.9%) out of a total of 3982 DTC patients were diagnosed with UM; 75% had papillary histology. The most frequent localization was central nervous system (CNS, 31%). UM were metachronous in 75%, symptomatic in 55.6% and fulfilled RAI-refractoriness criteria in 77.8% of cases. Metastatic lesions in lung/bone and/or locoregional disease were present in 34 cases (94.4%). Diagnosis of UM changed the therapeutic approach in 72.2% of patients. After a median follow up of 13 months, 21 (58.3%) patients died from DTC related causes. In 8 of them CNS progression was the immediate cause of death.
Conclusions
Prevalence of UM was low; they were frequently metachronic and RAI-refractory. Although UM were found in patients with widespread disease, their diagnosis usually led to changes in therapy. UM were associated with poor prognosis and high frequency of disease-specific mortality.
This is a preview of subscription content, log in to check access.
Access options
Buy single article
Instant access to the full article PDF.
US$ 39.95
Price includes VAT for USA
Subscribe to journal
Immediate online access to all issues from 2019. Subscription will auto renew annually.
US$ 199
This is the net price. Taxes to be calculated in checkout.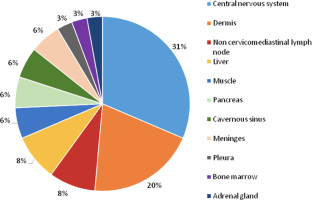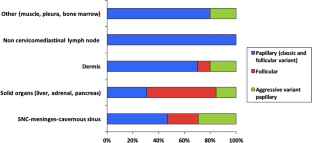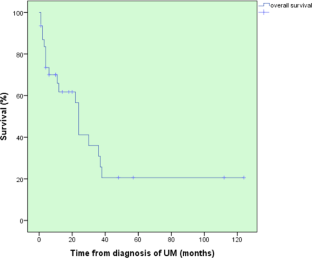 References
1.

T.P. Links, Life expectancy in differentiated thyroid cancer: a novel approach to survival analysis. Endocr. Relat. Cancer 12(2), 273–280 (2005)

2.

B.R. Haugen, 2015 American Thyroid Association Management Guidelines for adult patients with thyroid nodules and differentiated thyroid cancer: The American Thyroid Association Guidelines Task Force on thyroid nodules and differentiated thyroid cancer. Thyroid 26(1), 1–133 (2016)

3.

J.M. Mihailovic, Metastatic differentiated thyroid carcinoma: clinical management and outcome of disease in patients with initial and late distant metastases. Nucl. Med Commun. 30(7), 558–564 (2009)

4.

A. Leite, 2017 Deaths related to differentiated thyroid cancer: a rare but real event. Arch. Endocrinol. Metab. 61(3), 222–227 (2017)

5.

Y. Kitamura, Immediate causes of death in thyroid carcinoma: clinicopathological analysis of 161 fatal cases. J. Clin. Endocrinol. Metab. 84, 4043–4049 (1999)

6.

I.J. Nixon, The impact of distant metastases at presentation on prognosis in patients with differentiated thyroid carcinoma of the thyroid gland. Thyroid 22(9), 884–889 (2012)

7.

H. Kim, Prognosis of differentiated thyroid carcinoma with initial distant metastasis: a multicenter study in Korea. Endocrinol. Metab. 33, 287–295 (2018)

8.

A. Madani, Rare metastases of well-differentiated thyroid cancers: a systematic review. Ann. Surg. Oncol. 22, 460–466 (2015)

9.

E. Farina, Unusual thyroid carcinoma metastases: a case series and literature review. Endocr. Pathol. 27(1), 55–64 (2016)

10.

M.B. Amin, S. Edge, F. Greene, D.R. Byrd, R.K. Brookland, M.K. Washington, J.E. Gershenwald, C.C. Compton, K.R. Hess, D.C. Sullivan, J.M. Jessup, J.D. Brierley, L.E. Gaspar, R.L. Schilsky, C.M. Balch, D.P. Winchester, E.A. Asare, M. Madera, D.M. Gress, L.R. Meyer AJCC Cancer Staging Manual, 8th edn. (Springer, New York, 2017)

11.

F. Pitoia, Consenso intersocietario sobre tratamiento y seguimiento de pacientes con cáncer diferenciado de tiroides. Inter Society Consensus for the Management of Patients with Differentiated Thyroid Cancer. Rev. Arg. Endocrinol. Metab. 51(2), 85–118 (2014)

12.

M. Schlumberger, Definition and management of radioactive iodine- refractory differentiated thyroid cancer. Lancet Diabetes Endocrinol. 2(5), 356–358 (2014)

13.

D. Hirsch, 2017 Long term outcomes and prognostic factors in patients with differentiated thyroid cancer and distant metastases. Endocr. Pr. 23(10), 1193–1200 (2017)

14.

C. Durante, Long-term outcome of 444 patients with distant metastases from papillary and follicular thyroid carcinoma: benefits and limits of radioiodine therapy. J. Clin. Endocrinol. Metab. 91(8), 2892–2899 (2006)

15.

R. Elisei, Are the clinical and pathological features of differentiated thyroid carcinoma really changed over the last 35 years? Study on 4187 patients from a single Italian institution to answer this question. J. Clin. Endocrinol. Metab. 95, 1516–1527 (2010)

16.

G. Grani, Follicular thyroid cancer and Hürthle cell carcinoma: challenges in diagnosis, treatment and clinical management. Lancet Diabetes Endocrinol. 6(6), 500–514 (2018)

17.

B. Henriques de Figueiredo, Brain metastases from thyroid carcinoma: a retrospective study of 21 cases. Thyroid 24(2), 270–276 (2014)

18.

H.S. Lee, Clinical characteristics and follow-up of intracranial metastases from thyroid cancer. Acta Neurochir. (Wien.) 157(12), 2185–2194 (2015)

19.

J. Simões-Pereira, Clinical outcomes of a cohort of patients with central nervous system metastases from thyroid cancer. Endocr. Connect. 5(6), 82–88 (2016)

20.

I. Slutzky-Shraga, Clinical characteristics and disease outcome of patients with non-medullary thyroid cancer and brain metastases. Oncol. Lett. 15(1), 672–676 (2018)

21.

National Comprehensive Cancer Network. NCCN clinical practice guidelines in oncology (NCCN guidelines). Thyroid carcinoma (version 3. 18) https://www.nccn.org/store/login/login.aspx?ReturnURL=https://www.nccn.org/professionals/physician_gls/pdf/thyroid.pdf. Accessed 8 March 2019.

22.

R.J. Robbins, Real-time prognosis for metastatic thyroid carcinoma based on 2 –18 F fluoro-2-deoxy-D-glucose-positron emission tomography scanning. J. Clin. Endocrinol. Metab. 91(2), 498–505 (2006)

23.

L.Y. Wang, Multi-organ distant metastases confer worse disease-specific survival in differentiated thyroid cancer. Thyroid 24(11), 1594–1599 (2014)

24.

A. Sabet, Distinguishing synchronous from metachronous manifestation of distant metastases: a prognostic feature in differentiated thyroid carcinoma. Eur. J. Nucl. Med Mol. Imaging 44(2), 190–195 (2017)

25.

J. Lee, Differentiated thyroid carcinoma presenting with distant metastasis at initial diagnosis. Clinical outcomes and prognostic factors. Ann. Surg. 251(1), 114–119 (2010)

26.

F. Vaisman, A new appraisal of radiodine refractory thyroid cancer. Endocr. Relat. Cancer 22(6), R301–R310 (2015)

27.

F. Pitoia, Long-term survival and low effective cumulative dose of radioiodine doses to achieve remission in patients with 131Iodine-avid lung metastases from differentiated thyroid cancer. Clin. Nucl. Med. 39(9), 784–790 (2014)

28.

I. Califano, Outcomes of patients with bone metastases from differentiated thyroid cancer. Arch. Endocrinol. Metab. 62(1), 14–20 (2018)

29.

M.A. Tunio, Pancreas as delayed site of metastases from papillary thyroid carcinoma. Case Rep. Gastrointest. Med. 2013(386263), 1–4 (2013). https://doi.org/10.1155/2013/386263

30.

S. Ginzburg, Papillary thyroid carcinoma metastases presenting as ipsilateral adrenal mass and renal cyst. Urol. Case Rep. 3(6), 221–222 (2015)

31.

M.A. Tunio, Skeletal-muscle metastasis as an initial presentation of follicular thyroid carcinoma: a case report and a review of the literature. Case Rep. Endocrinol. 2013(192573), 1–4 (2013). https://doi.org/10.1155/2013/192573

32.

C. Brient, Differentiated thyroid cancer with liver metastases: lessons learned from managing a series of 14 patients. Int Surg. 100(3), 490–496 (2015)

33.

B. Robinson, Characterization of tumor size changes over time from the phase 3 study in lenvatinib on thyroid cancer. J. Clin. Endocrinol. Metab. 101(11), 4103–4109 (2016)

34.

M.E. Cabanillas, Treatment with tyrosine kinase inhibitors for patients with differentiated thyroid cancer: the MD Anderson experience. J. Clin. Endocrinol. Metab. 95(6), 2588–2595 (2010)
Acknowledgements
We thank the members of the Thyroid Department of Sociedad Argentina de Endocrinología y Metabolismo: Abalovich Marcos, Abelleira Erika, Alcaraz Graciela, Bielski Laila, Brenta Gabriela, Cabezón Carmen, Calabrese María, Castro Jozami Lorena, Cavallo Andrea, Corino Mirta, Deutsch Susana, Frascaroli Genoveva, Gauna Alicia, Guerra Jorgelina, Gutierrez Silvia, Iorcansky Sonia, Löwenstein Alicia, Martínez Maria, Moldes Sofia, Negueruela Maria, Oneto Adriana, Orlandi Ana, Parisi Carina, Rosemblit Cinthia, Russo Picasso Maria, Saban Melina, Sartorio Gerardo, Schnitman Marta, Silva Croome Maria, Storani Maria, Vazquez Adriana, Zund Santiago.
Ethics declarations
Conflict of interest
F.P. is medical advisor, speaker, and Steering Committee Bayer and Consultancy/Speaker bureau for Sanofi and Raffo Laboratories. E.F. is medical advisor and speaker for Sanofi and Speaker for Bayer and Raffo Laboratories. I.C. is medical advisor and speaker for Sanofi and Speaker for Bayer and Raffo Laboratories. The remaining authors declare that they have no conflict of interest.
Ethical approval
This article does not contain any studies with animals performed by any of the authors. All procedures performed in studies involving human participants were in accordance with the ethical standards of the institutional and/or national research committee and with the 1964 Helsinki declaration and its later amendments. As this was a retrospective non interventional study, written consent was deemed unnecessary.
Additional information
Publisher's note: Springer Nature remains neutral with regard to jurisdictional claims in published maps and institutional affiliations.
About this article
Cite this article
Zunino, A., Pitoia, F., Faure, E. et al. Unusual metastases from differentiated thyroid carcinoma: analysis of 36 cases. Endocrine 65, 630–636 (2019). https://doi.org/10.1007/s12020-019-01991-0
Received:

Accepted:

Published:

Issue Date:
Keywords
Thyroid carcinoma

Distant metastases

Unusual metastases

Advanced thyroid cancer

Radioiodine refractory