Abstract
Purpose
Oxidative stress is an important mechanism for diabetic nephropathy. Studies showed that hemo oxygenase-1 (HO-1) expression in renal tissue of patients with diabetic nephropathy has upregulated, while the HO-1 can protect the body through anti-oxidative stress. The study aimed to preliminarily explore the molecular mechanism by observing the effect of Sitagliptin on HO-1 expression in renal tissue of rats with diabetic nephropathy.
Methods
The diabetic nephropathy rat model was established by STZ injection followed by intraperitoneal injection of sitagliptin with different concentrations. The mRNA expressions of HO-1 were detected by real-time PCR and Western blot and HO-1 enzyme activity change was detected by colorimetry. Human renal mesangial cell (HRMC) were cultured in vitro with high glucose concentration (30 μmol/L), phosphatidylinositol-3-kinase (PI3K) level and nuclear factor erythroid-2-related factor (Nrf2) content in cytoplasm and cell nucleus were observed before and after treatment with sitagliptin, as well as the action of in meditating HO-1 expression.
Results
HO-1 mRNA, protein level, and HO-1 enzyme activity in renal tissue of rats with diabetic nephropathy were significantly increased after treatment with sitagliptin (P < 0.05). As comparison, the 24 h urinary microalbumin, creatinine, and boold urea nitrogen were all decreased after treatment of sitagliptin (P < 0.05). Similar results were observed after CoPP (an agonist of HO-1) treatment (P < 0.05). In contrast, ZnPP, an inhibitor of HO-1, significantly abrogated the inhibitory effect of sitagliptin (P < 0.05). Phosphorylation of PI3K and Nrf2 nuclear translocation under high-glucose concentration condition was induced by sitagliptin in HRMC. HO-1 expression was suppressed by pretreating HRMC with PI3K inhibitor or RNA interference.
Conclusions
Sitagliptin may induce HO-1 expression via activation of PI3K and Nrf2 in rats with diabetic nephropathy; HO-1 can improve the oxidative stress of diabetic nephropathy, eventually protect from diabetic nephropathy.
Access options
Buy single article
Instant access to the full article PDF.
USD 39.95
Price excludes VAT (USA)
Tax calculation will be finalised during checkout.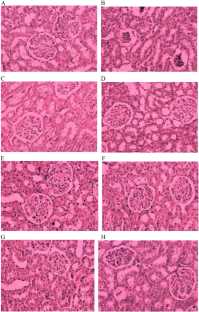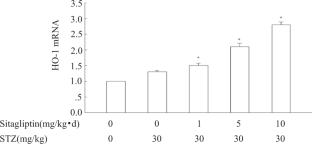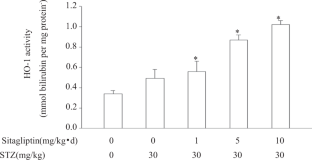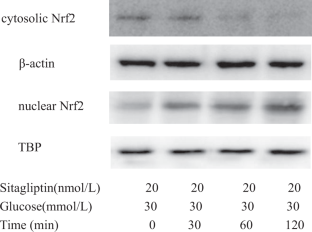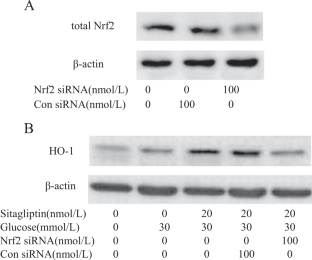 References
N.R. Robles, J. Villa, R.H. Gallego, Non-proteinuric diabetic nephropathy. J. Clin. Med. 4(9), 1761–1773 (2015)

H. Wang, K. Cui, K. Xu, S. Xu, Association between plasma homocysteine andprogression of early nephropathy in type 2 diabetic patients. Int. J. Clin. Exp. Med. 8(7), 11174–11180 (2015)

A. Tagawa, M. Yasuda, S. Kume, K. Yamahara, J. Nakazawa, M. Chin-Kanasaki, H. Araki, S.I. Araki, D. Koya, K. Asanuma, E.H. Kim, M. Haneda, N. Kajiwara, K. Hayashi, H. Ohashi, S. Ugi, H. Maegawa, T. Uzu, Impaired podocyte autophagy exacerbates proteinuria in diabetic nephropathy. Diabetes 65(3), 755–767 (2016)

M.W. Mashitah, N. Azizah, N. Samsu, M.R. Indra, M. Bilal, M.V. Yunisa, AD. Arisanti, Immunization of AGE-modified albumin inhibits diabetic nephropathy progression in diabetic mice. Diabetes Metab. Syndr. Obes. 8, 347–355 (2015).

K. Schror, B.H. Rauch, Aspirin and lipid mediators in the cardiovascular system. Prostaglandins Other Lipid Mediat. 121(Pt A), 17–23 (2015)

M. Kamiyama, M. Urushihara, T. Morikawa, Y. Konishi, M. Imanishi, A. Nishiyama, H. Kobori, Oxidative stress/angiotensinogen/renin-angiotensin system axis in patients with diabetic nephropathy. Int. J. Mol. Sci. 14(11), 23045–23062 (2013)

A. Zarjou, A. Agarwal, Heme oxygenase-1 as a target for TGF-beta in kidney disease. Semin. Nephrol. 32(3), 277–286 (2012)

E.O. Ptilovanciv, G.S. Fernandes, L.C. Teixeira, L.A. Reis, E.A. Pessoa, M.B. Convento, M.J. Simoes, G.A. Albertoni, N. Schor, F.T. Borges, Heme oxygenase 1 improves glucoses metabolism and kidney histological alterations in diabetic rats. Diabetol. Metab. Syndr. 5(1), 3–10 (2013)

J. Skov, Effects of GLP-1 in the kidney. Rev. Endocr. Metab. Disord. 15(3), 197–207 (2014)

H. Mori, Y. Okada, T. Arao, Y. Tanaka, Sitagliptin improves albuminuria in patients with type 2 diabetes mellitus. J. Diabetes Investig. 5(3), 313–319 (2014)

Y. Ishibashi, T. Matsui, M. Takeuchi, S. Yamagishi, Glucagon-like peptide-1 (GLP-1) inhibits advanced glycation end product (AGE)-induced up-regulation of VCAM-1 mRNA levels in endothelial cells by suppressing AGE receptor (RAGE) expression. Biochem. Biophys. Res. Commun. 391(3), 1405–1408 (2010)

Chen Yang, Wang Jianping, Jiang Aihua, Fu Ting, Deng Shanshan, The expression changes of the of 8-hydroxyl guanosine and superoxide dismutase in the kidney of diabetic rats and its effect of sitagliptin. Chin. J. Diabetes 23(1), 75–78 (2015)

A. Paine, B. Eiz-Vesper, R. Blasczyk, S. Immenschuh, Signaling to heme oxygenase-1 and its anti-inflammatory therapeutic potential. Biochem. Pharmacol. 80(12), 1895–1903 (2010)

G. Czibik, G. Derumeaux, D. Sawaki, G. Valen, R. Motterlini, Heme oxygenase-1: an emerging therapeutic target to curb cardiac pathology. Basic Res. Cardiol. 109(6), 450 (2014)

S.S. Kim, J. Lim, Y. Bang, J. Gal, S.U. Lee, Y.C. Cho, G. Yoon, B.Y. Kang, S.H. Cheon, H.J. Choi, Licochalcone E activates Nrf2/antioxidant response element signaling pathway in both neuronal and microglial cells: therapeutic relevance to neurodegenerative disease. J. Nutr. Biochem. 23(10), 1314–1323 (2012)

H. Zhao, M. Ozen, R.J. Wong, D.K. Stevenson, Heme oxygenase-1 in pregnancy and cancer: similarities in cellular invasion, cytoprotection, angiogenesis, and immunomodulation. Front. Pharmacol. 5, 295 (2014)

J. Fang, T. Seki, H. Maeda, Therapeutic strategies by modulating oxygen stress in cancer and inflammation. Adv. Drug Deliv. Rev. 61(4), 290–302 (2009)

R.N. Frank, R.H. Amin, J.E. Puklin, Antioxidant enzymes in the macular retinal pigment epithelium of eyes with neovascular age-related macular degeneration. Am. J. Ophthalmol. 127(6), 694–709 (1999)

C. Dong, H. Zheng, S. Huang, N. You, J. Xu, X. Ye, Q. Zhu, Y. Feng, Q. You, H. Miao, D. Ding, Y. Lu, Heme oxygenase-1 enhances autophagy in podocytes as a protective mechanism against high glucose-induced apoptosis. Exp. Cell Res. 337(2), 146–159 (2015)

S. Koyasu, The role of PI3K in immune cells. Nat. Immunol. 4(4), 313–319 (2003)

G.E. Mann, J. Niehueser-Saran, A. Watson, L. Gao, T. Ishii, P. de Winter, R.C. Siow, Nrf2/ARE regulated antioxidant gene expression in endothelial and smooth muscle cells in oxidative stress: implications for atherosclerosis and preeclampsia. Sheng Li Xue Bao 59(2), 117–127 (2007)

A.S. Jimenez-Osorio, S. Gonzalez-Reyes, J. Pedraza-Chaverri, Natural Nrf2 activators in diabetes. Clin. Chim. Acta 448, 182–192 (2015)

Y.S. Oh, H.S. Jun, Effects of Glucagon-like peptide-1 on oxidative stress and Nrf2 signaling. Int. J. Mol. Sci. 19(1), 26 (2018)
Ethics declarations
Conflict of interest
The authors declare that they have no conflict of interests.
About this article
Cite this article
Wang, J., Hu, L., Chen, Y. et al. Sitagliptin improves renal function in diabetic nephropathy in male Sprague Dawley rats through upregulating heme oxygenase-1 expression. Endocrine 63, 70–78 (2019). https://doi.org/10.1007/s12020-018-1721-2
Received:

Accepted:

Published:

Issue Date:

DOI: https://doi.org/10.1007/s12020-018-1721-2
Keywords
Sitagliptin

Heme oxygenase-1

Diabetic nephropathy

Phosphoinositide 3-kinase

Nuclear factor erythroid-2 related factor (Nrf2)

Phosphatidylinositol-3-kinase (PI3K)