Abstract
The effect of thyroid suppression therapy (TST) on trabecular bone scores (TBS) and bone mineral density (BMD) in thyroidectomized women with differentiated thyroid carcinoma (DTC) on long-term follow-up is presently not conclusive. Patients and Methods. We carried out a study in 61 premenopausal and 84 postmenopausal Caucasian women with DTC. Serum biochemistry, bone markers, TBS, BMD, and bone fractures were evaluated 1–3 months post surgery and after a median follow-up of 10 years. Results. In the final study, patients belonged to Group I Premenopausal (n = 14) who remained in this status; Group II Premenopausal who became postmenopausal (n = 47); Group III patients who were and continued as postmenopausal (n = 84). Baseline premenopausal patients had a normal TBS mean value of 1.39 ± 0.14 significantly higher than that found in postmenopausal 1.31 ± 0.12 (p = 001). In the final study, premenopausal patients continued to have a normal TBS of 1.46 ± 0.08 compared to the significantly lower value of postmenopausal patients 1.25 ± 0.11 (p = 0.0009). Lumbar BMD (L-BMD) loss after the long-term study was significant in Group II (0.99 g/cm2 ± 0.13 vs. 0.91 ± 0.12 g/cm2, p < 0.0001) and there was a slight, but not significant, bone loss in Group I (1.00 ± 0.12 vs. 0.98 ± 0.11, p = 0.1936) and in Group III (0.86 ± 0.12 vs. 0.84 ± 0.15, p = 0.1924) compared with baseline values. Conclusion: Longer-term suppression therapy in female patients with DTC did not increase significantly the risk of bone loss, although we found in postmenopausal patients deterioration of bone microarchitecture. TBS study should be considered in the evaluation of postmenopausal DTC patients on long-term DTC for the evaluation of the risk of fractures.
Access options
Buy single article
Instant access to the full article PDF.
US$ 39.95
Tax calculation will be finalised during checkout.
Subscribe to journal
Immediate online access to all issues from 2019. Subscription will auto renew annually.
US$ 119
Tax calculation will be finalised during checkout.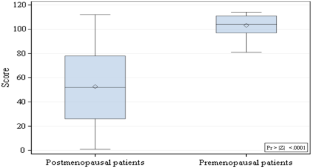 References
1.

J.P. Brito, L. Davies, Is there really an increased incidence of thyroid cancer. Curr. Opin. Endocrinol. Diabetes Obes. 21, 405–408 (2014)

2.

D.S. Cooper, B. Specker, M. Ho, M. Sperling, P.W. Ladenson, D.S. Ross, K.B. Ain, S.T. Bigos, J.D. Brierley, B.R. Haugen, I. Klein, J. Robbins, S.I. Sherman, T. Taylor, H.R. Maxon, Thyrotropin suppression and disease progression in patients with DTC. Results from the National Thyroid Cancer Treatment Cooperative Registry. Thyroid 8, 737–744 (1998)

3.

M.S. Papaleontiou, T. Hawley, M.R. Haymart, Effect of thyrotropin suppression therapy on bone in thyroid cancer patients. Oncologist 21, 165–171 (2016)

4.

W.A.E. Parke, O. Edage, S.P. Balasubramanian, Long-term treatment-related morbidity in differentiated thyroid cancer: a systematic review of the literature. Pragmat. Obs. Res. 8, 57–67 (2017)

5.

D. Krueger, E. Fidler, J. Libber, B. Aubry-Rozier, D. Hans, N. Binkley, Spine trabecular bone score subsequent to bone mineral density improves fracture discrimination in women. J. Clin. Densitom. 17(1), 60–65 (2014)

6.

V.B.C. Silva, W.D. Leslie, H. Resch, O. Lamy, O. Lesnyak, N. Binkley, E.V. McCloskey, J.A. Kanis, J.P. Bilezikian, Trabecular bone score: a noninvasive analytical method based upon the DXA image. J. Bone Miner. Res. 29(3), 518–530 (2014)

7.

J.H. Moon, K.M. Kim, T.J. Oh, T.J. Choi, S. Lim, Y.J. Park, D.J. Park, H.C. Jang, The effect of TSH suppression on vertebral trabecular bone scores in patients with differentiated thyroid carcinoma. J. Clin. Endocrinol. Metab. 102, 78–85 (2017)

8.

M. Diaz Curiel, J.L. Carrasco de la Peña, J. Perez, R. Perez Cano, R. Rapado, I. Ruiz Martinez, Study of bone mineral density in lumbar spine and femoral neck in a Spanish population. Multicentre Research Project on Osteoporosis. Osteoporos. Int. 7, 59–64 (1997)

9.

B.R. Haugen, E.K. Alexander, K.C. Bible, G.M. Doherty, S.J. Mandel, Y.E. Nikiforov, F. Pacini, G.W. Randolph, A.M. Sawka, M. Schlumberger, K.G. Schuff, S.I. Sherman, J.A. Sosa, D.L. Steward, R.M. Tuttle, L. Wartofsky, 2015 American Thyroid Association Management guidelines for adult patients with thyroid nodules and differentiated thyroidcancer. Thyroid 26, 1–133 (2016)

10.

J.A. Kanis, L.J. Melton, C. Christiansen, C.C. Johnston, N. Khaltaev, The diagnosis of osteoporosis. J. Bone Miner. Res. 9(8), 1137–1141 (1994)

11.

P. Vestergaard, L. Mosekilde, Hyperthyroidism, bone mineral, and fracture risk—a meta-analysis. Thyroid 13(6), 585–593 (2004)

12.

L.L. Reverter, S. Holgado, N. Alonso, I. Salinas, M.L. Granada, A: Sanmarti, Lack of deleterious effect on bone mineral density of long-term thyroxine suppressive therapy for differentiated thyroid carcinoma. Endocr. Relat. Cancer 12, 973–981 (2005)

13.

L.Y. Wang, A.W. Smith, F. Palmer, R.M. Tuttle, A. Mahrous, I.J. Nixon, S.G. Patel, I. Ganly, J.A. Fagin, L. Boucai, Thyrotropin suppression increases the risk of osteoporosis without decreasing recurrence in ATA low- and intermediate-risk patients with differentiated thyroid carcinoma carcinoma. Thyroid 25, 300–307 (2015)

14.

E. Jodar, B. López, I. García, D. Rigopoulou, G. Martinez, F. Hawkins, Bone changes in pre and postmenopausal women with thyroid cancer and LT4 therapy: evolution of axial and appendicular bone mass. Osteoporos. Int. 8, 311–316 (1998)

15.

G. Piol, M. Pedrazzoni, E. Palummeri, M. Sianesi, R. Del Frate, P.P. P.Vescovi, M. Prisco, V. Ulietti, D. Costi, M. Passeri, Longitudinal study of bone loss after thyroidectomy and suppressive thyroxine therapy in premenopausal women. Acta Endocrinológica. 126, 238–242 (1992)

16.

I. Sugitani, Y. Fujimoto, Effect of postoperative thyrotropin suppressive therapy on bone mineral density in patients with papillary thyroid carcinoma: a prospective controlled study. Surgery 150, 1250–1257 (2011)

17.

M.K. Kim, K.J. Yun, M.H. Kim, D.J. Lim, H.S. Kwon, K.H. Song, M.I. Kang, K.H. Baek, The effects of thyrotropin-suppressing therapy on bone metabolism in patients with well-differentiated thyroid carcinoma. Bone 71, 101–105 (2015)

18.

E. Kamterewicz, E. Puigoriol, P. Peris, L. del Rio, P. Rosique, A. Yañez, y Grupo de Investigadores del estudio de fracturas Osteoporoticas de Osona. Relationship between C-telopeptides of type I collagen serum values with bone mineral density and antiosteoporotic drug intake in postmenopausal women. Preliminary data from the FRODOS study. Med. Clin. 16, 609–614 (2009)

19.

G. Mazziotti, A.M. Formenti, S. Frara, R. Olivetti, G. Banfi, M. Memo, R. Maroldi, R. Giubbini, A. Giustina, A high prevalence of radiological vertebral fractures inwomen on TSH suppressive therapy for thyroid carcinoma. J. Clin. Endocrinol. Metab. 103, 956–964 (2017). https://doi.org/10.1210/jc.2017-01986

20.

V.N. Shah, R. Sippl, P. Joshee, L. Pyle, W.M. Kohrt, I.E. Schauer, J.K. Snell-Bergeon, Trabecular bone quality is lower in adults with type 1 diabetes and is negatively associated with insulin resistance. Osteoporos. Int. 29(3), 733–739 (2018)

21.

G. Mazziotti, E. Biagioli, F. Maffezzoni, M. Spinello, V. Serra, R. Maroldi, I. Floriani, A. Giustina, Bone turnover, bone mineral density, and fracture risk in acromegaly: a meta-analysis. J. Clin. Endocrinol. Metab. 100, 384–394 (2015)

22.

S. Tournis, J.D. Antoniou, C.G. Liakou, J. Christodoulou, E. Papakitsou, A. Galanos, K. Makris, H. Marketos, S. Nikopoulou, I. Tzavaa, I.K. Triantafyllopoulos, I. Dontas, N. Papaioannou, G.P. Lyritis, M. Alevizaki, Volumetric bone mineral density and bone geometry assessed by peripheral quantative compute tomography in women with differentiated thyroid cancer under TSH suppression. Clin. Endocrinol. 82, 197–204 (2015)
Acknowledgements
The authors thank Dr. Fernando Marin, M.D., Ph.D., for valuable help in the preparation of the manuscript.
Funding
This study was supported by a grant from the Foundation for the Investigation of Osteoporosis and Endocrine Diseases, Spain.
Author contributions
Study design: F.H. and S.G. Study conduct: M.M., B.L., E.F., J.I.M. Data adquisition: M.M. Data analysis: C.A. Data interpretation: F.H., S.G., M.M., G.M. Drafting manuscript: F.H., S.G., M.M., B.L. Revising manuscript content and approving final version of the manuscript: F.H., S.G.
Ethics declarations
Conflict of interest
The authors declare that they have no conflict of interest.
About this article
Cite this article
De Mingo Dominguez, M.L., Guadalix Iglesias, S., Martin-Arriscado Arroba, C. et al. Low trabecular bone score in postmenopausal women with differentiated thyroid carcinoma after long-term TSH suppressive therapy. Endocrine 62, 166–173 (2018). https://doi.org/10.1007/s12020-018-1671-8
Received:

Accepted:

Published:

Issue Date:
Keywords
Differentiated thyroid cancer

Bone mineral density

Trabecular bone score

TSH suppression therapy