Abstract
Purpose
To describe clinical characteristics of diabetes mellitus (DM) in a group of patients with Wolfram Syndrome (WS).
Methods
Descriptive, cross-sectional observational design. The sample consisted of 50 patients diagnosed with WS. Clinical criteria contributing to WS diagnosis were analyzed: diabetes mellitus (DM), optic nerve atrophy (OA), sensorineural deafness, urological and neurological dysfunction, among others. These parameters were assessed according to their presence/absence, age of onset, and various clinical-analytical parameters.
Results
All the patients studied presented DM and OA, with a mean age of onset of 5.4 ± .9 (1–14) years and 9 ± .9 (1–16) years, respectively. The remaining criteria were present with a variable frequency: 77% had diabetes insipidus, 66.7% auditory alterations, 77.8% neurogenic bladder, 61.1% neurological involvement, and 27.8% hypogonadism. A 16.7% of the patients had positive albuminuria (urinary albumin/creatinine ratio > 30 mg/g) and 72.2% had hyporreflexia. There were no significant differences in the age of diagnosis nor of the presence of different pathologies according to sex.
Conclusions
The early presence of a non-autoimmune insulin dependent DM, should alert us of an "infrequent" diabetes syndrome. Wolfram's presumptive diagnosis could be established if juvenile-onset DM occurs concomitantly with OA, and this visual impairment is not attributable to diabetic retinopathy. Despite the long period of evolution of DM and altered values of HbA1c, the prevalence of microvascular complications in the sample are low.
This is a preview of subscription content, log in to check access.
Access options
Buy single article
Instant access to the full article PDF.
US$ 39.95
Price includes VAT for USA
Subscribe to journal
Immediate online access to all issues from 2019. Subscription will auto renew annually.
US$ 199
This is the net price. Taxes to be calculated in checkout.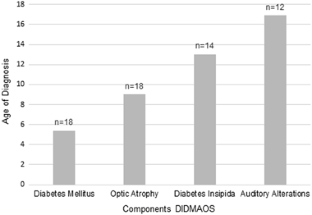 References
1.

F. Khanim, J. Kirk, F. Latif, T.G. Barrett, WFS1/wolframin mutations, Wolfram syndrome, and associated diseases. Hum. Mutat. 17, 357–67 (2001). https://doi.org/10.1002/humu.1110

2.

T. Barrett, S. Bundey, A. Macleod, Neurodegeneration and diabetes: UK nationwide study of Wolfram (DIDMOAD) syndrome. Lancet 346, 1458–63 (1995). https://doi.org/10.1016/S0140-6736(95)92473-6

3.

S. Amr, C. Heisey, M. Zhang et al. A homozygous mutation in a novel zinc-finger protein, ERIS, is responsible for Wolfram syndrome 2. Am. J. Hum. Genet. 81, 673–83 (2007). https://doi.org/10.1086/520961

4.

F. Urano, Wolfram syndrome: diagnosis, management, and treatment. Curr. Diabetes Rep. 16, 6 (2016). https://doi.org/10.1007/s11892-015-0702-6

5.

S. Kumar, Wolfram syndrome: important implications for pediatricians and pediatric endocrinologists. Pediatr. Diabetes 11, 28–37 (2010)

6.

P. Garcia, A. Leal, F. Villamil et al. Síndrome de DIDMOADUA (DIDMOAD). Estudio de tres familias con 5 nuevos casos. Diferencias con la diabetes mellitus insulindependiente clásica. Med. Clin. 85, 486–90 (1985)

7.

K. Homa, A. Stefański, A. Zmysłowska, P. Molęda, M. Bryśkiewicz, L. Majkowska, False diagnosis of type 1 diabetes mellitus and its complications in Wolfram syndrome–is it the reason for the low number of reported cases of this abnormality?. Endokrynol. Pol. 65, 398–400 (2014). https://doi.org/10.5603/EP.2014.0055

8.

G. Boutzios, S. Livadas, E. Marinakis, N. Opie, F. Economou, E. Diamanti-Kandarakis, Endocrine and metabolic aspects of the Wolfram syndrome. Endocrine 40, 10–13 (2011). https://doi.org/10.1007/s12020-011-9505-y

9.

L. Paris, Y. Usui, J. Serino, J. Sá, M. Friedlander, A challenging form of non-autoimmune insulin-dependent diabetes in a wolfram syndrome patient with a novel sequence variant. J. Diabetes Metab. 6, 1–5 (2015). https://doi.org/10.4172/2155-6156.1000561

10.

G. Esteban, F. Gómez, Manifestaciones clínicas y retraso diagnóstico en el síndrome de Wolfram. Rev. Clínica Esp. 206, 332–335 (2006). https://doi.org/10.1157/13090481

11.

G. Esteban, M. Ruano, I. Motero, M. Soler, I. Balaguer, in Las enfermedades raras. Desde una perspectiva bio-psico-social, ed. by (ASUNIVEP)EAU de E y P (Acercamiento Multidisciplinar a La Salud En El Envejecimiento, 2013), pp. 199–204.

12.

G. Esteban, M. Ruano, S. Durán, Analizan la calidad de vida de los padres de enfermos con síndrome de Wolfram. Salud Cienc. 17, 444–8 (2010)

13.

G. Esteban, Aproximación al tratamiento integral del Síndrome de Wolfram. Aspectos biopsicosociales. (2015)

14.

L. Rigoli, G. D'Annunzio, in Diabetes in Wolfram Syndrome: Update of Clinical and Genetic Aspects, ed. by F. Barbetti, L. Ghizzoni, F. Guaraldi (Karger Publishers, 2017) pp. 69–77

15.

A. Karasik, C. O'Hara, S. Srikanta, et al. Genetically Programmed Selective Islet β-Cell Loss in Diabetic Subjects With Wolfram's Syndrome. Diabetes Care 12, (1989). https://doi.org/10.2337/diacare.12.2.135

16.

C.W.R.J. Cremers, P.G.A.B. Wijdeveld, A.J.L.G. Pinckers, Juvenile diabetes mellitus, optic atrophy, hearing loss, diabetes insipidus, atonia of the urinary tract and bladder, and other abnormalities (WOLFRAM SYNDROME). Acta Paediatr. 66(s264), 1–16 (1977). https://doi.org/10.1111/j.1651-2227.1977.tb15069.x

17.

I. Bernabeu, R. Cámara, R. Araujo et al. Descripción del síndrome de Wolfram (DIDMOAD) a partir de un nuevo caso. Rev. Clin. Esp. 184, 418–20 (1989)

18.

B. Kinsley, M. Swift, R. Dumont, R. Swift, Morbidity and mortality in the wolfram syndrome. Diabetes Care 18, (1995). https://doi.org/10.2337/diacare.18.12.1566

19.

A. Cano, L. Molines, R. Valéro, G. Simonin, V. Paquis-Flucklinger, B. Vialettes, Microvascular diabetes complications in wolfram syndrome (Diabetes Insipidus, Diabetes Mellitus, Optic Atrophy, and Deafness [DIDMOAD]). Diabetes Care 30, (2007). https://doi.org/10.2337/dc07-0380

20.

M. Dreyer, H. Rüdiger, K. Bujara et al. The syndrome of diabetes insipidus, diabetes mellitus, optic atrophy, deafness, and other abnormalities (DIDMOAD-Syndrome). Klin. Wochenschr. 60, 471–5 (1982)

21.

Project E-W. Management of Wolfram Syndrome a Clinical Guideline. Wolfram Syndrome Guideline Development Group. (2014). http://www.euro-wabb.org/images/eurowabb/guidelines/Wolfram_guideline_V14_ 28_04_2014.pdf

22.

J. Rohayem, C. Ehlers, B. Wiedemann et al. Diabetes and neurodegeneration in Wolfram syndrome A multicenter study of phenotype and genotype. Diabetes Care 34, 1503–10 (2011). https://doi.org/10.2337/dc10-1937
Acknowledgements
We sincerely thank the patients and families of the Association for Research and Help for Wolfram Syndrome who have agreed to participate in this study. To Dr. Timothy G. Barrett for his invaluable contributions in the present manuscript, to the professionals that make up the Multidisciplinary Team of Wolfram Syndrome (Mónica Ruano Garcia (MF y C), Luisa M. Botella Cubells (Inv. genética), Luz María Martín Egea (psicóloga), Fernando Sánchez García (pediatría) Maria Alharilla Montilla Ibáñez. (ORL), Nicolas Fernandez Fernandez. (ORL), Jose Ignacio Abad Vivas-Pérez (urologia), Belén Gomez Navarro (OFT.), M. Teresa Belmonte García (DUE)).
Authors contribution
All authors contributed towards preparation of this manuscript.
Funding
This study was funded by the Consejería de Salud de la Junta de Andalucía, Spain. (Ref. PI-0410-2016).
Ethics declarations
Conflict of interest
The authors declare that they have no conflict of interest.
Ethical approval
All procedures performed in studies involving human participants were in accordance with the ethical standards of the institutional and national research committee and with the 1964 Helsinki declaration and its later amendments or comparable ethical standards.
Informed consent
Informed consent was obtained from all individual participants included in the study.
About this article
Cite this article
Bueno, G.E., Ruiz-Castañeda, D., Martínez, J.R. et al. Natural history and clinical characteristics of 50 patients with Wolfram syndrome. Endocrine 61, 440–446 (2018). https://doi.org/10.1007/s12020-018-1608-2
Received:

Accepted:

Published:

Issue Date:
Keywords
Wolfram syndrome

Diabetes mellitus

Optic atrophy

Sensorineural deafness

Neurodegeneration

DIDMOAD