Abstract
Recent studies have revealed that aldehyde dehydrogenase (ALDH) is a candidate marker for thyroid cancer stem cells, although its activity is flexible. The goal of this study is to clarify the functional significance of ALDH enzymatic activity on thyroid cancer stem cells properties in anaplastic thyroid cancer cell lines. In vitro sphere formation assay was used to judge the stemness of 4 anaplastic thyroid cancer cell lines (FRO, ACT1, 8505C, and KTC3). Two well-known ALDH inhibitors, N,N-diethylaminobenzaldehyde (DEAB) and disulfiram (DS), were first used. DEAB (50 μM) almost completely suppressed ALDH activity without affecting cell proliferation or spherogenicity. Lack of effect of ALDH suppression on spherogenicity was confirmed using shRNA for ALDH1A3, an ALDH isozyme predominantly expressed in anaplastic thyroid cancer cell lines. In contrast, an ALDH2 inhibitor DS (1 μM) inhibited spherogenicity but did not inhibit ALDH1A3 activity. Based on the recent article from another group reporting the importance of sonic hedgehog (Shh) signaling in ALDH activity and spherogenicity in thyroid cancer, the effects of the Shh inhibitor cyclopamine were also studied. Like DS, cyclopamine (1 μM) decreased spherogenicity but not ALDH activity. Finally, exogenous expression of ALDH1A3 in otherwise ALDH− TPC1 cells (a papillary thyroid cancer cell line) revealed no effect on spherogenicity. In conclusion, we here show no functional role for ALDH activity in thyroid thyroid cancer stem cells properties. That is, ALDH activity and spherogenicity are clearly dissociable. Further understanding of thyroid cancer stem cells biology in thyroid cancers remains necessary for the future development of thyroid thyroid cancer stem cells-targeted therapies.
Access options
Buy single article
Instant access to the full article PDF.
USD 39.95
Price excludes VAT (USA)
Tax calculation will be finalised during checkout.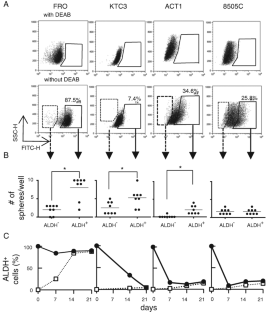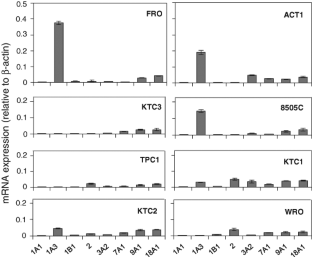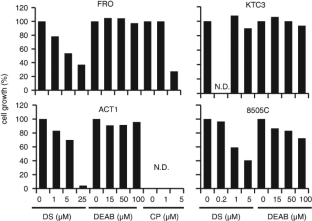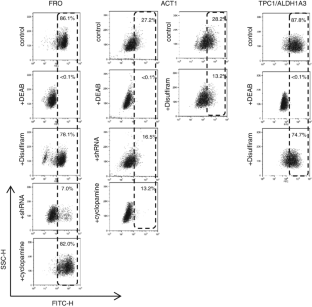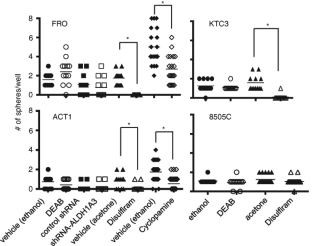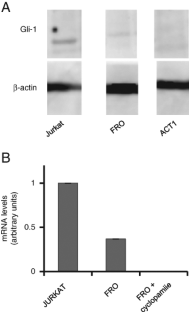 References
L. Vermeulen, F. de Sousa e Melo, D.J. Richel, J.P. Medema, The developing cancer stem-cell model: clinical challenges and opportunities. Lancet Oncol. 13(2), e83–e89 (2012)

K.S. Hoek, C.R. Goding, Cancer stem cells versus phenotype-switching in melanoma. Pigment Cell Melanoma Res. 23(6), 746–759 (2010)

Y. Nagayama, M. Shimamura, N. Mitsutake, Cancer stem cells in the thyroid. Front Endocrinol (Lausanne) 7, 20 (2016)

R.Y. Lin, Thyroid cancer stem cells. Nature reviews. Endocrinology 7(10), 609–616 (2011)

Y.J. Gao, B. Li, X.Y. Wu, J. Cui, J.K. Han, Thyroid tumor-initiating cells: increasing evidence and opportunities for anticancer therapy (review). Oncol. Rep. 31(3), 1035–1042 (2014)

M. Shimamura, Y. Nagayama, M. Matsuse, S. Yamashita, N. Mitsutake, Analysis of multiple markers for cancer stem-like cells in human thyroid carcinoma cell lines. Endocr. J. 61(5), 481–490 (2014)

M. Todaro, F. Iovino, V. Eterno, P. Cammareri, G. Gambara, V. Espina, G. Gulotta, F. Dieli, S. Giordano, R. De Maria, G. Stassi, Tumorigenic and metastatic activity of human thyroid cancer stem cells. Cancer Res. 70(21), 8874–8885 (2010)

S.H. Ahn, Y.C. Henderson, M.D. Williams, S.Y. Lai, G.L. Clayman, Detection of thyroid cancer stem cells in papillary thyroid carcinoma. J. Clin. Endocrinol. Metab. 99(2), 536–544 (2014)

R. Malaguarnera, F. Frasca, A. Garozzo, F. Giani, G. Pandini, V. Vella, R. Vigneri, A. Belfiore, Insulin receptor isoforms and insulin-like growth factor receptor in human follicular cell precursors from papillary thyroid cancer and normal thyroid. J. Clin. Endocrinol. Metab. 96(3), 766–774 (2011)

R. Ma, N. Minsky, S.A. Morshed, T.F. Davies, Stemness in human thyroid cancers and derived cell lines: the role of asymmetrically dividing cancer stem cells resistant to chemotherapy. J. Clin. Endocrinol. Metab. 99(3), E400–E409 (2014)

K.B. Heiden, A.J. Williamson, M.E. Doscas, J. Ye, Y. Wang, D. Liu, M. Xing, R.A. Prinz, X. Xu, The sonic hedgehog signaling pathway maintains the cancer stem cell self-renewal of anaplastic thyroid cancer by inducing snail expression. J. Clin. Endocrinol. Metab. 99(11), E2178–E2187 (2014)

L.M. Tseng, P.I. Huang, Y.R. Chen, Y.C. Chen, Y.C. Chou, Y.W. Chen, Y.L. Chang, H.S. Hsu, Y.T. Lan, K.H. Chen, C.W. Chi, S.H. Chiou, D.M. Yang, C.H. Lee, Targeting signal transducer and activator of transcription 3 pathway by cucurbitacin I diminishes self-renewing and radiochemoresistant abilities in thyroid cancer-derived CD133+ cells. J. Pharmacol. Exp. Ther. 341(2), 410–423 (2012)

Y. Nobuhara, N. Onoda, Y. Yamashita, M. Yamasaki, K. Ogisawa, T. Takashima, T. Ishikawa, K. Hirakawa, Efficacy of epidermal growth factor receptor-targeted molecular therapy in anaplastic thyroid cancer cell lines. Br. J. Cancer 92(6), 1110–1116 (2005)

I. Landa, I. Ganly, T.A. Chan, N. Mitsutake, M. Matsuse, T. Ibrahimpasic, R.A. Ghossein, J.A. Fagin, Frequent somatic TERT promoter mutations in thyroid cancer: higher prevalence in advanced forms of the disease. J. Clin. Endocrinol. Metab. 98(9), E1562–E1566 (2013)

H. Namba, M. Nakashima, T. Hayashi, N. Hayashida, S. Maeda, T.I. Rogounovitch, A. Ohtsuru, V.A. Saenko, T. Kanematsu, S. Yamashita, Clinical implication of hot spot BRAF mutation, V599E, in papillary thyroid cancers. J. Clin. Endocrinol. Metab. 88(9), 4393–4397 (2003)

T. Kurashige, M. Shimamura, K. Yasui, N. Mitsutake, M. Matsuse, M. Nakashima, S. Minami, S. Eguchi, Y. Nagayama, Studies on expression of aldehyde dehydrogenase in normal and cancerous tissues of thyroids. Horm. Metab. Res. 47(3), 194–199 (2015)

K. Yasui, M. Shimamura, N. Mitsutake, Y. Nagayama, SNAIL induces epithelial-to-mesenchymal transition and cancer stem cell-like properties in aldehyde dehydroghenase-negative thyroid cancer cells. Thyroid 23(8), 989–996 (2013)

M. Dima, V. Pecce, M. Biffoni, C.R. Di Gioia, G. Tallini, M. Biffoni, F. Rosignolo, A. Verrienti, M. Sponziello, G. Damante, D. Russo, C. Durante, Molecular profiles of cancer stem-like cell populations in aggressive thyroid cancers. Endocrine 53(1), 145–156 (2016)

I. Ma, A.L. Allan, The role of human aldehyde dehydrogenase in normal and cancer stem cells. Stem Cell Rev. 7(2), 292–306 (2011)

P. Marcato, C.A. Dean, C.A. Giacomantonio, P.W. Lee, Aldehyde dehydrogenase: its role as a cancer stem cell marker comes down to the specific isoform. Cell Cycle 10(9), 1378–1384 (2011)

V. Koppaka, D.C. Thompson, Y. Chen, M. Ellermann, K.C. Nicolaou, R.O. Juvonen, D. Petersen, R.A. Deitrich, T.D. Hurley, V. Vasiliou, Aldehyde dehydrogenase inhibitors: a comprehensive review of the pharmacology, mechanism of action, substrate specificity, and clinical application. Pharmacol. Rev. 64(3), 520–539 (2012)

C.C. Hui, S. Angers, Gli proteins in development and disease. Annu. Rev. Cell Dev. Biol. 27, 513–537 (2011)

C.A. O'Brien, A. Kreso, P. Ryan, K.G. Hermans, L. Gibson, Y. Wang, A. Tsatsanis, S. Gallinger, J.E. Dick, ID1 and ID3 regulate the self-renewal capacity of human colon cancer-initiating cells through p21. Cancer Cell 21(6), 777–792 (2012)

C. Ginestier, J. Wicinski, N. Cervera, F. Monville, P. Finetti, F. Bertucci, M.S. Wicha, D. Birnbaum, E. Charafe-Jauffret, Retinoid signaling regulates breast cancer stem cell differentiation. Cell Cycle 8(20), 3297–3302 (2009)

C.N. Landen Jr., B. Goodman, A.A. Katre, A.D. Steg, A.M. Nick, R.L. Stone, L.D. Miller, P.V. Mejia, N.B. Jennings, D.M. Gershenson, R.C. Bast Jr., R.L. Coleman, G. Lopez-Berestein, A.K. Sood, Targeting aldehyde dehydrogenase cancer stem cells in ovarian cancer. Mol. Cancer Ther. 9(12), 3186–3199 (2010)

P. Mao, K. Joshi, J. Li, S.H. Kim, P. Li, L. Santana-Santos, S. Luthra, U.R. Chandran, P.V. Benos, L. Smith, M. Wang, B. Hu, S.Y. Cheng, R.W. Sobol, I. Nakano, Mesenchymal glioma stem cells are maintained by activated glycolytic metabolism involving aldehyde dehydrogenase 1A3. Proc. Natl. Acad. Sci. U. S. A. 110(21), 8644–8649 (2013)

J.S. Moreb, H.V. Baker, L.J. Chang, M. Amaya, M.C. Lopez, B. Ostmark, W. Chou, ALDH isozymes downregulation affects cell growth, cell motility and gene expression in lung cancer cells. Mol. Cancer 7, 87 (2008)

C. van den Hoogen, G. van der Horst, H. Cheung, J.T. Buijs, R.C. Pelger, G. van der Pluijm, The aldehyde dehydrogenase enzyme 7A1 is functionally involved in prostate cancer bone metastasis. Clin. Exp. Metastasis 28(7), 615–625 (2011)

P. Marcato, C.A. Dean, R.Z. Liu, K.M. Coyle, M. Bydoun, M. Wallace, D. Clements, C. Turner, E.G. Mathenge, S.A. Gujar, C.A. Giacomantonio, J.R. Mackey, R. Godbout, P.W. Lee, Aldehyde dehydrogenase 1A3 influences breast cancer progression via differential retinoic acid signaling. Mol. Oncol. 9(1), 17–31 (2015)

V. Golubovskaya, S. O'Brien, B. Ho, M. Heffler, J. Conroy, Q. Hu, D. Wang, S. Liu, W.G. Cance, Down-regulation of ALDH1A3, CD44 or MDR1 sensitizes resistant cancer cells to FAK autophosphorylation inhibitor Y15. J. Cancer Res. Clin. Oncol. 141(9), 1613–1631 (2015)

Y. Xing, D.Y. Luo, M.Y. Long, S.L. Zeng, H.H. Li, High ALDH1A1 expression correlates with poor survival in papillary thyroid carcinoma. World J. Surg. Oncol. 12, 29 (2014)

M. Malehmir, V. Haghpanah, B. Larijani, S. Ahmadian, K. Alimoghaddam, R. Heshmat, A. Ghavamzadeh, K. Adabi, S.H. Ghaffari, Multifaceted suppression of aggressive behavior of thyroid carcinoma by all-trans retinoic acid induced re-differentiation. Mol. Cell. Endocrinol. 348(1), 260–269 (2012)

Y. Luo, K. Dallaglio, Y. Chen, W.A. Robinson, S.E. Robinson, M.D. McCarter, J. Wang, R. Gonzalez, D.C. Thompson, D.A. Norris, D.R. Roop, V. Vasiliou, M. Fujita, ALDH1A isozymes are markers of human melanoma stem cells and potential therapeutic targets. Stem Cells 30(10), 2100–2113 (2012)

Z. Guo, H. Hardin, R.V. Lloyd, Cancer stem-like cells and thyroid cancer. Endocr. Relat. Cancer 21(5), T285–T300 (2014)

C. van den Hoogen, G. van der Horst, H. Cheung, J.T. Buijs, J.M. Lippitt, N. Guzman-Ramirez, F.C. Hamdy, C.L. Eaton, G.N. Thalmann, M.G. Cecchini, R.C. Pelger, G. van der Pluijm, High aldehyde dehydrogenase activity identifies tumor-initiating and metastasis-initiating cells in human prostate cancer. Cancer Res. 70(12), 5163–5173 (2010)

L. Duan, H. Shen, G. Zhao, R. Yang, X. Cai, L. Zhang, C. Jin, Y. Huang, Inhibitory effect of disulfiram/copper complex on non-small cell lung cancer cells. Biochem. Biophys. Res. Commun. 446(4), 1010–1016 (2014)

S.A. Choi, J.W. Choi, K.C. Wang, J.H. Phi, J.Y. Lee, K.D. Park, D. Eum, S.H. Park, I.H. Kim, S.K. Kim, Disulfiram modulates stemness and metabolism of brain tumor initiating cells in atypical teratoid/rhabdoid tumors. Neuro-Oncol. 17(6), 810–821 (2014)

T. Chiba, E. Suzuki, K. Yuki, Y. Zen, M. Oshima, S. Miyagi, A. Saraya, S. Koide, T. Motoyama, S. Ogasawara, Y. Ooka, A. Tawada, T. Nakatsura, T. Hayashi, T. Yamashita, S. Kaneko, M. Miyazaki, A. Iwama, O. Yokosuka, Disulfiram eradicates tumor-initiating hepatocellular carcinoma cells in ROS-p38 MAPK pathway-dependent and -independent manners. PLoS ONE 9(1), e84807 (2014)

P. Liu, S. Brown, T. Goktug, P. Channathodiyil, V. Kannappan, J.P. Hugnot, P.O. Guichet, X. Bian, A.L. Armesilla, J.L. Darling, W. Wang, Cytotoxic effect of disulfiram/copper on human glioblastoma cell lines and ALDH-positive cancer-stem-like cells. Br. J. Cancer 107(9), 1488–1497 (2012)

T. Ishiguro, A. Sato, H. Ohata, Y. Ikarashi, R.U. Takahashi, T. Ochiya, M. Yoshida, H. Tsuda, T. Onda, T. Kato, T. Kasamatsu, T. Enomoto, K. Tanaka, H. Nakagama, K. Okamoto, Establishment and characterization of an in vitro model of ovarian cancer stem-like cells with an enhanced proliferative capacity. Cancer Res. 76(1), 150–160 (2016)

J.S. Moreb, D. Ucar, S. Han, J.K. Amory, A.S. Goldstein, B. Ostmark, L.J. Chang, The enzymatic activity of human aldehyde dehydrogenases 1A2 and 2 (ALDH1A2 and ALDH2) is detected by Aldefluor, inhibited by diethylaminobenzaldehyde and has significant effects on cell proliferation and drug resistance. Chem. Biol. Interact. 195(1), 52–60 (2012)

L. Vicari, C. Colarossi, D. Giuffrida, R. De Maria, L. Memeo, Cancer stem cells as a potential therapeutic target in thyroid carcinoma. Oncol. Lett. 12(4), 2254–2260 (2016)
Acknowledgements
This work was supported in part by Grants-in-Aid for Scientific Research 15K19535 (to M.S.) from the Japan Society for the Promotion of Science.
Ethics declarations
Conflict of interest
All the authors declare that they have no conflict of interest.
Ethical approval
This article does not contain any studies with human participants or animals performed by any of the authors.
About this article
Cite this article
Shimamura, M., Kurashige, T., Mitsutake, N. et al. Aldehyde dehydrogenase activity plays no functional role in stem cell-like properties in anaplastic thyroid cancer cell lines. Endocrine 55, 934–943 (2017). https://doi.org/10.1007/s12020-016-1224-y
Received:

Accepted:

Published:

Issue Date:

DOI: https://doi.org/10.1007/s12020-016-1224-y
Keywords
Aldefluor assay

Aldehyde dehydrogenase

Cancer stem cells

Spherogenicity

Thyroid cancer