Abstract
The influence of thyroid hormones on cardiovascular system is well established. Thyroid diseases can effectively enhance the alteration on cardiovascular system by influencing chronotropic and inotropic actions of the heart; altering the strength and the speed of contraction, the speed of relaxation, the duration of the potential of action, and the duration of the refractory period and atrio-ventricular conduction time; modulating circulation and peripheral vascular beds. One of the more intriguing insights in the connection between thyroid diseases and cardiovascular alterations is related to the evaluation of the influence of thyroid hormones on pulmonary vascular beds. Literature reported several studies regarding the association between both hypothyroidism and hyperthyroidism and the occurrence of increased vascular pulmonary arterial pressure. Nevertheless, the pathogenetic mechanisms able to explain such relationship are not fully understood. Many doubts still persist in the comprehension of the mechanisms of pulmonary hypertension in thyroid diseases. The aim of this review was to provide possible explanation about the possible interaction between pulmonary vascular beds and thyroid function in order to evaluate the possibility of novel perspectives in the general management of patients suffering from thyroid and cardiovascular diseases.
Access options
Buy single article
Instant access to the full article PDF.
US$ 39.95
Tax calculation will be finalised during checkout.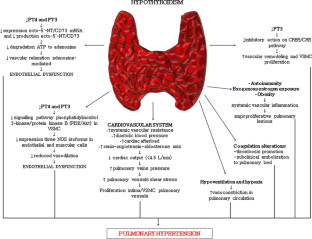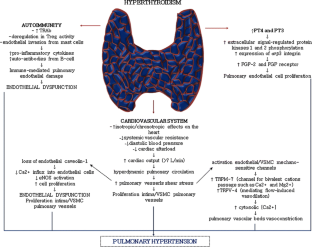 References
1.

H. Vargas-Uricoechea, A. Bonelo-Perdomo, C.H. Sierra-Torres, Effects of thyroid hormones on the heart. Clin. Investig. Arterioscler. 26, 296–309 (2014)

2.

H. Vargas-Uricoechea, C.H. Sierra-Torres, Thyroid hormones and the heart. Horm. Mol. Biol. Clin. Investig. 18, 15–26 (2014)

3.

S. Mohr-Kahaly, G. Kahaly, J. Meyer, Cardiovascular effects of thyroid hormones. Z. Kardiol. 85, 219–231 (1996)

4.

S. Vinzio, O. Morel, J.L. Schlienger, B. Goichot, Cellular mechanisms of thyroid hormone action. Presse. Med. 34, 1147–1152 (2005)

5.

B. Kim, S.D. Carvalho-Bianco, P.R. Larsen, Thyroid hormone and adrenergic signaling in the heart. Arq. Bras. Endocrinol. Metabol. 48, 171–175 (2004)

6.

M. Marvisi, L. Balzarini, C. Mancini, P. Mouzakiti, Thyroid gland and pulmonary hypertension. What's the link? Panminerva Med. 55, 93–97 (2013)

7.

M. Pappas, K. Mourouzis, H. Karageorgiou, C. Tesseromatis, I. Mourouzis, G. Kostopanagiotou, C. Pantos, D.V. Cokkinos, Thyroid hormone modulates the responsiveness of rat aorta to alpha1-adrenergic stimulation: an effect due to increased activation of beta2-adrenergic signaling. Int. Angiol. 28, 474–478 (2009)

8.

C. Pantos, C. Mourouzis, M. Katramadou, T. Saranteas, I. Mourouzis, H. Karageorgiou, C. Tesseromatis, G. Kostopanagiotou, P. Asimacopoulos, D.V. Cokkinos, Decreased vascular reactivity to alpha1 adrenergic stimulation in the presence of hypothyroid state: a part of an adaptive response? Int. Angiol. 25, 216–220 (2006)

9.

L. Sabatino, V. Lubrano, S. Balzan, C. Kusmic, S. Del Turco, G. Iervasi, Thyroid hormone deiodinases D1, D2, and D3 are expressed in human endothelial dermal microvascular line: effects of thyroid hormones. Mol. Cell. Biochem. 399, 87–94 (2015)

10.

M.M. Ciccone, G. De Pergola, M.T. Porcelli, P. Scicchitano, P. Caldarola, M. Iacoviello, G. Pietro, F. Giorgino, S. Favale, Increased carotid IMT in overweight and obese women affected by Hashimoto's thyroiditis: an adiposity and autoimmune linkage? BMC Cardiovasc. Disord. 10, 22 (2010)

11.

M. Marvisi, C. Ajolfi, G. Civardi, R. Delsignore, Thyroid dysfunction and pulmonary hypertension. Recenti Prog. Med. 95, 443–446 (2004)

12.

R. Senese, P. Lasala, C. Leanza, P. de Lange, New avenues for regulation of lipid metabolism by thyroid hormones and analogs. Front. Physiol. 5, 475 (2014)

13.

M.M. Ciccone, A. Zito, A. Ciampolillo, M. Gesualdo, P. Zaza, M. Rodio, M. Barbaro, S. Di Molfetta, P. Scicchitano, Pulmonary hypertension and Hashimoto's thyroiditis: does a relationship exist? Endocrine 48, 621–628 (2015)

14.

L. Chaker, C. Baumgartner, M.A. Ikram, A. Dehghan, M. Medici, W.E. Visser, A. Hofman, N. Rodondi, R.P. Peeters, O.H. Franco, Subclinical thyroid dysfunction and the risk of stroke: a systematic review and meta-analysis. Eur. J. Epidemiol. 29, 791–800 (2014)

15.

N. Galiè, M. Humbert, J.L. Vachiery, S. Gibbs, I. Lang, A. Torbicki, G. Simonneau, A. Peacock, A. Vonk Noordegraaf, M. Beghetti, A. Ghofrani, M.A. Gomez Sanchez, G. Hansmann, W. Klepetko, P. Lancellotti, M. Matucci, T. McDonagh, L.A. Pierard, P.T. Trindade, M. Zompatori, M. Hoeper, V. Aboyans, A. Vaz Carneiro, S. Achenbach, S. Agewall, Y. Allanore, R. Asteggiano, L. Paolo Badano, J. Albert Barberà, H. Bouvaist, H. Bueno, R.A. Byrne, S. Carerj, G. Castro, Ç. Erol, V. Falk, C. Funck-Brentano, M. Gorenflo, J. Granton, B. Iung, D.G. Kiely, P. Kirchhof, B. Kjellstrom, U. Landmesser, J. Lekakis, C. Lionis, G.Y. Lip, S.E. Orfanos, M.H. Park, M.F. Piepoli, P. Ponikowski, M.P. Revel, D. Rigau, S. Rosenkranz, H. Völler, J. Luis Zamorano, ESC/ERS Guidelines for the diagnosis and treatment of pulmonary hypertension: The Joint Task Force for the Diagnosis and Treatment of Pulmonary Hypertension of the European Society of Cardiology (ESC) and the European Respiratory Society (ERS): Endorsed by: Association for European Paediatric and Congenital Cardiology (AEPC), International Society for Heart and Lung Transplantation (ISHLT). Eur Heart J 37, 67–119 (2015)

16.

D.B. Badesch, K.M. Wynne, S. Bonvallet, N.F. Voelkel, C. Ridgway, B.M. Groves, Hypothyroidism and primary pulmonary hypertension: an autoimmune pathogenetic link? Ann. Intern. Med. 119, 44–46 (1993)

17.

R.G. Chin, J. Fisher, Hypothyroidism and pulmonary hypertension: observation and speculation. Cardiovasc. Rev. Rep. 9, 789–796 (1986)

18.

A.L. Curnock, R.A. Dweik, B.H. Higgins, H.F. Saadi, A.C. Arroliga, High prevalence of hypothyroidism in patients with primary pulmonary hypertension. Am. J. Med. Sci. 318, 289–292 (1999)

19.

J.W. Chu, P.N. Kao, J.L. Faul, R.L. Doyle, High Prevalence of autoimmune thyroid disease in pulmonary arterial hypertension. Chest 122, 1668–1673 (2002)

20.

J.H. Li, R.E. Safford, J.F. Aduen, M.G. Heckman, J.E. Crook, C.D. Burger, Pulmonary hypertension and thyroid disease. Chest 132, 793–797 (2007)

21.

M. Satoh, K. Aso, T. Nakayama, K. Naoi, S. Ikehara, Y. Uchino, H. Shimada, S. Takatsuki, H. Matsuura, T. Saji, Autoimmune thyroid disease in children and adolescents with idiopathic pulmonary arterial hypertension. Circ. J. 74, 371–374 (2010)

22.

I. Klein, S. Danzi, Thyroid disease and the heart. Circulation 116, 1725–1735 (2007)

23.

Ichiki, T.: Thyroid hormone and vascular remodeling. J Atheroscler Thromb. Nov 11. [Epub ahead of print] (2015)

24.

S. Wieshammer, F.S. Keck, H. Seibold, U. Loos, V. Hombach, E.F. Pfeiffer, Acute hypothyroidism has no effect on pulmonary vascular resistance. Klin. Wochenschr. 67, 530–534 (1989)

25.

C.C. Costa, M. Medeiros, K. Watanabe, P. Martin, T.L. Skare, Hashimoto thyroiditis may be associated with a subset of patients with systemic sclerosis with pulmonary hypertension. Rev. Bras. Reumatol. 54, 366–370 (2014)

26.

M.R. Nicolls, L. Taraseviciene-Stewart, P.R. Rai, D.B. Badesch, N.F. Voelkel, Autoimmunity and pulmonary hypertension: a perspective. Eur. Respir. J. 26, 1110–1118 (2005)

27.

J.M. Oldham, D. Kumar, C. Lee, S.B. Patel, S. Takahashi-Manns, C. Demchuk, M.E. Strek, I. Noth, Thyroid disease is prevalent and predicts survival in patients with idiopathic pulmonary fibrosis. Chest 148, 692–700 (2015)

28.

L. Sweeney, N.F. Voelkel, Estrogen exposure, obesity and thyroid disease in women with severe pulmonary hypertension. Eur. J. Med. Res. 14, 433–442 (2009)

29.

L. Siemińska, C. Wojciechowska, K. Walczak, A. Borowski, B. Marek, M. Nowak, D. Kajdaniuk, W. Foltyn, B. Kos-Kudła, Associations between metabolic syndrome, serum thyrotropin, and thyroid antibodies status in postmenopausal women, and the role of interleukin-6. Endokrynol Pol. 66, 394–403 (2015)

30.

A. Tvarijonaviciute, L. Jaillardon, J.J. Cerón, B. Siliart, Effects of thyroxin therapy on different analytes related to obesity and inflammation in dogs with hypothyroidism. Vet. J. 196, 71–75 (2013)

31.

F. Vargas, J.M. Moreno, I. Rodriguez-Gomez, R. Wangensteen, A. Osuna, M. Alvarez-Guerra, J. Garcia-Estan, Vascular and renal function in experimental thyroid disorders. Eur. J. Endocrinol. 154, 197–212 (2006)

32.

L. Osmak-Tizon, M. Poussier, Y. Cottin, L. Rochette, Non-genomic actions of thyroid hormones: molecular aspects. Arch. Cardiovasc. Dis. 107, 207–211 (2014)

33.

P.J. Davis, F.B. Davis, Nongenomic actions of thyroid hormone. Thyroid 6, 497–504 (1996)

34.

R. Vicinanza, G. Coppotelli, C. Malacrino, T. Nardo, B. Buchetti, L. Lenti, F.S. Celi, S. Scarpa, Oxidized low-density lipoproteins impair endothelial function by inhibiting non-genomic action of thyroid hormone-mediated nitric oxide production in human endothelial cells. Thyroid 23, 231–238 (2013)

35.

L.H. Duntas, E. Mantzou, D.A. Koutras, Circulating levels of oxidized low-density lipoprotein in overt and mild hypothyroidism. Thyroid 12, 1003–1007 (2002)

36.

T. Ittermann, S.E. Baumeister, H. Völzke, C. Wasner, U. Schminke, H. Wallaschofski, M. Nauck, J. Lüdemann, Are serum TSH levels associated with oxidized low-density lipoprotein? Results from the Study of Health in Pomerania. Clin. Endocrinol. (Oxf). 76, 526–532 (2012)

37.

T. Diekman, P.N. Demacker, J.J. Kastelein, A.F. Stalenhoef, W.M. Wiersinga, Increased oxidizability of low-density lipoproteins in hypothyroidism. J. Clin. Endocrinol. Metab. 83, 1752–1755 (1998)

38.

A.S. Tamajusuku, M.A. Carrillo-Sepúlveda, E. Braganhol, M.R. Wink, J.J. Sarkis, M.L. Barreto-Chaves, A.M. Battastini, Activity and expression of ecto-5′-nucleotidase/CD73 are increased by thyroid hormones in vascular smooth muscle cells. Mol. Cell. Biochem. 289, 65–72 (2006)

39.

S. Taddei, N. Caraccio, A. Virdis, A. Dardano, D. Versari, L. Chiadoni, A. Salvetti, E. Ferrannini, F. Monzani, Impaired endothelium-dependent vasodilatation in subclinical hypothyroidism: beneficial effect of levothyroxine therapy. J. Clin. Endocrinol. Metab. 88, 3731–3737 (2003)

40.

K. Fukuyama, T. Ichiki, I. Imayama, H. Ohtsubo, H. Ono, Y. Hashiguchi, A. Takeshita, K. Sunagawa, Thyroid hormone inhibits vascular remodeling through suppression of cAMP response element binding protein activity. Arterioscler. Thromb. Vasc. Biol. 26, 2049–2055 (2006)

41.

M. Hostiuc, G.C. Curca, D. Dermengiu, C. Sinescu, S. Hostiuc, Can subclinical hypothyroidism explain some sudden deaths due to pulmonary embolism without evident risk factors? Med. Hypotheses 76, 855–857 (2011)

42.

C. Erem, O. Ucuncu, M. Yilmaz, M. Kocak, I. Nuhoglu, H.O. Ersoz, Increased thrombin-activatable fibrinolysis inhibitor and decreased tissue factor pathway inhibitor in patients with hypothyroidism. Endocrine 35, 75–80 (2009)

43.

O. Araz, E. Yilmazel Ucar, A. Yalcin, D. Pulur, H. Acemoglu, H. Tas, L. Saglam, M. Akgun, A. Mirici, The incidence and severity of pulmonary hypertension in obstructive sleep apnea with hypothyroidism. Med. Sci. Monit. 19, 883–887 (2013)

44.

M. Marvisi, M. Brianti, G. Marani, R. Del Borello, M.L. Bortesi, A. Guariglia, Hyperthyroidism and pulmonary hypertension. Respir. Med. 96, 215–220 (2002)

45.

M. Marvisi, P. Zambrelli, M. Brianti, G. Civardi, R. Lampugnani, R. Delsignore, Pulmonary hypertension is frequent in hyperthyroidism and normalizes after therapy. Eur. J. Intern. Med. 17, 267–271 (2006)

46.

R. Alcázar, M. Rey, P. de Sequera, R. Alegre, A. Rovira, C. Caramelo, The reversibility of pulmonary hypertension associated with autoimmune hyperthyroidism. Rev. Esp. Cardiol. 48, 142–144 (1995)

47.

C.W. Siu, X.H. Zhang, C. Yung, A.W. Kung, C.P. Lau, H.F. Tse, Hemodynamic changes in hyperthyroidism-related pulmonary hypertension: a prospective echocardiographic study. J. Clin. Endocrinol. Metab. 92, 1736–1742 (2007)

48.

J. Mercé, S. Ferrás, C. Oltra, E. Sanz, J. Vendrell, I. Simón, M. Camprubí, A. Bardají, C. Ridao, Cardiovascular abnormalities in hyperthyroidism: a prospective Doppler echocardiographic study. Am. J. Med. 118, 126–131 (2005)

49.

C.M. Trapp, R.W. Elder, A.T. Gerken, A.B. Sopher, S. Lerner, G.S. Aranoff, E.B. Rosenzweig, Pediatric pulmonary arterial hypertension and hyperthyroidism: a potentially fatal combination. J. Clin. Endocrinol. Metab. 97, 2217–2222 (2012)

50.

R. Obeid, V.K. Kalra, P. Arora, F. Quist, K.C. Moltz, N.S. Chouthai, Neonatal thyrotoxicosis presenting as persistent pulmonary hypertension. BMJ Case Rep. (2012). doi: 10.1136/bcr.02.2012.5939

51.

D. O'Donovan, C. McMahon, C. Costigan, P. Oslizlok, D. Duff, Reversible pulmonary hypertension in neonatal Graves disease. Ir. Med. J. 90, 147–148 (1997)

52.

B. Agraou, O. Tricot, A. Strecker, R. Bresson, F. Leroy, P. Langlois, B. Lauwerier, J.J. Dujardin, Hyperthyroidism associated with pulmonary hypertension. Arch. Mal. Coeur Vaiss. 89, 765–768 (1996)

53.

G.A. Brent, Clinical practice. Graves' disease. N Engl J Med. 358, 2594–2605 (2008)

54.

H. Ikram, The nature and prognosis of thyrotoxic heart disease. Q. J. Med. 54, 19–28 (1985)

55.

M.O. Hegazi, S. Ahmed, Atypical clinical manifestations of Graves' disease: an analysis in depth. J. Thyroid Res. 2012, 768019 (2012)

56.

M.O. Hegazi, A. El Sayed, H. El Ghoussein, Pulmonary hypertension responding to hyperthyroidism treatment. Respirology 13, 923–925 (2008)

57.

Y. Paran, A. Nimrod, Y. Goldin, D. Justo, Pulmonary hypertension and predominant right heart failure in thyrotoxicosis. Resuscitation 69, 339–341 (2006)

58.

R. Di Giovambattista, Hyperthyroidism as a reversible cause of right ventricular overload and congestive heart failure. Cardiovasc. Ultrasound. 6, 29 (2008)

59.

B. Biondi, Mechanisms in endocrinology: heart failure and thyroid dysfunction. Eur. J. Endocrinol. 167, 609–618 (2012)

60.

V.H. Tam, L.M. Fung, Severe right heart failure in two patients with thyrotoxicosis. Hong Kong Med. J. 14, 321–323 (2008)

61.

A. Yazar, O. Döven, S. Atis, R. Gen, C. Pata, E.E. Yazar, A. Kanik, Systolic pulmonary artery pressure and serum uric acid levels in patients with hyperthyroidism. Arch. Med. Res. 34, 35–40 (2003)

62.

A. Soroush-Yari, S. Burstein, G.W. Hoo, S.M. Santiago, Pulmonary hypertension in men with thyrotoxicosis. Respiration 72, 90–94 (2005)

63.

T. Sugiura, S. Yamanaka, H. Takeuchi, N. Morimoto, M. Kamioka, Y. Matsumura, Autoimmunity and pulmonary hypertension in patients with Graves' disease. Heart Vessel. 30, 642–646 (2015)

64.

V.O. Kheyfets, L. Rios, T. Smith, T. Schroeder, J. Mueller, S. Murali, D. Lasorda, A. Zikos, J. Spotti, J.J. Reilly Jr, E.A. Finol, Patient-specific computational modeling of blood flow in the pulmonary arterial circulation. Comput. Methods Programs Biomed. 120, 88–101 (2015)

65.

B.J. Xu, J. Chen, X. Chen, X.W. Liu, S. Fang, Q. Shu, L. Hu, S.S. Shi, L.Z. Du, L.H. Tan, High shear stress-induced pulmonary hypertension alleviated by endothelial progenitor cells independent of autophagy. World J. Pediatr. 11, 171–176 (2015)

66.

A. Postles, A.R. Clark, M.H. Tawhai, Dynamic blood flow and wall shear stress in pulmonary hypertensive disease. Conf. Proc. IEEE Eng. Med. Biol. Soc. 2014, 5671–5674 (2014)

67.

S. Song, A. Yamamura, H. Yamamura, R.J. Ayon, K.A. Smith, H. Tang, A. Makino, J.X. Yuan, Flow shear stress enhances intracellular Ca2 + signaling in pulmonary artery smooth muscle cells from patients with pulmonary arterial hypertension. Am. J. Physiol. Cell Physiol. 307, C373–383 (2014)

68.

N. Dereddy, J. Huang, M. Erb, S. Guzel, J.H. Wolk, S.S. Sett, M.H. Gewitz, R. Mathew, Associated inflammation or increased flow-mediated shear stress, but not pressure alone, disrupts endothelial caveolin-1 in infants with pulmonary hypertension. Pulm. Circ. 2, 492–500 (2012)

69.

T. Kasahara, K. Tsunekawa, K. Seki, M. Mori, M. Murakami, Regulation of iodothyronine deiodinase and roles of thyroid hormones in human coronary artery smooth muscle cells. Atherosclerosis 186, 207–214 (2006)

70.

A. Al Husseini, G. Bagnato, L. Farkas, J. Gomez-Arroyo, D. Farkas, S. Mizuno, D. Kraskauskas, A. Abbate, B. Van Tassel, N.F. Voelkel, H.J. Bogaard, Thyroid hormone is highly permissive in angioproliferative pulmonary hypertension in rats. Eur. Respir. J. 41, 104–114 (2013)

71.

Y.J. Lai, G.J. Chang, Y.H. Yeh, J.H. Pang, C.C. Huang, W.J. Chen, Propylthiouracil attenuates experimental pulmonary hypertension via suppression of pen-2, a key component of gamma-secretase. PLoS ONE 10, e0137426 (2015)

72.

F.B. Davis, S.A. Mousa, L. O'Connor, S. Mohamed, H.Y. Lin, H.J. Cao, P.J. Davis, Proangiogenic action of thyroid hormone is fibroblast growth factor-dependent and is initiated at the cell surface. Circ. Res. 94, 1500–1506 (2004)

73.

R. Thurnheer, R. Jenni, E.W. Russi, P. Greminger, R. Speich, Hyperthyroidism and pulmonary hypertension. J. Intern. Med. 242, 185–188 (1997)

74.

S. Vallabhajosula, S. Radhi, C. Cevik, R. Alalawi, R. Raj, K. Nugent, Hyperthyroidism and pulmonary hypertension: an important association. Am. J. Med. Sci. 342, 507–512 (2011)

75.

J.H. Suk, K.I. Cho, S.H. Lee, H.G. Lee, S.M. Kim, T.I. Kim, M.K. Kim, Y.K. Shong, Prevalence of echocardiographic criteria for the diagnosis of pulmonary hypertension in patients with Graves' disease: before and after antithyroid treatment. J. Endocrinol. Invest. 34, e229–234 (2011)

76.

S. Ocak, F. Feoli, J. Fastrez, D. Butenda, C. Litvine, I.M. Colin, J.P. d'Odémont, Pulmonary arterial hypertension in a patient with stage II sarcoidosis and Hashitoxicosis. Eur. Respir. Rev. 18, 125–128 (2009)

77.

P. Caturegli, A. De Remigis, N.R. Rose, Hashimoto thyroiditis: clinical and diagnostic criteria. Autoimmun. Rev. 13, 391–397 (2014)

78.

S. Rached, R.A. Athanazio, S.A. Dias Jr, C. Jardim, R. Souza, Systemic corticosteroids as first-line treatment in pulmonary hypertension associated with POEMS syndrome. J. Bras. Pneumol. 35, 804–808 (2009)

79.

M. Armigliato, R. Paolini, S. Aggio, S. Zamboni, M.P. Galasso, P. Zonzin, G. Cella, Hyperthyroidism as a cause of pulmonary arterial hypertension: a prospective study. Angiology 57, 600–606 (2006)

80.

N. Patel, W.J. Inder, C. Sullivan, G. Kaye, An audit of amiodarone-induced thyrotoxicosis—do anti-thyroid drugs alone provide adequate treatment? Heart Lung Circ. 23, 549–554 (2014)

81.

E. Roti, R. Minelli, E. Gardini, L. Bianconi, L.E. Braverman, Thyrotoxicosis followed by hypothyroidism in patients treated with amiodarone. A possible consequence of a destructive process in the thyroid. Arch. Intern. Med. 153, 886–892 (1993)
Ethics declarations
Conflict of interest
None declared
About this article
Cite this article
Scicchitano, P., Dentamaro, I., Tunzi, F. et al. Pulmonary hypertension in thyroid diseases. Endocrine 54, 578–587 (2016). https://doi.org/10.1007/s12020-016-0923-8
Received:

Accepted:

Published:

Issue Date:
Keywords
Pulmonary hypertension

Hyperthyroidism

Hypothyroidism

Endothelial function

Thyroid hormones