Abstract
Whether euthyroid status affects cardiovascular disease risk is unclear. We aimed to investigate whether serum thyroid-stimulating hormone (TSH) levels within the normal range are related to the risk of coronary heart disease (CHD). In participants of the Turkish Adult Risk Factor Study (mean age 52.7 ± 11.5), in whom TSH was measured in the 2004/05 survey, cross-sectional and longitudinal analyses were performed. Subjects with TSH concentrations <0.3 and >4.2 mIU/L were excluded to ensure euthyroid status leaving 956 individuals as the study sample. Mean follow-up was 4.81 ± 1.3 years. Men had 18 % lower (p < 0.001) geometric mean TSH levels (1.10 mIU/L) than women (1.35 mIU/L). Correlations of TSH with risk variables were notably virtually absent except weakly positive ones in men with age and systolic blood pressure (SBP). The age-adjusted TSH mid-tertile in men was associated with lowest lipoprotein [Lp](a), apoB, and total cholesterol values. Incident CHD was predicted in Cox regression analyses in men [HR of 2.45 (95 %CI 1.05; 5.74] and in combined sexes by the lowest compared with the highest TSH tertile, after adjustment for age, smoking status, SBP, and LDL-cholesterol. Analysis for combined prevalent and incident CHD stratified by metabolic syndrome (MetS) confirmed the independent association with the lowest TSH tertile in men, specifically in men without MetS. TSH levels within normal range, low due to partial assay failure, may manifest as independent predictors of incident CHD, particularly in middle-aged men. Autoimmune responses involving serum Lp(a) under oxidative stress might be implicated mechanistically.
Access options
Buy single article
Instant access to the full article PDF.
USD 39.95
Price excludes VAT (USA)
Tax calculation will be finalised during checkout.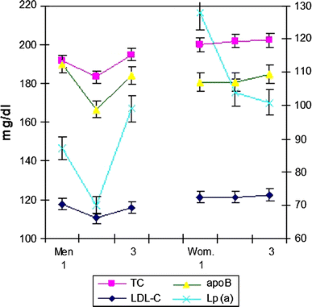 References
J.V. Parle, P. Maisonneuve, M.C. Sheppard, P. Boyle, J.A. Franklyn, Prediction of all-cause and cardiovascular mortality in the elderly people from one low serum thyrotropin result: a 10-year cohort study. Lancet 358, 861–865 (2001)

B.O. Åsvold, T. Bjoro, T.I. Nilsen, L.J. Vatten, Association between blood pressure and serum TSH concentration within the reference range: a population-based study. J. Clin. Endocrinol. Metab. 92, 841–885 (2007)

B.O. Åsvold, L.J. Vatten, T.I. Nilsen, T. Bjøro, The association between TSH within the reference range and serum lipid concentrations in a population-based study: the HUNT Study. Eur. J. Endocrinol. 156, 181–186 (2007)

B.O. Åsvold, T. Bjøro, T.I. Nilsen, D. Gunnell, L.J. Vatten, Thyrotropin levels and risk of fatal coronary heart disease. Arch. Intern. Med. 168, 855–860 (2008)

C.H. Jung, E.J. Rhee, H.S. Shin, S.K. Jo, J.C. Won, C.Y. Park et al., Higher serum free thyroxine levels are associated with coronary artery disease. Endocr. J. 55, 819–826 (2008)

W. Huang, J. Xu, F. Jing, W.B. Chen, L. Gao, H.T. Yuan, J.J. Zhao, Functional thyrotropin receptor expression in the ventricle and the effects on ventricular BNP secretion. Endocrine Sep 26 (2013) PMID:24065308 [Epub ahead of print]

D.S. McLeod, Autoimmune thyroid disease: a novel risk factor for atherosclerosis? Endocrine 44, 8–10 (2013)

O. Topaloglu, F. Gokay, K. Kucukler, F.S. Burnik, T. Mete, H.C. Yavuz et al., Is autoimmune thyroiditis a risk factor for early atherosclerosis in premenopausal women even in euthyroid status? Endocrine 44, 145–151 (2013)

A. Onat, G. Can, E. Ayhan, Z. Kaya, G. Hergenç, Impaired protection against diabetes and coronary disease by high-density lipoproteins in Turks. Metabolism 58, 1393–1399 (2009)

A. Onat, G. Hergenç, Low-grade inflammation and dysfunction of high-density lipoprotein and its apolipoproteins as a major driver of cardiometabolic risk. Metabolism 60, 499–512 (2011)

A. Onat, K. Ceyhan, Ö. Başar, B. Erer, S. Toprak, V. Sansoy, Metabolic syndrome: major impact on coronary risk in a population with low cholesterol levels—a prospective and cross-sectional evaluation. Atherosclerosis 165, 285–292 (2002)

A. Onat, G. Hergenç, S. Bulur, M. Uğur, Z. Küçükdurmaz, G. Can, The paradox of high apolipoprotein A-I levels independently predicting incident type-2 diabetes among Turks. Int. J. Cardiol. 142, 72–79 (2010)

A. Onat, G. Can, S. Murat, G. Çiçek, E. Örnek, H. Yüksel, Aggregation of lipoprotein(a) to apolipoprotein A-I underlying HDL dysfunction as a major coronary risk factor. Anadolu Kardiyol. Derg. 13, 543–551 (2013)

A. Onat, G. Can, E. Ademoğlu, E. Çelik, A. Karagöz, E. Örnek, Coronary disease risk curve of serum creatinine is linear in Turkish men, U-shaped in women. J. Investig. Med. 61, 27–33 (2013)

A. Onat, H. Yüksel, G. Can, B. Köroğlu, A. Kaya, S. Altay, Serum creatinine is associated with coronary disease risk even in the absence of metabolic disorders. Scand. J. Clin. Lab. Investig. 73, 569–575 (2013)

A. Onat, B. Köroğlu, G. Can, A. Karagöz, E. Çelik, M. Aydın, Apparently "low" serum asymmetric dimethylarginine is associated with fasting glucose and tends toward association with type-2 diabetes. Anadolu Kardiyol. Derg. 14(1), 26–33 (2013). doi:10.5152/akd.2013.5009

A. Onat, G. Can, Enhanced pro-inflammatory state and autoimmune activation: a breakthrough to understanding chronic diseases. Curr Pharma Design Apr 2 (2013) [Epub ahead of print]

A. Onat, Risk factors and cardiovascular disease in Turkey. Atherosclerosis 156, 1–10 (2001)

S.M. Grundy, H.B. Brewer, J.I. Cleeman, S.C. Smith Jr, C. Lenfant, American Heart Association; definition of metabolic syndrome: report of the National Heart, Lung, and Blood Institute/American Heart Association conference on scientific issues related to definition. Circulation 109, 433–438 (2004)

A. Onat, H. Uyarel, G. Hergenç, A. Karabulut, S. Albayrak, G. Can, Determinants and definition of abdominal obesity as related to risk of diabetes, metabolic syndrome and coronary disease in Turkish men: a prospective cohort study. Atherosclerosis 191, 182–190 (2007)

G.A. Rose, H. Blackburn, R.F. Gillum, R.J. Prineas, Cardiovascular Survey Methods, 2nd edn. (WHO, Geneva, 1982), pp. 124–127

B. Gencer, T.H. Colleo, V. Virgini, D.C. Bauer, J. Gussekloo, A.R. Cappola et al., Subclinical hyperthyroidism and the risk of coronary heart disease and mortality. Arch. Intern. Med. 172, 799–809 (2012)

S. Tognini, A. Polini, G. Pasqualetti, S. Ursino, N. Caraccio, M. Ferdeghini et al., Age and gender substantially influence the relationship between thyroid status and the lipoprotein profile: results from a large cross-sectional study. Thyroid 22, 1096–1103 (2012)

M. Rotondi, P. Leporati, M.I. Rizza, A. Clerici, G. Groppelli, C. Pallavicini et al., Raised serum TSH in morbid-obese and non-obese patients: effect on the circulating lipid profile. Endocrine 43, 230–232 (2013)

L. Siemińska, W. Foltyn, J. Głogowska-Szeląg, D. Kajdaniuk, B. Marek, M. Nowak et al., Relationships between adiponectin, sex hormone binding globulin and insulin resistance in hyperthyroid Graves' disease women. Endokrynol. Pol 64, 26–29 (2013)

C.T. Sawin, A. Geller, P.A. Wolf, A.J. Belanger, E. Baker, P. Bacharach et al., Low serum thyrotropin concentration as a risk factor for atrial fibrillation in older persons. N. Engl. J. Med. 331, 1249–1252 (1994)

J. Gussekloo, E. van Exel, A.J. de Craen, A.E. Meinders, M. Frölich, R.G. Westendorp, Thyroid status, disability and cognitive function, and survival in old age. J. Am. Med. Assoc. 292, 2591–2599 (2004)

L.H. Duntas, B. Biondi, Short-term hypothyroidism after Levothyroxine-withdrawal in patients with differentiated thyroid cancer: clinical and quality of life consequences. Eur. J. Endocrinol. 156, 13–19 (2007)

A. Dardano, K.L. Ghiadoni, Y. Plantinga, N. Carraccio, A. Bemi, E. Duranti et al., Recombinant human thyrotropin reduces endothelium-dependent vasodilation in patients monitored for differentiated thyroid carcinoma. J. Clin. Endocrinol. Metab. 91, 4175–4178 (2006)

T.T. Antunes, A. Gagnon, A. Bell, A. Sorisky, Thyroid-stimulating hormone stimulates interleukin-6 release from 3T3-L1 adipocytes through a cAMP-protein kinase A pathway. Obes. Res. 13, 2066–2071 (2005)

H.C. Wang, J. Dragoo, O. Zhou, J.R. Klein, An intrinsic thyrotropin-mediated pathway of TNF-alpha production by bone marrow cells. Blood 101, 119–123 (2003)

H. Taneichi, T. Sasai, M. Ohara, H. Honma, K. Nagasawa, T. Takahashi, Higher serum free triiodothyronine levels within the normal range are associated with metabolic syndrome components in type 2 diabetic subjects with euthyroidism. Tohoku J. Exp. Med. 224, 173–178 (2011)

Q. Qi, T. Workalemahu, C. Zhang, F.B. Hu, L. Qi, Genetic variants, plasma lipoprotein(a) levels, and risk of cardiovascular mortlity and mortality among two prospective cohorts of type 2 diabetes. Eur. Heart J. 33, 325–334 (2012)

A. Onat, M. Aydın, G. Can, H.A. Çakmak, B. Köroğlu, A. Kaya et al., Impaired fasting glucose: pro-diabetic, "atheroprotective" and modified by metabolic syndrome. World. J. Diabetes 4, 210–218 (2013)

S. Mora, P.R. Kamstrup, N. Rifai, B.G. Nordestgaard, J.E. Buring, P.M. Ridker, Lipoprotein(a) and risk of type 2 diabetes. Clin. Chem. 56, 1252–1260 (2010)

A. Onat, H.A. Çakmak, G. Can, M. Yüksel, B. Köroğlu, H. Yüksel, Serum total and high-density lipoprotein phospholipids: Independent predictive value for cardiometabolic risk. Clin Nutr. Nov 1 (2013) [Epub ahead of print]

K. Kocak, B. Huddam, A. Azak, L. Ortabozkoyun, M. Duranay, Coexistent findings of renal glomerular disease with Hashimoto's thyroiditis. Clin. Endocrinol. 76, 759–762 (2012)

C. Zhang, X. Li, D. Niu, R. Zi, C. Wang, A. Han et al., Increased serum levels of ß2-GPI-Lp(a) complexes and their association with premature atherosclerosis in patients with rheumatoid arthritis. Clin. Chim. Acta 412, 1332–1336 (2011)

L.R. Lopez, T.R. Bruckner, B.L. Hurley, K. Kobayashin, E. Matsuura, Determination of oxidized low-density lipoprotein (ox-LDL) versus oxLDL/beta2-GPI complexes for the assessment of autoimmune-mediated atherosclerosis. Ann. N. Y. Acad. Sci. 1109, 303–310 (2007)
Acknowledgment
We thank the Turkish Society of Cardiology and the various pharmaceutical companies (Istanbul) for financial support of the Turkish Adult Risk Factor study over the years.
Conflict of interest
None.
About this article
Cite this article
Onat, A., Aydın, M., Can, G. et al. Normal thyroid-stimulating hormone levels, autoimmune activation, and coronary heart disease risk. Endocrine 48, 218–226 (2015). https://doi.org/10.1007/s12020-014-0269-z
Received:

Accepted:

Published:

Issue Date:

DOI: https://doi.org/10.1007/s12020-014-0269-z
Keywords