Abstract
The global prevalence of obesity has significantly increased in most industrialized countries. Anti-obesity drugs are scarce, and indications to change their life style are impractical. Therefore, to identify diets able to produce significantly and maintained weight loss is mandatory. The present work evaluated the efficacy of a very low-calorie-ketogenic (VLCK) diet in obesity. A group of obese patients were randomized into two groups: the VLCK diet group and a standard low-calorie diet (LC group). The follow-up period was 12 months. Both groups received external support, counseling, to perform physical activity and adhered to the diet. The VLCK diet induced a 30–45 days of mild ketosis and significant effects on body weight within 15 days. At 2 months, the weight reductions in the VLCK diet and LC diet groups were 13.6 ± 3.9 and 4.8 ± 2.7 kg, respectively (p < 0.0001). At the end of the study, at 12 months, the weight reductions were 19.9 ± 12.3 and 7.0 ± 5.6 kg, respectively (p < 0.0001), and more than 88 % of patients in the VLCK diet group lost more of 10 % of their initial weight. Lean mass was practically unaffected. The VLCK diet was well tolerated and the side effects were moderate and transitory. In a group of obese patients, the VLCK diet was significantly more effective than a standard LC diet. At one year follow-up in the group with VLCK diet, most of the patients loss more than 10 % of their initial weight and lean mass was well preserved.
This is a preview of subscription content, log in to check access.
Access options
Buy single article
Instant access to the full article PDF.
US$ 39.95
Price includes VAT for USA
Subscribe to journal
Immediate online access to all issues from 2019. Subscription will auto renew annually.
US$ 199
This is the net price. Taxes to be calculated in checkout.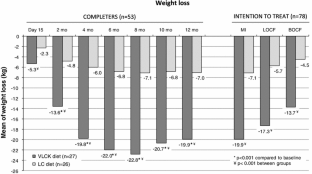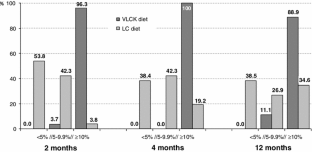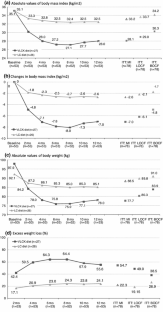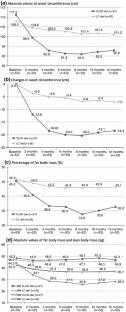 References
1.

K.M. Flegal, M.D. Carroll, B.K. Kit, C.L. Ogden, Prevalence of obesity and trends in the distribution of body mass index among US adults, 1999–2010. JAMA 307, 491–497 (2012)

2.

F.F. Casanueva, B. Moreno, R. Rodríguez-Azeredo, C. Massien, P. Conthe, X. Formiguera et al., Relationship of abdominal obesity with cardiovascular disease, diabetes and hyperlipidaemia in Spain. Clin. Endocrinol. 73, 35–40 (2010)

3.

J.L. Gutierrez-Fisac, P. Guallar-Castillon, L.M. Leon-Muñoz, A. Graciani, J.R. Banegas, F. Rodriguez-Artalejo, Prevalence of general and abdominal obesity in the adult population of Spain, 2008–2010: the ENRICA study. Obes. Rev. 13, 388–392 (2012)

4.

J.C. Seidell, Obesity, insulin resistance and diabetes–a worldwide epidemic. Br. J. Nutr. 83(Suppl. 1), S5–S8 (2000)

5.

X. Pi-Sunyer, The medical risks of obesity. Postgrad. Med. 121, 21–33 (2009)

6.

L. Velazquez-Lopez, E. Gonzalez-Figueroa, P. Medina-Bravo, I. Pineda-Del Aguila, L. Avila-Jimenez, R. Ramos-Hernandez et al., Low calorie and carbohydrate diet: to improve the cardiovascular risk indicators in overweight or obese adults with prediabetes. Endocrine 43, 593–602 (2013)

7.

M. Bergman, Inadequacies of current approaches to prediabetes and diabetes prevention. Endocrine 44, 623–633 (2013)

8.

E.W. Gregg, H. Chen, L.E. Wagenknecht, J.M. Clark, L.M. Delahanty, J. Bantle et al., Association of an intensive lifestyle intervention with remission of type 2 diabetes. JAMA 308(23), 2489–2496 (2012)

9.

B. Laferrère, Do we really know why diabetes remits after gastric bypass surgery? Endocrine 40, 162–167 (2011)

10.

A.P. Shukla, S.M. Ahn, R.T. Patel, M.W. Rosenbaum, F. Rubino, Surgical treatment of type 2 diabetes: the surgeon perspective. Endocrine 40, 151–161 (2011)

11.

L. Sjöström, M. Peltonen, P. Jacobson, C.D. Sjöström, K. Karason, H. Wedel et al., Bariatric surgery and long-term cardiovascular events. JAMA 307, 56–65 (2012)

12.

G.B. Dodell, J.B. Albu, L. Attia, J. McGinty, F.X. Pi-Sunyer, B. Laferrère, The bariatric surgery patient: lost to follow-up; from morbid obesity to severe malnutrition. Endocr. Pract. 18, 21–25 (2012)

13.

J.C. Halford, E.J. Boyland, J.E. Blundell, T.C. Kirkham, J.A. Harrold, Pharmacological management of appetite expression in obesity. Nat. Rev. Endocrinol 6, 255–269 (2010)

14.

G. Di Dalmazi, V. Vicennati, R. Pasquali, U. Pagotto, The unrelenting fall of the pharmacological treatment of obesity. Endocrine 44, 598–609 (2013)

15.

W.P. James, I.D. Caterson, W. Coutinho, N. Finer, L.F. Van Gaal, SCOUT Investigators. Effect of sibutramine on cardiovascular outcomes in overweight and obese subjects. N. Engl. J. Med. 363, 905–917 (2010)

16.

R.V. Dvorak, A.M. Sharma, A. Astrup, Anti-obesity drugs: to be or not to be? Obes. Rev. 11, 833–834 (2010)

17.

M. Hopkins, N.A. King, J.E. Blundell, Acute and long-term effects of exercise on appetite control: is there any benefit for weight control? Curr. Opin. Clin. Nutr. Metab. Care 13, 635–640 (2010)

18.

D. Paddon-Jones, E. Westman, R.D. Mattes, R.R. Wolfe, A. Astrup, M. Westerterp-Plantenga, Protein, weight management, and satiety. Am. J. Clin. Nutr. 87, 1558S–1561S (2008)

19.

A. Astrup, T. Meinert Larsen, A. Harper, Atkins and other low carbohydrate diets: hoax or an effective tool for weight loss? Lancet 364, 897–899 (2004)

20.

A.B. Crujeiras, E. Goyenechea, I. Abete, M. Lage, M. Carreira, J.A. Martinez, F.F. Casanueva, Weight regain after a diet-induced loss is predicted by higher baseline leptin and lower ghrelin plasma levels. J. Clin. Endocrin. Metab. 95, 5037–5044 (2010)

21.

E. Hemmingsson, K. Johansson, J. Eriksson, J. Sundstrom, M. Neovius, C. Marcus, Weight loss and dropout during a commercial weight-loss program including a very-low-calorie diet, a low-calorie diet or restricted normal food: observational cohort study. Am. J. Clin. Nutr. 96, 953–961 (2012)

22.

E.C. Westman, W.S. Yancy, J.S. Edman, K.F. Tomlin, C.E. Perkins, Effect of low-calorie versus low-carbohydrate ketogenic diet in type 2 diabetes. Am. J. Med. 113, 30–36 (2002)

23.

A.M. Johnstone, G.W. Horgan, D.M. Murison, D.M. Bremner, G.E. Lobley, Effects of a high-protein ketogenic diet on hunger, appetite, and weight loss in obese men feeding ad libitum. Am. J. Clin. Nutr. 87, 44–55 (2008)

24.

T.A. Hussain, T.C. Mathew, A.A. Dashti, S. Asfar, N. Al-Zaid, H.M. Dashti, Effect of low-calorie versus low-carbohydrate ketogenic diet in type 2 diabetes. Nutrition 28, 1016–1021 (2012)

25.

FAO/WHO/UNU Energy and protein requirements. Technical Report Series No 724. WorldHealthOrganization, Geneva, 1985

26.

Recomendaciones nutricionales basadas en la evidencia para la prevencion y el tratamiento del sobrepeso y la obesidad en adultos, Rev. Esp. Obes. 10, suppl. 1 (2011)

28.

SCOOP-VLCD task 7.3. Reports on tasks for scientific cooperation. Collection of data on products intended for use in very-low-calorie-diets. Report. Brussels. European Commission, September 2002

29.

A. Astrup, S. Rossner, Lessons from obesity management programmes: greater initial weight loss improves long-term maintenance. Obes. Rev. 1, 17–19 (2000)

30.

T.A. Wadden, R.H. Neiberg, R.R. Wing, J.M. Clark, L.M. Delahanty, J.O. Hill et al., Four-year weight losses in the look AHEAD study: factors associated with long-term success. Obesity (Silver Spring) 19, 1987–1998 (2011)

31.

R.R. Wing, S. Phelan, Long-term weight loss maintenance. Am. J. Clin. Nutr. 82, 222S–225S (2005)

32.

R.R. Wing, D.F. Tate, A.A. Gorin, H.A. Raynor, J.L. Fava, A self-regulation program for maintenance of weight loss. N. Engl. J. Med. 355, 1563–1571 (2006)

33.

L. Sjöström, A. Rissanen, T. Andersen, M. Boldrin, A. Golay, H.P. Koppeschaar, M. Krempf, Randomised placebo-controlled trial of orlistat for weight loss and prevention of weight regain in obese patients. European multicentre orlistat study group. Lancet 352, 167–172 (1998)

34.

J.P. Despres, A. Golay, L. Sjostrom, Effects of rimonabant on metabolic risk factors in overweight patients with dyslipidemia. N. Engl. J. Med. 353, 2121–2134 (2005)

35.

L.F. Van Gaal, Rissanen AM, Scheen AJ, Ziegler O, Rossner S, for the RIO-Europe Study Group. Effects of the cannabinoid-1 receptor blocker rimonabant on weight reduction and cardiovascular risk factors in overweight patients: 1 year experience from the RIO-Europe study. Lancet 365, 1389–1397 (2005)

36.

S. Smith, N.J. Weissman, C.M. Anderson, M. Sanchez, E. Chuang, S. Subbe et al., Multicenter, placebo-controlled trial of lorcaserin for weight management. N. Engl. J. Med. 363, 245–256 (2010)

37.

M. Glandt, I. Raz, Present and future: pharmacologic treatment of Obesity. J. Obesity (2011). doi:10.1155/2011/636181

38.

G.A. Bray, D.H. Ryan, D. Gordon, S. Heidingsfelder, F. Cerise, K. Wilson, A double-blind randomized placebo-controlled trial of sibutramine. Obes. Res. 4, 263–270 (1996)

39.

W.H. Saris, Very low calorie diets and sustained weight loss. Obes. Res. 9(suppl. 4), 295S–301S (2001)

40.

A.G. Tsai, T.A. Wadden, The evolution of very low calorie diets: an update and meta-analysis. Obesity 14, 1283–1293 (2006)

41.

J.E. Everhart, Contributions of obesity and weight loss to gallstone disease. Ann. Intern. Med. 119, 1029–1035 (1993)

42.

M.M. Finucane, G.A. Stevens, M.J. Cowan, G. Danaei, J.K. Lin, C.J. Paciorek et al., National, regional, and global trends in body-mass index since 1980: systematic analysis of health examination surveys and epidemiological studies with 960 country-years and 9.1 million participants. Lancet 377, 557–567 (2011)

43.

D. Moher, S. Hopewell, K.F. Schulz, V. Montori, P.C. Gøtzsche, P.J. Devereaux, D. Elbourne, M. Egger, D.G. Altman, CONSORT 2010 explanation and elaboration: updated guidelines for reporting parallel group randomised trials. BMJ 340, c869 (2010)

44.

K.F. Schulz, D.G. Altman, D. Moher, CONSORT 2010 statement: updated guidelines for reporting parallel group randomised trials. PLoSMed 7, e1000251 (2010)

45.

N.B. Bueno, I.S. Vieira, S. Lima, T. Rocha, Very-low-carbohydrate ketogenic diet v. low-fat diet for long term weight loss: a meta-analysis of randomised control trials. Brit. J. Nutr. 110(7), 1178–1187 (2013)

46.

C.B. Ebbeling, J.F. Swain, H.A. Feldman, W.W. Wong, D.L. Hachey, E. Garcia-Lago, D.S. Ludwig, Effects of dietary composition on energy expenditure during weight-loss maintenance. JAMA 307, 2627–2634 (2012)

47.

S.G.J.A. Camps, S.P.M. Verhoef, K.R. Westerterp, Weight loss, weight maintenance, and adaptive thermogenesis. Am J Nutr 97, 990–994 (2013)
Acknowledgments
We acknowledge the Pronokal Division of Protein Supplies SL Spain for providing free of charge the diet of the ketosis group.
Disclosure
BM, DB, AG, and FFC received advisory board fees and or research grants from Pronokal Protein Supplies Spain
About this article
Cite this article
Moreno, B., Bellido, D., Sajoux, I. et al. Comparison of a very low-calorie-ketogenic diet with a standard low-calorie diet in the treatment of obesity. Endocrine 47, 793–805 (2014). https://doi.org/10.1007/s12020-014-0192-3
Received:

Accepted:

Published:

Issue Date:
Keywords
Low-carbohydrate diet

Fat mass

Lean mass

Ketosis

Protein diet

BMI

Weight reduction

Pronokal Program