Abstract
We aimed to evaluate the prevalence of lactose intolerance (LI) in patients with Hashimoto's thyroiditis (HT) and the effects of lactose restriction on thyroid function in these patients. Eighty-three HT patients taking l-thyroxine (LT4) were enrolled, and lactose tolerance tests were performed on all patients. Lactose intolerance was diagnosed in 75.9 % of the patients with HT. Thirty-eight patients with LI were started on a lactose-restricted diet for 8 weeks. Thirty-eight patients with LI (30 euthyroid and 8 with subclinical hypothyroidism), and 12 patients without LI were included in the final analysis. The level of TSH significantly decreased in the euthyroid and subclinical hypothyroid patients with LI [from 2.06 ± 1.02 to 1.51 ± 1.1 IU/mL and from 5.45 ± 0.74 to 2.25 ± 1.88 IU/mL, respectively (both P < 0.05)]. However, the level of TSH in patients without LI did not change significantly over the 8 weeks (P > 0.05). Lactose intolerance occurs at a high frequency in HT patients. Lactose restriction leads to decreased levels of TSH, and LI should be considered in hypothyroid patients who require increasing LT4 doses, have irregular TSH levels and are resistant to LT4 treatment.
Access options
Buy single article
Instant access to the full article PDF.
US$ 39.95
Tax calculation will be finalised during checkout.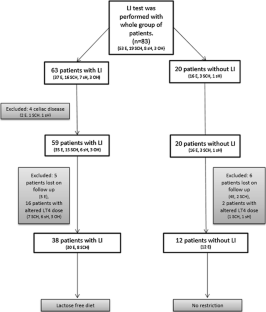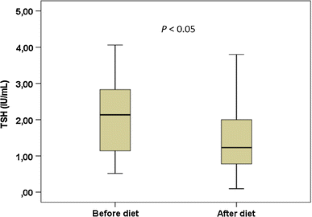 References
1.

M. Ruchała, E. Szczepanek-Parulska, A. Zybek, The influence of lactose intolerance and other gastro-intestinal tract disorders on L-thyroxine absorption. Endocrinol. Pol. 63, 318–323 (2012)

2.

M. Centanni, Thyroxine treatment: absorption, malabsorption, and novel therapeutic approaches. Endocrine 43, 8–9 (2013)

3.

E. Vermeire, H. Hearnshaw, P. Van Royen, J. Denekens, Patient adherence to treatment: three decades of research. A comprehensive review. J. Clin. Pharm. Ther. 26, 331–342 (2001)

4.

T.G. Bach-Huynh, B. Nayak, J. Loh, S. Soldin, J. Jonklaas, Timing of levothyroxine administration affects serum thyrotropin concentration. J. Clin. Endocrinol. Metab. 94, 3905–3912 (2009)

5.

P. Colucci, C.S. Yue, M. Ducharme, S. Benvenga, A review of the pharmacokinetics of levothyroxine for the treatment of hypothyroidism. Eur. Endocrinol. 9, 40–47 (2013)

6.

S. Benvenga, L. Bartolone, M.A. Pappalardo, A. Russo, D. Lapa, G. Giorgianni, G. Saraceno, F. Trimarchi, Altered intestinal absorption of l-thyroxine caused by coffee. Thyroid 18, 293–301 (2008)

7.

J.J. Lilja, K. Laitinen, P.J. Neuvonen, Effects of grapefruit juice on the absorption of levothyroxine. Br. J. Clin. Pharmacol. 60, 337–341 (2005)

8.

L. Liwanpo, J.M. Hershman, Conditions and drugs interfering with thyroxine absorption. Best Pract. Res. Clin. Endocrinol. Metab. 23, 781–792 (2009)

9.

C. Virili, G. Bassotti, M.G. Santaguida, R. Iuorio, S.C. Del Duca, V. Mercuri, A. Picarelli, P. Gargiulo, L. Gargano, M. Centanni, Atypical celiac disease as cause of increased need for thyroxine: a systematic study. J. Clin. Endocrinol. Metab. 97, 419–422 (2012)

10.

P. Puri, E.J. Guiney, Transient hypothyroidism associated with short gut syndrome. J. Pediatr. Surg. 17, 22–24 (1982)

11.

M. Muñoz-Torres, M. Varsavsky, G. Alonso, Lactose intolerance revealed by severe resistance to treatment with levothyroxine. Thyroid 16, 1171–1173 (2006)

12.

N.S. Scrimshaw, E.B. Murray, Prevalence of lactose maldigestion. Am. J. Clin. Nutr. 48, 1086–1098 (1988)

13.

E. Tuncbilek, R. Türün, B. Say, Lactose intolerance in Turkey. Lancet 2, 151 (1973)

14.

S.J. Mandel, G.A. Brent, P.R. Larsen, Levothyroxine therapy in patients with thyroid disease. Ann. Intern. Med. 119, 492–502 (1993)

15.

S. Ladas, J. Papanikos, G. Arapakis, Lactose malabsorption in Greek adults: correlation of small bowel transit time with the severity of lactose intolerance. Gut 23, 968–973 (1982)

16.

H. Arola, Diagnosis of hypolactasia and lactose malabsorption. Scand. J. Gastroenterol. 29, 26–35 (1994)

17.

S.L. Carter, S. Attel, The diagnosis and management of patients with lactose-intolerance. Nurse Pract. 38, 23–28 (2013)

18.

S. Reichlin, R.D. Utiger, Regulation of the pituitary-thyroid axis in man: relationship of TSH concentration to concentration of free and total thyroxine in plasma. J. Clin. Endocrinol. Metab. 27, 251–255 (1967)

19.

M.B. Heyman, Lactose intolerance in infants, children, and adolescents. Pediatrics 118, 1279–1286 (2006)

20.

C.L. Ch'ng, M.K. Jones, J.G. Kingham, Celiac disease and autoimmune thyroid disease. Clin. Med. Res. 5, 184–192 (2007)

21.

V. Ojetti, G. Nucera, A. Migneco, M. Gabrielli, C. Lauritano, S. Danese, M.A. Zocco, E.C. Nista, G. Cammarota, A. De Lorenzo, G. Gasbarrini, A. Gasbarrini, High prevalence of celiac disease in patients with lactose intolerance. Digestion 71, 106–110 (2005)

22.

P. Eadala, J.P. Waud, S.B. Matthews, J.T. Green, A.K. Campbell, Quantifying the 'hidden' lactose in drugs used for the treatment of gastrointestinal conditions. Aliment. Pharmacol. Ther. 29, 677–687 (2009)

23.

R. Vita, G. Saraceno, F. Trimarchi, S. Benvenga, A novel formulation of l-thyroxine (L-T4) reduces the problem of L-T4 malabsorption by coffee observed with traditional tablet formulations. Endocrine 43, 154–160 (2013)
Conflict of interest
The authors have nothing to disclose.
About this article
Cite this article
Asik, M., Gunes, F., Binnetoglu, E. et al. Decrease in TSH levels after lactose restriction in Hashimoto's thyroiditis patients with lactose intolerance. Endocrine 46, 279–284 (2014). https://doi.org/10.1007/s12020-013-0065-1
Received:

Accepted:

Published:

Issue Date:
Keywords
Lactose intolerance

Hashimoto's thyroiditis

Hypothyroidism

l

-Thyroxine malabsorption