Abstract
The aim of this study was to evaluate the effect of Cabergoline on insulin sensitivity, inflammatory markers, and carotid intima media thickness in prolactinoma patients. Twenty-one female, newly diagnosed patients with prolactinoma were included in the study. None of the patients were treated previously. Cabergoline was given as treatment, starting with 0.5 mg/day and tapered necessarily. Blood samples were taken for prolactin, highly sensitive C-reactive protein, homocysteine, total cholesterol, low density lipoprotein (LDL) cholesterol, fasting glucose, insulin, and HOMA (homeostasis model assessment of insulin resistance) score was calculated, prior to and 6 months after starting treatment. The body mass index (BMI) was measured and carotid intima media thickness (CIMT) was evaluated for each patient prior to and 6 months after the treatment. The prolactin levels and LDL decreased significantly after cabergoline treatment. Insulin sensitivity improved independently from the decrease in prolactin levels and BMI. The significant decrease in homocysteine and hs-CRP was not related with the decrease in prolactin levels. The significant decrease in CIMT was independent from the decrease in prolactin levels, HOMA score, and BMI. Our data suggest that cabergoline treatment causes an improvement in insulin sensitivity and inflammatory markers and causes a decrease in CIMT independent from the decrease in prolactin, LDL cholesterol, and BMI. We conclude that short term cabergoline treatment can improve endothelial function independently from the changes in metabolic disturbances and inflammatory markers.
This is a preview of subscription content, log in to check access.
Access options
Buy single article
Instant access to the full article PDF.
US$ 39.95
Price includes VAT for USA
Subscribe to journal
Immediate online access to all issues from 2019. Subscription will auto renew annually.
US$ 199
This is the net price. Taxes to be calculated in checkout.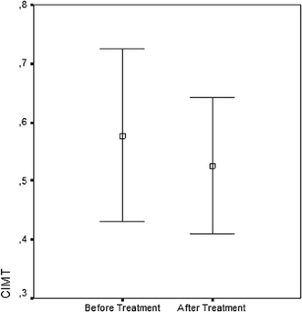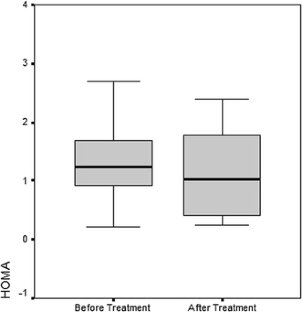 References
1.

N.D. Horseman, Prolactin and mammary gland development. J. Mammary Gland Biol. Neoplasia. 4(1), 79–88 (1999)

2.

G. Mazziotti, T. Porcelli, M. Mormando, E. De Menis, A. Bianchi, C. Mejia, T. Mancini, L. De Marinis, A. Giustina, Vertebral fractures in males with prolactinoma. Endocrine 39(3), 288–293 (2011). Epub 2011 Apr 10

3.

G. Mazziotti, T. Mancini, M. Mormando, E. De Menis, A. Bianchi, M. Doga, T. Porcelli, P.P. Vescovi, L. De Marinis, A. Giustina, High prevalence of radiological vertebral fractures in women with prolactin-secreting pituitary adenomas. Pituitary 14(4), 299–306 (2011)

4.

N. Ben-Jonathan, E.R. Hugo, T.D. Brandebourg, C.R. LaPensee, Focus on prolactin as a metabolic hormone. Trends Endocrinol. Metab. 17(3), 110–116 (2006)

5.

F.M. Reis, A.M. Reis, C.C. Coimbra, Effects of hyperprolactinaemia on glucose tolerance and insulin release in male and female rats. J. Endocrinol. 153(3), 423–428 (1997)

6.

M. Matsuda, T. Mori, Effect of estrogen on hyperprolactinemia-induced glucose intolerance in SHN mice. Proc. Soc. Exp. Biol. Med. 212(3), 243–247 (1996)

7.

K. Berinder, T. Nyström, C. Höybye, K. Hall, A.L. Hulting, Insulin sensitivity and lipid profile in prolactinoma patients before and after normalization of prolactin by dopamine agonist therapy. Pituitary 14(3), 199–207 (2011)

8.

R. Landgraf, M.M. Nyström Landraf-Leurs, A. Weissmann, R. Hörl, K. von Werder, P.C. Scriba, Prolactin: a diabetogenic hormone. Diabetologia 13(2), 99–104 (1977)

9.

D.E. Fleenor, M. Freemark, Prolactin induction of insulin gene transcription: roles of glucose and signal transducer and activator of transcription 5. Endocrinology 142(7), 2805–2810 (2001)

10.

M. Doknic, S. Pekic, M. Zarkovic, M. Medic-Stojanoska, C. Dieguez, F. Casanueva, V. Popovic, Dopaminergic tone and obesity: an insight from prolactinomas treated with bromocriptine. Eur. J. Endocrinol. 147(1), 77–84 (2002)

11.

O. Serri, L. Li, J.C. Mamputu, M.C. Beauchamp, F. Maingrette, G. Renier, The influences of hyperprolactinemia and obesity on cardiovascular risk markers: effects of cabergoline therapy. Clin. Endocrinol. (Oxf) 64(4), 366–370 (2006)

12.

E.C. Naliato, A.H. Violante, D. Caldas, A. Lamounier Filho, C.R. Loureiro, R. Fontes, Y. Schrank, R.G. Souza, P.L. Costa, A. Colao, Body fat in nonobese women with prolactinoma treated with dopamine agonists. Clin. Endocrinol. (Oxf). 67(6), 845–852 (2007). Epub 2007 Jul 20

13.

C.M. dos Santos Silva, F.R. Barbosa, G.A. Lima, L. Warszawski, R. Fontes, R.C. Domingues, M.R. Gadelha, BMI and metabolic profile in patients with prolactinoma before and after treatment with dopamine agonists. Obesity (Silver Spring) 19(4), 800–805 (2011)

14.

K. Dorshkind, N.D. Horseman, The roles of prolactin, growth hormone, insulin-like growth factor-I, and thyroid hormones in lymphocyte development and function: insights from genetic models of hormone and hormone receptor deficiency. Endocr. Rev. 21(3), 292–312 (2000)

15.

A.Q. Reuwer, M. van Eijk, F.M. Houttuijn-Bloemendaal, C.M. van der Loos, N. Claessen, P. Teeling, J.J. Kastelein, J. Hamann, V. Goffin, J.H. von der Thüsen, M.T. Twickler, J. Aten, The prolactin receptor is expressed in macrophages within human carotid atherosclerotic plaques: a role for prolactin in atherogenesis? J. Endocrinol. 208(2), 107–117 (2011)

16.

M.L. Bots, A.W. Hoes, P.J. Koudstaal, A. Hofman, D.E. Grobbee, Common carotid intima-media thickness and risk of stroke and myocardial infarction: the Rotterdam Study. Circulation 96(5), 1432–1437 (1997)

17.

G.A. Georgiopoulos, K.S. Stamatelopoulos, I. Lambrinoudaki, M. Lykka, K. Kyrkou, D. Rizos, M. Creatsa, G. Christodoulakos, M. Alevizaki, P.P. Sfikakis, C. Papamichael, Prolactin and preclinical atherosclerosis in menopausal women with cardiovascular risk factors. Hypertension 54(1), 98–105 (2009). Epub 2009 May 18

18.

D.R. Matthews, J.P. Hosker, A.S. Rudenski, B.A. Naylor, D.F. Treacher, R.C. Turner, Homeostasis model assessment: insulin resistance and beta-cell function from fasting plasma glucose and insulin concentrations in man. Diabetologia 28(7), 412–419 (1985)

19.

A. Tuzcu, S. Yalaki, S. Arikan, D. Gokalp, M. Bahcec, S. Tuzcu, Evaluation of insulin sensitivity in hyperprolactinemic subjects by euglycemic hyperinsulinemic clamp technique. Pituitary 12(4), 330–334 (2009)

20.

A. Tuzcu, M. Bahceci, M. Dursun, C. Turgut, S. Bahceci, Insulin sensitivity and hyperprolactinemia. J. Endocrinol. Invest. 26(4), 341–346 (2003)

21.

O. Serri, H. Beauregard, E. Rasio, J. Hardy, Decreased sensitivity to insulin in women with microprolactinomas. Fertil. Steril. 45(4), 572–574 (1986)

22.

A.B. Gustafson, M.F. Banasiak, R.K. Kalkhoff, T.C. Hagen, H.J. Kim, Correlation of hyperprolactinemia with altered plasma insulin and glucagon: similarity to effects of late human pregnancy. J. Clin. Endocrinol. Metab. 51(2), 242–246 (1980)

23.

G. Schernthaner, R. Prager, C. Punzengruber, A. Luger, Severe hyperprolactinaemia is associated with decreased insulin binding in vitro and insulin resistance in vivo. Diabetologia 28(3), 138–142 (1985)

24.

D. Yavuz, O. Deyneli, I. Akpinar, E. Yildiz, H. Gözü, O. Sezgin, G. Haklar, Endothelial function, insulin sensitivity and inflammatory markers in hyperprolactinemic pre-menopausal women. Eur. J. Endocrinol. 149(3), 187–193 (2003)

25.

C. Schmid, D.L. Goede, R.S. Hauser, M. Brändle, Increased prevalence of high body mass index in patients presenting with pituitary tumours: severe obesity in patients with macroprolactinoma. Swiss. Med. Wkly. 136(15–16), 254–258 (2006)

26.

Y. Greenman, K. Tordjman, N. Stern, Increased body weight associated with prolactin secreting pituitary adenomas: weight loss with normalization of prolactin levels. Clin. Endocrinol. (Oxf). 48(5), 547–553 (1998)

27.

E. Delgrange, J. Donckier, D. Maiter, Hyperprolactinaemia as a reversible cause of weight gain in male patients? Clin. Endocrinol. (Oxf). 50(2), 271 (1999)

28.

R. Pelkonen, E.A. Nikkilä, B. Grahne, Serum lipids, postheparin plasma lipase activities and glucose tolerance in patients with prolactinoma. Clin. Endocrinol. (Oxf). 16(4), 383–390 (1982)

29.

U. Fahy, M.I. Hopton, M. Hartog, C.H. Bolton, M.G. Hull, The lipoprotein profile of women with hyperprolactinaemic amenorrhoea. Hum. Reprod. 14(2), 285–287 (1999)

30.

V. Kamath, C.N. Jones, J.C. Yip, B.B. Varasteh, A.H. Cincotta, G.M. Reaven, Y.D. Chen, Effects of a quick-release form of bromocriptine (Ergoset) on fasting and postprandial plasma glucose, insulin, lipid, and lipoprotein concentrations in obese nondiabetic hyperinsulinemic women. Diabetes Care 20(11), 1697–1701 (1997)

31.

A.H. Cincotta, A.H. Meier, M. Cincotta Jr, Bromocriptine improves glycaemic control and serum lipid profile in obese Type 2 diabetic subjects: a new approach in the treatment of diabetes. Expert Opin. Investig. Drugs 8(10), 1683–1707 (1999)

32.

H. Wallaschofski, A. Kobsar, O. Sokolova, M. Eigenthaler, T. Lohmann, Co-activation of platelets by prolactin or leptin—pathophysiological findings and clinical implications. Hormone Metab. Res. 36(1–6), 99 (2004)

33.

H. Wallaschofski, M. Donne, M. Eigenthaler, B. Hentschel, R. Faber, H. Stepan, M. Koksch, T. Lohmann, PRL as a novel potent cofactor for platelet aggregation. J. Clin. Endocrinol. Metab. 86, 5912–5919 (2001)

34.

M. Franchini, G. Lippi, F. Manzato, P.P. Vescovi, G. Targher, Hemostatic abnormalities in endocrine and metabolic disorders. Eur. J. Endocrinol. 162(3), 439–451 (2010). Epub 2009 Nov 24
Conflict of interest
Authors declare no conflict of interest.
About this article
Cite this article
Inancli, S.S., Usluogullari, A., Ustu, Y. et al. Effect of cabergoline on insulin sensitivity, inflammation, and carotid intima media thickness in patients with prolactinoma. Endocrine 44, 193–199 (2013). https://doi.org/10.1007/s12020-012-9857-y
Received:

Accepted:

Published:

Issue Date:
Keywords
Prolactinoma

Carotid intima media thickness

Insulin resistance

Inflammation

Atherosclerosis