Abstract
Obstructive sleep apnea (OSA) and 25-hydroxyvitamin-D3 (25-OH-D) deficiency are two separate disorders associating with obesity, inflammation, and impaired glucose metabolism. We aimed to investigate the vitamin D status of OSA patients regarding to potential links between lower vitamin D levels and abnormal glucose metabolism, which is one of the main adverse outcomes of OSA. Study group is composed of 190 non-diabetic subjects who were suspected of having OSA. Subjects undergone polysomnography and were grouped due to apnea−hypopnea indices (AHI) as controls (AHI < 5, n = 47), mild OSA (5 ≤ AHI < 15, n = 46), moderate OSA (15 ≤ AHI < 30, n = 47), and severe OSA (AHI ≥ 30, n = 50). Serum 25-OH-D, HbA1c, insulin levels were measured and 75-g oral glucose tolerance test was performed. Serum 25-OH-D level (ng/ml) of OSA patients were lower than control subjects (17.4 ± 6.9 vs. 19.9 ± 7.8), and decrement was parallel to severity of OSA; as 18.2 ± 6.4 (5 ≤ AHI < 15), 17.5 ± 7.4 (15 ≤ AHI < 30), and 16.3 ± 6.9 (AHI > 30), respectively (P = 0.097, r = −0.13). However, severe female OSA patients had significantly lower 25-OH-D levels (11.55 ng/ml), while control males had the highest mean value (21.7 ng/ml) (P < 0.001). Frequency of insulin resistance (IR) was 48%, prediabetes 41%, diabetes 16% in OSA patients. Mean 25-OH-D level of insulin resistant subjects (HOMA-IR ≥ 2.7, n = 77, AHI = 35.5) was lower than non-insulin resistant subjects (HOMA-IR < 2.7, n = 113, AHI = 19.8) as 16.18 ± 7.81 versus 19.2 ± 6.6, respectively (P = 0.004). 25-OH-D level of 91 non-diabetic subjects (n = 91, AHI = 19.7) was 19.5 ± 7.4, prediabetics (n = 75, AHI = 28.7) was 17.45 ± 6.9, and diabetics (n = 24, AHI = 46.3) was 13.8 ± 5.3 (P = 0.02). We showed that subjects with more severe OSA indices (AHI ≥ 15) tended to present lower vitamin D levels correlated to increased prevalence of IR, prediabetes, and diabetes. Vitamin D deficiency may play a role and/or worsen OSA's adverse outcomes on glucose metabolism. OSA patients may be considered for supplementation treatment which was shown to ameliorate abnormal glucose metabolism and inflammation.
Access options
Buy single article
Instant access to the full article PDF.
USD 39.95
Price includes VAT (USA)
Tax calculation will be finalised during checkout.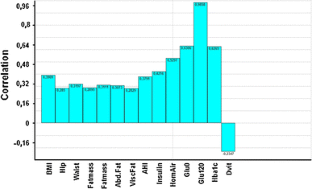 References
1.

V.K. Kapur, Obstructive sleep apnea: diagnosis, epidemiology, and economics. Respir Care. 55(9), 1155–1167 (2010)

2.

E. Tasali, B. Mokhlesi, E. Van Cauter, Obstructive sleep apnea and type 2 diabetes: interacting epidemics. Chest 133(2), 496–506 (2008)

3.

E. Tasali, M.S. Ip, Obstructive sleep apnea and metabolic syndrome: alterations in glucose metabolism and inflammation. Proc. Am. Thorac. Soc. 5(2), 207–217 (2008)

4.

A.G. Pittas, J. Lau, F.B. Hu, B. Dawson-Hughes, The role of vitamin D and calcium in type 2 diabetes. A systematic review and meta-analysis. J. Clin. Endocrinol. Metab. 92(6), 2017–2029 (2007)

5.

S.J. Parikh, M. Edelman, G.I. Uwaifo et al., The relationship between obesity and serum 1,25-dihydroxy vitamin D concentrations in healthy adults. J. Clin. Endocrinol. Metab. 89(3), 1196–1199 (2004)

6.

N. Vilarrasa, J. Vendrell, J. Maravall et al., Is plasma 25(OH) D related to adipokines, inflammatory cytokines and insulin resistance in both healthy and morbidly obese population? Endocrine. 38(2), 235–242 (2010)

7.

E. Barengolts, Vitamin D role and use in prediabetes. Endocr. Pract. 16(3), 476–485 (2010)

8.

American Diabetes Association Diagnosis and Classification of Diabetes Mellitus. Diabetes Care. 33, (Suppl 1) S62–S69 (2010)

9.

N. Meslier, F. Gagnadoux, P. Giraud et al., Impaired glucose–insulin metabolism in males with obstructive sleep apnoea syndrome. Eur. Respir. J. 22, 156–160 (2003)

10.

S. Makino, H. Handa, K. Suzukawa et al., Obstructive sleep apnoea syndrome, plasma adiponectin levels, and insulin resistance. Clin. Endocrinol. (Oxf). 64, 12–19 (2006)

11.

N. McArdle, D. Hillman, L. Beilin et al., Metabolic risk factors for vascular disease in obstructive sleep apnea: a matched controlled study. Am. J. Respir. Crit. Care Med. 175, 190–195 (2007)

12.

F. Tassone, F. Lanfranco, L. Gianotti et al., Obstructive sleep apnoea syndrome impairs insulin sensitivity independently of anthropometric variables. Clin. Endocrinol. (Oxf) 59, 374–379 (2003)

13.

A.N. Vgontzas, Does obesity play a major role in the pathogenesis of sleep apnoea and its associated manifestations via inflammation, visceral adiposity, and insulin resistance? Arch. Physiol. Biochem. 114(4), 211–223 (2008)

14.

E.L. Thomas, A.L. Collins, J. McCarthy et al., Estimation of abdominal fat compartments by bioelectrical impedance: the validity of the ViScan measurement system in comparison with MRI. Eur. J. Clin. Nutr. 64(5), 525–533 (2010)

15.

B. Antuna-Puente, B. Feve, S. Fellahi, J.P. Bastard, Adipokines: the missing link between insulin resistance and obesity. Diabetes Metab. 34(1), 2–11 (2008)

16.

A.N. Vgontzas, E.O. Bixler, G.P. Chrousos, Metabolic disturbances in obesity versus sleep apnoea: the importance of visceral obesity and insulin resistance. J. Intern. Med. 254(1), 32–44 (2003)

17.

A. Arabi, R. El Rassi, G. El-Hajj Fuleihan, Hypovitaminosis D in developing countries-prevalence, risk factors and outcomes. Nat. Rev. Endocrinol. 6(10), 550–561 (2010)

18.

F. Alagöl, Y. Shihadeh, H. Boztepe et al., Sunlight exposure and vitamin D deficiency in Turkish women. J. Endocrinol. Invest. 23(3), 173–177 (2000)

19.

D. Teegarden, S.S. Donkin, Vitamin D emerging new roles in insulin sensitivity. Nutr. Res. Rev. 22(1), 82–92 (2009)

20.

R. Scragg, M. Sowers, C. Bell, Serum 25-hydroxyvitamin D, diabetes, and ethnicity in the Third National Health and Nutrition Examination Survey. Diabetes Care 27(12), 2813–2818 (2004)

21.

A.W. Norman, Minireview: vitamin D receptor: new assignments for an already busy receptor. Endocrinology. 147(12), 5542–5548 (2006)

22.

K.C. Chiu, A. Chu, V.L. Go, M.F. Saad, Hypovitaminosis D is associated with insulin resistance and beta cell dysfunction. Am. J. Clin. Nutr. 79(5), 820–825 (2004)

23.

K. Tai, A.G. Need, M. Horowitz, I.M. Chapman, Nutrition. Vitamin D, glucose, insulin, and insulin sensitivity 24(3), 279–285 (2008)

24.

E. van Etten, C. Mathieu, Immunoregulation by 1,25-dihydroxyvitamin D3: basic concepts. J. Steroid Biochem. Mol. Biol. 97(1–2), 93–101 (2005)

25.

F. Baeke, H. Korf, L. Overbergh, E. van Etten, A. Verstuyf, C. Gysemans, C. Mathieu, Human T lymphocytes are direct targets of 1,25-dihydroxyvitamin D3 in the immune system. J. Steroid Biochem. Mol. Biol. 121(1–2), 221–227 (2010)

26.

N.G. Forouhi, J. Luan, A. Cooper, B.J. Boucher, N.J. Wareham, Baseline serum 25-hydroxy vitamin d is predictive of future glycemic status and insulin resistance: the Medical Research Council Ely Prospective Study 1990–2000. Diabetes 57(10), 2619–2625 (2008)

27.

E. Yusupov, M. Li-Ng, S. Pollack, J.K. Yeh, M. Mikhail, J.F. Aloia, Vitamin d and serum cytokines in a randomized clinical trial. Int. J. Endocrinol. 30, 50–54 (2010)

28.

R. Riachy, B. Vandewalle, J. Kerr Conte et al., 1,25-dihydroxyvitamin D3 protects RINm5F and human islet cells against cytokine-induced apoptosis: implication of the antiapoptotic protein A20. Endocrinology. 143(12), 4809–4819 (2002)

29.

C.A. Gysemans, A.K. Cardozo, H. Callewaert et al., 1,25-Dihydroxyvitamin D3 modulates expression of chemokines and cytokines in pancreatic islets: implications for prevention of diabetes in nonobese diabetic mice. Endocrinology. 146(4), 1956–1964 (2005)

30.

I. Alam, K. Lewis, J.W. Stephens, J.N. Baxter, Obesity, metabolic syndrome and sleep apnoea: all pro-inflammatory states. Obes. Rev. 8(2), 119–127 (2007)

31.

A.N. Vgontzas, D.A. Papanicolaou, E.O. Bixler et al., Sleep apnea and daytime sleepiness and fatigue: relation to visceral obesity, insulin resistance, and hypercytokinemia. J. Clin. Endocrinol. Metab. 85(3), 1151–1158 (2000)

32.

S. Ryan, C.T. Taylor, W.T. McNicholas, Selective activation of inflammatory pathways by intermittent hypoxia in obstructive sleep apnea syndrome. Circulation 112(17), 2660–2667 (2005)

33.

A.L. Valiña-Tóth, Z. Lai, W. Yoo, A. Abou-Samra, C.A. Gadegbeku, J.M. Flack, Relationship of vitamin D and parathyroid hormone with obesity and body composition in African Americans. Clin. Endocrinol. (Oxf). 72(5), 595–603 (2010)

34.

J. Wortsman, L.Y. Matsuoka, T.C. Chen, Z. Lu, M.F. Holick, Decreased bioavailability of vitamin D in obesity. Am. J. Clin. Nutr. 72(3), 690–693 (2000)

35.

S.S. Schleithoff, A. Zittermann, G. Tenderich, H.K. Berthold, P. Stehle, R. Koerfer, Vitamin D supplementation improves cytokine profiles in patients with congestive heart failure: a double-blind, randomized, placebo-controlled trial. Am. J. Clin. Nutr. 83(4), 754–759 (2006)
Acknowledgments
Special thanks to Dr. Sadik Ardic from Department of Chest Medicine and Sleep Disorders Center, Ankara Diskapi Y.B. Training and Research Hospital, and Murat Aytekin from Department of Biostatistics, Hacettepe University, for their contributions to this study.
Conflict of interest
The authors declare that they have no conflict of interest.
About this article
Cite this article
Bozkurt, N.C., Cakal, E., Sahin, M. et al. The relation of serum 25-hydroxyvitamin-D levels with severity of obstructive sleep apnea and glucose metabolism abnormalities. Endocrine 41, 518–525 (2012). https://doi.org/10.1007/s12020-012-9595-1
Received:

Accepted:

Published:

Issue Date:
Keywords
Vitamin D

Obstructive sleep apnea

Prediabetes

Insulin resistance