Abstract
Hypothalamic–pituitary–adrenal (HPA) axis control may be impaired in type 2 diabetes (T2DM). Glucocorticoids increase consumption of low quality foods high in calories, sugar, and fat. We explored the relationship between cortisol levels, poor blood glucose control, and food quality choice in T2DM. Twenty-seven healthy controls were age-, gender- and education-matched to 27 T2DM participants. Standard clinical blood tests and cortisol values were measured from fasting blood samples. Participants recorded all consumed food and drink items in a consecutive 3-day food diary. Diaries were analyzed for "high quality" and "low quality" foods using a standardized method with high reliability (0.97 and 0.86, respectively). Controlling for education, body mass index (BMI) and hemoglobin A1C (HbA1C), log-transformed cortisol (LogC) predicted the percent of low quality foods (R 2 = 0.092, β = 0.360, P < 0.05), but not the percent of high quality foods chosen. Controlling for education, BMI, and LogC, HbA1C significantly predicted both the percent of low quality foods (ΔR 2 = 0.079, β = 0.348, P = 0.024) and high quality foods chosen (ΔR 2 = 0.085, β = −0.362, P = 0.022). The relationship between HbA1C and low quality food choice may be mediated by cortisol, controlling for BMI and education (P < 0.01). HbA1C displayed both an indirect (cortisol-mediated) effect (P < 0.05) and direct effect on low quality food choice (P < 0.05). The relationship between HbA1C and low quality food choice may be partially mediated by cortisol. Poor blood glucose control may cause HPA axis disruption, increased consumption of low quality foods.
This is a preview of subscription content, log in to check access.
Access options
Buy single article
Instant access to the full article PDF.
US$ 39.95
Price includes VAT for USA
Subscribe to journal
Immediate online access to all issues from 2019. Subscription will auto renew annually.
US$ 199
This is the net price. Taxes to be calculated in checkout.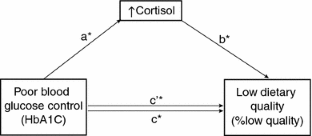 References
1.

Centers for Disease Control and Prevention.: National diabetes fact sheet: general information and national estimates on diabetes in the United States, 2007

2.

J. Waltenberger, Impaired collateral vessel development in diabetes: potential cellular mechanisms and therapeutic implications. Cardiovasc. Res. 49, 554–560 (2001)

3.

F.B. Hu, J.E. Manson, M.J. Stampfer, G. Colditz, S. Liu, C.G. Solomon, W.C. Willett, Diet, lifestyle, and the risk of type 2 diabetes mellitus in women. N. Engl. J. Med. 345, 790–797 (2001)

4.

F. Magkos, M. Yannakoulia, J.L. Chan, C.S. Mantzoros, Management of the metabolic syndrome and type 2 diabetes through lifestyle modification. Annu. Rev. Nutr. 29, 223–256 (2009)

5.

K.Z. Walker, K. O'Dea, M. Gomez, S. Girgis, R. Colagiuri, Diet and exercise in the prevention of diabetes. J. Hum. Nutr. Diet. 23, 344–352 (2010)

6.

J. Halkjaer, A. Tjønneland, K. Overvad, T.I.A. Sørensen, Dietary predictors of 5-year changes in waist circumference. J. Am. Diet. Assoc. 109, 1356–1366 (2009)

7.

G. Oliver, J. Wardle, Perceived effects of stress on food choice. Physiol. Behav. 66, 511–515 (1999)

8.

J. Wardle, A. Steptoe, Socioeconomic differences in attitudes and beliefs about healthy lifestyles. J. Epidemiol. Commun. Health 57, 440–443 (2003)

9.

M.F. Dallman, N. Pecoraro, S.F. Akana, S.E. La Fleur, F. Gomez, H. Houshyar, M.E. Bell, S. Bhatnagar, K.D. Laugero, S. Manalo, Chronic stress and obesity: a new view of "comfort food". Proc. Natl. Acad. Sci. USA 100, 11696–11701 (2003)

10.

S.A. George, S. Khan, H. Briggs, J.L. Abelson, CRH-stimulated cortisol release and food intake in healthy, non-obese adults. Psychoneuroendocrinology 35, 607–612 (2010)

11.

A.J.G. Knoops, L. Gerritsen, Y. van der Graaf, W.P.T.M. Mali, M.I. Geerlings, Basal hypothalamic pituitary adrenal axis activity and hippocampal volumes: the SMART-Medea study. Biol. Psychiatry 67, 1191–1198 (2010)

12.

B. McEwen, The neurobiology of stress: from serendipity to clinical relevance. Brain Res. 886(1–2), 172–189 (2000)

13.

J. Newell-Price, X. Bertagna, A.B. Grossman, L.K. Nieman, Cushing's syndrome. Lancet 367, 1605–1617 (2006)

14.

H. Bruehl, M. Rueger, I. Dziobek, V. Sweat, A. Tirsi, E. Javier, A. Arentoft, O.T. Wolf, A. Convit, Hypothalamic-pituitary-adrenal axis dysregulation and memory impairments in type 2 diabetes. J. Clin. Endocrinol. Metab. 92, 2439–2445 (2007)

15.

J.I. Cohen, K.F. Yates, M. Duong, A. Convit, Obesity, orbitofrontal structure and function are associated with food choice: a cross-sectional study. BMJ Open 2, e000175 (2011). doi:10.1136/bmjopen-2011- 000175

16.

E.T. Kennedy, S.A. Bowman, J.T. Spence, M. Freedman, J. King, Popular diets: correlation to health, nutrition, and obesity. J. Am. Diet. Assoc. 101, 411–420 (2001)

17.

C. Maffeis, L. Pinelli, Teaching children with diabetes about adequate dietary choices. Br. J. Nutr. 99(Suppl 1), S33–S39 (2008)

18.

S.E. Kanoski, T.L. Davidson, Western diet consumption and cognitive impairment: links to hippocampal dysfunction and obesity. Physiol. Behav. 103, 59–68 (2011)

19.

S.R. Govil, G. Weidner, T. Merritt-Worden, D. Ornish, Socioeconomic status and improvements in lifestyle, coronary risk factors, and quality of life: the Multisite Cardiac Lifestyle Intervention Program. Am. J. Public Health 99, 1263–1270 (2009)

20.

T. Dubowitz, M. Heron, C.E. Bird, N. Lurie, B.K. Finch, R. Basurto-Dávila, L. Hale, J.J. Escarce, Neighborhood socioeconomic status and fruit and vegetable intake among whites, blacks, and Mexican Americans in the United States. Am. J. Clin. Nutr. 87, 1883–1891 (2008)

21.

D.J. Mela, Determinants of food choice: relationships with obesity and weight control. Obes. Res. 9(Suppl 4), 249S–255S (2001)

22.

J.M. Born, S.G.T. Lemmens, F. Rutters, A.G. Nieuwenhuizen, E. Formisano, R. Goebel, M.S. Westerterp-Plantenga, Acute stress and food-related reward activation in the brain during food choice during eating in the absence of hunger. Int. J. Obes. (Lond) 34, 172–181 (2010)

23.

M.F. Dallman, N.C. Pecoraro, S.E. la Fleur, Chronic stress and comfort foods: self-medication and abdominal obesity. Brain Behav. Immun. 19, 275–280 (2005)

24.

N. Pecoraro, F. Reyes, F. Gomez, A. Bhargava, M.F. Dallman, Chronic stress promotes palatable feeding, which reduces signs of stress: feedforward and feedback effects of chronic stress. Endocrinology 145, 3754–3762 (2004)

25.

S. Fulton, Appetite and reward. Front. Neuroendocrinol. 31, 85–103 (2010)

26.

P.M. Johnson, P.J. Kenny, Dopamine D2 receptors in addiction-like reward dysfunction and compulsive eating in obese rats. Nat. Neurosci. 13, 635–641 (2010)
Acknowledgments
This study was supported by a grant from the National Institutes of Health DK064087 and supported in part by grant1UL1RR029893 from the National Center for Research Resources.
About this article
Cite this article
Duong, M., Cohen, J.I. & Convit, A. High cortisol levels are associated with low quality food choice in type 2 diabetes. Endocrine 41, 76–81 (2012). https://doi.org/10.1007/s12020-011-9527-5
Received:

Accepted:

Published:

Issue Date:
Keywords
HPA

Cortisol

Food diary

Hemoglobin A1C

Food choice

Type II diabetes