Abstract
A woman with Hashimoto's thyroiditis, under replacement L-T4, repeatedly experienced, over a 10-year period, elevations of serum TSH after eyelid injections of Clostridium botulinum neurotoxin A (Btx). We hypothesized a link between Btx injections and TSH elevations via molecular mimicry, and aimed to verify our hypothesis. Using an in silico approach, we searched first for amino acid sequence homology between Btx and thyroid autoantigens, and next for HLA binding motifs within homologous segments. We found that (i) Btx and thyroid autoantigens share amino acid sequence homology; (ii) some homologous regions contain epitopes of both Btx and thyroid autoantigens; (iii) some of such regions contain HLA-DR3 and/or HLA-DR7 binding motifs, which predominate over other HLA-DRs. This is relevant because the patient's HLA-DR haplotype was DR3/DR7. In conclusion, clinical and bioinformatics data suggest a possible pathogenetic link between Btx and autoimmune thyroid diseases. Considering the wide and increasing medical and dermocosmetic use of Btx, and the frequently subclinical course of autoimmune thyroid diseases, we think that thyroid "complications" may pass frequently undetected in Btx-treated persons.
This is a preview of subscription content, log in to check access.
Access options
Buy single article
Instant access to the full article PDF.
US$ 39.95
Price includes VAT for USA
Subscribe to journal
Immediate online access to all issues from 2019. Subscription will auto renew annually.
US$ 199
This is the net price. Taxes to be calculated in checkout.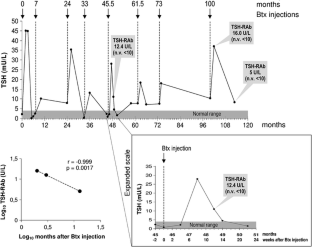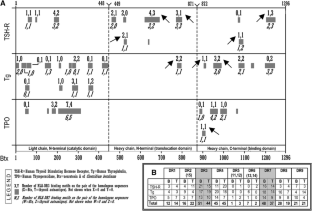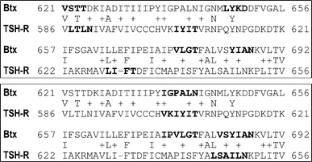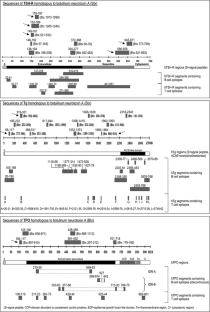 References
1.

R. Hackett, P.C. Kam, Med. Chem. 3, 333–345 (2007)

2.

American Society for Aesthetic Plastic Surgery, News release on Statistics, Surveys and Trends in Aesthetic Medicine in 2009. http://www.surgery.org/media/news-releases/despite-recession-overall-plastic-surgery-demand-drops-only-2-percent-from-last-year (checked September 17, 2010) (2010)

3.

S. Benvenga, L. Bartolone, M.A. Pappalardo, A. Russo, D. Lapa, G. Giorgianni, G. Saraceno, F. Trimarchi, Thyroid 18, 293–301 (2008)

4.

S. Benvenga, L. Santarpia, F. Trimarchi, F. Guarneri, Thyroid 16, 225–236 (2006)

5.

F. Guarneri, S. Benvenga, Curr. Opin. Endocrinol. Diabetes Obes. 14, 398–409 (2007)

6.

National Institute of Health Transplantation and Immunology Branch Staff, in Manual of tissue typing techniques, DHEW publication no. 80-545, ed. by T. Ray (National Institute of Health, Bethesda, 1979)

7.

B.Peters, J.Sidney, P.Bourne, H.H.Bui, S.Buus, G.Doh, W.Fleri, M.Kronenberg, R.Kubo, O.Lund, D.Nemazee, J.V.Ponomarenko, M.Sathiamurthy, S.Schoenberger, S.Stewart, P.Surko, S.Way, S.Wilson, A.Sette, PLoS Biol. 3, e91 (2005) Database freely available at http://www.immuneepitope.org, accessed on 28 October 2009

8.

C.A. Naranjo, U. Busto, E.M. Sellers, P. Sandor, I. Ruiz, E.A. Roberts, E. Janecek, C. Domecq, D.J. Greenblatt, Clin. Pharmacol. Ther. 30, 239–245 (1981)

9.

European Medicines Agency 2003 Referral on Botox – Annex III. Available at http://www.ema.europa.eu/pdfs/human/referral/botox/426003en.pdf, accessed on May 1, 2010

10.

D. Dressler, Nervenarzt 79(Suppl 1), 36–40 (2008)

11.

H. Göschel, K. Wohlfarth, J. Frevert, R. Dengler, H. Bigalke, Exp. Neurol. 147, 96–102 (1997)

12.

Z. Kraiem, B.Y. Cho, O. Sadeh, M.H. Shong, P. Pickerill, A.P. Weetman, Clin. Endocrinol. (Oxf) 37, 135–140 (1992)

13.

S.B. Feingold, J. Smith, J. Houtz, E. Popovsky, R.S. Brown, J. Clin. Endocrinol. Metab. 94, 4742–4748 (2009)

14.

S. Refetoff, J. Endocrinol. Invest. 26, 770–779 (2003)

15.

S. Refetoff, J. Chin. Med. Assoc. 66, 441–452 (2003)

16.

A. Nicoletti, M. Bal, G. De Marco, L. Baldazzi, P. Agretti, S. Menabò, E. Ballarini, A. Cicognani, M. Tonacchera, A. Cassio, J. Clin. Endocrinol. Metab. 94, 4187–4194 (2009)

17.

M.F. Prummel, L.J. Brokken, W.M. Wiersinga, Thyroid 14, 825–829 (2004)

18.

P. Crisanti, B. Omri, E. Hughes, G. Meduri, C. Hery, E. Clauser, C. Jacquemin, B. Saunier, Endocrinology 142, 812–822 (2001)

19.

J. Bockmann, C. Winter, W. Wittkowski, M.R. Kreutz, T.M. Bockers, Biochem. Biophys. Res. Commun. 238, 173–178 (1997)

20.

R. Hall, S.G. Owen, Br. Med. J. 2, 710–711 (1960)

21.

S.M. McLachlan, B. Rapoport, in Werner & Ingbar's the thyroid: a fundamental and clinical text, 8th edn., ed. by L.E. Braverman, R.D. Utiger (Lippincott Williams & Wilkins, Philadelphia, 2000)

22.

Y. Ban, Y. Tomer, Clin. Dev. Immunol. 12, 47–58 (2005)

23.

Y. Tomer, A. Huber, J. Autoimmun. 32, 231–239 (2009)

24.

E.M. Jacobson, A. Huber, Y. Tomer, J. Autoimmun. 30, 58–62 (2008)

25.

M. Dittmar, G.J. Kahaly, Thyroid 15, 239–250 (2005)

26.

L.D. Kohn, N. Harii, Autoimmunity 36, 331–337 (2003)

27.

B.R. Smith, J. Sanders, J. Furmaniak, Thyroid 17, 923–938 (2007)

28.

P. Perros, A.J. Dickinson, in Werner & Ingbar's the thyroid: a fundamental and clinical text, 8th edn., ed. by L.E. Braverman, R.D. Utiger (Lippincott Williams & Wilkins, Philadelphia, 2005)

29.

A.R. Harrison, J.P. Erickson, Ophthal. Plast. Reconstr. Surg. 22, 397–398 (2006)

30.

S.F.Altschul, T.L.Madden, A.A.Schäffer, J.Zhang, Z.Zhang, W.Miller, D.J.Lipman, Nucleic Acids Res. 25, 3389–3402 (1997) (software freely available at http://blast.ncbi.nlm.nih.gov/Blast.cgi, accessed on 28 February 2009)

31.

M. Sathiamurthy, H.D. Hickman, J.W. Cavett, A. Zahoor, K. Prilliman, S. Metcalf, M. Fernandez Vina, W.H. Hildebrand, Tissue Antigens 61, 12–19 (2003)
About this article
Cite this article
Gregoric, E., Gregoric, J.A., Guarneri, F. et al. Injections of Clostridium botulinum neurotoxin A may cause thyroid complications in predisposed persons based on molecular mimicry with thyroid autoantigens. Endocr 39, 41–47 (2011). https://doi.org/10.1007/s12020-010-9410-9
Received:

Accepted:

Published:

Issue Date:
Keywords
Clostridium botulinum neurotoxin A

Autoimmune thyroid diseases

Thyrotropin

Molecular mimicry

Amino acid sequence homology