Abstract
This study was designed to study the effects of vitamin D3 supplementation on the cognitive dysfunction and neurological function of traumatic brain injury (TBI) and the possible underlying mechanisms. To this purpose, different doses of vitamin D3 were intraperitoneally injection to TBI rats for one week before TBI surgery and three consecutive weeks after TBI. Brain edema evaluation was conducted on the third day and Evans blue staining for blood–brain barrier (BBB) permeability on the seventh day after TBI. Rat behavior was assessed by evaluation of neurological scores and morris water maze. It was revealed that vitamin D levels increased in serum after the administration of vitamin D3 for one week. TBI led to neurological deficit, together with brain edema, BBB disruption and inflammation. Vitamin D3 supplement ameliorated neurological deficit and cognitive impairments induced by TBI. Vitamin D3 administration reduced brain edema and impairments of blood–brain barrier induced by TBI, as well as decreased inflammatory response in TBI rat brain. Our results showed that vitamin D3 administration alleviated neurobehavioral deficits and improved brain edema after TBI. Vitamin D3 inhibited inflammatory cytokines and decreased BBB disruption in TBI rats. Vitamin D3 may be used for the treatment of TBI as a protective intervention.
Access options
Buy single article
Instant access to the full article PDF.
US$ 39.95
Tax calculation will be finalised during checkout.
Subscribe to journal
Immediate online access to all issues from 2019. Subscription will auto renew annually.
US$ 79
Tax calculation will be finalised during checkout.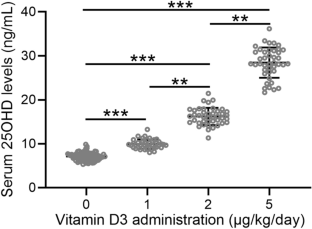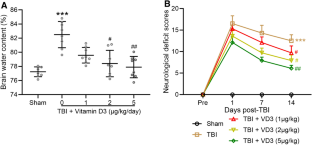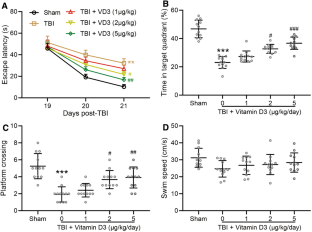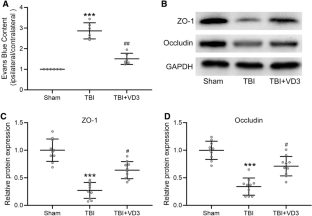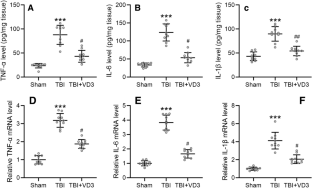 Data Availability
Data could be made available upon reasonable request.
Funding
This work was funded by Medical Science Research Project of Hebei Province in 2019 (Project Number: 20190862).
Ethics declarations
Conflict of interest
The authors declare that they have no conflict of interest.
Ethical Approval
All the experiments and procedures were approved by Ethics Committee of the Affiliated Hospital, Chengde Medical College.
Additional information
Publisher's Note
Springer Nature remains neutral with regard to jurisdictional claims in published maps and institutional affiliations.
Jie Yang and Kunpeng Wang contributed equally to this work.
About this article
Cite this article
Yang, J., Wang, K., Hu, T. et al. Vitamin D3 Supplement Attenuates Blood–Brain Barrier Disruption and Cognitive Impairments in a Rat Model of Traumatic Brain Injury. Neuromol Med (2021). https://doi.org/10.1007/s12017-021-08649-z
Received:

Accepted:

Published:
Keywords
Vitamin D3

Brain injuries

Cognitive deficits

Brain edema

Inflammation