Abstract
Pharmaco-resistant Epilepsy has been a major challenge for medical interventions in controlling seizures. To date, up to 33% of the patients with epilepsy do not show adequate response to anti-epileptic drugs even after prolonged combinatorial drug usage. Using microarray, this study explores the changes in hippocampal gene expression in the phenytoin-resistant pentylenetetrazol (PTZ)-kindled mouse model of epilepsy. Our results from mRNA microarray analysis show distinct gene expression profiles in the hippocampus of phenytoin-resistant and sensitive mice. Pathway enrichment analysis showed differential expression of genes involved in cholesterol biosynthesis in phenytoin-resistant and sensitive mice.
Access options
Buy single article
Instant access to the full article PDF.
US$ 39.95
Tax calculation will be finalised during checkout.
Subscribe to journal
Immediate online access to all issues from 2019. Subscription will auto renew annually.
US$ 79
Tax calculation will be finalised during checkout.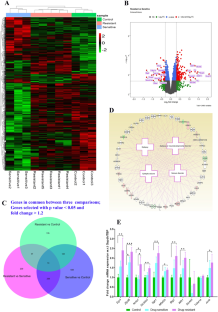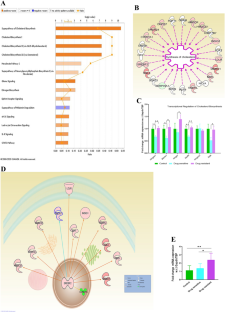 Data Availability
Microarray array data is being submitted to Geo data base and accession no would be provided here. Other data will be available on request.
Acknowledgements
U. A. B. and N. K. acknowledge CSIR fellowship supports for doctoral research. Mr. Jedy Jose, CCMB, Animal House was duly acknowledged for his constant support in maintaining the quality of animals used for the study.
Funding
This research was jointly supported by the Council of Scientific and Industrial Research [BSC0103-UNDO to A. K. and S. C.] and Department of Biotechnology, India [BT/PR4014/MED/30/673/2011 to A. K.].
Ethics declarations
Conflict of interest
There are no conflicts of interest among all authors.
Ethics Approval
We confirm that we have read the journal's position on issues involved in ethical publication and affirm that this report is consistent with those guidelines. Animal protocols were approved by Institutional Animal Ethics Committee (IAEC) of the CSIR- Centre for Cellular and Molecular Biology (CCMB), Hyderabad, India. The protocol was assigned the number #IAEC/CCMB/50/2018.
Consent for Publication
All authors have approved submission of this manuscript to this journal.
Additional information
Publisher's Note
Springer Nature remains neutral with regard to jurisdictional claims in published maps and institutional affiliations.
Supplementary Information
Below is the link to the Supplementary Information.
About this article
Cite this article
Amalakanti, S., Bhat, U.A., Mylavarapu, M.B. et al. Gene Expression Analysis Identifies Cholesterol Metabolism Dysregulation in Hippocampus of Phenytoin-Resistant Pentylenetetrazol-Kindled Epileptic Mice. Neuromol Med (2021). https://doi.org/10.1007/s12017-021-08648-0
Received:

Accepted:

Published:
Keywords
Microarray

Drug-resistant epilepsy

Convulsion

Neurological

Cholesterol