Abstract
Traumatic brain injury (TBI) is one of the leading causes of morbidity and mortality among the world, while the advance of TBI management is rather limited in recent years. The deregulation of microRNAs (miRNAs) has been widely reported in TBI patients and animal models, and certain miRNAs have been identified as the emerging biomarkers of TBI. However, the role of miRNAs in the regulatory mechanism of TBI remains unclear. To demonstrate the effect of miR-146a mimic on TBI-induced neural damages, TBI mouse model was constructed by cortical impact injury (CCI). The chemokine levels were examined by ELISA assays. Behavioral experiments were used to estimate the impact of miR-146a mimics on neurological functions in mice. Western blot assays were performed to demonstrate the protein levels. qRT-PCR assays were utilized to investigate the expression alteration of RNA levels. It was found that miR-146a was upregulated both in brain and serum in TBI mice. miR-146a mimic downregulated inflammatory cytokines secretion in mouse brain. The NF-κB signaling pathway was inhibited by miR-146a mimic. miR-146a treatment attenuated the impact caused by TBI to mouse brain and improve the long-term neurological function. In conclusion, miR-146a mimics ameliorate TBI-related injuries via JNK and NF-κB signaling pathway.
This is a preview of subscription content,
to check access.
Access this article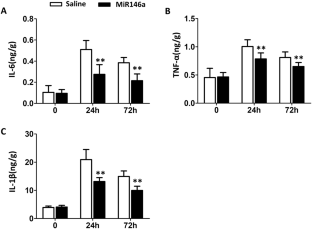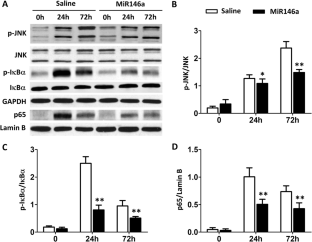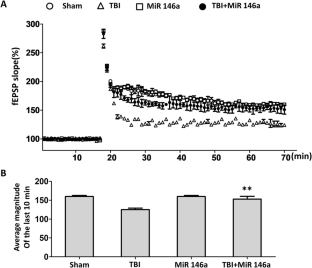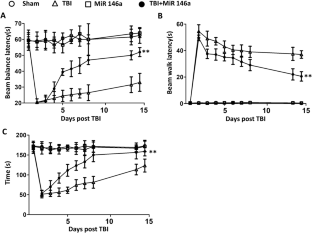 Ethics declarations
Conflict of interest
The authors declare that they have no conflict of interest.
Ethical Approval
All experiments and procedures performed in animals in this research were examined and approved by the animal use committee in Yuhuangding Hospital of Yantai, the Affiliated Yantai Yuhuangding Hospital of Qingdao University.
Additional information
Publisher's Note
Springer Nature remains neutral with regard to jurisdictional claims in published maps and institutional affiliations.
Lei Zhang and Li Zhao have contributed equally to this paper, and should be regarded as co-first authors.
About this article
Cite this article
Zhang, L., Zhao, L., Zhu, W. et al. miR-146a Mimics Ameliorates Traumatic Brain Injury Involving JNK and NF-κB Signaling Pathway. Neuromol Med 22, 484–492 (2020). https://doi.org/10.1007/s12017-020-08599-y
Received:

Accepted:

Published:

Issue Date:

DOI: https://doi.org/10.1007/s12017-020-08599-y
Keywords