Abstract
Caregiving for a dementia patient is associated with increased risk of psychological and physical health problems. We investigated whether a mindfulness-based stress reduction (MBSR) training course for caregivers that closely models the MBSR curriculum originally established by the Center of Mindfulness at the University of Massachusetts may improve the psychological resilience of non-professional caregivers of Alzheimer's disease patients. Twenty adult non-professional caregivers of dementia patients participated in an 8-week MBSR training course. Caregiver stress, depression, burden, grief, and gene expression profiles of blood mononuclear cells were assessed at baseline and following MBSR. MBSR training significantly improved the psychological resilience of some of the caregivers. We identified predictive biomarkers whose expression is associated with the likelihood of caregivers to benefit from MBSR, and biomarkers whose expression is associated with MBSR psychological benefits. Our biomarker studies provide insight into the mechanisms of health benefits of MBSR and a basis for developing a personalized medicine approach for applying MBSR for promoting psychological and cognitive resilience in caregivers of dementia patients.
Access options
Buy single article
Instant access to the full article PDF.
USD 39.95
Price excludes VAT (USA)
Tax calculation will be finalised during checkout.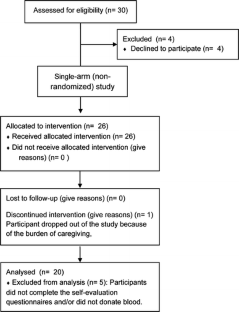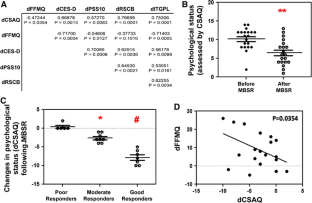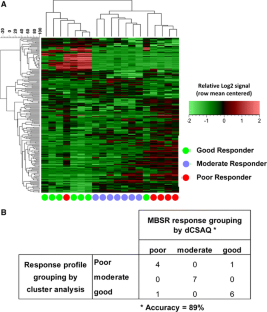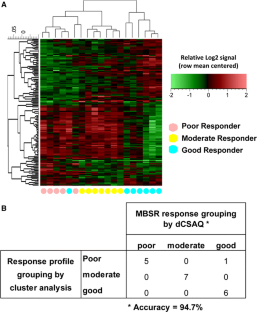 References
American Medical Association. (2009). Caregiver Self-Assessment Questionnaire. Ref Type: Pamphlet.

Arias, A. J., Steinberg, K., Banga, A., & Trestman, R. L. (2006). Systematic review of the efficacy of meditation techniques as treatments for medical illness. Journal of Alternative and Complementary Medicine, 12, 817–832.

Arico, E., Castiello, L., Urbani, F., Rizza, P., Panelli, M. C., Wang, E., et al. (2011). Concomitant detection of IFNalpha signature and activated monocyte/dendritic cell precursors in the peripheral blood of IFNalpha-treated subjects at early times after repeated local cytokine treatments. Journal of Translational Medicine, 9, 67.

Baer, R. A., Smith, G. T., Hopkins, J., Krietemeyer, J., & Toney, L. (2006). Using self-report assessment methods to explore facets of mindfulness. Assessment, 13, 27–45.

Brown, K. W., Coogle, C. L., & Wegelin, J. (2015). A pilot randomized controlled trial of mindfulness-based stress reduction for caregivers of family members with dementia. Aging & Mental Health, 1–10. doi:10.1080/13607863.2015.1065790.

Carmody, J., & Baer, R. A. (2009). How long does a mindfulness-based stress reduction program need to be? A review of class contact hours and effect sizes for psychological distress. Journal of Clinical Psychology, 65, 627–638.

Cohen, S., Kamarck, T., & Mermelstein, R. (1983). A global measure of perceived stress. Journal of Health and Social Behavior, 24, 385–396.

Duncan, D., Prodduturi, N., & Zhang, B. (2010). WebGestalt2: An updated and expanded version of the Web-based Gene Set Analysis Toolkit. BMC Bioinformatics, 11, P10.

Eisenthal, A., Skornick, Y., Ron, I., Zakuth, V., & Chaitchik, S. (1993). Phenotypic and functional profile of peripheral blood mononuclear cells isolated from melanoma patients undergoing combined immunotherapy and chemotherapy. Cancer Immunology, Immunotherapy, 37, 367–372.

Epstein-Lubow, G., Gaudiano, B. A., Hinckley, M., Salloway, S., & Miller, I. W. (2010). Evidence for the validity of the American Medical Association's caregiver self-assessment questionnaire as a screening measure for depression. Journal of the American Geriatrics Society, 58, 387–388.

Franco, C., Sola, M. M., & Justo, E. (2010). Reducing psychological discomfort and overload in Alzheimer's family caregivers through a mindfulness meditation program. Revista espanola de geriatria y gerontologia, 45, 252–258.

Gorelik, M., Fall, N., Altaye, M., Barnes, M. G., Thompson, S. D., Grom, A. A., & Hirsch, R. (2013). Follistatin-like protein 1 and the ferritin/erythrocyte sedimentation rate ratio are potential biomarkers for dysregulated gene expression and macrophage activation syndrome in systemic juvenile idiopathic arthritis. Journal of Rheumatology, 40, 1191–1199.

Goy, E., Kansagara, D., & Freeman, M. A. (2010). Systematic evidence review of interventions for non-professional caregivers of individuals with dementia. VA-ESP Project #05-225. http://www.ncbi.nlm.nih.gov/books/NBK49194/pdf/TOC.pdf. Ref Type: Report.

Hirschman, K. B., Shea, J. A., Xie, S. X., & Karlawish, J. H. (2004). The development of a rapid screen for caregiver burden. Journal of the American Geriatrics Society, 52, 1724–1729.

Ho, L., Lange, G., Zhao, W., Wang, J., Rooney, R., Patel, D. H., et al. (2014). Select small nucleolar RNAs in blood components as novel biomarkers for improved identification of comorbid traumatic brain injury and post-traumatic stress disorder in veterans of the conflicts in Afghanistan and Iraq. American Journal of Neurodegenerative Disease, 3, 170–181.

Hsi, E., Huang, C. F., Dai, C. Y., Juo, S. H., Chou, W. W., Huang, J. F., et al. (2014). Peripheral blood mononuclear cells microRNA predicts treatment outcome of hepatitis C virus genotype 1 infection. Antiviral Research, 105, 135–142.

Irizarry, R. A., Hobbs, B., Collin, F., Beazer-Barclay, Y. D., Antonellis, K. J., Scherf, U., & Speed, T. P. (2003). Exploration, normalization, and summaries of high density oligonucleotide array probe level data. Biostatistics, 4, 249–264.

Jaffray, L., Bridgman, H., Stephens, M., & Skinner, T. (2015). Evaluating the effects of mindfulness-based interventions for informal palliative caregivers: A systematic literature review. Palliative Medicine, 30, 117–131.

Kabat-Zinn, J., Lipworth, L., & Burney, R. (1985). The clinical use of mindfulness meditation for the self-regulation of chronic pain. Journal of Behavioral Medicine, 8, 163–190.

Kabat-Zinn, J., Massion, A. O., Kristeller, J., Peterson, L. G., Fletcher, K. E., Pbert, L., et al. (1992). Effectiveness of a meditation-based stress reduction program in the treatment of anxiety disorders. American Journal of Psychiatry, 149, 936–943.

Lee, S., Colditz, G. A., Berkman, L. F., & Kawachi, I. (2003). Caregiving and risk of coronary heart disease in U.S. women: A prospective study. American Journal of Preventive Medicine, 24, 113–119.

Lee, J. M., Gordon, N., Trepel, J. B., Lee, M. J., Yu, M., & Kohn, E. C. (2015). Development of a multiparameter flow cytometric assay as a potential biomarker for homologous recombination deficiency in women with high-grade serous ovarian cancer. Journal of Translational Medicine, 13, 239.

Lengacher, C. A., Kip, K. E., Barta, M., Post-White, J., Jacobsen, P. B., Groer, M., et al. (2012). A pilot study evaluating the effect of mindfulness-based stress reduction on psychological status, physical status, salivary cortisol, and interleukin-6 among advanced-stage cancer patients and their caregivers. Journal of Holistic Nursing, 30, 170–185.

Li, T., Zhu, S., & Ogihara, M. (2006). Using discriminant analysis for multi-class classification: An experimental investigation. Knowledge and Information Systems, 10, 453–472.

Maheaswari, R., Sivasankar, K., & Subbarayan, S. (2014). Toll gates: An emerging therapeutic target. Journal of Indian Society of Periodontology, 18, 686–692.

Nick, J. A., Sanders, L. A., Ickes, B., Briones, N. J., Caceres, S. M., Malcolm, K. C., et al. (2013). Blood mRNA biomarkers for detection of treatment response in acute pulmonary exacerbations of cystic fibrosis. Thorax, 68, 929–937.

Norton, M. C., Smith, K. R., Ostbye, T., Tschanz, J. T., Corcoran, C., Schwartz, S., et al. (2010). Greater risk of dementia when spouse has dementia? The Cache County study. Journal of the American Geriatrics Society, 58, 895–900.

Pasinetti, G. M., Ho, L., Dooley, C., Abbi, B., & Lange, G. (2012). Select non-coding RNA in blood components provide novel clinically accessible biological surrogates for improved identification of traumatic brain injury in OEF/OIF Veterans. American Journal of Neurodegenerative Disease, 1, 88–98.

Pasinetti, G. M., Ungar, L. H., Lange, D. J., Yemul, S., Deng, H., Yuan, X., et al. (2006). Identification of potential CSF biomarkers in ALS. Neurology, 66, 1218–1222.

Plassman, B. L., Langa, K. M., Fisher, G. G., Heeringa, S. G., Weir, D. R., Ofstedal, M. B., et al. (2007). Prevalence of dementia in the United States: The aging, demographics, and memory study. Neuroepidemiology, 29, 125–132.

Radloff, L. S. (2015). The CES-D Scale: A self-report depression scale of research in the general population. Applied Psychological Measurement, 1, 385–401.

Ranganathan, S., Schonbach, C., Nakai, K., & Tan, T. W. (2010). Challenges of the next decade for the Asia Pacific region: 2010 International Conference in Bioinformatics (InCoB 2010). BMC Genomics, 11(Suppl 4), S1.

Reich, R. R., Lengacher, C. A., Kip, K. E., Shivers, S. C., Schell, M. J., Shelton, M. M., et al. (2014). Baseline immune biomarkers as predictors of MBSR(BC) treatment success in off-treatment breast cancer patients. Biological Research for Nursing, 16, 429–437.

Schulz, R., & Beach, S. R. (1999). Caregiving as a risk factor for mortality: The Caregiver Health Effects Study. JAMA, 282, 2215–2219.

Serwin, A. B., Sokolowska, M., & Chodynicka, B. (2010). Tumor necrosis factor-alpha-converting enzyme as a potential mediator of the influence of smoking on the response to treatment with narrowband ultraviolet B in psoriasis patients. Photodermatology, Photoimmunology and Photomedicine, 26, 36–40.

Shi, M., Chen, M. S., Sekar, K., Tan, C. K., Ooi, L. L., & Hui, K. M. (2014). A blood-based three-gene signature for the non-invasive detection of early human hepatocellular carcinoma. European Journal of Cancer, 50, 928–936.

Shin, S., Park, J. S., Kim, Y. J., Oh, T., An, S., & Park, C. S. (2012). Differential gene expression profile in PBMCs from subjects with AERD and ATA: A gene marker for AERD. Molecular Genetics and Genomics, 287, 361–371.

Speca, M., Carlson, L. E., Goodey, E., & Angen, M. (2000). A randomized, wait-list controlled clinical trial: The effect of a mindfulness meditation-based stress reduction program on mood and symptoms of stress in cancer outpatients. Psychosomatic Medicine, 62, 613–622.

Tomarken, A., Holland, J., Schachter, S., Vanderwerker, L., Zuckerman, E., Nelson, C., et al. (2008). Factors of complicated grief pre-death in caregivers of cancer patients. Psychooncology, 17, 105–111.

Whitebird, R. R., Kreitzer, M., Crain, A. L., Lewis, B. A., Hanson, L. R., & Enstad, C. J. (2013). Mindfulness-based stress reduction for family caregivers: A randomized controlled trial. Gerontologist, 53, 676–686.

Zhao, W., Ho, L., Varghese, M., Yemul, S., Dams-O'Connor, K., Gordon, W., et al. (2013). Decreased level of olfactory receptors in blood cells following traumatic brain injury and potential association with tauopathy. Journal of Alzheimer's Disease, 34, 417–429.
Acknowledgments
This study was supported by discretionary funding from the Icahn School of Medicine at Mount Sinai to Dr. Giulio Maria Pasinetti and by the Geriatric Research Education and Clinical Centers (GRECC) of the James J. Peters Veterans Affairs Medical Center. In addition, Dr. Pasinetti holds a Career Scientist Award in the Research and Development unit and is the Director of the Basic and Biomedical Research and Training Program, GRECC, James J. Peters Veterans Affairs Medical Center. We acknowledge that the contents of this manuscript do not represent the views of the U.S. Department of Veterans Affairs or the United States Government.
Ethics declarations
Conflict of interest
The authors declare that they have no conflict of interest.
Additional information
Trial Registration: ISRCTN53169488.
Electronic supplementary material
Below is the link to the electronic supplementary material.
S1 Table Functional enrichment analysis of the 194 MBSR-responsive genes. We identified 194 MBSR-responsive genes for which MBSR-mediated changes in gene expression in PBMCs are associated with the psychological benefits from MBSR training (see text). Functional analysis of the 194 MBSR-responsive genes based on information from Pathway Commons revealed gene enrichments in 96 Pathway Common (PC) pathways. Presented is the complete listing of the 96 PC enriched pathways. Shown for each of the PC pathways is the pathway name, the total pathway size, the number of MBSR-responsive genes found in the pathway, the ratio of enrichment, the p-value of enrichment (after multiple test adjustment) and specific MBSR-responsive genes (identified in gene symbols) that are found in the PC pathway (XLSX 27 kb)
About this article
Cite this article
Ho, L., Bloom, P.A., Vega, J.G. et al. Biomarkers of Resilience in Stress Reduction for Caregivers of Alzheimer's Patients. Neuromol Med 18, 177–189 (2016). https://doi.org/10.1007/s12017-016-8388-8
Received:

Accepted:

Published:

Issue Date:

DOI: https://doi.org/10.1007/s12017-016-8388-8
Keywords