Abstract
In addition to cognitive impairment, behavioral changes such as aggressive behavior, depression, and psychosis accompany Alzheimer's Disease. Such symptoms may arise due to imbalances in neurotransmitters rather than overt neurodegeneration. Herein, we demonstrate that combined administration of N-acetyl cysteine (an antioxidant and glutathione precursor that protects against Abeta neurotoxicity), acetyl-l-carnitine (which raises ATP levels, protects mitochondria, and buffers Abeta neurotoxicity), and S-adenosylmethionine (which facilitates glutathione usage and maintains acetylcholine levels) enhanced or maintain cognitive function, and attenuated or prevented aggression, in mouse models of aging and neurodegeneration. Enhancement of cognitive function was rapidly reversed upon withdrawal of the formulation and restored following additional rounds supplementation. Behavioral abnormalities correlated with a decline in acetylcholine, which was also prevented by this nutriceutical combination, suggesting that neurotransmitter imbalance may contribute to their manifestation. Treatment with this nutriceutical combination was able to compensate for lack of dietary folate and vitamin E, coupled with administration of dietary iron as a pro-oxidant (which collectively increase homocysteine and oxidative damage to brain tissue), indicating that it provided antioxidant neuroprotection. Maintenance of neurotransmitter levels and prevention of oxidative damage underscore the efficacy of a therapeutic approach that utilizes a combination of neuroprotective agents.
Access options
Buy single article
Instant access to the full article PDF.
USD 39.95
Price excludes VAT (USA)
Tax calculation will be finalised during checkout.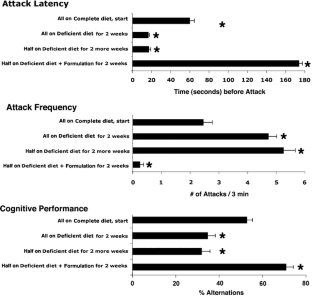 References
Albert, J. E., Miscoulon, D., Nierenberg, A. A., & Fava, M. (2000). Nutrition and depression: focus on folate. Nutrition, 16, 544–581.

Arsland, D. (1998). Drug treatment of emotional and cognitive dysfunction in dementia. Tidsskr Nor Laegeforen, 118, 560–565.

Barnes, C. A., Markowska, A. L., Ingram, D. K., Kametani, H., Spangler, E. L., Lemken, V. J., & Olton, D. S. (1990). Acetyl-1-carnitine. 2: Effects on learning and memory performance of aged rats in simple and complex mazes. Neurobiology of Aging, 11, 499–506.

Borroni, B., Grassi, M., Agosti, C., Costanzi, C., Archetti, S., Franzoni, S., Caltagirone, C., Di Luca, M., Caimi, L., & Padovani, A. (2005). Genetic correlates of behavioral endophenotypes in Alzheimer's disease: Role of COMT, 5-HTTLPR, and ApoE Polymorphisms. Neurobiology of Aging (in press).

Chan, A., & Shea, T. B. (2006). Supplementation with apple juice attenuates presenilin-1 overexpression during dietary and genetically-induced oxidative stress. Journal of Alzheimers Disease (In press).

Chan, A., Tchantchou, F., Graves, V., Rozen, R., & Shea, T. B. (2007). Dietary and genetic compromise in folate availability reduces acetylcholine and cognitive performance: critical role of S-adenosyl methionine. The Journal of Nutrition, Health and Aging (In Press).

Cipolli, C., & Chiari, G. (1990). Effects of L-acetylcarnitine on mental deterioration in the aged: Initial results. La Clinica Terapeutica, 132, 479–510.

Craig, D., Hart, D. J., McCool, K., McIlroy, S. P., & Passmore, A. P. (2004). Apolipoprotein E e4 allele influences aggressive behaviour in Alzheimer's disease. Journal of Neurology, Neurosurgery, and Psychiatry, 75, 1327–1330.

De La Cruz, J. P., Villalobos, M. A., Cuerda, M. A., Guerrero, A., Gonzalez-Correa, J. A., & Sanchez De La Cuesta, F. (2002). Effects of S-adenosyl-L-methionine on lipid peroxidation and glutathione levels in rat brain slices exposed to reoxygenation after oxygen-glucose deprivation. Neuroscience Letters, 318, 103–107.

Dhitavat, S., Rivera, E., Rogers, E., & Shea, T. B. (2001). Differential efficacy of lipophilic and cytosolic antioxidants on generation of reactive oxygen species by amyloid-beta. Journal of Alzheimers Disease, 3, 525–529.

Dhitavat, S., Daniela Ortiz, D., Shea, T. B., & Rivera, E. R. (2002). Acetyl-L-Carnitine protects against Amyloid-beta neurotoxicity: Roles of oxidative buffering and ATP levels. Neurochemical Research, 27, 501–505.

Dhitavat, S., Ortiz, D., Rogers, E., Rivera, E., & Shea, T. B. (2005). Folate, vitamin E and acetyl-L-carnitine provide synergistic protection against oxidative stress resulting from exposure of human neuroblastoma cells to amyloid beta. Brain Research (in press).

Engelborghs, S., Dermaut, B., Marien, P., Symons, A., Vloeberghs, E., Maertens, K., Somers, N., Goeman, J., Rademakers, R., Van den Broeck, M., Pickut, B., Cruts, M., Van Broeckhoven, C., & De Deyn, P. P. (2006). Dose dependent effect of APO epsilon4 on behavioral symptoms in frontal lobe dementia. Neurobiology of Aging, 27, 285–292.

Erb, C., & Klein, J. (1998). Enhancement of brain choline levels by nicotinamide: Mechanism of action. Neuroscience Letters, 249, 111–114.

Finkel, S. (2004). Effects of Rivastigmine on behavioral and psychological symptoms of dementia in Alzheimer's disease. Clinical Therapeutics, 26, 981–990.

Farr, S. A., Poon, H. F., Dogrukol-Ak, D., Drake, J., Banks, W. A., Eyerman, E., Butterfield, D. A., & Morley, J. E. (2003). The antioxidants alpha-lipoic acid and N-acetylcysteine reverse memory impairment and brain oxidative stress in aged SAMP8 mice. Journal of Neurochemistry, 84, 1173–1183.

Fu, A. L., Dong, Z. H., & Sun, M. J. (2006). Protective effect of N-acetyl-L-cysteine on amyloid beta-peptide-induced learning and memory deficits in mice. Brain Research, 1109, 201–206.

Fuso, A., Seminara, L., Cavallaro, R. A., D'Anselmi, F., & Scarpa, S. (2005). S- adenosylmethionine/homocysteine cycle alterations modify DNA methylation status with consequent deregulation of PS1 and BACE and beta-amyloid production. Molecular and Cellular Neurosciences, 28, 195–204.

Garcia-Alloza, M., Gil-Bea, F. J., Diez-Ariza, M., Chen, C. P., Francis, P. T., Lasheras, B., & Ramirez, M. J. (2005). Cholinergic-serotonergic imbalance contributes to cognitive and behavioral symptoms in Alzheimer's disease. Neuropsychologia, 43, 442–449.

Gauthier, S., Feldman, H., Hecker, J., Vellas, B., Ames, D., Subbiah, P., Whalen, E., Emir, B., & Donepezil MSAD Study Investigators Group. (2002). Efficacy of donepezil on behavioral symptoms in patients with moderate to severe Alzheimer's disease. International Psychogeriatrics, 14, 389–404.

Gauthier, S., Wirth, Y., & Mobius, H. J. (2005). Effects of memantine on the behavioral symptoms of Alzheimer's disease patients: An analysis of the Neuropsychiatric Inventory (NPI). data of two randomized, controlled studies. International Journal of Geriatric Psychiatry, 20, 459–464.

Hudson, S., Tabet, N. (2003). Acetyl-L-carnitine for dementia. Cochrane Database Syst Rev. 2, CD003158.

Kumar-Singh, S., Dewachter, I., Moechars, D., Lubke, U., De Jonghe, C., Ceuterick, C., Checler, F., Naidu, A., Cordell, B., Cras, P., Van Broekhoven, C., & Van Leuven, F. (2000). Behavioral disturbances without amyloid deposits in mice overexpressing human amyloid precursor protein with Flemish (A692G). or Dutch (E693Q) mutation. Neurobiology of Disease, 7, 9–22.

Levy, M. L., Cummings, J. L., Fairbanks, L. A., Sultzer, D. L., & Small, G. W. (1999). Apolipoprotein E Genotype and noncognitive symptoms in Alzheimer's disease. Biological Psychiatry, 45, 422–425.

Markowska, A. L., & Olton, D. S. (1990). Dietary acetyl-L-carnitine improves spatial behaviour of old rats. International Journal of Clinical Pharmacology Research, 10, 65–68.

Mihalick, S. M., Ortiz, D., Kumar, R., Rogers, E., & Shea, T. B. (2003). Folate and vitamin E deficiency impair cognitive performance in mice subjected to oxidative stress: Differential impact on normal mice and mice lacking apolipoprotein E. Neuromolecular Medicine, 4, 197–202.

Minkeviciene, R., Banerjee, P., & Tanila, H. (2004). Memantine improves spatial learning in a transgenic mouse model of Alzheimer's disease. The Journal of Pharmacology and Experimental Therapeutics, 311(2), 677–682.

Miscouloun, D., & Fava, M. (2002). Role of S-adenosyl-L-methionine in the treatment of depression: A review of the evidence. The American Journal of Clinical Nutrition, 76, 1158S–1161S.

Moran, M., Walsh, C., Lynch, A., Coen, R. F., Coakley, D., & Lawlor, B. A. (2004). Syndromes of behavioural and psychological symptoms in mild Alzheimer's disease. International Journal of Geriatric Psychiatry, 19, 359–364.

Popovic, M., Caballero-Bleda, M., Popovic, N., Bokonjic, D., & Dobric, S. (1997). Neuroprotective effect of chronic verapamil treatment on cognitive and noncognitive deficits in an experimental Alzheimer's disease in rats. The International Journal of Neuroscience, 92, 79–93.

Rainer, M. K., Masching, A. J., Ertl, M. G., Kraxberger, E., & Haushofer, M. (2001). Effect of risperidone on behavioral and psychological symptoms and cognitive function in dementia. The Journal of Clinical Psychiatry, 62, 894–900.

Russo-Neustadt, A., & Cotman, C. W. (1997). Adrenergic receptors in Alzheimer's disease brain: Selective increases in the cerebella of aggressive patients. Journal of Neuroscience, 17, 55730–55780.

Salvioli, G., & Neri, M. (1994). L-acetylcarnitine treatment of mental decline in the elderly. Drugs Under Experimental and Clinical Research, 20, 169–176.

Smolkova, B., Dusinska, M., Raslova, K., Barancokova, M., Kazimirova, A., Horska, A., Supustova, V., & Collins, A. (2004). Folate levels determine effect of antioxidant supplementation on micronuclei in subjects with cardiovascular risk. Mutagenesis, 19, 469–476.

Tchantchou, F., Graves, M., Rogers, E., Ortiz, D., & Shea, T. B. (2005a). N-acetyl cysteine alleviates neurodegeneration and increased glutathione expression in normal and ApoE-deficient mice. Journal of Alzheimer's Disease, 7, 135–138.

Tchantchou, F., Graves, M., Rogers, E., Ortiz, D., & Shea, T. B. (2005b). Dietary supplementation with 3-deaza adenosine, N-acetyl cysteine and S-adenosyl methionine provide neuroprotection against multiple consequences of vitamin deficiency and oxidative challenge: Relevance to age-related neurodegeneration. Neuromolecular Medicine, 6, 93–104.

Tchantchou, F., Graves, M., Ortiz, D., & Shea, T. B. (2006). S-adenosyl methionine: A link between nutritional and genetic risk factors in Alzheimer's disease. The Journal of Nutrition, Health, and Aging, 10, 541–544.

Troen, A. (2005). The central nervous system in animal models of hyperhomocysteinemia. Progress in Neuro-Psychopharmacology & Biological Psychiatry, 29, 1140–1151.

Villalobos, M. A., De La Cruz, J. P., Cuerda, M. A., Ortiz, P., Smith-Agreda, J. M., & Sanchez De La Cuesta, F. (2000). Effect of S-adenosyl-L-methionine on rat brain oxidative stress damage in a combined model of permanent focal ischemia and global ischemia-reperfusion. Brain Research, 883, 31–40.

Zarros, A. C., Kalopita, K. S., & Tsakiris, S. T. (2005). Serotoninergic impairment and aggressive behavior in Alzheimer's disease. Acta Neurobiologiae Experimentalis, 65, 277–286.
About this article
Cite this article
Shea, T.B. Effects of Dietary Supplementation with N-Acetyl Cysteine, Acetyl-l-Carnitine and S-Adenosyl Methionine on Cognitive Performance and Aggression in Normal Mice and Mice Expressing Human ApoE4. Neuromol Med 9, 264–269 (2007). https://doi.org/10.1007/s12017-007-8005-y
Received:

Accepted:

Published:

Issue Date:

DOI: https://doi.org/10.1007/s12017-007-8005-y
Keywords
S-adenosyl methionine

N-acetyl cysteine

Acetyl-

l

-carnitine

Cognition

Aggression

Alzheimer's disease

ApoE4

Nutrition