Abstract
Inhalation of cannabis smoke is its most common use and the pulmonary complications of its use may be the single most common form of drug-induced pulmonary disease worldwide. However, the role of cannabis consumption in asthma patients and allergic clinical situations still remains controversial. To review the evidence of asthma and allergic diseases associated with the use of marijuana, we conducted a search of English, Spanish, and Portuguese medical using the search terms asthma, allergy, marijuana, marihuana, and cannabis. Entries made between January 1970 and March 2017 were retrieved. Several papers have shown the relationship between marijuana use and increase in asthma and other allergic diseases symptoms, as well as the increased frequency of medical visits. This narrative review emphasizes the importance to consider cannabis as a precipitating factor for acute asthma and allergic attacks in clinical practice. Although smoking of marijuana may cause respiratory symptoms, there is a need for more studies to elucidate many aspects in allergic asthma patients, especially considering the long-term use of the drug. These patients should avoid using marijuana and be oriented about individual health risks, possible dangers of second-hand smoke exposure, underage use, safe storage, and the over smoking of marijuana.
This is a preview of subscription content, log in to check access.
Access options
Buy single article
Instant access to the full article PDF.
US$ 39.95
Price includes VAT for USA
Subscribe to journal
Immediate online access to all issues from 2019. Subscription will auto renew annually.
US$ 99
This is the net price. Taxes to be calculated in checkout.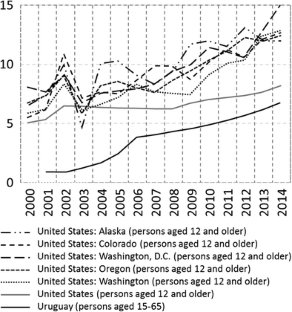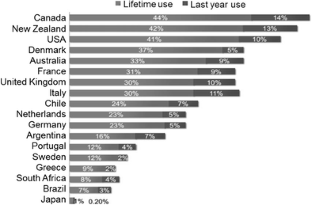 References
1.

OEA—Organizacion Estados Americanos. Annual prevalence drug use by regions and globally by drug types. http://www.unodc.org/documents/wdr2014/Statistics/pdfInforme 2015; accessed Feb 3rd. 2017

2.

United Nations Office on Drugs and Crime. World Drug Report 2016. United Nations publications, Sales No E 15 XI 6 2016;-https://www.unodc.org/documents/wdr2016/World_Drug_Report_2016.pdf

3.

Compton WM, Grant BF, Colliver JD, Glantz MD, Stinson FS (2004) Prevalence of marijuana use disorders in the United States: 1991-1992 and 2001-2002. JAMA 291(17):2114–2121

4.

Carliner H, Mauro PM, Brown QL, Shmulewitz D, Rahim-Juwel R, Sarvet AL et al (2017) The widening gender gap in marijuana use prevalence in the U.S. during a period of economic change, 2002–2014. Drug Alcohol Depend 170:51–58

5.

Kempker JA, Honig EG, Martin G (2015) The effects of marijuana exposure on respiratory health in US adults. Ann Am Thorac Soc 12:135–141

6.

Han B, Compton WM, Jones CM, Blanco C (2017) Cannabis use and cannabis use disorders among youth in the United States, 2002–2014. J Clin Psychiatry. https://doi.org/10.4088/JCP

7.

Han BH, Sherman S, Mauro PM, Martins SS, Rotenberg J, Palamar JJ (2016) Demographic trends among older cannabis users in the United States, 2006-13. Addiction. https://doi.org/10.1111/add.13670

8.

Tan WC, Lo C, Jong A, Xing L, Fitzgerald MJ, Vollmer WM et al (2009) Marijuana and chronic obstructive lung disease: a population-based study. CMAJ 180(8):814–820

9.

Health Canada, Rotermann M, Langlois K (2013) Prevalence and correlates of marijuana use in Canada, 2012. Stat Can Health Rep 26(4):1–15

10.

Fonseca AM, Galduróz JC, Noto AR, Carlini EL (2010) Comparison between two household surveys on psychotropic drug use in Brazil: 2001 and 2004. Cien Saude Colet 15(3):663–670

11.

UNIFESP-Universidade Federal de São Paulo, INPAD-Instituto Nacional de Ciências e Tecnologias para Políticas Públicas do Álcool e outras Drogas. II Levantamento Nacional de Álcool e Drogas: Maconha (II LENAD-National Survey of Alcohol and Drugs). http://inpad.org.br accessed Jan 31, 2017 2017

12.

Mounteney J, Griffiths P, Sedefov R, Noor A, Vicente J, Simon R (2016) The drug situation in Europe: an overview of data available on illicit drugs and new psychoactive substances from European monitoring in 2015. Addiction 111(1):34–48

13.

European Monitoring Centre for Drugs and Drug Addiction. Perspectives on drugs: health responses to new psychoactive substances; models for the legal supply of cannabis. http://www.emcdda.europa.eu/topics/pods/legal-supply-of-cannabis 2016; accessed Nov 30, 2016

14.

European Monitoring Centre for Drugs and Drug Addiction. Statistical Bulletin 2016. http://www.emcdda.europa.eu/ 2016

15.

Caponnetto P, Auditore R, Russo C, Alamo A, Campagna D, Demma S et al (2013) Dangerous relationships: asthma and substance abuse. J Addic Dis 32(2):158–167

16.

Tashkin DP (2013) Effects of marijuana smoking on the lung. Ann Am Thorac Soc 10(3):239–247

17.

Volkow ND, Baler RD, Compton WM, Weiss SR (2014) Adverse health effects of marijuana use. N Engl J Med 370(23):2219–2227

18.

Gaeta TJ, Hammock R, Spevack TA, Brown H, Rhoden K (1996) Association between substance abuse and acute exacerbation of bronchial asthma. Acad Emerg Med 3(12):1170–1171

19.

Self TH, Shah SP, March KL, Sands CW (2016) Asthma associated with the use of cocaine, heroin, and marijuana: a review of the evidence. J Asthma. https://doi.org/10.1080/02770903.2016.1259420

20.

Martinasek MP, McGrogan JB, Mayso A (2016) A systematic review of the respiratory effects of inhalational marijuana. Respir Care 61(11):1543–1551

21.

Chatkin JM, Zabert G, Chatkin G, Zabert I, Jimenes-Ruiz C, Granda JI et al. Pulmonary disorders associated to marijuana consumption. Arch Bronconeumol 2017; [Epub ahead of print]( doi: https://doi.org/10.1016/j.arbres.2017.03.019.)

22.

Hublet A, De Bacquer D, Boyce W, Godeau E, Schmid H, Vereecken C et al (2007) Smoking in young people with asthma. J Public Health 29(4):343–349

23.

Jones SE, Merkle S, Wheeler L, Mannino DM, Crossett L (2006) Tobacco and other drug use among high school students with asthma. J Adolesc Health 39:291–294

24.

Larsen K, Faulkner GE, Boak A, Hamilton HA, Mann RE, Irving HM et al (2016) Looking beyond cigarettes: are Ontario adolescents with asthma less likely to smoke e-cigarettes, marijuana, waterpipes or tobacco cigarettes? Respir Med 120:10–15

25.

Douglas IS, Albertson TE, Folan P, Hanania NA, Tashkin DP, Upson DJ et al (2015) Implications of marijuana decriminalization on the practice of pulmonary, critical care, and sleep medicine. A report of the American Thoracic Society Marijuana Workgroup. Ann Am Thorac Soc 12(11):1700–1710

26.

Lutchmansingh D, Pawar L, Savici D (2014) Legalizing cannabis: a physician's primer on the pulmonary effects of marijuana. Curr Respir Care Rep 3:200–205

27.

Volkow ND, Swanson JM, Evins AE, DeLisi LE, Meier MH, Gonzalez R et al (2016) Effects of cannabis use on human behavior, including cognition, motivation, and psychosis: a review. JAMA Psychiatry 73(3):292–297

28.

Volkow ND, Hampson AJ, Baler RD (2017) Don't worry, be happy: endocannabinoids and cannabis at the intersection of stress and reward. Annu Rev Pharmacol Toxicol 57:285–308

29.

Biehl JR, Burnham EL (2015) Cannabis smoking in 2015: a concern for lung health? Chest 148(3):596–606

30.

Greydanus DE, Hawver EK, Greydanus MM, Merrick J (2013) Marijuana: current concepts. Front Public Health 42:1–17

31.

Eisenberg E, Ogintz M, Almog S (2014) The pharmacokinetics, efficacy, safety, and ease of use of a novel portable metered-dose cannabis inhaler in patients with chronic neuropathic pain: a phase 1a study. J Pain Palliat Care Pharmacother 28(3):216–225

32.

National Institute on Drug Abuse (NIDA). Marijuana abuse. https://www.drugabuse.gov/drugs-abuse/marijuana 2015; accessed in Feb 10, 2016

33.

Wu TC, Tashkin DP, Djahed B, Rose JE (1988) Pulmonary hazards of smoking marijuana as compared with tobacco. N Engl J Med 318(6):347–351

34.

Huber GL, First MW, Grubner O (1991) Marijuana and tobacco smoke gas-phase cytotoxins. Pharmacol Biochem Behav 40(3):629–636

35.

Turcotte C, Blanchet M-R, Laviolette M, Flamand N (2016) Impact of cannabis, cannabinoids, and endocannabinoids in the lungs. Front Pharmacol 7:317–323

36.

Tashkin DP, Shapiro BJ, Frank IM (1973) Acute pulmonary physiologic effects of smoked marijuana and oral 9-tetrahydrocannabinol in healthy young men. N Engl J Med 289(7):336–341

37.

ElSohly MA, Mehmedic Z, Foster S, Gon C, Chandra S, Church JC (2016) Changes in cannabis potency over the last 2 decades (1995–2014): analysis of current data in the United States. Biol Psychiatry 79(7):613–619

38.

Murray RM, Quigley H, Quattrone D, Englund A, Di Forti M (2016) Traditional marijuana, high-potency cannabis and synthetic cannabinoids: increasing risk for psychosis. World Psychiatry 15(3):195–204

39.

Tsumura Y, Aoki R, Tokieda Y, Akutsu M, Kawase Y, Kataoka T et al (2012) A survey of the potency of Japanese illicit cannabis in fiscal year 2010. Forensic Sci Int 221(1–3):77–83

40.

Wu HD, Wright RS, Sassoon CS, Tashkin DP (1992) Effects of smoked marijuana of varying potency on ventilatory drive and metabolic rate. Am Rev Respir Dis 146(3):716–721

41.

Ocampo TL, Rans TS (2015) Cannabis sativa: the unconventional weed allergen. Ann Allergy Asthma Immunol 114:187–192

42.

Henderson RL, Tennant FS, Guerry R (1972) Respiratory manifestations of hashish smoking. Arch Otolaryngol 95:248–251

43.

Liskow B, Liss JL, Parker CW (1971) Allergy to marihuana. Ann Intern Med 75(4):571–573

44.

Mayoral M, Calderon H, Cano R, Lombardero M (2008) Allergic rhinoconjunctivitis caused by Cannabis sativa pollen. J Investig Allergol Clin Immunol 18:73–74

45.

Chopra GS (1973) Studies on psycho-clinical aspectsof long-term marihuana use in 124 cases. Int J Addict 8:1015–1026

46.

Tashkin DP (2015) How beneficial is vaping cannabis to respiratory health compared to smoking? Addiction 110(11):1706–1707

47.

Vachon L, FitzGerald MX, Solliday NH, Gould IA, Gaensler EA (1973) Single-dose effects of marihuana smoke. Bronchial dynamics and respiratory-center sensitivity in normal subjects. N Engl J Med 288(19):985–989

48.

D'Souza DC, Ranganathan M (2015) Medical marijuana: is the cart before the horse? JAMA 313(24):2431–2432

49.

Herzinger T, Schopf P, Przybilla B, Rueff F (2011) IgE-mediated hypersensitivity reactions to cannabis in laboratory personnel. Int Arch Allergy Immunol 156:423–426

50.

Stadtmauer G, Beyer K, Bardina L, Sicherer SH (2003) Anaphylaxis to ingestion of hempseed (Cannabis sativa). J Allergy Clin Immunol 112:216–217

51.

Ozyurt S, Muderrisoglu F, Ermete M, Afsar F (2014) Cannabis-induced erythema multiforme-like recurrent drug eruption. Int J Dermatol 53:22–23

52.

Decuyper I, van Gasse AL, Cop N, Sabato V, Faber MA, Mertens C et al (2017) Cannabis sativa allergy: looking through the fog. Allergy 72(2):201–206

53.

Gamboa P, Sanchez-Monge R, Sanz ML, Palacin A, Salcedo G, Diaz-Perales A (2007) Sensitization to Cannabis sativa caused by a novel allergenic lipid transfer protein, Can s 3. J Allergy Clin Immunol 120:1459–1460

54.

Azofeifa A, Mattson ME, Schauer G, McAfee T, Grant A, Lyerla R (2016) National estimates of marijuana use and related indicators—National Survey on Drug Use and Health, United States, 2002-2014. MMWR Surveill Summ 65(11):1–28

55.

Tessmer A, Berlin N, Sussman G, Leader N, Chung EC, Beezhold D (2012) Hypersensitivity reactions to marijuana. Ann Allergy Asthma Immunol 108(4):282–284

56.

Armentia A, Castrodeza J, Ruiz-Muñoz P, Martínez-Quesada J, Postigo I, Herrero M et al (2011) Allergic hypersensitivity to cannabis in patients with allergy and illicit drug users. Allergol Immunopathol (Madr) 39(5):271–279

57.

Armentia A, Herrero M, Martín-Armentia B, PeterRihs H, Postigo I, Martínez-Quesada J (2014) Molecular diagnosis in cannabis allergy. J Allergy Clin Immunol 2(3):351–352

58.

Larramendi CH, Lopez-Matas MA, Ferrer A, Huertas A, Pagan J, Navarro L et al (2013) Prevalence of sensitization to Cannabis sativa: lipid-transfer and thaumatin-like proteins and relevant allergens. Int Arch Allergy Immunol 162:115–122

59.

Ebo DG, Swerts S, Sabato V, Hagendorens MM, Bridts CH, Jorens PG et al (2013) New food allergies in a European non-Mediterranean region: is Cannabis sativa to blame? Int Arch Allergy Immunol 161(3):220–228

60.

Nayak AP, Green BJ, Sussman G, Berlin N, Lata H, Chandra S et al (2013) Characterization of Cannabis sativa allergens. Ann Allergy Asthma Immunol 111:32–37

61.

Larramendi CH, Carnes J, Garcia-Abujeta JL (2008) Sensitization and allergy to Cannabis sativa leaves in a population of tomato (Lycopersicon esculentum)-sensitized patients. Int Arch Allergy Immunol 146:195–202

62.

Williams C, Thompstone J, Wilkinson M (2008) Work-related contact urticaria to Cannabis sativa. Contact Dermatitis 58(62):3

63.

Maloney E, Brodkey M (1940) Hemp pollen sensitivity in Omaha. Nebr Med J 25:190–191

64.

Freeman GL (1983) Allergic skin test reactivity to marijuana in the Southwest. West J Med 138:829–831

65.

Abbas S, Katelaris CH, Singh AB, Raza SM, Ajab Khan M, Rashid M et al (2012) World Allergy Organization study on aerobiology for creating first pollen and mold calendar with clinical significance in Islamabad, Pakistan: a project of World Allergy Organization and Pakistan Allergy, Asthma & Clinical Immunology Centre of Islamabad. World Allergy Organ J 5(9):103–110

66.

Decuyper I, Faber MA, Sabato V, Bridts CH, Hagendorens MM, Rihs HP et al. 2016 Where there's smoke, there's fire: cannabis allergy through passive exposure. J Allergy Clin Immunol Pract ; Epub ahead of print

67.

Tetrault JM, Crothers K, Moore BA, Mehra R, Concato J, Fiellin DA (2007) Effects of marijuana smoking on pulmonary function and respiratory complications: a systematic review. Arch Intern Med 167(3):221–228

68.

Abboud RT, Sanders HD (1976) Effect of oral administration of delta-tetrahydrocannabinol on airway mechanics in normal and asthmatic subjects. Chest 70(4):480–485

69.

Vidal C, Fuente R, Iglesias A, Sáez A (1991) Bronchial asthma due to Cannabis sativa seed. Allergy 46(8):647–649

70.

Grassin-Delyle S, Naline E, Buenestado A, Faisy C, Alvarez JC, Salvator H (2014) Cannabinoids inhibit cholinergic contraction inhuman airways through prejunctional CB1 receptors. Br J Pharmacol 171(11):2767–2777

71.

Moore BA, Augustson EM, Moser RP, Budney AJ (2005) Respiratory effects of marijuana and tobacco use in a US sample. J Gen Intern Med 20(1):33–37

72.

Tashkin DP (2001) Airway effects of marijuana, cocaine, and other inhaled illicit agents. Curr Opin Pulm Med 7(2):43–61

73.

Pletcher MJ, Vittinghoff E, Kalhan R, Richman J, Safford M, Sidney S et al (2012) Association between marijuana exposure and pulmonary function over 20 years. JAMA 307(2):173–181

74.

Ribeiro LI, Ind PW. Effect of cannabis smoking on lung function and respiratory symptoms: a structured literature review. NPJ Prim Care Respir Med 2016; 26:doi https://doi.org/10.1038/npjpcrm.2016.71

75.

Aldington S, Williams M, Nowitz M, Weatherall M, Pritchard A, McNaughton A et al (2007) Effects of cannabis on pulmonary structure, function and symptoms. Thorax 62:1058–1063

76.

No authors listed (2017) Smoking marijuana and the lungs. Am J Respir Crit Care Med 195(3):P5–P6. https://doi.org/10.1164/rccm.1953P5

77.

Polen MR, Sidney S, Tekawa IS, Sadler M, Friedman GD (1993) Health care use by frequent marijuana smokers who do not smoke tobacco. West J Med 158:596–601

78.

Kumar R, Gupta N (2013) A case of bronchial asthma and allergic rhinitis exacerbated during cannabis pollination and subsequently controlled by subcutaneous immunotherapy. Indian J Allergy Asthma Immunol 27:143–146

79.

Sauvaget E, Dellamonica J, Arlaud K, Sanfiorenzo C, Bernardin G, Padovani B et al (2010) Idiopathic acute eosinophilic pneumonia requiring ECMO in a teenager smoking tobacco and cannabis. Pediatr Pulmonol 45:1246–1249

80.

Taylor DR, Poulton R, Moffitt TE, Ramankutty P, Sears MR (2000) The respiratory effects of cannabis dependence in young adults. Addiction 95:1669–1677

81.

Tashkin DP, Coulson AH, Clark VA, Simmons M, Bourque LB, Duann S et al (1987) Respiratory symptoms and lung function in habitual heavy smokers of marijuana alone, smokers of marijuana and tobacco, smokers of tobacco alone, and nonsmokers. Am Rev Respir Dis 135(1):209–216

82.

Robinson PD, King GG, Sears MR, Hong CY, Hancox RJ (2017) Determinants of peripheral airway function in adults with and without asthma. Respirology 22(6):1110–1117

83.

Weitzman ER, Ziemnik RE, Huang Q, Levy S (2015) Alcohol and marijuana use and treatment nonadherence among medically vulnerable youth. Pediatrics 136(3):450–457

84.

Baxter JD, Samnaliev M, Clark RE (2008) Patterns of health care utilization for asthma treatment in adults with substance use disorders. J Addict Med 2(2):79–84

85.

Baxter JD, Samnaliev M, Clark RE (2009) The quality of asthma care among adults with substance-related disorders and adults with mental illness. Psychiatr Serv 60(1):43–49

86.

Hancox RJ, Poulton R, Ely M, Welch D, Taylor DR, McLachlan CR et al (2010) Effects of cannabis on lung function: a population-based cohort study. Eur Respir J 35(1):42–47

87.

Belendiuk KA, Baldini LL, Bonn-Miller MO (2015) Narrative review of the safety and efficacy of marijuana for the treatment of commonly state-approved medical and psychiatric disorders. Addict Sci Clin Pract:10(10)

88.

Schrot RJ, Hubbard JR (2016) Cannabinoids: medical implications. Ann Med 48(3):128–141

89.

Whiting PF, Wolff RF, Deshpande S, Di Nisio M, Duffy S, Hernandez AV et al (2015) Cannabinoids for medical use: a systematic review and meta-analysis. JAMA 313(24):2456–2473

90.

Tashkin DP (2014) Increasing cannabis use: what we still need to know about its effects on the lung. Respirology 19(5):619–622
Funding
This manuscript received no grant.
Ethics declarations
Conflicts of Interest
The authors declare that they have no conflict of interest.
About this article
Cite this article
Chatkin, J.M., Zani-Silva, L., Ferreira, I. et al. Cannabis-Associated Asthma and Allergies. Clinic Rev Allerg Immunol 56, 196–206 (2019). https://doi.org/10.1007/s12016-017-8644-1
Keywords
Asthma

Marijuana

Cannabis

Allergic diseases