Abstract
Chitin, a potential allergy-promoting pathogen-associated molecular pattern (PAMP), is a linear polymer composed of N-acetylglucosamine residues which are linked by β-(1,4)-glycosidic bonds. Mammalians are potential hosts for chitin-containing protozoa, fungi, arthropods, and nematodes; however, mammalians themselves do not synthetize chitin and thus it is considered as a potential target for recognition by mammalian immune system. Chitin is sensed primarily in the lungs or gut where it activates a variety of innate (eosinophils, macrophages) and adaptive immune cells (IL-4/IL-13 expressing T helper type-2 lymphocytes). Chitin induces cytokine production, leukocyte recruitment, and alternative macrophage activation. Intranasal or intraperitoneal administration of chitin (varying in size, degree of acetylation and purity) to mice has been applied as a routine approach to investigate chitin's priming effects on innate and adaptive immunity. Structural chitin present in microorganisms is actively degraded by host true chitinases, including acidic mammalian chitinases and chitotriosidase into smaller fragments that can be sensed by mammalian receptors such as FIBCD1, NKR-P1, and RegIIIc. Immune recognition of chitin also involves pattern recognition receptors, mainly via TLR-2 and Dectin-1, to activate immune cells to induce cytokine production and creation of an immune network that results in inflammatory and allergic responses. In this review, we will focus on various immunological aspects of the interaction between chitin and host immune system such as sensing, interactions with immune cells, chitinases as chitin degrading enzymes, and immunologic applications of chitin.
Access options
Buy single article
Instant access to the full article PDF.
US$ 39.95
Tax calculation will be finalised during checkout.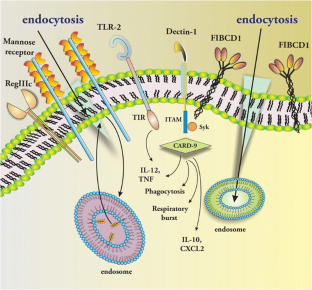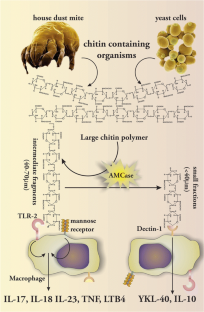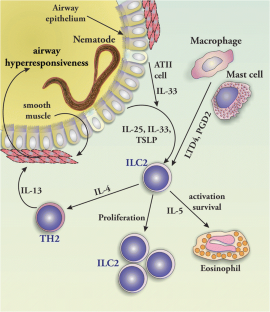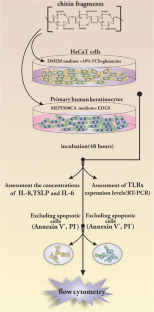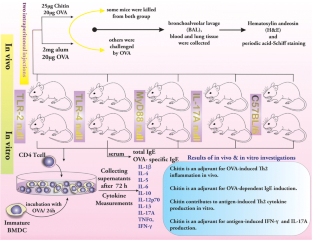 Abbreviations
PAMP:

Pathogen-associated molecular pattern

PBMCs:

Peripheral blood mononuclear cells

AMCase:

Acidic mammalian chitinase

Chit1:

Chitotriosidase

CLPs:

Chitinase like proteins
References
1.

Younes I, Rinaudo M (2015) Chitin and chitosan preparation from marine sources. Structure, properties and applications. Marine drugs 13(3):1133–1174. doi:10.3390/md13031133

2.

Cuesta A, Esteban MA, Meseguer J (2003) In vitro effect of chitin particles on the innate cellular immune system of gilthead seabream (Sparus aurata L.) Fish & shellfish immunology 15(1):1–11

3.

Esteban MA, Mulero V, Cuesta A, Ortuno J, Meseguer J (2000) Effects of injecting chitin particles on the innate immune response of gilthead seabream (Sparus aurata L.) Fish & shellfish immunology 10(6):543–554. doi:10.1006/fsim.2000.0271

4.

Jung WJ, Park RD (2014) Bioproduction of chitooligosaccharides: present and perspectives. Marine drugs 12(11):5328–5356. doi:10.3390/md12115328

5.

Zdarta J, Klapiszewski L, Wysokowski M, Norman M, Kolodziejczak-Radzimska A, Moszynski D, Ehrlich H, Maciejewski H, Stelling AL, Jesionowski T (2015) Chitin-lignin material as a novel matrix for enzyme immobilization. Marine drugs 13(4):2424–2446. doi:10.3390/md13042424

6.

Badwan AA, Rashid I, Omari MM, Darras FH (2015) Chitin and chitosan as direct compression excipients in pharmaceutical applications. Marine drugs 13(3):1519–1547. doi:10.3390/md13031519

7.

Azuma K, Izumi R, Osaki T, Ifuku S, Morimoto M, Saimoto H, Minami S, Okamoto Y (2015) Chitin, chitosan, and its derivatives for wound healing: old and new materials. Journal of functional biomaterials 6(1):104–142. doi:10.3390/jfb6010104

8.

Azuma K, Osaki T, Minami S, Okamoto Y (2015) Anticancer and anti-inflammatory properties of chitin and chitosan oligosaccharides. Journal of functional biomaterials 6(1):33–49. doi:10.3390/jfb6010033

9.

Jayakumar R, Deepthy M, Manzoor K, Nair SV, Tamura H (2010) Biomedical applications of chitin and chitosan based nanomaterials-A short review. Carbohydrate Polymers

10.

Ayyaru G, Venkatesan A (2006) Immunomodulatory effects of dietary intake of chitin, chitosan and levamisole on the immune system of Cyprinus carpio and control of Aeromonas hydrophila infection in ponds. Elsevier

11.

Lee CG, Da Silva CA, Lee JY, Hartl D, Elias JA (2008) Chitin regulation of immune responses: an old molecule with new roles. Curr Opin Immunol 20(6):684–689. doi:10.1016/j.coi.2008.10.002

12.

Brodaczewska K, Donskow-Lysoniewska K, Doligalska M (2015) Chitin, a key factor in immune regulation: lesson from infection with fungi and chitin bearing parasites. Acta parasitologica / Witold Stefanski Institute of Parasitology, Warszawa, Poland 60(2):337–344. doi:10.1515/ap-2015-0047

13.

Cohen E (2001) Chitin synthesis and inhibition: a revisit. Pest Manag Sci 57(10):946–950. doi:10.1002/ps.363

14.

Elieh-Ali-Komi D, Hamblin MR (2016) Chitin and chitosan: production and application of versatile biomedical nanomaterials. International journal of advanced research

15.

Purushotham P, Arun PV, Prakash JS, Podile AR (2012) Chitin binding proteins act synergistically with chitinases in Serratia proteamaculans 568. PLoS One 7(5):e36714. doi:10.1371/journal.pone.0036714

16.

Barreto-Bergter E, Figueiredo RT (2014) Fungal glycans and the innate immune recognition. Front Cell Infect Microbiol 4:145. doi:10.3389/fcimb.2014.00145

17.

Fontaine T, Simenel C, Dubreucq G, Adam O, Delepierre M, Lemoine J, Vorgias CE, Diaquin M, Latge JP (2000) Molecular organization of the alkali-insoluble fraction of aspergillus fumigatus cell wall. J Biol Chem 275(52):41528

18.

Bueter CL, Specht CA, Levitz SM (2013) Innate sensing of chitin and chitosan. PLoS Pathog 9(1):e1003080. doi:10.1371/journal.ppat.1003080

19.

Gregory LG, Lloyd CM (2011) Orchestrating house dust mite-associated allergy in the lung. Trends Immunol 32(9):402–411. doi:10.1016/j.it.2011.06.006

20.

Choi JP, Lee SM, Choi HI, Kim MH, Jeon SG, Jang MH, Jee YK, Yang S, Cho YJ, Kim YK (2016) House dust mite-derived chitin enhances Th2 cell response to inhaled allergens, mainly via a TNF-alpha-dependent pathway. Allergy, Asthma Immunol Res 8(4):362–374. doi:10.4168/aair.2016.8.4.362

21.

Lee CG, Da Silva CA, Dela Cruz CS, Ahangari F, Ma B, Kang MJ, He CH, Takyar S, Elias JA (2011) Role of chitin and chitinase/chitinase-like proteins in inflammation, tissue remodeling, and injury. Annu Rev Physiol 73:479–501. doi:10.1146/annurev-physiol-012110-142250

22.

Dela Cruz CS, Liu W, He CH, Jacoby A, Gornitzky A, Ma B, Flavell R, Lee CG, Elias JA (2012) Chitinase 3-like-1 promotes Streptococcus Pneumoniae killing and augments host tolerance to lung antibacterial responses. Cell Host Microbe 12(1):34–46. doi:10.1016/j.chom.2012.05.017

23.

Dong B, Li D, Li R, Chen SC, Liu W, Liu W, Chen L, Chen Y, Zhang X, Tong Z, Xia Y, Xia P, Wang Y, Duan Y (2014) A chitin-like component on sclerotic cells of Fonsecaea pedrosoi inhibits dectin-1-mediated murine Th17 development by masking beta-glucans. PLoS One 9(12):e114113. doi:10.1371/journal.pone.0114113

24.

Dostert C, Tschopp J (2007) DEteCTINg fungal pathogens. Nat Immunol 8(1):17–18. doi:10.1038/ni0107-17

25.

Taylor PR, Gordon S, Martinez-Pomares L (2005) The mannose receptor: linking homeostasis and immunity through sugar recognition. Trends Immunol 26(2):104–110. doi:10.1016/j.it.2004.12.001

26.

Semenuk T, Krist P, Pavlicek J, Bezouska K, Kuzma M, Novak P, Kren V (2001) Synthesis of chitooligomer-based glycoconjugates and their binding to the rat natural killer cell activation receptor NKR-P1. Glycoconj J 18(10):817–826

27.

Cash HL, Whitham CV, Behrendt CL, Hooper LV (2006) Symbiotic bacteria direct expression of an intestinal bactericidal lectin. Science (New York, NY) 313(5790):1126–1130. doi:10.1126/science.1127119

28.

Thomsen T, Schlosser A, Holmskov U, Sorensen GL (2011) Ficolins and FIBCD1: soluble and membrane bound pattern recognition molecules with acetyl group selectivity. Mol Immunol 48(4):369–381. doi:10.1016/j.molimm.2010.09.019

29.

Schlosser A, Thomsen T, Moeller JB, Nielsen O, Tornoe I, Mollenhauer J, Moestrup SK, Holmskov U (2009) Characterization of FIBCD1 as an acetyl group-binding receptor that binds chitin. Journal of immunology (Baltimore, Md : 1950) 183(6):3800–3809. doi:10.4049/jimmunol.0901526

30.

Hayafune M, Berisio R, Marchetti R, Silipo A, Kayama M, Desaki Y, Arima S, Squeglia F, Ruggiero A, Tokuyasu K, Molinaro A, Kaku H, Shibuya N (2014) Chitin-induced activation of immune signaling by the rice receptor CEBiP relies on a unique sandwich-type dimerization. Proc Natl Acad Sci U S A 111(3):E404–E413. doi:10.1073/pnas.1312099111

31.

Kaku H, Nishizawa Y, Ishii-Minami N, Akimoto-Tomiyama C, Dohmae N, Takio K, Minami E, Shibuya N (2006) Plant cells recognize chitin fragments for defense signaling through a plasma membrane receptor. Proc Natl Acad Sci U S A 103(29):11086–11091. doi:10.1073/pnas.0508882103

32.

Danielli A, Loukeris TG, Lagueux M, Muller HM, Richman A, Kafatos FC (2000) A modular chitin-binding protease associated with hemocytes and hemolymph in the mosquito Anopheles gambiae. Proc Natl Acad Sci U S A 97(13):7136–7141

33.

Alvarez FJ (2014) The effect of chitin size, shape, source and purification method on immune recognition. Molecules 19(4):4433–4451. doi:10.3390/molecules19044433

34.

Amarsaikhan N, Templeton SP (2015) Co-recognition of beta-glucan and chitin and programming of adaptive immunity to aspergillus fumigatus. Front Microbiol 6:344. doi:10.3389/fmicb.2015.00344

35.

Suzuki K, Okawa Y, Hashimoto K, Suzuki S, Suzuki M (1984) Protecting effect of chitin and chitosan on experimentally induced murine candidiasis. Microbiol Immunol 28(8):903–912

36.

Mora-Montes HM, Netea MG, Ferwerda G, Lenardon MD, Brown GD, Mistry AR, Kullberg BJ, O'Callaghan CA, Sheth CC, Odds FC, Brown AJ, Munro CA, Gow NA (2011) Recognition and blocking of innate immunity cells by Candida albicans chitin. Infect Immun 79(5):1961–1970. doi:10.1128/iai.01282-10

37.

Da Silva CA, Chalouni C, Williams A, Hartl D, Lee CG, Elias JA (2009) Chitin is a size-dependent regulator of macrophage TNF and IL-10 production. Journal of immunology (Baltimore, Md : 1950) 182(6):3573–3582. doi:10.4049/jimmunol.0802113

38.

Da Silva CA, Hartl D, Liu W, Lee CG, Elias JA (2008) TLR-2 and IL-17A in chitin-induced macrophage activation and acute inflammation. Journal of immunology (Baltimore, Md : 1950) 181(6):4279–4286

39.

Klauser D, Flury P, Boller T, Bartels S (2013) Several MAMPs, including chitin fragments, enhance AtPep-triggered oxidative burst independently of wounding. Plant Signal Behav 8(9). doi:10.4161/psb.25346

40.

Van Dyken SJ, Mohapatra A, Nussbaum JC, Molofsky AB, Thornton EE, Ziegler SF, McKenzie AN, Krummel MF, Liang HE, Locksley RM (2014) Chitin activates parallel immune modules that direct distinct inflammatory responses via innate lymphoid type 2 and gammadelta T cells. Immunity 40(3):414–424. doi:10.1016/j.immuni.2014.02.003

41.

Shibata Y, Foster LA, Metzger WJ, Myrvik QN (1997) Alveolar macrophage priming by intravenous administration of chitin particles, polymers of N-acetyl-D-glucosamine, in mice. Infect Immun 65(5):1734–1741

42.

Reese TA, Liang HE, Tager AM, Luster AD, Van Rooijen N, Voehringer D, Locksley RM (2007) Chitin induces accumulation in tissue of innate immune cells associated with allergy. Nature 447(7140):92–96. doi:10.1038/nature05746

43.

Satoh T, Takeuchi O, Vandenbon A, Yasuda K, Tanaka Y, Kumagai Y, Miyake T, Matsushita K, Okazaki T, Saitoh T, Honma K, Matsuyama T, Yui K, Tsujimura T, Standley DM, Nakanishi K, Nakai K, Akira S (2010) The Jmjd3-Irf4 axis regulates M2 macrophage polarization and host responses against helminth infection. Nat Immunol 11(10):936–944. doi:10.1038/ni.1920

44.

Roy RM, Wuthrich M, Klein BS (2012) Chitin elicits CCL2 from airway epithelial cells and induces CCR2-dependent innate allergic inflammation in the lung. Journal of immunology (Baltimore, Md : 1950) 189(5):2545–2552. doi:10.4049/jimmunol.1200689

45.

Wang D, Haviland DL, Burns AR, Zsigmond E, Wetsel RA (2007) A pure population of lung alveolar epithelial type II cells derived from human embryonic stem cells. Proc Natl Acad Sci U S A 104(11):4449–4454. doi:10.1073/pnas.0700052104

46.

Yasuda K, Matsumoto M, Nakanishi K (2014) Importance of both innate immunity and acquired immunity for rapid expulsion of S. venezuelensis. Front Immunol 5:118. doi:10.3389/fimmu.2014.00118

47.

Lund S, Walford HH, Doherty TA (2013) Type 2 innate lymphoid cells in allergic disease. Curr Immunol Rev 9(4):214–221. doi:10.2174/1573395510666140304235916

48.

Koller B, Muller-Wiefel AS, Rupec R, Korting HC, Ruzicka T (2011) Chitin modulates innate immune responses of keratinocytes. PLoS One 6(2):e16594. doi:10.1371/journal.pone.0016594

49.

Shibata Y, Foster LA, Bradfield JF, Myrvik QN (2000) Oral administration of chitin down-regulates serum IgE levels and lung eosinophilia in the allergic mouse. J Immunol 164(3):1314–1321

50.

Wagener J, Malireddi RK, Lenardon MD, Koberle M, Vautier S, MacCallum DM, Biedermann T, Schaller M, Netea MG, Kanneganti TD, Brown GD, Brown AJ, Gow NA (2014) Fungal chitin dampens inflammation through IL-10 induction mediated by NOD2 and TLR9 activation. PLoS Pathog 10(4):e1004050. doi:10.1371/journal.ppat.1004050

51.

Bueter CL, Lee CK, Wang JP, Ostroff GR, Specht CA, Levitz SM (2014) Spectrum and mechanisms of inflammasome activation by chitosan. Journal of immunology (Baltimore, Md : 1950) 192(12):5943–5951. doi:10.4049/jimmunol.1301695

52.

Roy RM, Paes HC, Nanjappa SG, Sorkness R, Gasper D, Sterkel A, Wuthrich M, Klein BS (2013) Complement component 3C3 and C3a receptor are required in chitin-dependent allergic sensitization to aspergillus fumigatus but dispensable in chitin-induced innate allergic inflammation. MBio 4(2). doi:10.1128/mBio.00162-13

53.

Esteban MA, Cuesta A, Ortuno J, Meseguer J (2001) Immunomodulatory effects of dietary intake of chitin on gilthead seabream (Sparus aurata L.) innate immune system. Fish & shellfish immunology 11(4):303–315. doi:10.1006/fsim.2000.0315

54.

O'Dea EM, Amarsaikhan N, Li H, Downey J, Steele E, Van Dyken SJ, Locksley RM, Templeton SP (2014) Eosinophils are recruited in response to chitin exposure and enhance Th2-mediated immune pathology in aspergillus fumigatus infection. Infect Immun 82(8):3199–3205. doi:10.1128/iai.01990-14

55.

Wiesner DL, Specht CA, Lee CK, Smith KD, Mukaremera L, Lee ST, Lee CG, Elias JA, Nielsen JN, Boulware DR, Bohjanen PR, Jenkins MK, Levitz SM, Nielsen K (2015) Chitin recognition via chitotriosidase promotes pathologic type-2 helper T cell responses to cryptococcal infection. PLoS Pathog 11(3):e1004701. doi:10.1371/journal.ppat.1004701

56.

Nagatani K, Wang S, Llado V, Lau CW, Li Z, Mizoguchi A, Nagler CR, Shibata Y, Reinecker HC, Mora JR, Mizoguchi E (2012) Chitin microparticles for the control of intestinal inflammation. Inflamm Bowel Dis 18(9):1698–1710. doi:10.1002/ibd.22874

57.

Bae MJ, Shin HS, Kim EK, Kim J, Shon DH (2013) Oral administration of chitin and chitosan prevents peanut-induced anaphylaxis in a murine food allergy model. Int J Biol Macromol 61:164–168. doi:10.1016/j.ijbiomac.2013.06.017

58.

Beckerman AP, de Roij J, Dennis SR, Little TJ (2013) A shared mechanism of defense against predators and parasites: chitin regulation and its implications for life-history theory. Ecology and evolution 3(15):5119–5126. doi:10.1002/ece3.766

59.

Vega K, Kalkum M (2012) Chitin, chitinase responses, and invasive fungal infections. International journal of microbiology 2012:920459. doi:10.1155/2012/920459

60.

Funkhouser JD, Aronson NN Jr (2007) Chitinase family GH18: evolutionary insights from the genomic history of a diverse protein family. BMC Evol Biol 7:96. doi:10.1186/1471-2148-7-96

61.

Kanneganti M, Kamba A, Mizoguchi E (2012) Role of chitotriosidase (chitinase 1) under normal and disease conditions. Journal of epithelial biology & pharmacology 5:1–9

62.

Lee CG (2009) Chitin, chitinases and chitinase-like proteins in allergic inflammation and tissue remodeling. Yonsei Med J 50(1):22–30. doi:10.3349/ymj.2009.50.1.22

63.

Kawada M, Hachiya Y, Arihiro A, Mizoguchi E (2007) Role of mammalian chitinases in inflammatory conditions. The Keio journal of medicine 56(1):21–27

64.

Muzzarelli RA (2010) Chitins and chitosans as immunoadjuvants and non-allergenic drug carriers. Marine drugs 8(2):292–312. doi:10.3390/md8020292

65.

Komi DE, Kazemi T, Bussink AP (2016) New insights into the relationship between chitinase-3-like-1 and asthma. Current allergy and asthma reports 16(8):57. doi:10.1007/s11882-016-0637-2

66.

Lalaker A, Nkrumah L, Lee WK, Ramanathan M, Lane AP (2009) Chitin stimulates expression of acidic mammalian chitinase and eotaxin-3 by human sinonasal epithelial cells in vitro. American journal of rhinology & allergy 23(1):8–14. doi:10.2500/ajra.2009.23.3256

67.

Fujikawa T, Sakaguchi A, Nishizawa Y, Kouzai Y, Minami E, Yano S, Koga H, Meshi T, Nishimura M (2012) Surface alpha-1,3-glucan facilitates fungal stealth infection by interfering with innate immunity in plants. PLoS Pathog 8(8):e1002882. doi:10.1371/journal.ppat.1002882

68.

Sanchez-Vallet A, Saleem-Batcha R, Kombrink A, Hansen G, Valkenburg DJ, Thomma BP, Mesters JR (2013) Fungal effector Ecp6 outcompetes host immune receptor for chitin binding through intrachain LysM dimerization. elife 2:e00790. doi:10.7554/eLife.00790

69.

Li X, Min M, Du N, Gu Y, Hode T, Naylor M, Chen D, Nordquist RE, Chen WR (2013) Chitin, chitosan, and glycated chitosan regulate immune responses: the novel adjuvants for cancer vaccine. Clinical & developmental immunology 2013:387023. doi:10.1155/2013/387023

70.

Nishimura K, Nishimura S, Nishi N, Saiki I, Tokura S, Azuma I (1984) Immunological activity of chitin and its derivatives. Vaccine 2(1):93–99

71.

Da Silva CA, Pochard P, Lee CG, Elias JA (2010) Chitin particles are multifaceted immune adjuvants. Am J Respir Crit Care Med 182(12):1482–1491. doi:10.1164/rccm.200912-1877OC

72.

Levitz SM, Huang H, Ostroff GR, Specht CA (2015) Exploiting fungal cell wall components in vaccines. Semin Immunopathol 37(2):199–207. doi:10.1007/s00281-014-0460-6

73.

Carroll EC, Jin L, Mori A, Munoz-Wolf N, Oleszycka E, Moran HB, Mansouri S, McEntee CP, Lambe E, Agger EM, Andersen P, Cunningham C, Hertzog P, Fitzgerald KA, Bowie AG, Lavelle EC (2016) The vaccine adjuvant chitosan promotes cellular immunity via DNA sensor cGAS-STING-dependent induction of type I interferons. Immunity 44(3):597–608. doi:10.1016/j.immuni.2016.02.004

74.

Dutta PK, Dutta J, Tripathy VS (2004) Chitin and chitosan: chemistry, properties and applications. Journal of Scientific & Industrial Research

75.

Kumar MNVR (2000) A review of chitin and chitosan applications. Elsevier Ltd

76.

Venkatesan J, Vinodhini PA, Sudha PN, Kim SK (2014) Chitin and chitosan composites for bone tissue regeneration. Adv Food Nutr Res 73:59–81. doi:10.1016/b978-0-12-800268-1.00005-6

77.

Park BK, Kim MM (2010) Applications of chitin and its derivatives in biological medicine. Int J Mol Sci 11(12):5152–5164. doi:10.3390/ijms11125152

78.

Ashish Deva JCMAshish Deva JCM, Sreejaa V, Tamurab H, Patzkec GR, Hussainc F, Weyenethd S, Naira SV, Jayakumar R (2010) Novel carboxymethyl chitin nanoparticles for cancer drug delivery applications. Elsevier Ltd

79.

Senevirathne M, Kim SK (2012) Utilization of seafood processing by-products: medicinal applications. Adv Food Nutr Res 65:495–512. doi:10.1016/b978-0-12-416003-3.00032-9

80.

Walsh AM, Sweeney T, Bahar B, O'Doherty JV (2013) Multi-functional roles of chitosan as a potential protective agent against obesity. PLoS One 8(1):e53828. doi:10.1371/journal.pone.0053828
Ethics declarations
I hereby state that none of the coauthors and the corresponding author of this paper have a conflict of interest and it has been prepared for publication without using any fund. Moreover, the paper does not contain any studies with human participants or animals performed by any of the authors.
Conflict of Interest
Daniel Elieh Ali Komi, Lokesh Sharma, and Charles S. Dela Cruz declare that they have no conflict of interest.
About this article
Cite this article
Elieh Ali Komi, D., Sharma, L. & Dela Cruz, C.S. Chitin and Its Effects on Inflammatory and Immune Responses. Clinic Rev Allerg Immunol 54, 213–223 (2018). https://doi.org/10.1007/s12016-017-8600-0
Keywords
Chitin

Chitinase

Immune system

Innate immunity

Adaptive immunity