Abstract
The objective of this article is to review the available studies regarding asthma and SCUBA (self-contained underwater breathing apparatus) diving. A literature search was conducted in MEDLINE to identify peer-reviewed articles related to asthma and SCUBA diving using the following keywords: asthma, allergy, and SCUBA diving. SCUBA diving is a popular sport with more than 9 million divers in the USA. SCUBA diving can be a dangerous sport. Bronchospasm can develop in asthmatic patients and cause airway obstruction. Airway obstruction may be localized to the distal airway which prevents gas elimination. Uncontrolled expansion of the distal airway may result in pulmonary barotrauma. There is also the risk of a gas embolism. Asthmatic divers can also aspirate seawater which may induce bronchospasm. Pollen contamination of their oxygen tank may exacerbate atopic asthma in patients. Diving may be hazardous to the lung function of patients with asthma. Despite the risks of SCUBA diving, many asthmatic individuals can dive without serious diving events. Diving evaluations for asthmatic patients have focused on a thorough patient history, spirometry, allergy testing, and bronchial challenges. For patients that wish to dive, their asthma should be well controlled without current chest symptoms. Patients should have a normal spirometry. Some diving societies recommend that an asthmatic patient should successfully pass a bronchial provocation challenge. Recommendations also state that exercise-, emotion-, and cold-induced asthmatics should not dive. Asthmatic patients requiring rescue medication within 48 h should not dive.
Access options
Buy single article
Instant access to the full article PDF.
US$ 39.95
Tax calculation will be finalised during checkout.
Subscribe to journal
Immediate online access to all issues from 2019. Subscription will auto renew annually.
US$ 79
Tax calculation will be finalised during checkout.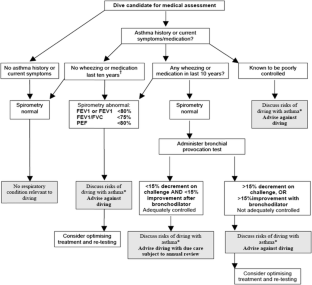 References
1.

Koehle M, Lloyd-Smith R, McKenzie D et al (2003) Asthma and recreational SCUBA diving: a systematic review. Sports Med 33(2):109–116

2.

Wilmshurst P (1998) Diving and oxygen. BMJ 317(7164):996–999

3.

Dear, G. Asthma and diving. Divers Alert Network. [Online] September 17, 2014. [Cited: September 16, 2014.] www.diversalertnetwork.org/medical/articles/Asthma_Diving

4.

Neuman TS, Bove AA, O'Connor RD et al (1994) Asthma and diving. Ann Allerg 73(4):344–350

5.

D'Amato G, Noschese P, Russo M et al (1999) Pollen asthma in the deep. J Allergy Clin Immunol 104(3 Pt 1):710

6.

Astarita C, Gargano D, Di Martino P (2000) Pollen trapped in a scuba tank: a potential hazard for allergic divers. Ann Intern Med 132(2):166–167

7.

Ivkovic D1, Markovic M, Todorovic BS (2012) Effect of a single pool dive on pulmonary function in asthmatic and non-asthmatic divers. Diving Hyperb Med 42(2):72–77

8.

Skogstad M1, Thorsen E, Haldorsen T et al (2002) Lung function over six years among professional divers. Occup Environ Med 59(9):629–633

9.

Cirillo I1, Vizzaccaro A, Crimi E (2003) Airway reactivity and diving in healthy and atopic subjects. Med Sci Sports Exerc 35(9):1493–1498

10.

Weiss LD, Van Meter KW (1995) Cerebral air embolism in asthmatic scuba divers in a swimming pool. Chest 107(6):1653–1654

11.

Tetzlaff K, Muth CM (2005) Demographics and respiratory illness prevalence of sport scuba divers. Int J Sports Med 26(7):607–610

12.

Moon, Richard E. The case that asthmatics should not dive. Undersea and Hyperbaric Medical Society, Inc., 1995 pp. 45-80

13.

Farrell PJ, Glanvill P (1990) Diving practices of scuba divers with asthma. BMJ 300(6718):166

14.

Weaver LK1, Churchill SK, Hegewald MJ et al (2009) Prevalence of airway obstruction in recreational SCUBA divers. Wilderness Environ Med 20(2):125–128

15.

Martini A1, Sbardella D, Bertini L (2012) Airway inflammation in professional divers: FeNO as a marker. Undersea Hyperb Med 39(5):901–907

16.

Recommendations for standardized procedures for the on-line and off-line measurement of exhaled lower respiratory nitric oxide and nasal nitric oxide in adults and children-1999. This official statement of the American Thoracic Society was adopted by the ATS Board of Directors, July 1999. Am J Respir Crit Care Med. 1999 Dec; 160(6):2104-17

17.

Anderson WJ1, Short PM, Williamson PA et al (2012) Inhaled corticosteroid dose response using domiciliary exhaled nitric oxide in persistent asthma: the FENOtype trial. Chest 142(6):1553–1561

18.

Badier M1, Guillot C, Delpierre S et al (2000) Value of bronchial challenge in scuba diving candidates. J Asthma 37(8):661–665

19.

Meehan C, Bennett M (2010) Medical assessment of fitness to dive—comparing a questionnaire and a medical interview-based approach. Diving Hyperb Med 40(3):119–124

20.

Ong LM, Bennett MH, Thomas PS (2009) Pulmonary dysanapsis and diving assessments. Undersea Hyperb Med 36(5):375–380

21.

Gorman D, Veal A (1995) SPUMS policy on asthma and fitness for diving. South Pacific Underwater Medicine Society, Melbourne

22.

South Pacific Underwater Medicine Society. Suggested assessment for the diver with asthma. SPUMS. [Online] September 17, 2014. www.spums.org.au/public-file-download/full-spums-medical

23.

Harrison D, Lloyd-Smith R, Khazei A et al (2005) Controversies in the medical clearance of recreational scuba divers: updates on asthma, diabetes mellitus, coronary artery disease, and patent foramen ovale. Curr Sports Med Rep 4(5):275–281

24.

Walker RM. SPUMS annual scientific meeting 2006: are asthmatics fit to dive? Diving Hyperbaric Med, 2006, pp. 213-219

25.

Committee, UK Sport Diving Medical. Asthma and diving. British Sub-Aqua Club. [Online] September 16, 2014. www.bsac.com/page.asp?section=1533&sectionTitle=Respiratory+condition

26.

Martin, L. Should asthmatics not SCUBA dive? Scuba diving explained, questions and answers on physiology and medical aspects of scuba diving . Flagstaff : Best Publishing Company, 1997, p. Section O

27.

Corson KS. Risk assessment of asthma for decompression illness. Undersea Biomed Res. 1991, pp. 16-17

28.

Bove AA, Davis, J. Bove and Davis' diving medicine. 2004, pp. 441
Additional information
The opinions or assertions herein are the private views of the authors and are not to be construed as reflecting the views of the Department of the Air Force or the Department of Defense.
About this article
Cite this article
Coop, C.A., Adams, K.E. & Webb, C.N. SCUBA Diving and Asthma: Clinical Recommendations and Safety. Clinic Rev Allerg Immunol 50, 18–22 (2016). https://doi.org/10.1007/s12016-015-8474-y
Keywords
Asthma

Allergy

SCUBA diving