Abstract
Globally, the rising consumption of fish and its derivatives, due to its nutritional value and divergence of international cuisines, has led to an increase in reports of adverse reactions to fish. Reactions to fish are not only mediated by the immune system causing allergies, but are often caused by various toxins and parasites including ciguatera and Anisakis. Allergic reactions to fish can be serious and life threatening and children usually do not outgrow this type of food allergy. The route of exposure is not only restricted to ingestion but include manual handling and inhalation of cooking vapors in the domestic and occupational environment. Prevalence rates of self-reported fish allergy range from 0.2 to 2.29 % in the general population, but can reach up to 8 % among fish processing workers. Fish allergy seems to vary with geographical eating habits, type of fish processing, and fish species exposure. The major fish allergen characterized is parvalbumin in addition to several less well-known allergens. This contemporary review discusses interesting and new findings in the area of fish allergy including demographics, novel allergens identified, immunological mechanisms of sensitization, and innovative approaches in diagnosing and managing this life-long disease.
Access options
Buy single article
Instant access to the full article PDF.
USD 39.95
Price includes VAT (USA)
Tax calculation will be finalised during checkout.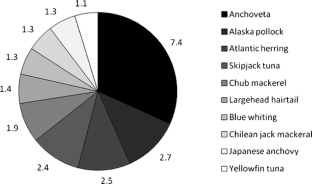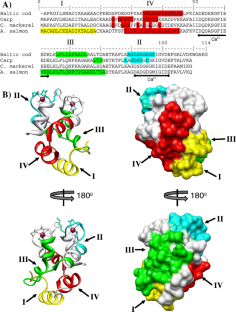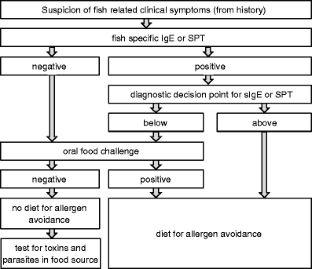 References
1.

Ng IE, Turner PJ, Kemp AS, Campbell DE (2011) Parental perceptions and dietary adherence in children with seafood allergy. Pediatr Allergy Immunol 22:720–728

2.

Eggesbø M, Halvorsen R, Tambs K, Botten G (1999) Prevalence of parentally perceived adverse reactions to food in young children. Pediatr Allergy Immunol 10:122–132

3.

Kajosaari M (1982) Food allergy in Finnish children aged 1 to 6 years. Acta Paediatr Scand 71:815–819

4.

Crespo JF, Pascual C, Dominguez C, Ojeda I, Munoz FM, Esteban MM (1995) Allergic reactions associated with airborne fish particles in IgE-mediated fish hypersensitive patients. Allergy 50:257–261

5.

Sicherer SH, Muñoz-Furlong A, Sampson HA (2004) Prevalence of seafood allergy in the United States determined by a random telephone survey. J Allergy Clin Immunol 114:159–165

6.

Turner P, Ng I, Kemp AS, Campbell DE (2011) Seafood allergy in children. Clin Trans Allergy 106(6):494–501

7.

Chiang WC, Kidon MI, Liew WK, Goh A, Tang JPL, Chay OM (2007) The changing face of food hypersensitivity in an Asian community. Clin Exp Allergy 37:1055–1061

8.

Connett GJ, Gerez I, Cabrera-Morales EA, Yuenyongviwat A, Ngamphaiboon J, Chatchatee P, Sangsupawanich P, Soh SE, Yap GC, Shek LPC, Lee BW (2012) A population-based study of fish allergy in the Philippines, Singapore and Thailand. Int Arch Allergy Appl Immunol 159:384–390

9.

Beale JE, Jeebhay MF, Lopata AL (2009) Characterisation of purified parvalbumin from five fish species and nucleotide sequencing of this major allergen from Pacific pilchard, Sardinops sagax. Mol Immunol 46:2985–2993

10.

Lopata AL, Lehrer SB (2009) New insights into seafood allergy. Curr Opin Allergy Clin Immunol 9:270–277

11.

Van Do T, Elsayed S, Florvaag E, Hordvik I, Endresen C (2005) Allergy to fish parvalbumins: studies on the cross-reactivity of allergens from 9 commonly consumed fish. J Allergy Clin Immunol 116:1314–1320

12.

Mondoulet L, Paty E, Drumare MF, Ah-Leung S, Scheinmann P, Willemot RM, Wal JM, Bernard H (2005) Influence of thermal processing on the allergenicity of peanut proteins. J Agric Food Chem 53:4547–4553

13.

van der Ventel ML, Nieuwenhuizen NE, Kirstein F, Hikuam C, Jeebhay MF, Swoboda I, Brombacher F, Lopata AL (2011) Differential responses to natural and recombinant allergens in a murine model of fish allergy. Mol Immunol 48:637–646

14.

Priftis KN, Mermiri D, Papadopoulou A, Papadopoulos M, Fretzayas A, Lagona E (2008) Asthma symptoms and bronchial reactivity in school children sensitized to food allergens in infancy. J Asthma 45:590–595

15.

Vierk KA, Koehler KM, Fein SB, Street DA (2007) Prevalence of self-reported food allergy in American adults and use of food labels. J Allergy Clin Immunol 119:1504–1510

16.

Ben-Shoshan M, Harrington DW, Soller L, Fragapane J, Joseph L, St Pierre Y, Godefroy SB, Elliott SJ, Clarke AE (2010) A population-based study on peanut, tree nut, fish, shellfish, and sesame allergy prevalence in Canada. J Allergy Clin Immunol 125:1327–1335

17.

Thong BY, Cheng YK, Leong KP, Tang CY, Chng HH (2007) Immediate food hypersensitivity among adults attending a clinical immunology/allergy centre in Singapore. Singapore Med J 48:236–240

18.

Zinn C, Lopata A, Visser M, Potter PC (1997) The spectrum of allergy to South African bony fish (Teleosti). Evaluation by double-blind, placebo-controlled challenge. S Afr Med J 87:146–152

19.

Kobayashi A, Tanaka H, Hamada Y, Ishizaki S, Nagashima Y, Shiomi K (2006) Comparison of allergenicity and allergens between fish white and dark muscles. Allergy 61:357–363

20.

BaagØE KH (1948) First Northern Congress of Allergy. Allergy 1:123–126

21.

Jeebhay MF, Robins TG, Lehrer SB, Lopata AL (2001) Occupational seafood allergy: a review. Occup Environ Med 58:553–562

22.

Jeebhay MF, Robins TG, Miller ME, Bateman E, Smuts M, Baatjies R, Lopata AL (2008) Occupational allergy and asthma among salt water fish processing workers. Am J Ind Med 51:899–910

23.

Bang KM, Hnizdo E, Doney B (2005) Prevalence of asthma by industry in the US population: a study of 2001 NHIS data. Am J Ind Med 47:500–508

24.

Douglas JD, McSharry C, Blaikie L, Morrow T, Miles S, Franklin D (1995) Occupational asthma caused by automated salmon processing. Lancet 346:737–740

25.

Matheisen AM (2010) The state of the world fisheries. Food and Agriculture Organisation.

26.

Anibarro B, Seoane FJ, Mugica MV (2007) Involvement of hidden allergens in food allergic reactions. J Investig Allergol Clin Immunol 17:168–172

27.

Eigenmann PA, Zamora SA (2002) An internet-based survey on the circumstances of food-induced reactions following the diagnosis of IgE-mediated food allergy. Allergy 57:449–453

28.

James JM, Crespo JF (2007) Allergic reactions to foods by inhalation. Curr Allergy Asthma Rep 7:167–174

29.

Roberts G, Golder N, Lack G (2002) Bronchial challenges with aerosolized food in asthmatic, food-allergic children. Allergy 57:713–717

30.

Sicherer SH, Teuber S (2004) Current approach to the diagnosis and management of adverse reactions to foods. J Allergy Clin Immunol 114:1146–1150

31.

Bock SA, Muñoz-Furlong A, Sampson HA (2001) Fatalities due to anaphylactic reactions to foods. J Allergy Clin Immunol 107:191–193

32.

Roberts G, Lack G (2003) Food allergy and asthma—what is the link? Paediatr Respir Rev 4:205–212

33.

Pali-Schöll I, Yildirim AÖ, Ackermann U, Knauer T, Becker C, Garn H, Renz H, Jensen-Jarolim E, Fehrenbach H (2008) Anti-acids lead to immunological and morphological changes in the intestine of BALB/c mice similar to human food allergy. Exp Toxicol Pathol 60:337–345

34.

Untersmayr E, Vestergaard H, Malling H-J, Jensen LB, Platzer MH, Boltz-Nitulescu G, Scheiner O, Skov PS, Jensen-Jarolim E, Poulsen LK (2007) Incomplete digestion of codfish represents a risk factor for anaphylaxis in patients with allergy. J Allergy Clin Immunol 119:711–717

35.

Lopata AL, Jeebhay MF (2001) Seafood allergy in South Africa—studies in the domestic and occupational setting. Allergy Clin Immunol Int 13:204–209

36.

Jeebhay MF, Cartier A (2010) Seafood workers and respiratory disease: an update. Curr Opin Allergy Clin Immunol 10:104–113

37.

Jeebhay MF, Lopata AL (2012) Chapter 2—occupational allergies in seafood-processing workers. In: Jeyakumar H (ed). Adv Food Nutr Res 66:47–73

38.

Jeebhay MF, Lopata AL, Robins TG (2000) Seafood processing in South Africa: a study of working practices, occupational health services and allergic health problems in the industry. Occup Med (Lond) 50:406–413

39.

Bardana EJ Jr (2008) 10. Occupational asthma. J Allergy Clin Immunol 121:S408–S411

40.

Jeebhay MF, Quirce S (2007) Occupational asthma in the developing and industrialised world: a review [State of the Art Series. Occupational lung disease in high- and low-income countries, edited by M. Chan-Yeung. Number 1 in the series]. Int J Tuberc Lung D 11:122–133

41.

Taylor AV, Swanson MC, Jones RT, Vives R, Rodriguez J, Yunginger JW, Crespo JF (2000) Detection and quantitation of raw fish aeroallergens from an open-air fish market. J Allergy Clin Immunol 105:166–169

42.

Chehade M, Nowak-Wegrzyn A, Kaufman SS, Fishbein TM, Tschernia A, LeLeiko NS (2004) De novo food allergy after intestinal transplantation: a report of three cases. J Pediatr Gastroenterol Nutr 38:545–547

43.

Asero R, Antonicelli L (2011) Does sensitization to foods in adults occur always in the gut? Int Arc Allergy A Imm 154:6–14

44.

Nieuwenhuizen N, Lopata AL, Jeebhay MF, Herbert DR, Robins TG, Brombacher F (2006) Exposure to the fish parasite Anisakis causes allergic airway hyperreactivity and dermatitis. J Allergy Clin Immunol 117:1098–1105

45.

Kirstein F, Horsnell WG, Nieuwenhuizen N, Ryffel B, Lopata AL, Brombacher F (2010) Anisakis pegreffii-induced airway hyperresponsiveness is mediated by gamma interferon in the absence of interleukin-4 receptor alpha responsiveness. Infect Immun 78:4077–4086

46.

Bernardini R, Mistrello G, Novembre E, Roncarolo D, Zanotta S, Lombardi E, Cianferoni A, Pucci N, De Martino M, Vierucci A (2005) Cross-reactivity between IgE-binding proteins from Anisakis simplex and Dermatophagoides pteronyssinus. Int J Immunopathol Pharmacol 18:671–675

47.

Jeong KY, Hong CS, Yong TS (2006) Allergenic tropomyosins and their cross-reactivities. Protein Pept Lett 13:835–845

48.

Gruber P, Becker W-M, Hofmann T (2005) Influence of the Maillard reaction on the allergenicity of rAra h 2, a recombinant major allergen from peanut (Arachis hypogaea), its major epitopes, and peanut agglutinin. J Agric Food Chem 53:2289–2296

49.

Vissers YM, Blanc F, Skov PS, Johnson PE, Rigby NM, Przybylski-Nicaise L, Bernard H, Wal J-M, Ballmer-Weber B, Zuidmeer-Jongejan L, Szépfalusi Z, Ruinemans-Koerts J, Jansen APH, Savelkoul HFJ, Wichers HJ, Mackie AR, Mills CEN, Adel-Patient K (2011) Effect of heating and glycation on the allergenicity of 2S albumins (Ara h 2/6) from peanut. PLoS One 6:e23998

50.

Ilchmann A, Burgdorf S, Scheurer S, Waibler Z, Nagai R, Wellner A, Yamamoto Y, Yamamoto H, Henle T, Kurts C, Kalinke U, Vieths S, Toda M (2010) Glycation of a food allergen by the Maillard reaction enhances its T-cell immunogenicity: role of macrophage scavenger receptor class A type I and II. J Allergy Clin Immunol 125:175–183, e111

51.

Hilmenyuk T, Bellinghausen I, Heydenreich B, Ilchmann A, Toda M, Grabbe S, Saloga J (2010) Effects of glycation of the model food allergen ovalbumin on antigen uptake and presentation by human dendritic cells. Immunology 129:437–445

52.

Van Do T, Hordvik I, Endresen C, Elsayed S (2003) The major allergen (parvalbumin) of codfish is encoded by at least two isotypic genes: cDNA cloning, expression and antibody binding of the recombinant allergens. Mol Immunol 39:595–602

53.

Swoboda I, Bugajska-Schretter A, Verdino P, Keller W, Sperr WR, Valent P, Valenta R, Spitzauer S (2002) Recombinant carp parvalbumin, the major cross-reactive fish allergen: a tool for diagnosis and therapy of fish allergy. J Immunol 168:4576–4584

54.

Elsayed S, Apold J (1983) Immunochemical analysis of cod fish allergen M: locations of the immunoglobulin binding sites as demonstrated by the native and synthetic peptides. Allergy 38:449–459

55.

Van Do T, Hordvik I, Endresen C, Elsayed S (2005) Characterization of parvalbumin, the major allergen in Alaska pollack, and comparison with codfish allergen M. Mol Immunol 42:345–353

56.

Untersmayr E, Szalai K, Riemer AB, Hemmer W, Swoboda I, Hantusch B, Schöll I, Spitzauer S, Scheiner O, Jarisch R, Boltz-Nitulescu G, Jensen-Jarolim E (2006) Mimotopes identify conformational epitopes on parvalbumin, the major fish allergen. Mol Immunol 43:1454–1461

57.

Perez-Gordo M, Lin J, Bardina L, Pastor-Vargas C, Cases B, Vivanco F, Cuesta-Herranz J, Sampson HA (2011) Epitope mapping of atlantic salmon major allergen by peptide microarray immunoassay. Int Arc Allergy A Imm 157:31–40

58.

Lindstrom CD, van Do T, Hordvik I, Endresen C, Elsayed S (1996) Cloning of two distinct cDNAs encoding parvalbumin, the major allergen of Atlantic salmon (Salmo salar). Scand J Immunol 44:335–344

59.

Froese R, Pauly D (2012) Fish Base. www.fishbase.org

60.

Aas K, Elsayed SM (1969) Characterization of a major allergen (cod): effect of enzymic hydrolysis on the allergenic activity. J Allergy 44:333–343

61.

Aas K, Lundkvist U (1973) The radioallergosorbent test with a purified allergen from codfish. Clin Allergy 3:255–261

62.

Elsayed SM, Aas K (1970) Characterization of a major allergen (cod) chemical composition and immunological properties. Int Arch Allergy Appl Immunol 38:536–548

63.

Bugajska-Schretter A, Elfman L, Fuchs T, Kapiotis S, Rumpold H, Valenta R, Spitzauer S (1998) Parvalbumin, a cross-reactive fish allergen, contains IgE-binding epitopes sensitive to periodate treatment and Ca2+ depletion. J Allergy Clin Immunol 101:67–74

64.

Lim DL-C, Keng Hwee N, Fong Cheng Y, Kaw Yan C, Denise Li-Meng G, Lynette Pei-Chi S, Yoke Chin G, Hugo PSVB, Bee Wah L (2008) Parvalbumin—the major tropical fish allergen. Pediatr Allergy Immunol 19:399–407

65.

Arif SH (2009) A Ca2+-binding protein with numerous roles and uses: parvalbumin in molecular biology and physiology. BioEssays 31:410–421

66.

Romano C, Ferrara AM, Cislaghi C, Falagiani P (2000) Food allergy to frog. Allergy 55:584–585

67.

Lehky P, Blum HE, Stein EA, Fischer EH (1974) Isolation and characterization of parvalbumins from the skeletal muscle of higher vertebrates. J Biol Chem 249:4332–4334

68.

Das Dores S, Chopin C, Villaume C, Fleurence J, Guéant JL (2002) A new oligomeric parvalbumin allergen of Atlantic cod (Gad mI) encoded by a gene distinct from that of Gad cI. Allergy 57:79–83

69.

Rosmilah M, Shahnaz M, Masita A, Noormalin A, Jamaludin M (2005) Identification of major allergens of two species of local snappers: Lutjanus argentimaculatus (merah/ red snapper) and Lutjanus johnii (jenahak/ golden snapper). Trop Biomed 22:171–177

70.

Yoshida S, Ichimura A, Shiomi K (2008) Elucidation of a major IgE epitope of Pacific mackerel parvalbumin. Food Chem 111:857–861

71.

Kuehn A, Hutt-Kempf E, Hilger C, Hentges F (2011) Clinical monosensitivity to salmonid fish linked to specific IgE-epitopes on salmon and trout beta-parvalbumins. Allergy 66:299–301

72.

Vázquez-Cortés S, Nuñez-Acevedo B, Jimeno-Nogales L, Ledesma A, Fernández-Rivas M (2012) Selective allergy to the salmonidae fish family: a selective parvalbumin epitope? Annals Allerg Asthma Immunol 108:62–63

73.

Sicherer SH, Sampson HA (2010) Food allergy. J Allergy Clin Immunol 125:S116–S125

74.

Lopata AL, O'Herir RE, Lehrer SB (2010) Shellfish allergy. Clin Exp Allergy 40:850–858

75.

Escudero R, Gamboa PM, Anton J, Sanz ML (2007) Food allergy due to trout roe. J Invest Allerg and Clin 17:346–347

76.

Perez-Gordo M, Sanchez-Garcia S, Cases B, Pastor C, Vivanco F, Cuesta-Herranz J (2008) Identification of vitellogenin as an allergen in Beluga caviar allergy. Allergy 63:479–480

77.

Hamada Y, Nagashima Y, Shiomi K (2001) Identification of collagen as a new fish allergen. Biosci Biotech Bioch 65:285–291

78.

Sakaguchi M, Toda M, Ebihara T, Irie S, Hori H, Imai A, Yanagida M, Miyazawa H, Ohsuna H, Ikezawa Z, Inouye S (2000) IgE antibody to fish gelatin (type I collagen) in patients with fish allergy. J Allergy Clin Immunol 106:579–584

79.

Taylor SL, Kabourek JL, Hefle SL (2004) Fish allergy: fish and products thereof. J Food Sci 69:R175–R180

80.

Weber P, Steinhart H, Paschke A (2009) Competitive indirect ELISA for the determination of parvalbumins from various fish species in food grade fish gelatins and isinglass with PARV-19 anti-parvalbumin antibodies. J Agric Food Chem 57:11328–11334

81.

Audicana MT, Kennedy MW (2008) Anisakis simplex: from obscure infectious worm to inducer of immune hyersensitivity. Clin Microbiol Rev 21(2):360–379

82.

Nieuwenhuizen N, Lopata AL, Jeebhay MLF, Herbert DR, Robins TG, Brombacher F (2006) Exposure to the fish parasite Anisakis causes allergic airway hyperreactivity and dermatitis. J Allergy Clin Immun 117:1098–1105

83.

Lopata AL, Potter PC (2000) Allergy and other adverse reactions to seafood. Allergy Clin Immunol Int 12:271–281

84.

Lehrer SB, Ayuso R, Reese G (2003) Seafood allergy and allergens: a review. Mar Biotechnol 5:339–348

85.

Auerswald L, Morren C, Lopata AL (2006) Histamine levels in seventeen species of fresh and processed South African seafood. Food Chem 98:231–239

86.

Hungerford JM (2010) Scombroid poisoning: a review. Toxicon 56:231–243

87.

Audicana MT, Kennedy MW (2008) Anisakis simplex: from obscure infectious worm to inducer of immune hypersensitivity. Clin Microbiol Rev 21:360–379, table of contents

88.

Shamsi S, Eisenbarth A, Saptarshi S, Beveridge I, Gasser R, Lopata A (2011) Occurrence and abundance of anisakid nematode larvae in five species of fish from southern Australian waters. Parasitol Res 108:927–934

89.

Lin AH, Florvaag E, Van Do T, Johansson SGO, Levsen A, Vaali K (2012) IgE Sensitization to the fish parasite Anisakis simplex in a Norwegian population: a pilot study. Scand J Immunol 75:431–435

90.

Sackesen C, Adalioglu G (2003) Hidden fish substance triggers allergy. J Investig Allergol Clin Immunol 13:216–217

91.

Kuehn A, Scheuermann T, Hilger C, Hentges F (2010) Important variations in parvalbumin content in common fish species: a factor possibly contributing to variable allergenicity. Int Arch Allergy Immunol 153:359–366

92.

Sampson HA (2001) Utility of food-specific IgE concentrations in predicting symptomatic food allergy. J Allergy Clin Immunol 107:891–896

93.

Bernhisel-Broadbent J, Scanlon SM, Sampson HA (1992) Fish hypersensitivity: I. In vitro and oral challenge results in fish-allergic patients. J Allergy Clin Immunol 89:730–737

94.

Helbling A, Haydel R Jr, McCants ML, Musmand JJ, El-Dahr J, Lehrer SB (1999) Fish allergy: is cross-reactivity among fish species relevant? Double-blind placebo-controlled food challenge studies of fish allergic adults. Ann Allerg Asthma Immunol 83:517–523

95.

Asero R, Mistrello G, Roncarolo D, Casarini M, Falagiani P (1999) True monosensitivity to a tropical sole. Allergy 54:1228–1229

96.

Ebo DG, Kuehn A, Bridts CH, Hilger C, Hentges F, Stevens WJ (2010) Monosensitivity to pangasius and tilapia caused by allergens other than parvalbumin. J Investig Allergol Clin Immunol 20:84–88

97.

Gill BV, Rice TR, Cartier A, Gautrin D, Neis B, Horth-Susin L, Jong M, Swanson M, Lehrer SB (2009) Identification of crab proteins that elicit IgE reactivity in snow crab-processing workers. J Allergy Clin Immunol 124:1055–1061

98.

Lee LA, Burks AW (2006) Food allergies: prevalence, molecular characterization, and treatment/prevention strategies. Annu Rev Nutr 26:539–565

99.

Niggemann B, Beyer K (2007) Diagnosis of food allergy in children: toward a standardization of food challenge. J Pediatr Gastroenterol Nutr 45:399–404

100.

Taylor SL, Hefle SL, Bindslev-jensen C, Atkins FM, Andre C, Bruijnzeel-koomen C, Burks AW, Bush RK, Ebisawa M, Eigenmann PA, Host A, Hourihane JOB, Isolauri E, Hill DJ, Knulst A, Lack G, Sampson HA, Moneret-vautrin DA, Rance F, Vadas PA, Yunginger JW, Zeiger RS, Salminen JW, Madsen C, Abbott P (2004) A consensus protocol for the determination of the threshold doses for allergenic foods: how much is too much? Clin Exp Allergy 34:689–695

101.

O'Neil C, Helbling AA, Lehrer SB (1993) Allergic reactions to fish. Clin Rev Allergy 11:183–200

102.

Swoboda I, Bugajska-Schretter A, Linhart B, Verdino P, Keller W, Schulmeister U, Sperr WR, Valent P, Peltre G, Quirce S, Douladiris N, Papadopoulos NG, Valenta R, Spitzauer S (2007) A recombinant hypoallergenic parvalbumin mutant for immunotherapy of IgE-mediated fish allergy. J Immunol 178:6290–6296

103.

Nieuwenhuizen NE, Lopata AL (2005) Fighting food allergy: current approaches. Ann NY Acad Sci 1056:30–45

104.

Turner P, Ng I, Kemp A, Campbell D (2011) Seafood allergy in children: a descriptive study. Ann Allerg Asthma Immunol 106:494–501

105.

Fæste CK, Plassen C (2008) Quantitative sandwich ELISA for the determination of fish in foods. J Immunol Methods 329:45–55

106.

Lopata AL, Jeebhay MF, Reese G, Fernandes J, Swoboda I, Robins TG, Lehrer SB (2005) Detection of fish antigens aerosolized during fish processing using newly developed immunoassays. Int Arch Allergy Appl Immunol 138:21

107.

Rolland JM, Apostolou E, Deckert K, de Leon MP, Douglass JA, Glaspole IN, Bailey M, Stockley CS, O'Hehir RE (2006) Potential food allergens in wine: double-blind, placebo-controlled trial and basophil activation analysis. Nutrition 22:882–888

108.

Thong BY, Cheng YK, Leong KP, Tang CY, Chng HH (2005) Anaphylaxis in adults referred to a clinical immunology/allergy centre in Singapore. Singapore Med J 46:529–534

109.

Hajeb P, Selamat J (2012) A contemporary review of seafood allergy. Clin Rev Allergy Immunol 42:365–385

110.

Leung TF, Yung E, Wong YS, Lam CWK, Wong GWK (2009) Parent-reported adverse food reactions in Hong Kong Chinese pre-schoolers: epidemiology, clinical spectrum and risk factors. Pediatr Allergy Immunol 20:339–346

111.

Chen J, Hu Y, Allen KJ, Ho MHK, Li H (2011) The prevalence of food allergy in infants in Chongqing, China. Pediatr Allergy Immunol 22:356–360

112.

Osterballe M, Hansen TK, Mortz CG, Høst A, Bindslev-Jensen C (2005) The prevalence of food hypersensitivity in an unselected population of children and adults. Pediatr Allergy Immunol 16:567–573

113.

Rancé F, Grandmottet X, Grandjean H (2005) Prevalence and main characteristics of schoolchildren diagnosed withfood allergies in France. Clin Exp Allergy 35:167–172

114.

Kull I, Bergström A, Lilja G, Pershagen G, Wickman M (2006) Fish consumption during the first year of life and development of allergic diseases during childhood. Allergy 61:1009–1015

115.

Orhan F, Karakas T, Cakir M, Aksoy A, Baki A, Gedik Y (2009) Prevalence of immunoglobulin E-mediated food allergy in 6–9-year-old urban schoolchildren in the eastern Black Sea region of Turkey. Clin Exp Allergy 39:1027–1035

116.

Jeebhay MF, Robins TG, Lopata AL (2004) World at work: fish processing workers. Occup Environ Med 61:471–474

117.

Jeebhay MF, Robins TG, Seixas N, Baatjies R, George DA, Rusford E, Lehrer SB, Lopata AL (2005) Environmental exposure characterization of fish processing workers. Ann Occup Hyg 49:423–437

118.

Sugita K, Kabashima K, Nakashima D, Tokura Y (2007) Oral allergy syndrome caused by raw fish in a Japanese sushi bar worker. Contact Dermatitis 56:369–370

119.

Pitsios C, Dimitriou A, Stefanaki E, Kontou-Fili K (2010) Anaphylaxis during skin testing with food allergens in children. Eur J Pediatr 169:613–615

120.

Pellegrino K, Du LE, Artesani MC, Riccardi C, Mancini S, Bella S, Alghisi F, Cavagni G (2012) Severe reaction in a child with asymptomatic codfish allergy: food challenge reactivating recurrent pancreatitis. Ital J Pediatr 38:16

121.

Onesimo R, Giorgio V, Pill S, Monaco S, Sopo SM (2012) Isolated contact urticaria caused by immunoglobulin E-mediated fish allergy. Isr Med Assoc J 14:11–13

122.

Pascual CY, Reche M, Fiandor A, Valbuena T, Cuevas T, Esteban MM (2008) Fish allergy in childhood. Pediatr Allergy Immunol 19:573–579

123.

Seitz CS, Brocker EB, Trautmann A (2008) Occupational allergy due to seafood delivery: case report. J Occup Med Toxicol 3:11

124.

Dahlman-Höglund A, Renström A, Larsson PH, Elsayed S, Andersson E (2012) Salmon allergen exposure, occupational asthma, and respiratory symptoms among salmon processing workers. Am J Ind Med 55:624–630

125.

Hamada Y, Tanaka H, Ishizaki S, Ishida M, Nagashima Y, Shiomi K (2003) Purification, reactivity with IgE and cDNA cloning of parvalbumin as the major allergen of mackerels. Food Chem Toxicol 41:1149–1156

126.

Hamada Y, Tanaka H, Sato A, Ishizaki S, Nagashima Y, Shiomi K (2004) Expression and evaluation of IgE-binding capacity of recombinant Pacific mackerel parvalbumin. Allergol Int 53:271–278

127.

Griesmeier U, Vázquez-Cortés S, Bublin M, Radauer C, Ma Y, Briza P, Fernández-Rivas M, Breiteneder H (2010) Expression levels of parvalbumins determine allergenicity of fish species. Allergy 65:191–198

128.

Yan M, Ulrike G, Markus S, Christian R, Peter B, Anja E, Merima B, Stefano A, Martin H, Sonia V-C, de Arellano IRR, Emilia V, Photini S-P, André CK, Montserrat F-R, Karin H-S, Heimo B (2008) Comparison of natural and recombinant forms of the major fish allergen parvalbumin from cod and carp. Mol Nutr Food Res 52:S196–S207

129.

MN C, Cañas B, Vázquez JS, Gallardo JM (2010) Extensive de novo sequencing of new parvalbumin isoforms using a novel combination of bottom-up proteomics, accurate molecular mass measurement by FTICR-MS, and selected MS/MS ion monitoring. J Proteome Res 9:4393–4406

130.

Makinen-Kiljunen S, Kiistala R, Varjonen E (2003) Severe reactions from roe without concomitant fish allergy. Ann Allergy Asthma Immunol 91:413–416

131.

Ulrike G, Merima B, Christian R, Sonia V-C, Yan M, Montserrat F-R, Heimo B (2009) Physicochemical properties and thermal stability of Lep w 1, the major allergen of whiff. Mol Nutr Food Res 54(6):861–869

132.

Bugajska-Schretter A, Grote M, Vangelista L, Valent P, Sperr WR, Rumpold H, Pastore A, Reichelt R, Valenta R, Spitzauer S (2000) Purification, biochemical, and immunological characterisation of a major food allergen: different immunoglobulin E recognition of the apo- and calcium-bound forms of carp parvalbumin. Gut 46:661–669

133.

Gajewski KG, Hsieh YH (2009) Monoclonal antibody specific to a major fish allergen: parvalbumin. J Food Prot 72:818–825

134.

Mehl A, Rolinck-Werninghaus C, Staden U, Verstege A, Wahn U, Beyer K, Niggemann B (2006) The atopy patch test in the diagnostic workup of suspected food-related symptoms in children. J Allergy Clin Immunol 118:923–929
About this article
Cite this article
Sharp, M.F., Lopata, A.L. Fish Allergy: In Review. Clinic Rev Allerg Immunol 46, 258–271 (2014). https://doi.org/10.1007/s12016-013-8363-1
Keywords
Fish allergy

IgE antibody

Food allergen

Prevalence

Clinical symptoms