Abstract
Saccharomyces cerevisiae is best known as the baker's and brewer's yeast, but its residual traces are also frequent excipients in some vaccines. Although anti-S. cerevisiae autoantibodies (ASCAs) are considered specific for Crohn's disease, a growing number of studies have detected high levels of ASCAs in patients affected with autoimmune diseases as compared with healthy controls, including antiphospholipid syndrome, systemic lupus erythematosus, type 1 diabetes mellitus, and rheumatoid arthritis. Commensal microorganisms such as Saccharomyces are required for nutrition, proper development of Peyer's aggregated lymphoid tissue, and tissue healing. However, even the commensal nonclassically pathogenic microbiota can trigger autoimmunity when fine regulation of immune tolerance does not work properly. For our purposes, the protein database of the National Center for Biotechnology Information (NCBI) was consulted, comparing Saccharomyces mannan to several molecules with a pathogenetic role in autoimmune diseases. Thanks to the NCBI bioinformation technology tool, several overlaps in molecular structures (50–100 %) were identified when yeast mannan, and the most common autoantigens were compared. The autoantigen U2 snRNP B″ was found to conserve a superfamily protein domain that shares 83 % of the S. cerevisiae mannan sequence. Furthermore, ASCAs may be present years before the diagnosis of some associated autoimmune diseases as they were retrospectively found in the preserved blood samples of soldiers who became affected by Crohn's disease years later. Our results strongly suggest that ASCAs' role in clinical practice should be better addressed in order to evaluate their predictive or prognostic relevance.
Access options
Buy single article
Instant access to the full article PDF.
US$ 39.95
Tax calculation will be finalised during checkout.
Subscribe to journal
Immediate online access to all issues from 2019. Subscription will auto renew annually.
US$ 79
Tax calculation will be finalised during checkout.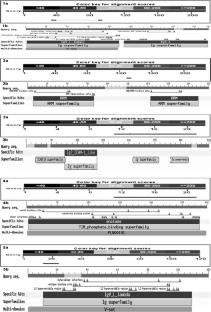 References
1.

Sicard D, Legras JL (2011) Bread, beer and wine: yeast domestication in the Saccharomyces sensu stricto complex. C R Biol 334(3):229–236

2.

Krause I, Blank M, Cervera R, Font J, Matthias T, Pfeiffer S, Wies I, Fraser A, Shoenfeld Y (2007) Cross-reactive epitopes on β2-glycoprotein-I and Saccharomyces cerevisiae in patients with the antiphospholipid syndrome. Ann N Y Acad Sci 1108:481–488

3.

Israeli E, Grotto I, Gilburd B, Balicer RD, Goldin E, Wiik A, Shoenfeld Y (2005) Anti-Saccharomyces cerevisiae and antineutrophil cytoplasmic antibodies as predictors of inflammatory bowel disease. Gut 54(9):1232–1236

4.

Dai H, Li Z, Zhang Y, Lv P, Gao XM (2009) Elevated levels of serum antibodies against Saccharomyces cerevisiae mannan in patients with systemic lupus erythematosus. Lupus 18(12):1087–1090

5.

Sakly W, Mankaï A, Sakly N, Thabet Y, Achour A, Ghedira-Besbes L, Jeddi M, Ghedira I (2010) Anti-Saccharomyces cerevisiae antibodies are frequent in type 1 diabetes. Endocr Pathol 21(2):108–114

6.

Dai H, Li Z, Zhang Y, Lv P, Gao XM (2009) Elevated levels of serum IgA against Saccharomyces cerevisiae mannan in patients with rheumatoid arthritis. Cell Mol Immunol 6(5):361–366

7.

Agmon-Levin N, Lian Z, Shoenfeld Y (2011) Explosion of autoimmune diseases and the mosaic of old and novel factors. Cell Moll Immunol 8(3):189–192

8.

Shoenfeld Y, Gilburd B, Abu-Shakra M, Amital H, Barzilai O, Berkun Y, Blank M, Zandman-Goddard G, Katz U, Krause I, Langevitz P, Levy Y, Orbach H, Pordeus V, Ram M, Sherer Y, Toubi E, Tomer Y (2008) The mosaic of autoimmunity: genetic factors involved in autoimmune diseases. Isr Med Assoc J 10(1):3–7

9.

Shoenfeld Y, Zandman-Goddard G, Stojanovich L, Cutolo M, Amital H, Levy Y, Abu-Shakra M, Barzilai O, Berkun Y, Blank M, de Carvalho JF, Doria A, Gilburd B, Katz U, Krause I, Langevitz P, Orbach H, Pordeus V, Ram M, Toubi E, Sherer Y (2008) The mosaic of autoimmunity: hormonal and environmental factors involved in autoimmune diseases—2008. Isr Med Assoc J 10:8–12

10.

Shoenfeld Y, Blank M, Abu-Shakra M, Amital H, Barzilai O, Berkun Y, Bizzaro N, Gilburd B, Zandman-Goddard G, Katz U, Krause I, Langevitz P, Mackay IR, Orbach H, Ram M, Sherer Y, Toubi E, Gershwin ME (2008) The mosaic of autoimmunity: prediction, autoantibodies and therapy in autoimmune diseases—2008. Isr Med Assoc J 10(1):13–19

11.

Proal AD, Albert PJ, Marshall T (2009) Autoimmune disease in the era of the metagenome. Autoimmun Rev 8:677–681

12.

Kivity S, Agmon-Levin N, Blank M, Shoenfeld Y (2009) Infections and autoimmunity—friends or foes? Trends Immunol 30:409–414

13.

Guilherme L, Kalil J, Cunningham M (2006) Molecular mimicry in the autoimmune pathogenesis of rheumatic heart disease. Autoimmunity 39(1):31–39

14.

Duke RC (1989) Self recognition by T cells. I. Bystander killing of target cells bearing syngeneic MHC antigens. J Exp Med 1(170):59–71

15.

Agmon-Levin N, Ram M, Barzilai O, Porat-Katz BS, Parikman R, Selmi C, Gershwin ME, Anaya JM, Youinou P, Bizzaro N, Tincani A, Tzioufas AG, Cervera R, Stojanovich L, Martin J, Gonzalez-Gay MA, Valentini G, Blank M, SanMarco M, Rozman B, Bombardieri S, De Vita S, Shoenfeld Y (2009) Prevalence of hepatitis C serum antibody in autoimmune diseases. J Autoimmun 32:261–266

16.

Nahum A, Dadi H, Bates A, Roifman CM (2012) The biological significance of TLR3 variant, L412F, in conferring susceptibility to cutaneous candidiasis, CMV and autoimmunity. Autoimmun Rev 11:341–347

17.

Villamón E, Gozalbo D, Roig P, Murciano C, O'Connor JE, Fradelizi D, Gil ML (2004) Myeloid differentiation factor 88 (MyD88) is required for murine resistance to Candida albicans and is critically involved in Candida-induced production of cytokines. Eur Cytokine Netw 15:263–271

18.

Selmi C, Leung PS, Sherr DH, Diaz M, Nyland JF, Monestier M, Rose NR, Gershwin ME (2012) Mechanisms of environmental influence on human autoimmunity: a national institute of environmental health sciences expert panel workshop. J Autoimmun 28

19.

Sarra M, Pallone F, Macdonald TT, Monteleone G (2010) IL-23/IL-17 axis in IBD. Inflamm Bowel Dis 16:1808–1813

20.

Chervonsky AV (2010) Influence of microbial environment on autoimmunity. Nat Immunol 11:28–35

21.

Fernández S, Molina IJ, Romero P, González R, Peña J, Sánchez F, Reynoso FR, Pérez-Navero JL, Estevez O, Ortega C, Santamaría M (2011) Characterization of gliadin-specific Th17 cells from the mucosa of celiac disease patients. Am J Gastroenterol 106:528–538

22.

Bruce D, Yu S, Ooi JH, Cantorna MT (2011) Converging pathways lead to overproduction of IL-17 in the absence of vitamin D signaling. Int Immunol 23:519–528

23.

Iborra M, Bernuzzi F, Invernizzi P, Danese S (2012) MicroRNAs in autoimmunity and inflammatory bowel disease: crucial regulators in immune response. Autoimmun Rev 11:305–314

24.

O'Connell RM, Taganov KD, Boldin MP, Cheng G, Baltimore D (2007) MicroRNA-155 is induced during the macrophage inflammatory response. Proc Natl Acad Sci U S A 30(104):1604–1609

25.

Monk CE, Hutvagner G, Arthur JS (2010) Regulation of miRNA transcription in macrophages in response to Candida albicans. PLoS One 5:e13669

26.

Thai TH, Calado DP, Casola S, Ansel KM, Xiao C, Xue Y, Murphy A, Frendewey D, Valenzuela D, Kutok JL, Schmidt-Supprian M, Rajewsky N, Yancopoulos G, Rao A, Rajewsky K (2007) Regulation of the germinal center response by microRNA-155. Science 316:604–608

27.

Pordeus V, Szyper-Kravitz M, Levy RA, Vaz NM, Shoenfeld Y (2008) Infections and autoimmunity: a panorama. Clin Rev Allergy Immunol 34:283–299

28.

Levin LI, Munger KL, Rubertone MV, Peck CA, Lennette ET, Spiegelman D, Ascherio A (2005) Temporal relationship between elevation of Epstein–Barr virus antibody titers and initial onset of neurological symptoms in multiple sclerosis. JAMA 293:2496–2500

29.

Shinohara H, Nagi-Miura N, Ishibashi K, Adachi Y, Ishida-Okawara A, Oharaseki T, Takahashi K, Naoe S, Suzuki K, Ohno N (2006) Beta-mannosyl linkages negatively regulate anaphylaxis and vasculitis in mice, induced by CAWS, fungal PAMPS composed of mannoprotein-beta-glucan complex secreted by Candida albicans. Biol Pharm Bull 29:1854–1861

30.

Sørensen R, Thiel S, Jensenius JC (2005) Mannan-binding-lectin-associated serine proteases, characteristics and disease associations. Springer Semin Immunopathol 27:299–319

31.

Standaert-Vitse A, Jouault T, Vandewalle P, Mille C, Seddik M, Sendid B, Mallet JM, Colombel JF, Poulain D (2006) Candida albicans is an immunogen for anti-Saccharomyces cerevisiae antibody markers of Crohn's disease. Gastroenterology 130:1764–1775

32.

Lidar M, Langevitz P, Shoenfeld Y (2009) The role of infection in inflammatory bowel disease: initiation, exacerbation and protection. Isr Med Assoc J 11:558–563

33.

Luong M, Lam JS, Chen J, Levitz SM (2007) Effects of fungal N- and O-linked mannosylation on the immunogenicity of model vaccines. Vaccine 25(22):4340–4344

34.

Ardiani A, Higgins JP, Hodge JW (2010) Vaccines based on whole recombinant Saccharomyces cerevisiae cells. FEMS Yeast Res 10(8):1060–1069

35.

Haller AA, Lauer GM, King TH, Kemmler C, Fiolkoski V, Lu Y, Bellgrau D, Rodell TC, Apelian D, Franzusoff A, Duke RC (2007) Whole recombinant yeast-based immunotherapy induces potent T cell responses targeting HCV NS3 and Core proteins. Vaccine 25:1452–1463

36.

van de Veerdonk FL, Kullberg BJ, van der Meer JW, Gow NA, Netea MG (2008) Host–microbe interactions: innate pattern recognition of fungal pathogens. Curr Opin Microbiol 11:305–312

37.

Shoenfeld Y, Agmon-Levin N (2010) "ASIA"—autoimmune/inflammatory syndrome induced by adjuvants. J Autoimmun 36(1):4–8

38.

Israeli E, Agmon-Levin N, Blank M, Shoenfeld Y (2009) Adjuvants and autoimmunity. Lupus 18(13):1217–1225

39.

Agmon-Levin N, Paz Z, Israeli E, Shoenfeld Y (2009) Vaccines and autoimmunity. Nat Rev Rheumatol 5(11):648–652

40.

Offit PA, Jew RK (2003) Addressing parents' concerns: do vaccines contain harmful preservatives, adjuvants, additives, or residuals? Pediatrics 112(6):1394–1397

41.

Moore M, Fabricatorian D, Selby W (2002) Assessment and relevance of enzyme-linked immunosorbent assay for antibodies to Saccharomyces cerevisiae in Australian patients with inflammatory bowel disease. Inter Med J 32(7):349–352

42.

Cinemre H, Bilir C, Gokosmanoglu F, Kadakal F (2007) Anti-Saccharomyces cerevisiae antibodies in acute myocardial infarction. J Investig Med 55(8):444–449

43.

Jager NA, Teteloshvili N, Zeebregts CJ, Westra J, Bijl M (2012) Macrophage folate receptor-β (FR-β) expression in auto-immune inflammatory rheumatic diseases: a forthcoming marker for cardiovascular risk? Autoimmun Rev 11:621–626

44.

Krause I, Weinberger A (2008) Behçet's disease. Krause I. Curr Opin Rheumatol 20(1):82–87

45.

Choi CH, Kim TI, Kim BC, Shin SJ, Lee SK, Kim WH, Kim HS (2006) Anti-Saccharomyces cerevisiae antibody in intestinal Behçet's disease patients: relation to clinical course. Dis Colon Rectum 49(12):1849–1859

46.

Rho YH, Chung CP, Oeser A, Solus J, Asanuma Y, Sokka T, Pincus T, Raggi P, Gebretsadik T, Shintani A, Stein CM (2009) Inflammatory mediators and premature coronary atherosclerosis in rheumatoid arthritis. Arthritis Rheum 61(11):1580–1585

47.

Yazıcı D, Aydın SZ, Yavuz D, Tarçın O, Deyneli O, Direskeneli H, Akalın S (2010) Anti-Saccharomyces Cerevisiae antibodies (ASCA) are elevated in autoimmune thyroid disease ASCA in autoimmune thyroid disease. Endocrine 38(2):194–198

48.

Barta Z, Zold E, Nagy A, Zeher M, Csipo I (2011) Celiac disease and microscopic colitis: a report of 4 cases. World J Gastroenterol 17(16):2150–2154

49.

Lidar M, Langevitz P, Barzilai O, Ram M, Porat-Katz BS, Bizzaro N, Tonutti E, Maieron R, Chowers Y, Bar-Meir S, Shoenfeld Y (2009) Infectious serologies and autoantibodies in inflammatory bowel disease: insinuations at a true pathogenic role. Ann N Y Acad Sci 1173:640–648

50.

Fagoonee S, De Luca L, De Angelis C, Castelli A, Rizzetto M, Pellicano R (2009) Anti-Saccharomyces cerevisiae as unusual antibodies in autoimmune hepatitis. Minerva Gastroenterol Dietol 55:37–40

51.

Bueno de Mesquita M, Ferrante M, Henckaerts L, Joossens M, Janssens V, Hlavaty T, Pierik M, Joossens S, Van Schuerbeek N, Van Assche G, Rutgeerts P, Vermeire S, Hoffman I (2009) Clustering of (auto)immune diseases with early-onset and complicated inflammatory bowel disease. Eur J Pediatr 168(5):575–583

52.

Czaja AJ, Shums Z, Donaldson PT, Norman GL (2004) Frequency and significance of antibodies to Saccharomyces cerevisiae in autoimmune hepatitis. Dig Dis Sci 49(4):611–618

53.

Muratori P, Muratori L, Guidi M, Maccariello S, Pappas G, Ferrari R, Gionchetti P, Campieri M, Bianchi FB (2003) Anti-Saccharomyces cerevisiae antibodies (ASCA) and autoimmune liver diseases. Clin Exp Immunol 132(3):473–476

54.

Fassler J, Cooper P (2008) BLAST glossary. 2011 Jul 14. In: BLAST® Help [Internet]. National Center for Biotechnology Information (US), Bethesda
About this article
Cite this article
Rinaldi, M., Perricone, R., Blank, M. et al. Anti-Saccharomyces cerevisiae Autoantibodies in Autoimmune Diseases: from Bread Baking to Autoimmunity. Clinic Rev Allerg Immunol 45, 152–161 (2013). https://doi.org/10.1007/s12016-012-8344-9
Keywords
Anti-Saccharomyces cerevisiae autoantibodies

Autoimmune diseases

Molecular mimicry

Autoantigenicity

Vaccines