Abstract
Psoriasis is a common inflammatory skin disease that is associated with joint, psychiatric, and cardiovascular comorbidities. Diagnosis of plaque psoriasis is dependent primarily on characteristic physical findings and history. Given the varied clinical presentations of psoriasis and its mimicry to other papulosquamous skin diseases, it may be difficult for nondermatologists to diagnose psoriasis. Currently, no diagnostic criteria for plaque psoriasis have been validated in clinical studies. In this paper, we provide diagnostic guidelines for the nondermatologist to aid them in recognizing psoriasis.
Access options
Buy single article
Instant access to the full article PDF.
USD 39.95
Price includes VAT (USA)
Tax calculation will be finalised during checkout.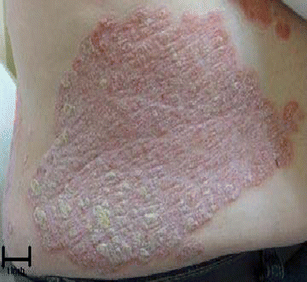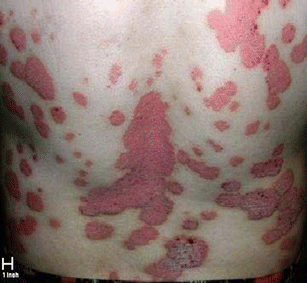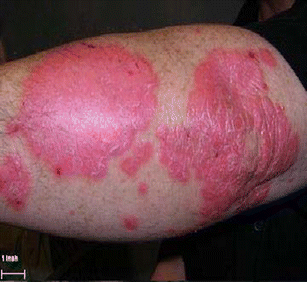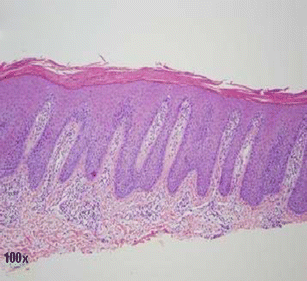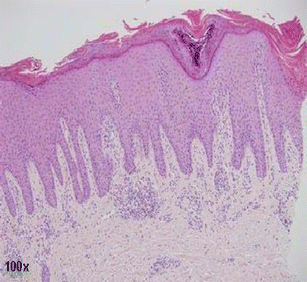 References
1.

Koo J (1996) Population-based epidemiologic study of psoriasis with emphasis on quality of life assessment. Dermatol Clin 14:485–496

2.

Kurd SK, Gelfand JM (2009) The prevalence of previously diagnosed and undiagnosed psoriasis in US adults: results from NHANES 2003–2004. J Am Acad Dermatol 60:218–224

3.

Stern RS, Nijsten T, Feldman SR, Margolis DJ, Rolstad T (2004) Psoriasis is common, carries a substantial burden even when not extensive, and is associated with widespread treatment dissatisfaction. J Investig Dermatol Symp Proc 9:136–139

4.

Hauber AB, Gonzalez JM, Schenkel B, Lofland JH, Martin S (2011) The value to patients of reducing lesion severity in plaque psoriasis. J Dermatolog Treat 22:266–275

5.

Varni JW, Globe DR, Gandra SR, Harrison DJ, Hooper M, Baumgartner S (2011) Health-related quality of life of pediatric patients with moderate to severe plaque psoriasis: comparisons to four common chronic diseases. Eur J Pediatr. doi:10.1007/s00431-011-1587-2

6.

Lin TY, See LC, Shen YM, Liang CY, Chang HN, Lin YK (2011) Quality of life in patients with psoriasis in northern Taiwan. Chang Gung Med J 34:186–196

7.

Henseler T, Christophers E (1985) Psoriasis of early and late onset: characterization of two types of psoriasis vulgaris. J Am Acad Dermatol 13:450–456

8.

Han C, Lofland JH, Zhao N, Schenkel B (2011) Increased prevalence of psychiatric disorders and health care-associated costs among patients with moderate-to-severe psoriasis. J Drugs Dermatol 10:843–850

9.

Fortune DG, Richards HL, Griffiths CE (2005) Psychologic factors in psoriasis: consequences, mechanisms, and interventions. Dermatol Clin 23:681–694

10.

Griffiths CE, Barker JN (2007) Pathogenesis and clinical features of psoriasis. J Lancet 370:263–271

11.

Dominguez PL, Assarpour A, Kuo H, Holt EW, Tyler S, Qureshi AA (2009) Development and pilot-testing of a psoriasis screening tool. Br J Dermatol 161:778–784

12.

Ross CM (1966) Skin disease in the Venda. S Afr Med J 40:302–308

13.

Schafer T (2006) Epidemiology of psoriasis. Review and the German perspective. J Dermatol 212:327–337

14.

Gelfand JM, Weinstein R, Porter SB, Neimann AL, Berlin JA, Margolis DJ (2005) Prevalence and treatment of psoriasis in the United Kingdom: a population-based study. Arch Dermatol 141:1537–1541

15.

Eckes L, Ananthakrishnan R, Walter H (1975) The geographic distribution of psoriasis. Hautarzt 26:563–567

16.

Shrank AB (1965) A field survey in Nigeria. Trans St Johns Hosp Dermatol Soc 51:85–94

17.

Farber EM, Nall L (1998) Epidemiology: natural history and genetics. In: Roenigk HH, Maibach HI (eds) Psoriasis. Dekker, New York, pp 107–157

18.

Gelfand JM, Stern RS, Nijsten T et al (2005) The prevalence of psoriasis in African Americans: results from a population-based study. J Am Acad Dermatol 52:23–26

19.

Chang YT, Chen TJ, Liu PC et al (2009) Epidemiological study of psoriasis in the national health insurance database in Taiwan. Acta Derm Venereol 89:262–266

20.

Yip SY (1984) The prevalence of psoriasis in the Mongoloid race. J Am Acad Dermatol 10:965–968

21.

Fry L (1988) Psoriasis. Br J Dermatol 119:445–461

22.

Papp K, Valenzuela F, Poulin Y, Bernstein G, Wasel N (2010) Epidemiology of moderate-to-severe plaque psoriasis in a Canadian surveyed population. J Cutan Med Surg 14:167–174

23.

Manjula VD, Sreekiran S, Saril PS, Sreekanth MP (2011) A study of psoriasis and quality of life in a tertiary care teaching hospital of kottayam, kerala. Indian J Dermatol 56:403–406

24.

Ganemo A, Wahlgren CF, Svensson A (2011) Quality of life and clinical features in Swedish children with psoriasis. Pediatr Dermatol 28:375–379

25.

Ayala F (2007) Clinical presentation of psoriasis. Reumatismo 59(Suppl 1):40–45

26.

Zhang X, Wang H, Te-Shao H, Yang S, Chen S (2002) The genetic epidemiology of psoriasis vulgaris in Chinese Han. Int J Dermatol 41:663–669

27.

Elder JT, Nair RP, Henseler T et al (2001) The genetics of psoriasis 2001: the odyssey continues. Arch Dermatol 137:1447–1454

28.

Andressen C, Henseler T (1982) Inheritance of psoriasis. Analysis of 2035 family histories. Hautarzt 33:214–217

29.

Ikaheimo I, Tiilikainen A, Karvonen J, Silvennoinen-Kassinen S (1996) HLA risk haplotype Cw6, DR7, DQA1*0201 and HLA-Cw6 with reference to the clinical picture of psoriasis vulgaris. Arch Dermatol Res 288:363–365

30.

Suomela S, Kainu K, Onkamo P et al (2007) Clinical associations of the risk alleles of HLA-Cw6 and CCHCR1*WWCC in psoriasis. Acta Derm Venereol 87:127–134

31.

Luszczek W, Kubicka W, Cislo M et al (2003) Strong association of HLA-Cw6 allele with juvenile psoriasis in Polish patients. Immunol Lett 85:59–64

32.

Nevitt GJ, Hutchinson PE (1996) Psoriasis in the community: prevalence, severity and patients' beliefs and attitudes towards the disease. Br J Dermatol 135:533–537

33.

Raychaudhuri SP, Gross J (2000) A comparative study of pediatric onset psoriasis with adult onset psoriasis. Pediatr Dermatol 17:174–178

34.

Gudjonsson JE, Thorarinsson AM, Sigurgeirsson B, Kristinsson KG, Valdimarsson H (2003) Streptococcal throat infections and exacerbation of chronic plaque psoriasis: a prospective study. Br J Dermatol 149:530–534

35.

Armstrong AW, Armstrong EJ, Fuller EN, Sockolov ME, Voyles SV (2011) Smoking and pathogenesis of psoriasis: a review of oxidative, inflammatory, and genetic mechanisms. Br J Dermatol 165(6):1162–1168

36.

Fortes C, Mastroeni S, Leffondre K et al (2005) Relationship between smoking and the clinical severity of psoriasis. J Arch Dermatol 141:1580–1584

37.

Cassano N, Vestita M, Apruzzi D, Vena GA (2011) Alcohol, psoriasis, liver disease, and anti-psoriasis drugs. Int J Dermatol 50:1323–1331

38.

Farkas A, Kemeny L (2010) Psoriasis and alcohol: is cutaneous ethanol one of the missing links? Br J Dermatol 162:711–716

39.

Qureshi AA, Dominguez PL, Choi HK, Han J, Curhan G (2010) Alcohol intake and risk of incident psoriasis in US women: a prospective study. J Arch Dermatol 146:1364–1369

40.

Sampogna F, Gisondi P, Melchi CF, Amerio P, Girolomoni G, Abeni D (2004) Prevalence of symptoms experienced by patients with different clinical types of psoriasis. Br J Dermatol 151:594–599

41.

Globe D, Bayliss MS, Harrison DJ (2009) The impact of itch symptoms in psoriasis: results from physician interviews and patient focus groups. J Health Qual Life Outcomes 7:62

42.

Sanchez-Regana M, Sola-Ortigosa J, Alsina-Gibert M, Vidal-Fernandez M, Umbert-Millet P (2011) Nail psoriasis: a retrospective study on the effectiveness of systemic treatments (classical and biological therapy). J Eur Acad Dermatol Venereol 25:579–586

43.

Reich A, Hrehorow E, Szepietowski JC (2010) Pruritus is an important factor negatively influencing the well-being of psoriatic patients. Acta Derm Venereol 90:257–263

44.

O'Neill JL, Chan YH, Rapp SR, Yosipovitch G (2011) Differences in itch characteristics between psoriasis and atopic dermatitis patients: results of a web-based questionnaire. Acta Derm Venereol 91:537–540

45.

Reich A, Welz-Kubiak K, Szepietowski JC (2011) Pruritus differences between psoriasis and lichen planus. Acta Derm Venereol 91:605–606

46.

Meier M, Sheth PB (2009) Clinical spectrum and severity of psoriasis. Curr Probl Dermatol 38:1–20

47.

Armesto S, Esteve A, Coto-Segura P et al (2011) Nail psoriasis in individuals with psoriasis vulgaris: a study of 661 patients. Actas Dermosifiliogr 102:365–372

48.

Woo SM, Choi JW, Yoon HS, Jo SJ, Youn JI (2008) Classification of facial psoriasis based on the distributions of facial lesions. J Am Acad Dermatol 58:959–963

49.

van de Kerkhof PC, Steegers-Theunissen RP, Kuipers MV (1998) Evaluation of topical drug treatment in psoriasis. J Dermatol 197:31–36

50.

Mrowietz U, Macheleidt O, Eicke C (2011) Effective treatment and improvement of quality of life in patients with scalp psoriasis by topical use of calcipotriol/betamethasone (Xamiol® -gel): results. J Dtsch Dermatol Ges 9:825–831
About this article
Cite this article
Johnson, M.N., Armstrong, A.W. Clinical and Histologic Diagnostic Guidelines for Psoriasis: A Critical Review. Clinic Rev Allerg Immunol 44, 166–172 (2013). https://doi.org/10.1007/s12016-012-8305-3
Keywords
Psoriasis

Diagnosis

Histopathology

Diagnostic criteria