Abstract
Scleroderma renal crisis (SRC) is a major complication in patients with systemic sclerosis (SSc). It is characterized by malignant hypertension and oligo/anuric acute renal failure. SRC occurs in 5% of patients with SSc, particularly in the first years of disease evolution and in the diffuse form. The occurrence of SRC is more common in patients treated with glucocorticoids, the risk increasing with increasing dose. Left ventricular insufficiency and hypertensive encephalopathy are typical clinical features. Thrombotic microangiopathy is detected in 43% of the cases. Anti-RNA-polymerase III antibodies are present in one third of patients who develop SRC. Renal biopsy is not necessary if SRC presents with classical features. However, it can help to define prognosis and guide treatment in atypical forms. The prognosis of SRC has dramatically improved with the introduction of angiotensin-converting enzyme inhibitors (ACEi). However, 5 years survival in SSc patients who develop the full picture of SRC remains low (65%). SRC is often triggered by nephrotoxic drugs and/or intravascular volume depletion. The treatment of SRC relies on aggressive control of blood pressure with ACEi, if needed in combination with other types of antihypertensive drugs. Dialysis is frequently indicated, but can be stopped in approximately half of patients, mainly in those for whom a perfect control of blood pressure is obtained. Patients who need dialysis for more than 2 years qualify for renal transplantation.
Access options
Buy single article
Instant access to the full article PDF.
USD 39.95
Price includes VAT (USA)
Tax calculation will be finalised during checkout.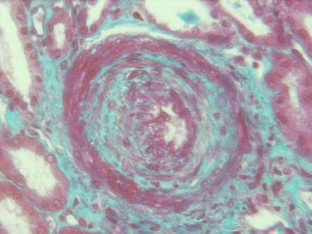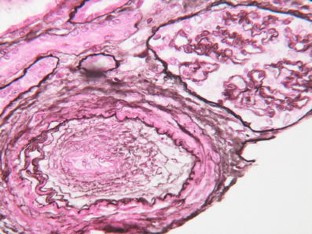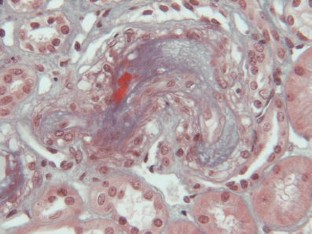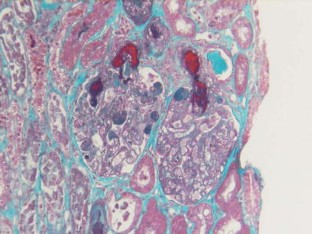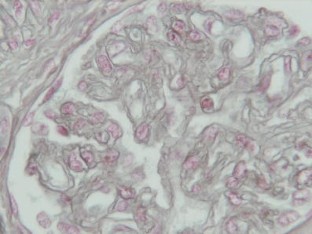 References
1.

Moore H, Sheehan H (1952) The kidney of scleroderma. Lancet 1(ii):68–70

2.

Steen VD (2003) Scleroderma renal crisis. Rheum Dis Clin North Am 29(2):315–333

3.

Traub YM, Shapiro AP, Rodnan GP, Medsger TA, McDonald RH, Steen VD et al (1983) Hypertension and renal failure (scleroderma renal crisis) in progressive systemic sclerosis. Review of a 25-year experience with 68 cases. Medicine (Baltimore) 62(6):335–352

4.

Steen VD, Costantino JP, Shapiro AP, Medsger TA (1990) Outcome of renal crisis in systemic sclerosis: relation to availability of angiotensin converting enzyme (ACE) inhibitors. Ann Intern Med 113(5):352–357

5.

DeMarco PJ, Weisman MH, Seibold JR, Furst DE, Wong WK, Hurwitz EL et al (2002) Predictors and outcomes of scleroderma renal crisis: the high-dose versus low-dose D-penicillamine in early diffuse systemic sclerosis trial. Arthritis Rheum 46(11):2983–2989

6.

Walker JG, Ahern MJ, Smith MD, Coleman M, Pile K, Rischmueller M et al (2003) Scleroderma renal crisis: poor outcome despite aggressive antihypertensive treatment. Intern Med J 33(5–6):216–220

7.

Teixeira L, Mouthon L, Mahr A, Berezne A, Agard C, Mehrenberger M et al (2008) Mortality and risk factors of scleroderma renal crisis: a French retrospective study of 50 patients. Ann Rheum Dis 67(1):110–116

8.

Penn H, Howie AJ, Kingdon EJ, Bunn CC, Stratton RJ, Black CM et al (2007) Scleroderma renal crisis: patient characteristics and long-term outcomes. Qjm 100(8):485–494

9.

Helfrich DJ, Banner B, Steen VD, Medsger TA (1989) Normotensive renal failure in systemic sclerosis. Arthritis Rheum 32(9):1128–1134

10.

Denton CP, Lapadula G, Mouthon L, Muller-Ladner U (2009) Renal complications and scleroderma renal crisis. Rheumatology (Oxford) 48(Suppl 3):iii32–iii35

11.

Charles C, Clements P, Furst DE (2006) Systemic sclerosis: hypothesis-driven treatment strategies. Lancet 367(9523):1683–1691

12.

Cannon PJ, Hassar M, Case DB, Casarella WJ, Sommers SC, LeRoy EC (1974) The relationship of hypertension and renal failure in scleroderma (progressive systemic sclerosis) to structural and functional abnormalities of the renal cortical circulation. Medicine (Baltimore) 53(1):1–46

13.

Rivolta R, Mascagni B, Berruti V, Quarto Di Palo F, Elli A, Scorza R et al (1996) Renal vascular damage in systemic sclerosis patients without clinical evidence of nephropathy. Arthritis Rheum 39(6):1030–1034

14.

Woolfson RG, Cairns HS, Williams DJ, Hilson AJ, Neild GH (1993) Renal scintigraphy in acute scleroderma: report of three cases. J Nucl Med 34(7):1163–1165

15.

Shapiro L, Prince R, Buckingham R (1983) D-penicillamine treatment of progressive systemic sclerosis (scleroderma). A comparison of clinical and in vitro effects. J Rheumatol 10:316

16.

Clements PJ, Lachenbruch PA, Furst DE, Maxwell M, Danovitch G, Paulus HE (1994) Abnormalities of renal physiology in systemic sclerosis. A prospective study with 10-year followup. Arthritis Rheum 37(1):67–74

17.

Steen VD, Medsger TA, Osial TA, Ziegler GL, Shapiro AP, Rodnan GP (1984) Factors predicting development of renal involvement in progressive systemic sclerosis. Am J Med 76:779–786

18.

Steen VD, Conte C, Day N, Ramsey-Goldman R, Medsger TA (1989) Pregnancy in women with systemic sclerosis. Arthritis Rheum 32(2):151–157

19.

Steen VD (1999) Pregnancy in women with systemic sclerosis. Obstet Gynecol 94(1):15–20

20.

Lam M, Ballou SP (1992) Reversible scleroderma renal crisis after cocaine use. N Engl J Med 326(21):1435

21.

Denton CP, Sweny P, Abdulla A, Black CM (1994) Acute renal failure occurring in scleroderma treated with cyclosporin A: a report of three cases. Br J Rheumatol 33(1):90–92

22.

Steen VD, Medsger TA (1998) Case-control study of corticosteroids and other drugs that either precipitate or protect from the development of scleroderma renal crisis. Arthr Rheum 41(9):1613–1619

23.

Vancheeswaran R, Magoulas T, Efrat G, Wheeler-Jones C, Olsen I, Penny R et al (1994) Circulating endothelin-1 levels in systemic sclerosis subsets—a marker of fibrosis or vascular dysfunction? J Rheumatol 21(10):1838–1844

24.

Kobayashi H, Nishimaki T, Kaise S, Suzuki T, Watanabe K, Kasukawa R (1999) Immunohistological study endothelin-1 and endothelin-A and B receptors in two patients with scleroderma renal crisis. Clin Rheumatol 18(5):425–427

25.

Borcsok I, Schairer HU, Sommer U, Wakley GK, Schneider U, Geiger F et al (1998) Glucocorticoids regulate the expression of the human osteoblastic endothelin a receptor gene. J Exp Med 188(9):1563–1573

26.

Ranque B, Mouthon L (2010) Epidemiological features of systemic sclerosis. Autoimmun Rev (in press)

27.

Mayes MD, Lacey JV Jr, Beebe-Dimmer J, Gillespie BW, Cooper B, Laing TJ et al (2003) Prevalence, incidence, survival, and disease characteristics of systemic sclerosis in a large US population. Arthritis Rheum 48(8):2246–2255

28.

Roberts-Thomson PJ, Walker JG (2006) Scleroderma: it has been a long hard journey. Intern Med J 36(8):519–523

29.

Tamaki T, Mori S, Takehara K (1991) Epidemiological study of patients with systemic sclerosis in Tokyo. Arch Dermatol Res 283(6):366–371

30.

Le Guern V, Mahr A, Mouthon L, Jeanneret D, Carzon M, Guillevin L (2004) Prevalence of systemic sclerosis in a French multi-ethnic county. Rheumatology (Oxford) 43(9):1129–1137

31.

Magnant J, Diot E (2006) Systemic sclerosis: epidemiology and environmental factors. Presse Med 35(12 Pt 2):1894–1901

32.

Walker UA, Tyndall A, Czirjak L, Denton C, Farge-Bancel D, Kowal-Bielecka O et al (2007) Clinical risk assessment of organ manifestations in systemic sclerosis: a report from the EULAR scleroderma trials and research group database. Ann Rheum Dis 66(6):754–763

33.

Denton CP, Black CM (2004) Scleroderma—clinical and pathological advances. Best Pract Res Clin Rheumatol 18(3):271–290

34.

Vaughan JH, Shaw PX, Nguyen MD, Medsger TA Jr, Wright TM, Metcalf JS et al (2000) Evidence of activation of 2 herpesviruses, Epstein-Barr virus and cytomegalovirus, in systemic sclerosis and normal skins [letter]. J Rheumatol 27(3):821–823

35.

Steen V (2003) Predictors of end stage lung disease in systemic sclerosis. Ann Rheum Dis 62(2):97–99

36.

Manadan AM, Harris C, Block JA (2005) Thrombotic thrombocytopenic purpura in the setting of systemic sclerosis. Semin Arthritis Rheum 34(4):683–688

37.

Molina JF, Anaya JM, Cabrera GE, Hoffman E, Espinoza LR (1995) Systemic sclerosis sine scleroderma: an unusual presentation in scleroderma renal crisis. J Rheumatol 22(3):557–560

38.

Gonzalez EA, Schmulbach E, Bastani B (1994) Scleroderma renal crisis with minimal skin involvement and no serologic evidence of systemic sclerosis. Am J Kidney Dis 23(2):317–319

39.

Anders HJ, Wiebecke B, Haedecke C, Sanden S, Combe C, Schlondorff D (1999) MPO-ANCA-Positive crescentic glomerulonephritis: a distinct entity of scleroderma renal disease? Am J Kidney Dis 33(4):e3

40.

Steen VD, Syzd A, Johnson JP, Greenberg A, Jr TM (2005) Kidney disease other than renal crisis in patients with diffuse scleroderma. J Rheumatol 32(4):649

41.

Okano Y, Steen VD, Medsger TA (1993) Autoantibody reactive with RNA polymerase III in systemic sclerosis. Ann Intern Med 119(10):1005–1013

42.

Fisher E, Rodnan G (1958) Pathologic observations concerning the kidney in pregressive systemic sclerosis. AMA Arch Pathol 65(1):29–39

43.

Trostle DC, Bedetti CD, Steen VD, Al-Sabbagh MR, Zee B, Medsger TA (1988) Renal vascular histology and morphometry in systemic sclerosis. A case-control autopsy study. Arthritis Rheum 31(3):393–400

44.

Clements PJ, Hurwitz EL, Wong WK, Seibold JR, Mayes M, White B et al (2000) Skin thickness score as a predictor and correlate of outcome in systemic sclerosis: high-dose versus low-dose penicillamine trial. Arthritis Rheum 43(11):2445–2454

45.

Steen VD, Medsger TA (2000) Long-term outcomes of scleroderma renal crisis. Ann Intern Med 133(8):600–603

46.

Teixeira L, Mahr A, Berezne A, Noel LH, Guillevin L, Mouthon L (2007) Scleroderma renal crisis, still a life-threatening complication. Ann N Y Acad Sci 1108:249–258

47.

Caskey FJ, Thacker EJ, Johnston PA, Barnes JN (1997) Failure of losartan to control blood pressure in scleroderma renal crisis. Lancet 349(9052):620

48.

Pham PT, Pham PC, Danovitch GM, Gritsch HA, Singer J, Wallace WD et al (2005) Predictors and risk factors for recurrent scleroderma renal crisis in the kidney allograft: case report and review of the literature. Am J Transplant 5(10):2565–2569

49.

Steen VD, Medsger TA (2007) Changes in causes of death in systemic sclerosis, 1972–2002. Ann Rheum Dis 66(7):940–944
About this article
Cite this article
Mouthon, L., Bérezné, A., Bussone, G. et al. Scleroderma Renal Crisis: A Rare but Severe Complication of Systemic Sclerosis. Clinic Rev Allerg Immunol 40, 84–91 (2011). https://doi.org/10.1007/s12016-009-8191-5
Keywords
Scleroderma renal crisis

Systemic sclerosis

Hypertension

Acute renal failure

Angiotensin-converting enzyme inhibitors