Abstract
Recently, we have observed that the association of anti-F-actin autoantibodies (Abs) with anti-α-actinin Abs (double reactivity) was correlated with liver disease activity in autoimmune hepatitis type 1 (AIH-1; Guéguen et al., J Clin Immunol 26:495–505, 2006). As anti-α-actinin Abs are also associated with anti-single-stranded (ss) DNA in 16 of 50 (32%) AIH-1 patients, compared with 16 of 401 (4.0%) liver disease control patients, we sought to characterize these Abs in AIH-1. When associated, anti-ssDNA Abs cross-react with anti-α-actinin Abs, but neither with anti-double-stranded DNA Abs nor with anti-F-actin Abs. Furthermore, anti-α-actinin Abs are associated with high-avidity anti-ssDNA Abs in AIH-1. In addition, double reactivity against α-actinin and ssDNA was correlated with clinical and histological activity of the disease and untreated AIH-1 patients.
Access options
Buy single article
Instant access to the full article PDF.
USD 39.95
Price includes VAT (USA)
Tax calculation will be finalised during checkout.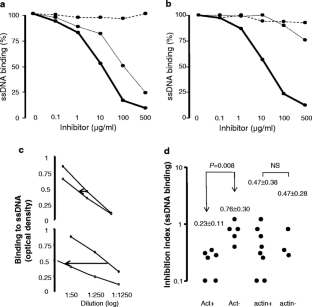 References
1.

Zachou K, Rigopoulou E, Dalekos GN (2004) Autoantibodies and autoantigens in autoimmune hepatitis: important tools in clinical practice and to study pathogenesis of the disease. J Autoimmun Dis 1:2

2.

Guéguen P, Dalekos G, Nousbaum JB et al (2006) Double reactivity against actin and alpha-actinin defines a severe form of autoimmune hepatitis type 1. J Clin Immunol 26:495–505

3.

Mostoslavsky G, Fischel R, Yachimovich N et al (2001) Lupus anti-DNA autoantibodies cross-react with a glomerular structural protein: a case for tissue injury by molecular mimicry. Eur J Immunol 31:1221–1227

4.

Deocharan B, Qing X, Lichauco J, Putterman C (2002) Alpha-actinin is a cross-reactive renal target for pathogenic anti-DNA antibodies. J Immunol 168:3072–3078

5.

Alvarez F, Berg PA, Bianchi FB et al (1999) International autoimmune hepatitis group report: review of criteria for diagnosis of autoimmune hepatitis. J Hepatol 31:929–938

6.

Croquefer S, Renaudineau Y, Jousse S et al (2005) The anti-alpha-actinin test completes anti-DNA determination in systemic lupus erythematosus. Ann NY Acad Sci 1050:170–175

7.

Renaudineau Y, Croquefer S, Jousse S et al (2006) Association of alpha-actinin-binding anti-double-stranded DNA antibodies with lupus nephritis. Arthritis Rheum 54:2523–2532

8.

Mason LJ, Ravirajan CT, Rahman A, Putterman C, Isenberg DA (2004) Is alpha-actinin a target for pathogenic anti-DNA antibodies in lupus nephritis? Arthritis Rheum 50:866–870

9.

Leibovitch L, George J, Levi Y, Bakimer R, Shoenfeld Y (1995) Anti-actin antibodies in sera from patients with autoimmune liver diseases and patients with carcinomas by ELISA. Immunol Lett 48:129–132

10.

Dalekos GN, Makri E, Loges S et al (2002) Increased incidence of anti-LKM autoantibodies in a consecutive cohort of hepatitis C patients from central Greece. Eur J Gastroenterol Hepatol 14:35–42

11.

Dalekos GN, Wedemeyer H, Obermayer-straub P et al (1999) Epitope mapping of cytochrome P4502D6 autoantigen in patients with chronic hepatitis C during alpha-interferon treatment. J Hepatol 30:366–375

12.

Renaudineau Y, Revelen R, Bordron A, Mottier D, Youinou P, Le corre R (1998) Two populations of endothelial cell antibodies cross-react with heparin. Lupus 7:86–94

13.

Moritoki Y, Lian ZX, Ohsugi Y, Ueno Y, Gershwin ME (2006) B cells and autoimmune liver diseases. Autoimmun Rev 5:449–457

14.

Youinou P (2007) B cell conducts the lymphocyte orchestra. J Autoimmun 28:143–151

15.

Christen U, Holdener M, Hintermann E (2007) Animal models for autoimmune hepatitis. Autoimmun Rev 6:306–311

16.

Renaudineau Y, Deocharan B, Jousse S, Renaudineau E, Putterman C, Youinou P (2007) Anti-alpha-actinin antibodies: a new marker of lupus nephritis. Autoimmun Rev 6:464–468
Acknowledgments
Many thanks are due to Cindy Séné for secretarial assistance. This work has been supported in part by a grant (#2466) of the Research Committee, University of Thessaly.
About this article
Cite this article
Renaudineau, Y., Dalekos, G.N., Guéguen, P. et al. Anti-α-Actinin Antibodies Cross-react with Anti-ssDNA Antibodies in Active Autoimmune Hepatitis. Clinic Rev Allerg Immunol 34, 321–325 (2008). https://doi.org/10.1007/s12016-007-8050-1
Keywords
Autoimmune hepatitis type 1

Anti-DNA

Anti-α-actinin