Abstract
Human mesenchymal stem cells are a promising cell source for the treatment of stroke. Their primary mechanism of action occurs via neuroprotective effects by trophic factors, anti-inflammatory effects, and immunomodulation. However, the regeneration of damaged neuronal networks by cell transplantation remains challenging. We hypothesized that cells induced to neural lineages would fit the niche, replace the lesion, and be more effective in improving symptoms compared with stem cells themselves. We investigated the characteristics of induced neural cells from human dental pulp tissue and compared the transplantation effects between these induced neural cells and uninduced dental pulp stem cells. Induced neural cells or dental pulp stem cells were intracerebrally transplanted 5 days after cerebral infarction induced by permanent middle cerebral artery occlusion in immunodeficient mice. Effects on functional recovery were also assessed through behavior testing. We used immunohistochemistry and neuron tracing to analyze the differentiation, axonal extension, and connectivity of transplanted cells to the host's neural circuit. Transplantation of induced neural cells from human dental pulp ameliorated functional recovery after cerebral infarction compared with dental pulp stem cells. The induced neural cells comprised both neurons and glia and expressed functional voltage, and they were more related to neurogenesis in terms of transcriptomics. Induced neural cells had a higher viability than did dental pulp stem cells in hypoxic culture. We showed that induced neural cells from dental pulp tissue offer a novel therapeutic approach for recovery after cerebral infarction.
Graphic Abstract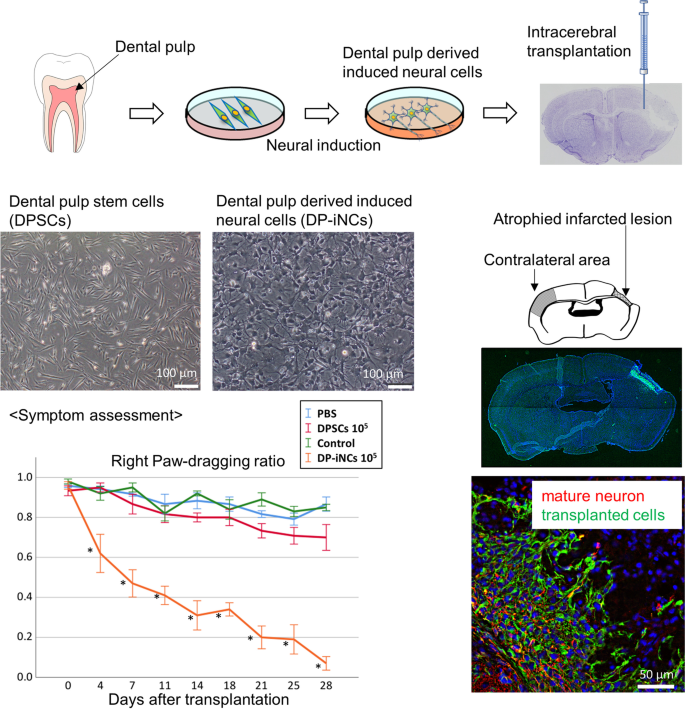 Access options
Buy single article
Instant access to the full article PDF.
USD 39.95
Price includes VAT (USA)
Tax calculation will be finalised during checkout.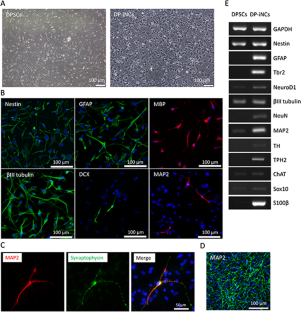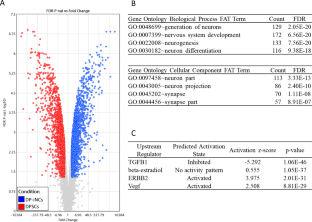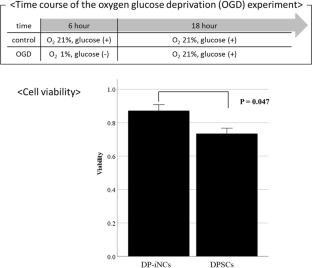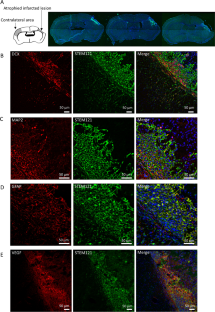 Data Availability
Data supporting the findings of this study are available from the corresponding author upon reasonable request. Microarray data discussed in this publication have been deposited in NCBI's Gene Expression Omnibus (GEO, http://www.ncbi.nlm.nih.gov/geo/) and are accessible through GEO Series accession number GSE174260.
Acknowledgements
We thank Dr. Murakoshi and Dr. Okabe from the Department of Cardiology, University of Tsukuba for a data acquirement of the multielectrode array, Ms. Tsukada and Ms. Miyakawa from Graduate School of Comprehensive Human Sciences, University of Tsukuba for their technical support.
Funding
This work was supported by Grant-in-Aid for Scientific Research (C) for Yuji Matsumaru (No. 19K09450), Scientific Research (B) for Aiki Marushima (no. 20H03787), and Grant-in-Aid for JSPS Fellows for Hideaki Matsumura (no. 20J12956) from the Japan Society for the Promotion of Science (JSPS), supported by Translational Research Program (University of Tsukuba, A18-36) for the Japan Agency for Medical Research and Development for Aiki Marushima.
Ethics declarations
Conflict of interest
The authors declare that they have no competing interest.
Ethical Approval
The Ethics Committee of the University of Tsukuba Hospital approved this study (Approval Number: H30-181). The Institutional Animal Care and Use Committee of the University of Tsukuba approved all experimental mouse studies (Approval Number: 18-108).
Additional information
Publisher's Note
Springer Nature remains neutral with regard to jurisdictional claims in published maps and institutional affiliations.
Supplementary Information
Below is the link to the electronic supplementary material.
Supplementary file2 (MOV 5442 kb)
About this article
Cite this article
Matsumura, H., Marushima, A., Ishikawa, H. et al. Induced Neural Cells from Human Dental Pulp Ameliorate Functional Recovery in a Murine Model of Cerebral Infarction. Stem Cell Rev and Rep (2021). https://doi.org/10.1007/s12015-021-10223-w
Keywords
Stroke

Cerebral infarction

Dental pulp

Stem cells

Cell therapy

Regenerative therapy