Abstract
The natural healing ability of tendon is limited, and it cannot restore the native structure and function of tendon injuries. Tendon-derived stem cells (TDSCs) are a new type of pluripotent stem cells with multi-directional differentiation potential and are expected to become a promising cell-seed for the treatment of tendon injuries in the future. In this review, we outline the latest advances in the culture and identification of TDSCs. In addition, the influencing factors on the differentiation of TDSCs are discussed. Moreover, we aim to discuss recent studies to enhance TDSCs treatment of injured tendons. Finally, we identify the limitations of the current understanding of TDSCs biology, the main challenges of using their use, and potential therapeutic strategies to inform cell-based tendon repair.
Graphical abstract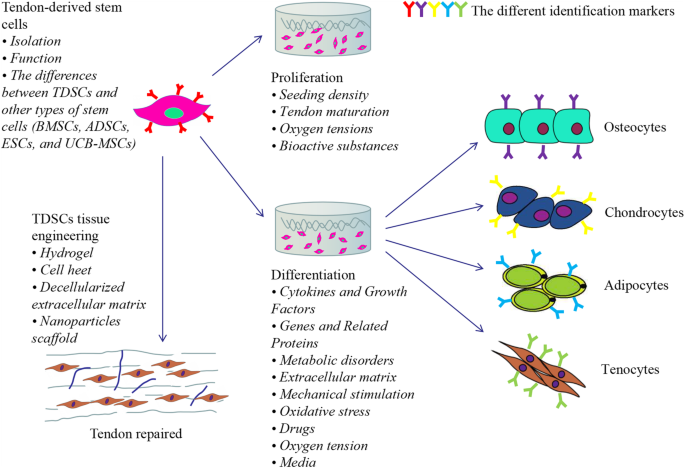 Access options
Buy single article
Instant access to the full article PDF.
US$ 39.95
Tax calculation will be finalised during checkout.
Subscribe to journal
Immediate online access to all issues from 2019. Subscription will auto renew annually.
US$ 79
Tax calculation will be finalised during checkout.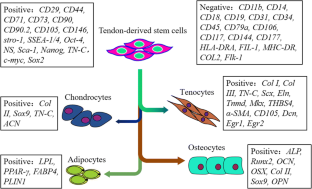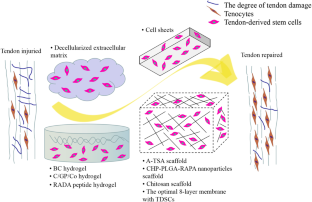 Acknowledgements
The authors thank Mingliang Ji, Yucheng Lin from Department of Orthopaedic Surgery, Zhongda Hospital, School of Medicine, Southeast University.
Code Availability
Not applicable.
Funding
This work was supported by The National Natural Science Foundation of China (Grant numbers 81672159 and 82072427).
Ethics declarations
Ethics Approval
Not applicable.
Consent to Participate
Not applicable.
Consent for Publication
Not applicable.
Conflict of Interest
The authors declare no conflicts of interest.
Compliance with Ethics Standards
Not applicable.
Additional information
Publisher's Note
Springer Nature remains neutral with regard to jurisdictional claims in published maps and institutional affiliations.
About this article
Cite this article
Wei, B., Lu, J. Characterization of Tendon-Derived Stem Cells and Rescue Tendon Injury. Stem Cell Rev and Rep (2021). https://doi.org/10.1007/s12015-021-10143-9
Keywords
Tendon-derived stem cells

Differentiation

Proliferation

Markers

Tendon injury