Pericytes Extend Survival of ALS SOD1 Mice and Induce the Expression of Antioxidant Enzymes in the Murine Model and in IPSCs Derived Neuronal Cells from an ALS Patient
Abstract
Amyotrophic Lateral Sclerosis (ALS) is one of the most common adult-onset motor neuron disease causing a progressive, rapid and irreversible degeneration of motor neurons in the cortex, brain stem and spinal cord. No effective treatment is available and cell therapy clinical trials are currently being tested in ALS affected patients. It is well known that in ALS patients, approximately 50% of pericytes from the spinal cord barrier are lost. In the central nervous system, pericytes act in the formation and maintenance of the blood-brain barrier, a natural defense that slows the progression of symptoms in neurodegenerative diseases. Here we evaluated, for the first time, the therapeutic effect of human pericytes in vivo in SOD1 mice and in vitro in motor neurons and other neuronal cells derived from one ALS patient. Pericytes and mesenchymal stromal cells (MSCs) were derived from the same adipose tissue sample and were administered to SOD1 mice intraperitoneally. The effect of the two treatments was compared. Treatment with pericytes extended significantly animals survival in SOD1 males, but not in females that usually have a milder phenotype with higher survival rates. No significant differences were observed in the survival of mice treated with MSCs. Gene expression analysis in brain and spinal cord of end-stage animals showed that treatment with pericytes can stimulate the host antioxidant system. Additionally, pericytes induced the expression of SOD1 and CAT in motor neurons and other neuronal cells derived from one ALS patient carrying a mutation in FUS. Overall, treatment with pericytes was more effective than treatment with MSCs. Our results encourage further investigations and suggest that pericytes may be a good option for ALS treatment in the future.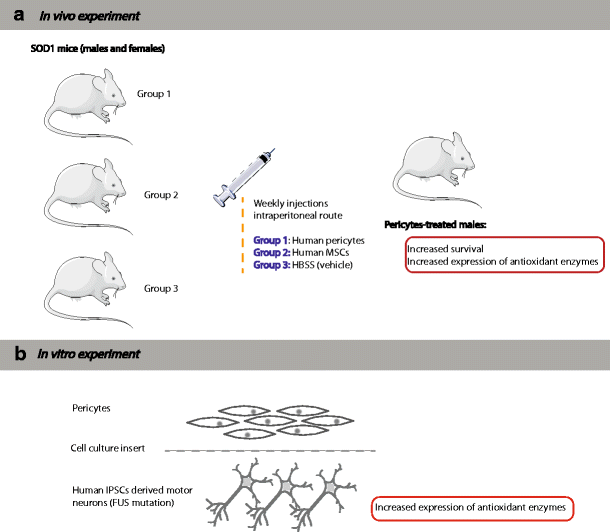 Keywords
Amyotrophic lateral sclerosis 
Pericytes 
Mesenchymal stromal cells 
SOD1 mice 
IPSCs 
Motor neurons 
Abbreviations
ACTB

Beta Actin

ALS

Amyotrophic Lateral Sclerosis

basic FGF

Basic fibroblast; growth factor

BBB

Blood Brain Barrier

BNDF

Brain-derived Neurotrophic Factor

BSA

Bovine serum albumin

CAT

catalase

CD11b

cluster of differentiation; molecule 11B

CFDA-SE

carboxyfluorescein diacetate succinimidyl ester

CHAT

Choline acetyltransferase

c-Myc

Proto-oncogene c-Myc

DAPI

4′,6-Diamidino-2-phenylindole dihydrochloride

DMEM

Dulbecco's Modified Eagle Medium

EB

Embryoid bodies

EBM

Endothelial Cell Growth Medium

EGF

Epidermal growth factor

FBS

Fetal Bovine Serum

FDA

Food and Drug Administration

FGF

Fibroblast growth factors

GAPDH

Glyceraldehyde 3-phosphate dehydrogenase

G-CSF

Granulocyte colony-stimulating factor

GDNF

glial cell derived neurotrophic factor

GFAP

Glial fibrillary acidic protein

GLP-1

Glucagon-like Peptide 1

GM-CSF

Granulocyte-macrophage colony-stimulating factor

GPX

glutathione peroxidase

GSR

Glutathione reductase

HBSS

Hanks' Balanced Salt Solution

IFN-g

Interferon gamma

IGF-1

Insulin-like growth factor 1

IL-10

Interleukin 10

IL-12p70

Interleukin 12p70

IL-13

Interleukin 13

IL-15

Interleukin 15

IL-17A

Interleukin 17A

IL-1ra

Interleukin 1ra

IL-1β

Interleukin 1β

IL-2

Interleukin

IL-4

Interleukin 4

IL-5

Interleukin 5

IL-6

Interleukin 6

IL-7

Interleukin 7

IL-8

Interleukin 8

IL-9

Interleukin 9

IP-10

C-X-C motif chemokine 10

IPSC

Induced Pluripotent Stem Cells

Klf4

Kruppel-like factor 4

MCP-1

Monocyte chemoattractant protein-1

MIP-1α

Macrophage Inflammatory Proteins −1α

MIP-1β

Macrophage Inflammatory Proteins -1 β

MND

Motor neuron diseases

MNX1/HB9

Motor neuron and pancreas homeobox 1/Homeobox HB9

MSCs

Mesenchymal stromal cells

NB media

Neuro Basal Media

NF-kB

factor nuclear kappa B

NGF

Nerve Growth Factor

NPCs

neural progenitor cells

NSCs

Neural Stem Cells

Oct4

octamer-binding transcription factor 4

PaGE

paw grip endurance

PBS

Phosphate-buffered saline

PDGF –BB

Platelet-derived growth factor C

RANTES

Regulated on Activation, Normal T Cell Expressed and Secreted

Ri

ROCK inhibitor

RT-qPCR

Real Time Quantitative Polymerase Chain Reaction

SHH

Sonic Hedgehog

SOD1

superoxide dismutase 1

Sox2

SRY (sex determining region Y)-box 2

TNF-α

Tumor necrosis fator α

VEGF

Vascular endothelial growth factor
Notes
Acknowledgments
This work was supported by CEPID/FAPESP, INCT and CNPq.
Compliance with Ethical Standards
Disclosure of Interest
The authors indicate no potential conflicts of interest.
Copyright information
© Springer Science+Business Media, LLC 2017