Abstract
Neuropathic pain is a major health issue that represents considerable social and economic burden worldwidely. In this study, we investigated the potential of catalpol, an iridoid glucoside of Rehmannia glutinosa Steud, to alleviate neuropathic pain. The potential analgesic effects of catalpol were evaluated by chronic constriction injury (CCI) and lumbar 5 spinal nerve ligation (L5 SNL) model. In addition, we explored whether catalpol altered the degree of microglia activation and neuroinflammation in rat spinal cord after CCI induction. Repeated administration of catalpol (1, 5, 25, and 125 mg/kg) reversed mechanical allodynia induced by CCI and L5 SNL in a dose-dependent manner in rats. Levels of activated microglia, activated NF-κB, and proinflammatory cytokines (IL-1β, IL-6, TNF-α) in lumber spinal cord were elevated in rats following CCI induction, and catalpol significantly inhibited these effects. Our results demonstrated that catalpol produces significant antinociceptive action in rodent behavioral models of neuropathic pain and that this effect is associated with modulation of neuroinflammation in spinal cord.
Access options
Buy single article
Instant access to the full article PDF.
USD 39.95
Price includes VAT (USA)
Tax calculation will be finalised during checkout.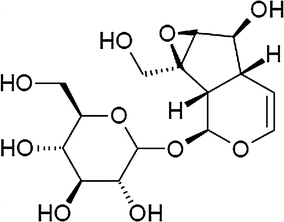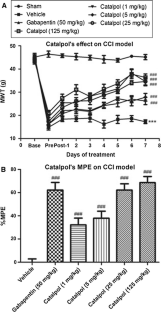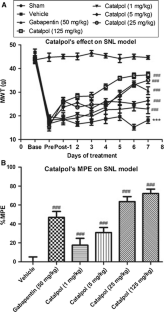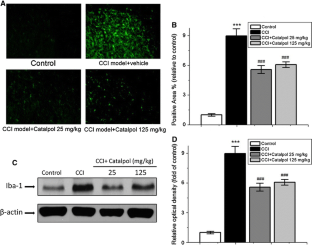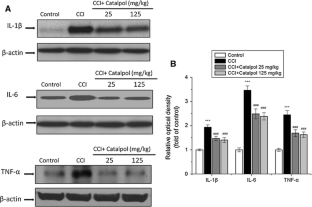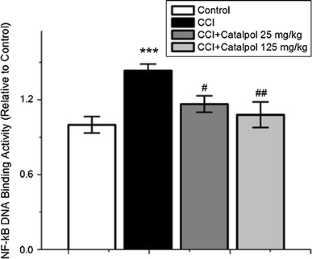 References
1.

Xu, Y., Qiu, H. Q., Liu, H., et al. (2012). Effects of koumine, an alkaloid of Gelsemium elegans Benth., on inflammatory and neuropathic pain models and possible mechanism with allopregnanolone. Pharmacology, Biochemistry and Behavior, 101, 504–514.

2.

Balunas, M. J., & Kinghorn, A. D. (2005). Drug discovery from medicinal plants. Life Sciences, 78, 431–441.

3.

Zareba, G. (2009). Phytotherapy for pain relief. Drugs Today (Barc), 45, 445–467.

4.

Wan, D., Xue, L., Zhu, H., et al. (2013). Catalpol induces neuroprotection and prevents memory dysfunction through the cholinergic system and BDNF. Evidence-Based Complementary and Alternative Medicine : eCAM, 2013, 134852.

5.

Bi, J., Jiang, B., Zorn, A., et al. (2013). Catalpol inhibits LPS plus IFN-gamma-induced inflammatory response in astrocytes primary cultures. Toxicology in Vitro, 27, 543–550.

6.

Liu, Y. R., Li, P. W., Suo, J. J., et al. (2014). Catalpol provides protective effects against cerebral ischaemia/reperfusion injury in gerbils. Journal of Pharmaceutics and Pharmacology. doi:10.1111/jphp.12261.

7.

Dong, Z., & Chen, C. X. (2013). Effect of catalpol on diabetic nephropathy in rats. Phytomedicine, 20, 1023–1029.

8.

Zhu, H. F., Wan, D., Luo, Y., et al. (2010). Catalpol increases brain angiogenesis and up-regulates VEGF and EPO in the rat after permanent middle cerebral artery occlusion. International Journal of Biological Sciences, 6, 443–453.

9.

Bennett, G. J., & Xie, Y. K. (1988). A peripheral mononeuropathy in rat that produces disorders of pain sensation like those seen in man. Pain, 33, 87–107.

10.

Cheng, J. K., Chou, R. C., Hwang, L. L., et al. (2003). Antiallodynic effects of intrathecal orexins in a rat model of postoperative pain. Journal of Pharmacology and Experimental Therapeutics, 307, 1065–1071.

11.

Kim, S. H., & Chung, J. M. (1992). An experimental model for peripheral neuropathy produced by segmental spinal nerve ligation in the rat. Pain, 50, 355–363.

12.

Mitrirattanakul, S., Ramakul, N., Guerrero, A. V., et al. (2006). Site-specific increases in peripheral cannabinoid receptors and their endogenous ligands in a model of neuropathic pain. Pain, 126, 102–114.

13.

Tchivileva, I. E., Nackley, A. G., Qian, L., et al. (2009). Characterization of NF-kB-mediated inhibition of catechol-O-methyltransferase. Molecular Pain, 5, 13.

14.

Berge, O. G. (2011). Predictive validity of behavioural animal models for chronic pain. British Journal of Pharmacology, 164, 1195–1206.

15.

Jaggi, A. S., Jain, V., & Singh, N. (2011). Animal models of neuropathic pain. Fundamental and Clinical Pharmacology, 25, 1–28.

16.

Wang, L. X., & Wang, Z. J. (2003). Animal and cellular models of chronic pain. Advanced Drug Delivery Reviews, 55, 949–965.

17.

LaBuda, C. J., & Little, P. J. (2005). Pharmacological evaluation of the selective spinal nerve ligation model of neuropathic pain in the rat. Journal of Neuroscience Methods, 144, 175–181.

18.

Schomberg, D., & Olson, J. K. (2012). Immune responses of microglia in the spinal cord: contribution to pain states. Experimental Neurology, 234, 262–270.

19.

Marchand, F., Perretti, M., & McMahon, S. B. (2005). Role of the immune system in chronic pain. Nature Reviews Neuroscience, 6, 521–532.

20.

Hui, J., Zhang, Z. J., Zhang, X., et al. (2013). Repetitive hyperbaric oxygen treatment attenuates complete Freund's adjuvant-induced pain and reduces glia-mediated neuroinflammation in the spinal cord. The Journal of Pain: Official Journal of the American Pain Society, 14, 747–758.

21.

Amin, B., Hajhashemi, V., Hosseinzadeh, H., et al. (2012). Antinociceptive evaluation of ceftriaxone and minocycline alone and in combination in a neuropathic pain model in rat. Neuroscience, 224, 15–25.

22.

Milligan, E. D., & Watkins, L. R. (2009). Pathological and protective roles of glia in chronic pain. Nature Reviews Neuroscience, 10, 23–36.

23.

Old, E. A., & Malcangio, M. (2012). Chemokine mediated neuron-glia communication and aberrant signalling in neuropathic pain states. Current Opinion in Pharmacology, 12, 67–73.

24.

Suter, M. R., Wen, Y. R., Decosterd, I., et al. (2007). Do glial cells control pain? Neuron Glia Biology, 3, 255–268.
About this article
Cite this article
Wang, Y., Zhang, R., Xie, J. et al. Analgesic Activity of Catalpol in Rodent Models of Neuropathic Pain, and Its Spinal Mechanism. Cell Biochem Biophys 70, 1565–1571 (2014). https://doi.org/10.1007/s12013-014-0096-0
Keywords
Catalpol

Pain

Spinal cord

Microglia

Neuroinflammation