Abstract
Oxymatrine, one of the most active components of the ethanol extracts from Sophora flavescens, is known for its potent antitumor activity both in vitro and in vivo. However, the mechanism of its action in mediating the cell apoptosis remains elusive. In this study, we investigated the proliferation inhibitory and apoptotic activities of oxymatrine against human osteosarcoma MG-63 cells. The compound was found to markedly and dose-dependently inhibit the cell proliferation determined by 5-bromo-2-deoxyuridine incorporation. Oxymatrine also induced the cell apoptosis in a dose- and time-dependent manner as showed by the annexin V-FITC/PI double staining and TUNEL assay. Furthermore, a disruption of mitochondrial membrane potential and an up-regulation of cleaved caspases-3, and-9 and downregulation of Bax/Bcl-2 was evidenced in the oxymatrine-treated cells. These proteins have been known to play a pivotal role in the regulation of apoptosis. In conclusion, these observations indicate of the oxymatrine potential as an effective antitumor agent against osteosarcoma. Moreover, the compound appears to exert its anti-tumor action by stimulating the caspase-triggered signaling pathway.
Access options
Buy single article
Instant access to the full article PDF.
US$ 39.95
Tax calculation will be finalised during checkout.
Subscribe to journal
Immediate online access to all issues from 2019. Subscription will auto renew annually.
US$ 79
Tax calculation will be finalised during checkout.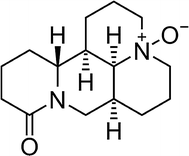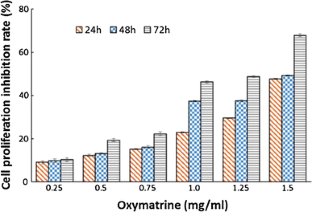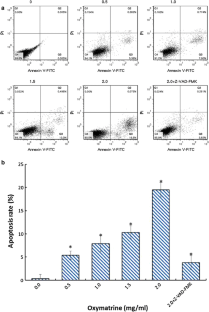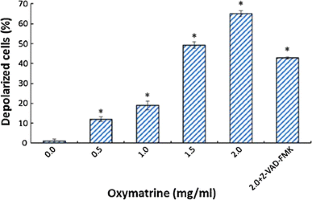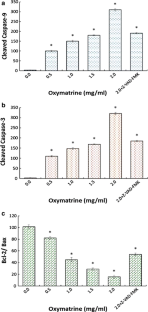 References
1.

Zhu, L., McManus, M. M., & Hughes, D. P. (2013). Understanding the biology of bone sarcoma from early initiating events through late events in metastasis and disease progression. Frontiers in Oncology, 3, 230.

2.

Ek, E. W., et al. (2011). Surgical options for reconstruction of the extensor mechanism of the knee after limb-sparing sarcoma surgery: An evidence-based review. Archives of Orthopaedic and Trauma Surgery, 131(4), 487–495.

3.

Broker, L. E., Kruyt, F. A., & Giaccone, G. (2005). Cell death independent of caspases: A review. Clinical Cancer Research, 11(9), 3155–3162.

4.

Li, X. M., & Brown, L. (2009). Efficacy and mechanisms of action of traditional Chinese medicines for treating asthma and allergy. Journal of Allergy and Clinical Immunology, 123(2), 297–306; quiz 307–308.

5.

Chai, N. L., et al. (2012). Oxymatrine liposome attenuates hepatic fibrosis via targeting hepatic stellate cells. World Journal of Gastroenterology, 18(31), 4199–4206.

6.

Guzman, J. R., et al. (2013). Oxymatrine prevents NF-kappaB nuclear translocation and ameliorates acute intestinal inflammation. Scientific Reports, 3, 1629.

7.

Cao, Y. G., et al. (2010). Antiarrhythmic effects and ionic mechanisms of oxymatrine from Sophora flavescens. Phytotherapy Research, 24(12), 1844–1849.

8.

Yang, Y., et al. (2012). Antiviral effect of matrine against human enterovirus 71. Molecules, 17(9), 10370–10376.

9.

Chen, J., et al. (2006). Effects of Matrine Injection on T-lymphocyte subsets of patients with malignant tumor after gamma knife radiosurgery. Zhong Xi Yi Jie He Xue Bao, 4(1), 78–79.

10.

Ma, L., et al. (2008). Anticancer effects of the Chinese medicine matrine on murine hepatocellular carcinoma cells. Planta Medica, 74(3), 245–251.

11.

Dai, Z. J., et al. (2009). Matrine induces apoptosis in gastric carcinoma cells via alteration of Fas/FasL and activation of caspase-3. Journal of Ethnopharmacology, 123(1), 91–96.

12.

Liu, T., et al. (2010). Matrine inhibits proliferation and induces apoptosis of pancreatic cancer cells in vitro and in vivo. Biological and Pharmaceutical Bulletin, 33(10), 1740–1745.

13.

Ek, E. T., & Choong, P. F. (2006). The role of high-dose therapy and autologous stem cell transplantation for pediatric bone and soft tissue sarcomas. Expert Review of Anticancer Therapy, 6(2), 225–237.

14.

Hail, N., Jr. (2005). Mitochondria: A novel target for the chemoprevention of cancer. Apoptosis, 10(4), 687–705.

15.

Sun, S. Y., Hail, N., Jr., & Lotan, R. (2004). Apoptosis as a novel target for cancer chemoprevention. Journal of the National Cancer Institute, 96(9), 662–672.

16.

Yang, C., et al. (2009). RAIDD expression is impaired in multidrug resistant osteosarcoma cell lines. Cancer Chemotherapy and Pharmacology, 64(3), 607–614.

17.

Luo, C., et al. (2007). Matrine induced gastric cancer MKN45 cells apoptosis via increasing pro-apoptotic molecules of Bcl-2 family. Toxicology, 229(3), 245–252.

18.

Zhang, L., et al. (2007). Effect of matrine on HeLa cell adhesion and migration. European Journal of Pharmacology, 563(1–3), 69–76.

19.

Liu, Y., et al. (2014). Anti-tumor activities of matrine and oxymatrine: Literature review. Tumor Biology, 35, 5111–5119.

20.

Yan, F., Liu, Y., & Wang, W. (2013). Matrine inhibited the growth of rat osteosarcoma UMR-108 cells by inducing apoptosis in a mitochondrial-caspase-dependent pathway. Tumor Biology, 34(4), 2135–2140.

21.

Liu, X. Y., et al. (2008). Matrine inhibits invasiveness and metastasis of human malignant melanoma cell line A375 in vitro. International Journal of Dermatology, 47(5), 448–456.

22.

Zhang, S., et al. (2009). Matrine induces programmed cell death and regulates expression of relevant genes based on PCR array analysis in C6 glioma cells. Molecular Biology Reports, 36(4), 791–799.

23.

Kroemer, G., Galluzzi, L., & Brenner, C. (2007). Mitochondrial membrane permeabilization in cell death. Physiological Reviews, 87(1), 99–163.

24.

Launay, S., et al. (2005). Vital functions for lethal caspases. Oncogene, 24(33), 5137–5148.

25.

Cavalcanti, B. C., et al. (2012). Involvement of intrinsic mitochondrial pathway in neosergeolide-induced apoptosis of human HL-60 leukemia cells: The role of mitochondrial permeability transition pore and DNA damage. Pharmaceutical Biology, 50(8), 980–993.

26.

Iannolo, G., et al. (2008). Apoptosis in normal and cancer stem cells. Critical Reviews in Oncology/Hematology, 66(1), 42–51.

27.

Li, M., et al. (2000). Apoptosis induced by cadmium in human lymphoma U937 cells through Ca2+-calpain and caspase-mitochondria-dependent pathways. Journal of Biological Chemistry, 275(50), 39702–39709.

28.

Mohamad, N., et al. (2005). Mitochondrial apoptotic pathways. Biocell, 29(2), 149–161.

29.

Yin, X. M. (2000). Signal transduction mediated by Bid, a pro-death Bcl-2 family proteins, connects the death receptor and mitochondria apoptosis pathways. Cell Research, 10(3), 161–167.

30.

Takahashi, A., et al. (2004). Oxidative stress-induced apoptosis is associated with alterations in mitochondrial caspase activity and Bcl-2-dependent alterations in mitochondrial pH (pHm). Brain Research Bulletin, 62(6), 497–504.
About this article
Cite this article
Wei, J., Zhu, Y., Xu, G. et al. Oxymatrine Extracted from Sophora flavescens Inhibited Cell Growth and Induced Apoptosis in Human Osteosarcoma MG-63 Cells In Vitro. Cell Biochem Biophys 70, 1439–1444 (2014). https://doi.org/10.1007/s12013-014-0078-2
Keywords
Oxymatrine

Sophora flavescens

Apoptosis

Osteosarcoma