Abstract
Black pepper is used worldwide to enhance food flavor. We investigated dietary supplementation with piperine, the active principle of black pepper, to high carbohydrate, high fat (HCHF) diet-fed rats as a model of human metabolic syndrome. Rats were fed with either HCHF diet (carbohydrate, 52%; fat, 24%; 25% fructose in drinking water) or cornstarch (CS) diet for a total of 16 weeks. Diets of the treatment groups (CS + piperine and HCHF + piperine) were supplemented with piperine for the last 8 weeks of this protocol. After 16 weeks, rats fed with HCHF diet developed hypertension, elevated oxidative stress and inflammation-induced cardiac changes (infiltration of inflammatory cells in heart, increase in count and degranulation of mast cells in heart, cardiac fibrosis and increase in ventricular stiffness), reduced responsiveness of aortic rings, impaired glucose tolerance, abdominal obesity together with liver fibrosis, fat deposition and increased plasma liver enzymes. Supplementation with piperine (375 mg/kg food; approximately 30 mg/kg/day) in HCHF-fed rats normalized blood pressure, improved glucose tolerance and reactivity of aortic rings, reduced plasma parameters of oxidative stress and inflammation, attenuated cardiac and hepatic inflammatory cell infiltration and fibrosis and improved liver function. These changes clearly suggest that piperine reduces symptoms of human metabolic syndrome in HCHF-fed rats by reducing inflammation and oxidative stress.
This is a preview of subscription content, log in to check access.
Access options
Buy single article
Instant access to the full article PDF.
US$ 39.95
Price includes VAT for USA
Subscribe to journal
Immediate online access to all issues from 2019. Subscription will auto renew annually.
US$ 99
This is the net price. Taxes to be calculated in checkout.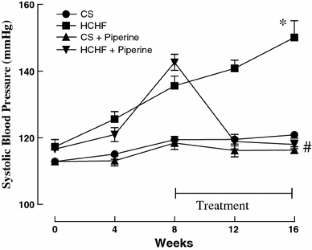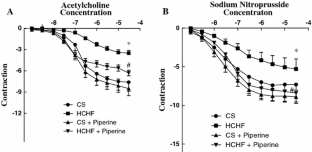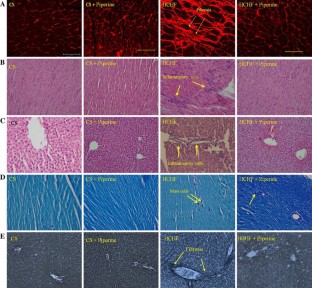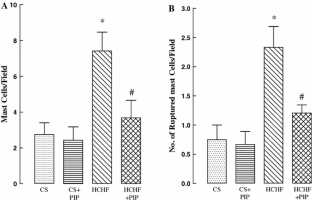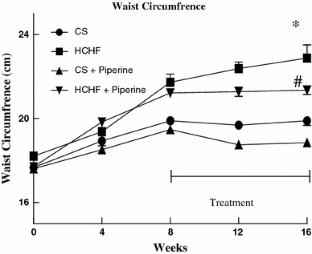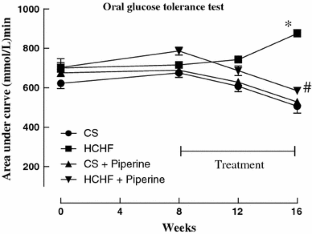 References
1.

Iyer, A., Panchal, S., Poudyal, H., & Brown, L. (2009). Potential health benefits of Indian spices in the symptoms of the metabolic syndrome: a review. Indian Journal of Biochemistry and Biophysics, 46, 467–481.

2.

Ee, G. C., Lim, C. M., Lim, C. K., Rahmani, M., Shaari, K., & Bong, C. F. (2009). Alkaloids from Piper sarmentosum and Piper nigrum. Natural Product Research, 23, 1416–1423.

3.

Taqvi, S. I., Shah, A. J., & Gilani, A. H. (2008). Blood pressure lowering and vasomodulator effects of piperine. Journal of Cardiovascular Pharmacology, 52, 452–458.

4.

Bang, J. S., Ohda, H., Choi, H. M., et al. (2009). Anti-inflammatory and antiarthritic effects of piperine in human interleukin 1beta-stimulated fibroblast-like synoviocytes and in rat arthritis models. Arthritis Res Ther, 11, R49.

5.

Vijayakumar, R. S., & Nalini, N. (2006). Efficacy of piperine, an alkaloidal constituent from Piper nigrum on erythrocyte antioxidant status in high fat diet and antithyroid drug induced hyperlipidemic rats. Cell Biochemistry and Function, 24, 491–498.

6.

Vijayakumar, R. S., Surya, D., & Nalini, N. (2004). Antioxidant efficacy of black pepper (Piper nigrum L.) and piperine in rats with high fat diet induced oxidative stress. Redox Report, 9, 105–110.

7.

Khajuria, A., Thusu, N., & Zutshi, U. (2002). Piperine modulates permeability characteristics of intestine by inducing alterations in membrane dynamics: influence on brush border membrane fluidity, ultrastructure and enzyme kinetics. Phytomedicine, 9, 224–231.

8.

Panchal S. K., Brown L. (2011). Rodent models for metabolic syndrome research. Journal of Biomedicine and Biotechnology. doi:10.1155/2011/351982.

9.

Panchal, S., Poudyal, H., Iyer, A., et al. (2011). High carbohydrate-high fat diet-induced metabolic syndrome and cardiovascular remodeling in rats. Journal of Cardiovascular Pharmacology, 57, 611–624.

10.

Poudyal, H., Campbell, F., & Brown, L. (2010). Olive leaf extract attenuates cardiac, hepatic, and metabolic changes in high carbohydrate-, high fat-fed rats. Journal of Nutrition, 140, 946–953.

11.

Poudyal, H., Panchal, S., & Brown, L. (2010). Comparison of purple carrot juice and beta-carotene in a high-carbohydrate, high-fat diet-fed rat model of the metabolic syndrome. British Journal of Nutrition, 104, 1322–1332.

12.

Brown, L., Fenning, A., Chan, V., et al. (2002). Echocardiographic assessment of cardiac structure and function in rats. Heart Lung and Circulation, 11, 167–173.

13.

Litwin, S. E., Katz, S. E., Morgan, J. P., & Douglas, P. S. (1994). Serial echocardiographic assessment of left ventricular geometry and function after large myocardial infarction in the rat. Circulation, 89, 345–354.

14.

Fenning, A., Harrison, G., Rose'meyer, R., Hoey, A., & Brown, L. (2005). l-Arginine attenuates cardiovascular impairment in DOCA-salt hypertensive rats. American Journal of Physiology Heart and Circulatory Physiology, 289, H1408–H1416.

15.

Rice-Evans, C., & Miller, N. J. (1994). Total antioxidant status in plasma and body fluids. Methods in Enzymology, 234, 279–293.

16.

Gupta, S. K., Bansal, P., Bhardwaj, R. K., & Velpandian, T. (2000). Comparative anti-nociceptive, anti-inflammatory and toxicity profile of nimesulide vs nimesulide and piperine combination. Pharmacological Research, 41, 657–662.

17.

D'Hooge, R., Pei, Y. Q., Raes, A., Lebrun, P., van Bogaert, P. P., & de Deyn, P. P. (1996). Anticonvulsant activity of piperine on seizures induced by excitatory amino acid receptor agonists. Arzneimittelforschung, 46, 557–560.

18.

Bai, Y. F., & Xu, H. (2000). Protective action of piperine against experimental gastric ulcer. Acta Pharmacologica Sinica, 21, 357–359.

19.

Lee, S. A., Hong, S. S., Han, X. H., et al. (2005). Piperine from the fruits of Piper longum with inhibitory effect on monoamine oxidase and antidepressant-like activity. Chemical and Pharmaceutical Bulletin, 53, 832–835.

20.

Selvendiran, K., Singh, J. P., Krishnan, K. B., & Sakthisekaran, D. (2003). Cytoprotective effect of piperine against benzo[a]pyrene induced lung cancer with reference to lipid peroxidation and antioxidant system in Swiss albino mice. Fitoterapia, 74, 109–115.

21.

Shah, S. S., Shah, G. B., Singh, S. D., Gohil, P. V., Chauhan, K., Shah, K. A., et al. (2011). Effect of piperine in the regulation of obesity-induced dyslipidemia in high-fat diet rats. Indian Journal of Pharmacology, 43, 296–299.

22.

Pepine, C. J. (1998). Clinical implications of endothelial dysfunction. Clinical Cardiology, 21, 795–799.

23.

Brunner, H., Cockcroft, J. R., Deanfield, J., et al. (2005). Endothelial function and dysfunction. Part II: association with cardiovascular risk factors and diseases. A statement by the Working Group on Endothelins and Endothelial Factors of the European Society of Hypertension. Journal of Hypertension, 23, 233–246.

24.

Tziomalos, K., Athyros, V. G., Karagiannis, A., & Mikhailidis, D. P. (2010). Endothelial dysfunction in metabolic syndrome: prevalence, pathogenesis and management. Nutrition, Metabolism and Cardiovascular Diseases, 20, 140–146.

25.

Aktoz, M., Erdogan, O., & Altun, A. (2007). Electrocardiographic prediction of left ventricular geometric patterns in patients with essential hypertension. International Journal of Cardiology, 120, 344–350.

26.

Savoia, C., & Schiffrin, E. L. (2006). Inflammation in hypertension. Current Opinion in Nephrology and Hypertension, 15, 152–158.

27.

Levick, S. P., McLarty, J. L., Murray, D. B., Freeman, R. M., Carver, W. E., & Brower, G. L. (2009). Cardiac mast cells mediate left ventricular fibrosis in the hypertensive rat heart. Hypertension, 53, 1041–1047.

28.

van Heerebeek, L., Somsen, A., & Paulus, W. J. (2009). The failing diabetic heart: focus on diastolic left ventricular dysfunction. Current Diabetes Reports, 9, 79–86.

29.

Klotz, S., Foronjy, R. F., Dickstein, M. L., et al. (2005). Mechanical unloading during left ventricular assist device support increases left ventricular collagen cross-linking and myocardial stiffness. Circulation, 112, 364–374.

30.

Harrison, D. G., & Gongora, M. C. (2009). Oxidative stress and hypertension. Medical Clinics of North America, 93, 621–635.

31.

Sowers, J. R., & Frohlich, E. D. (2004). Insulin and insulin resistance: impact on blood pressure and cardiovascular disease. Medical Clinics of North America, 88, 63–82.

32.

Patel, K., & Srinivasan, K. (2000). Influence of dietary spices and their active principles on pancreatic digestive enzymes in albino rats. Nahrung, 44, 42–46.

33.

Clark, J. M., Brancati, F. L., & Diehl, A. M. (2002). Nonalcoholic fatty liver disease. Gastroenterology, 122, 1649–1657.

34.

Chitturi, S., Wong, V. W., & Farrell, G. (2011). Nonalcoholic fatty liver in Asia: firmly entrenched and rapidly gaining ground. Journal of Gastroenterology and Hepatology, 26(Suppl 1), 163–172.

35.

Giannini, E. G., Testa, R., & Savarino, V. (2005). Liver enzyme alteration: a guide for clinicians. CMAJ, 172, 367–379.
About this article
Cite this article
Diwan, V., Poudyal, H. & Brown, L. Piperine Attenuates Cardiovascular, Liver and Metabolic Changes in High Carbohydrate, High Fat-Fed Rats. Cell Biochem Biophys 67, 297–304 (2013). https://doi.org/10.1007/s12013-011-9306-1
Keywords
Piperine

Metabolic syndrome

Rats