Abstract
The aim of this study was to evaluate the effects of metoprolol, lipid emulsion and MgSO4 which can be recommended for prevention of long QT that is one of the lethal consequences of amitriptyline intoxication. Thirty Sprague–Dawley male rats were included. Five groups respectively received the following: saline intraperitoneally (i.p.); amitriptyline (AMT) 100 mg/kg per os (p.o.) and saline i.p.; AMT 100 mg/kg p.o. and 5 mg/kg metoprolol i.p.; AMT 100 mg/kg p.o. and 20 ml/kg lipid emulsion i.p.; AMT 100 mg/kg p.o. and 75 mg/kg MgSO4 i.p. After 1 h, all groups were analysed by ECG recordings in DII lead; their blood was taken for biochemical examination and euthanasia was performed. For histological examination, cardiac tissues were removed and sections were prepared. QTc was significantly reduced in treatment groups compared to the AMT+saline group. When compared with the AMT+saline, lipid emulsion did not affect pro-BNP and troponin levels in biochemical analysis, but it significantly reduced Caspase 3 expression in histological examination. In the group treated with AMT and metoprolol, there was no significant effect on Caspase 3 expression. In MgSO4-treated group, there was a significant decrease in troponin, pro-BNP and urea levels biochemically and significant decrease in Caspase 3 expression histologically when compared with the control group. With further studies including clinical studies, MgSO4, lipid emulsion or metoprolol may be used to improve AMT-induced cardiotoxicity. They can possibly become alternative approaches in the future for suicidal or accidental intoxication of tricyclic antidepressant in emergency departments.
Access options
Buy single article
Instant access to the full article PDF.
USD 39.95
Price excludes VAT (USA)
Tax calculation will be finalised during checkout.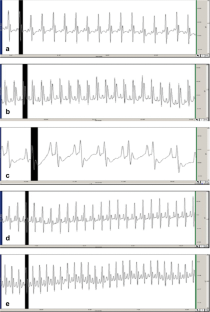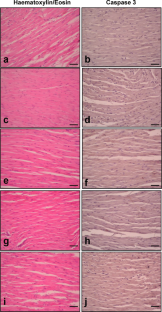 References
Akgun, A., Kalkan, S., Hocaoglu, N., Gidener, S., & Tuncok, Y. (2008). Effects of adenosine receptor antagonists on amitriptyline-induced QRS prolongation in isolated rat hearts. Clinical Toxicology (Philadelphia), 46(7), 677–685.

Akman, T., Erbas, O., Akman, L., & Yilmaz, A. U. (2014). Prevention of pazopanib-prevention induced prolonged cardiac repolarization and proarrhytmic effects. Arquivos Brasileiros de Cardiologia, 103(5), 403–409.

Alvarez, P. A., & Pahissa, J. (2010). QT alterations in psychopharmacology: Proven candidates and suspects. Current Drug Safety, 5(1), 97–104.

Balasubramaniyam, N., Palaniswamy, C., Aronow, W. S., Khera, S., Balasubramanian, G., Harikrishnan, P., et al. (2013). Association of corrected QT interval with long-term mortality in patients with syncope. Archives of Medical Science, 9(6), 1049–1054.

Barber, M. J., Starmer, C. F., & Grant, A. O. (1991). Blockade of cardiac sodium channels by amitriptyline and diphenylhydantoin. Evidence for two use-dependent binding sites. Circulation Research, 69(3), 677–696.

Barrington, P. L., & Ten Eick, R. E. (1990). Characterization of the electrophysiological effects of metoprolol on isolated feline ventricular myocytes. Journal of Pharmacology and Experimental Therapeutics, 252(3), 1043–1052.

Basol, N., & Erbas, O. (2016). The effects of diltiazem and metoprolol in QTc prolongation due to amitriptyline intoxication. Human & Experimental Toxicology, 35(1), 29–34.

Bateman, D. N., Chick, J., Good, A. M., Kelly, C. A., & Masterton, G. (2004). Are selective serotonin re-uptake inhibitors associated with an increased risk of self-harm by antidepressant overdose? European Journal of Clinical Pharmacology, 60, 2214.

Baysal, T., Oran, B., Doğan, M., Cimen, D., Elmas, S., & Karaaslan, S. (2007). Beta-blocker treatment in an adolescent with amitriptyline intoxication. The Anatolian Journal of Cardiology, 7(3), 324–325.

Beach, S. R., Celano, C. M., Noseworthy, P. A., Januzzi, J. L., & Huffman, J. C. (2013). QTc prolongation, torsades de pointes, and psychotropic medications. Psychosomatics, 54(1), 1–13.

Blaber, M. S., Khan, J. N., Nrebner, J. A., & McColm, R. (2012). "Lipid rescue" for tricyclic antidepressant cardiotoxicity. The Journal of Emergency Medicine, 43(3), 465–467.

Carreiro, S., Blum, J., & Hack, J. B. (2014). Pretreatment with intravenous lipid emulsion reduces mortality from cocaine toxicity in a rat model. Annals of Emergency Medicine, 64(1), 32–37.

Celebi, O., Diker, E., & Aydogdu, S. (2008). Clinical importance of cardiac troponins. Archives of the Turkish Society of Cardiology, 36(4), 269–277.

Cotton, D. B., Gonik, B., & Dorman, K. F. (1984). Cardiovascular alterations in severe pregnancy-induced hypertension: Acute effects of intravenous magnesium sulphate. American Journal of Obstetrics and Gynecology, 148, 162–165.

Critelli, G., Ferro, G., Peschle, C., Perticone, F. R., Rengo, F. R., & Condorelli, M. (1977). Myocardial contractility after injection or prolonged infusion of magnesium sulphate. Acta Cardiologica, 32, 65–73.

Dandavino, A., Woods, J. R., Murayama, K., Brinkman, C. R., & Assali, N. S. (1977). Circulatory effects of magnesium sulphate in normotensive and renal hypertensive pregnant sheep. American Journal of Obstetrics and Gynecology, 127, 769–774.

Demircan, C., Cikriklar, H. I., Engindeniz, Z., Cebicci, H., Atar, N., Guler, V., et al. (2005). Comparison of the effectiveness of intravenous diltiazem and metoprolol in the management of rapid ventricular rate in atrial fibrillation. Emergency Medicine Journal, 22(6), 411–414.

Dianat, S., Zarei, M. R., Hassanian-Moghaddam, H., Rashidi-Ranjbar, N., Rahimian, R., & Rasouli, M. R. (2011). Tricyclic antidepressants intoxication in Tehran, Iran: Epidemiology and associated factors. Human & Experimental Toxicology, 30(4), 283–288.

Dinleyici, E. C., Kilic, Z., Sahin, S., Tutuncu-Toker, R., Eren, M., Yargic, Z. A., et al. (2013). Heart rate variability in children with tricyclic antidepressant intoxication. Cardiology Research and Practice, 2013, 196506.

Erbas, O., & Yilmaz, M. (2015). Metoprolol and diltiazem ameliorate ziprasidone-induced prolonged corrected QT interval in rats. Toxicology and Industrial Health, 31(12), 1152–1157.

Foianini, A., Joseph Wiegand, T., & Benowitz, N. (2010). What is the role of lidocaine or phenytoin in tricyclic antidepressant-induced cardiotoxicity? Clinical Toxicology, 48(4), 325–330.

Fossa, A. A., Zhou, M., Brennan, N., Round, P., & Ford, J. (2014). Use of continuous ECG for improvements in assessing the standing response as a positive control for QT prolongation. Annals of Noninvasive Electrocardiology, 19(1), 82–89.

Harvey, M., & Cave, G. (2007). Intralipid outperforms sodium bicarbonate in a rabbit model of clomipramine toxicity. Annals of Emergency Medicine, 49(2), 178–185.

Harvey, M., & Cave, G. (2012). Case report: Successful lipid resuscitation in multi-drug overdose with predominant tricyclic antidepressant toxidrome. International Journal of Emergency Medicine, 5(1), 8.

Holly, T. A., Drincic, A., Byun, Y., Nakamura, S., Harris, K., Klocke, F. J., et al. (1999). Caspase inhibition reduces myocyte cell death induced by myocardial ischemia and reperfusion in vivo. Journal of Molecular and Cellular Cardiology, 31, 1709–1715.

Hussain, A., Gharanei, A. M., Nagra, A. S., & Maddock, H. L. (2014). Caspase inhibition Via A3 adenosine receptors: A new cardioprotective mechanism against myocardial infarction. Cardiovascular Drugs and Therapy, 28, 19–32.

Jalal, A. N., Yasseri, K., & Kadhim, H. A. (2009). Histopathological monitorring of cardioprotective effects of MgSO4, pioglitazone and omega-3 fatty acids in rabbits induced with myocardial infarction. Kufa Medical Journal, 12(1), 476–481.

James, M. F. M., Cork, R. C., & Dennett, J. E. (1987). Cardiovascular effects of magnesium sulphate in the baboon. Magnesium, 6, 314–324.

Kalkan, S., Hocaoglu, N., Oransay, K., Buyukdeligoz, M., & Tuncok, Y. (2012). Adenosine mediated cardiovascular toxicity in amitriptyline poisoned rats. Drug and Chemical Toxicology, 35(4), 423–431.

Kaplan, Y. C., Hocaoglu, N., Oransay, K., Kalkan, S., & Tuncok, Y. (2008). Effect of glucagon on amitriptyline-induced cardiovascular toxicity in rats. Human & Experimental Toxicology, 27(4), 321–325.

Karmakar, S., Padman, A., Mane, N. S., & Sen, T. (2013). Hypokalemia: A potent risk for QTc prolongation in clarithromycin treated rats. European Journal of Pharmacology, 709(1–3), 80–84.

Kemp, P. A., Gardiner, S. M., March, J. E., Bennett, T., & Rubin, P. C. (1994). Effects of NG-nitro-L-arginine methyl ester on regional hemomodynamic responses to MgSO4 in conscious rats. British Journal of Pharmacology, 111(1), 325–331.

Kerr, G. W., McGuffie, A. C., & Wilkie, S. (2001). Tricyclic antidepressant overdose: A review. Emergency Medicine Journal, 18(4), 236–241.

Kharb, S., & Singh, V. (2000). Magnesium deficiency potentiates free radical production associated with myocardial infarction. The Journal of the Association of Physicians of India, 48, 484–485.

Kiyan, S., Aksay, E., Yanturali, S., Atilla, R., & Ersel, M. (2006). Acute myocardial infarction associated with amitripthyline overdose. Basic & Clinical Pharmacology & Toxicology, 98, 462–466.

Kline, J. A., DeStefano, A. A., Schroeder, J. D., & Raymond, R. M. (1994). Magnesium potantiates imipramine toxicity in the isolated rat heart. Annals of Emergency Medicine, 24, 224–232.

Legome, E. (2006). Toxicity, antidepressant. Emergency medicine online textbook. Retrieved September 26, from http://www.emedicine.com.

Levine, M., Brooks, D. E., Franken, A., & Graham, R. (2012). Delayed-onset seizure and cardiac arrest after amitriptyline overdose, treated with intravenous lipid emulsion therapy. Pediatrics, 130(2), E432–E438.

Li, J., Iorga, A., Sharma, S., Youn, J. Y., Partow-Navid, R., Umar, S., et al. (2012). Intralipid, a clinically safe compound, protects the heart against ischemia-reperfusion injury more efficiently than cyclosporine-A. Anesthesiology: The Journal of the American Society of Anesthesiologists, 117(4), 836–846.

Liebelt, E. L. (2011). Cyclic antidepressants. In L. S. Nelson, N. A. Lewin, M. A. Howland, R. S. Hoffman, L. R. Goldfrank, & N. E. Flomenbaum (Eds.), Goldfrank's toxicologic emergencies (9th ed., pp. 1049–1057). New York: Mcgraw Hill Companies.

Lou, P., Lucchinetti, E., Zhang, L., Affolter, A., Schaub, M. C., Gandhi, M., et al. (2014). The mechanism of intralipid®-mediated cardioprotection complex IV inhibition by the active metabolite, palmitoylcarnitine, generates reactive oxygen species and activates reperfusion injury salvage kinases. PLoS ONE. https://doi.org/10.1371/journal.pone.0087205.

Martin, B. J., Black, J., & McLelland, A. S. (1991). Hipomagnesemi in elderly hospital admissions: A study of clinical significance. QJM: An International Journal of Medicine, 78, 177–184.

Mazoit, J. X., Le Guen, R., Beloeil, H., & Benhamou, D. (2009). Binding of long-lasting local anesthetics to lipid emulsions. Anesthesiology, 110, 380–386.

Mroczek, W. J., Lee, W. R., & Davidov, M. E. (1970). Effect of magnesium sulphate on cardiovascular hemomodynamics. Angiology, 10, 720–724.

Nose`, M., & Barbui, C. (2014). Do antidepressants prolong the QT interval? Epidemiology and Psychiatric Sciences, 23(1), 19–20.

Olgun, H., Yildirim, Z. K., Karacan, M., & Ceviz, N. (2009). Clinical, electrocardiographic, and laboratory findings in children with amitriptyline intoxication. Pediatric Emergency Care, 25(3), 170–173.

Oransay, K., Kalkan, S., Hocaoglu, N., Arici, A., & Tuncok, Y. (2011). An alternative antidote therapy in amitriptyline-induced rat toxicity model: Theophylline. Drug and Chemical Toxicology, 34(1), 53–60.

Potter, W. Z., & Hollister, L. E. (2004). Antidepressant agents. In B. G. Katzung (Ed.), Basic and clinical pharmacology. A LANGE medical book (pp. 482–496). New York: McGraw-Hill.

Pritchard, J. A., & Pritchard, S. A. (1975). Standardized treatment of 154 consecutive cases of eclampsia. American Journal of Obstetrics and Gynecology, 123, 543–552.

Shantsila, E., Watson, T., & Lip, G. Y. (2007). Drug-induced QT-interval prolongation and proarrhythmic risk in the treatment of atrial arrhythmias. Europace, 9(Suppl 4), iv37–i44.

Sorodoc, V., Sorodoc, L., Ungureanu, D., Sava, A., & Jaba, I. M. (2013). Troponin T and NT-proBNP as biomarkers of early myocardial damage amitriptyline-induced cardiovascular toxicity in rats. International Journal of Toxicology, 32(5), 351–357.

Su, Q., Li, L., Liu, Y. C., Zhou, Y., Lu, Y. G., & Wen, W. M. (2013). Effect of metoprolol on myocardial apoptosis and caspase-9 activation after coronary microembolization in rats. Experimental & Clinical Cardiology, 18(2), 161–165.

Thanacoody, H. K., & Thomas, S. H. (2005). Tricyclic antidepressant poisoning: Cardiovascular toxicity. Toxicological Reviews, 24(3), 205–214.

Trinkley, K. E., Lee Page, R., Lien, H., Yamanouye, K., & Tisdale, J. E. (2013). QT interval prolongation and the risk of torsades de pointes: Essentials for clinicians. Current Medical Research and Opinion, 29(12), 1719–1726.

Turlapaty, P. D. M. V., & Altura, B. M. (1980). Magnesium deficiency produces spasms of coronary arteries: Relationship to etiology of sudden death ischemic heart disease. Science, 208, 198–200.

Tzivoni, D., Banai, S., Schuger, C., Benhorin, J., Keren, A., Gottlieb, S., et al. (1988). Treatment of torsade de pointes with magnesium sulfate. Circulation, 77, 392–397.

Weinberg, G. L., Ripper, R., Murphy, P., Edelman, L. B., Hoffman, W., Strichartz, G., et al. (2006). Lipid infusion accelerates removal of bupivacaine and recovery from bupivacaine toxicity in the isolated rat heart. Regional Anesthesia and Pain Medicine, 31, 296–303.

Weinberg, G. L., VadeBoncouer, T., Ramaraju, G. A., Garcia-Amaro, M. F., & Cwik, M. J. (1998). Pretreatment or resuscitation with a lipid infusion shifts the dose-response to bupivacaine-induced asystole. Anesthesiology, 88, 1071–1075.

Woolf, A. D., Erdman, A. R., Nelson, L. S., Caravati, E. M., Cobaugh, D. J., Booze, L. L., et al. (2007). Tricyclic antidepressant poisoning: An evidence-based consensus guideline for out-of-hospital management. Clinical Toxicology, 45(3), 203–233.

Yap, Y. G., & Camm, A. J. (2003). Drug induced QT prolongation and torsades de pointes. Heart, 89(11), 1363–1372.

Yoav, G., Odelia, G., & Shaltiel, C. (2002). A lipid emulsion reduces mortality from clomipramine overdose in rats. Veterinary and Human Toxicology, 44(1), 30–30.
Ethics declarations
Conflict of interest
The authors declare that they have no conflict of interest.
Additional information
Handling Editor: Rajiv Janardhanan.
About this article
Cite this article
Bora, S., Erdoğan, M.A., Yiğittürk, G. et al. The Effects of Lipid Emulsion, Magnesium Sulphate and Metoprolol in Amitriptyline-Induced Cardiovascular Toxicity in Rats. Cardiovasc Toxicol 18, 547–556 (2018). https://doi.org/10.1007/s12012-018-9466-y
Published:

Issue Date:

DOI: https://doi.org/10.1007/s12012-018-9466-y
Keywords
Drug toxicity

QTc

Amitriptyline

Arrhythmia

Electrocardiogram