Abstract
Over 300,000 hip replacements occurred in the USA in 2010, and the frequency is likely increasing annually. Blood Cobalt (Co) concentrations in patients with well-functioning cobalt–chromium (Co–Cr) hip implants are usually elevated above background concentrations relative to the general population. Excessive Co exposure, in rare cases, can result in cardiomyopathy. The purpose of this review was to identify cases of cardiomyopathy in metal-containing hip implant patients and to evaluate the possible cause of each patient's cardiomyopathy. We evaluated 15 cases published between 2009 and 2016, and, based on a review of the preexisting risk factors, blood Co concentrations, and histopathological information published for each patient, they were stratified into one of four categories regarding the association between Co exposure and the development of cardiomyopathy: (1) Co was causal (five cases); (2) Co was contributory (two cases); (3) Co was possibly contributory (six cases); and (4) Co was non-causal (two cases). In all 15 cases, blood Co concentrations (14–6521 μg/L) were elevated beyond levels associated with the majority of metal-containing implant patients (0.1–10 μg/L), and, in many cases, there was evidence of a malfunctioning implant. The data indicate that individuals with well-functioning implants, even those with preexisting risk factors, are at no risk of developing cardiac effects. We conclude that blood Co measurements are informative, but should be interpreted with caution, and in context of other factors evaluated in this analysis. The mere presence of elevated Co is not sufficient to indicate causation for a patient's cardiomyopathy.
Access options
Buy single article
Instant access to the full article PDF.
US$ 39.95
Tax calculation will be finalised during checkout.
Subscribe to journal
Immediate online access to all issues from 2019. Subscription will auto renew annually.
US$ 79
Tax calculation will be finalised during checkout.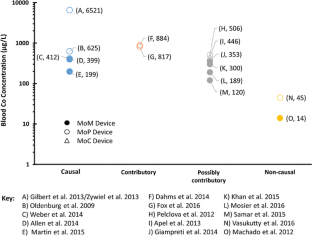 References
1.

Barborik, M., & Dusek, J. (1972). Cardiomyopathy accompanying industrial cobalt exposure. British Heart Journal, 34, 113–116.

2.

Alpert, M. A., Fraley, M. A., Birchem, J. A., & Senkottaiyan, N. (2005). Management of obesity cardiomyopathy. Expert Review of Cardiovascular Therapy, 3, 225–230.

3.

Boudina, S., & Abel, E. D. (2007). Diabetic cardiomyopathy revisited. Circulation, 115, 3213–3223.

4.

Patel, S. R., D'Alessandro, D., & Shin, J. J. (2012). Combined heart and liver transplantation in an adult with familial heterozygous hypercholesterolemia and severe ischemic cardiomyopathy. Journal of Heart and Lung Transplantation, 31, 229.

5.

Alhaj, E., Alhaj, N., Rahman, I., Niazi, T. O., Berkowitz, R., & Klapholz, M. (2013). Uremic cardiomyopathy: An underdiagnosed disease. Congestive Heart Failure, 19, E40–E45.

6.

Allen, L. A., Ambardekar, A. V., Devaraj, K. M., Maleszewski, J. J., & Wolfel, E. E. (2014). Clinical problem-solving. Missing elements of the history. New England Journal of Medicine, 370, 559–566.

7.

Dahms, K., Sharkova, Y., Heitland, P., Pankuweit, S., & Schaefer, J. R. (2014). Cobalt intoxication diagnosed with the help of Dr. House. Lancet, 383, 574.

8.

Machado, C., Appelbe, A., & Wood, R. (2012). Arthroprosthetic cobaltism and cardiomyopathy. Heart, Lung and Circulation, 21, 759–760.

9.

Samar, H. Y., Doyle, M., Williams, R. B., Yamrozik, J. A., Bunker, M., Biederman, R. W., et al. (2015). Novel use of cardiac magnetic resonance imaging for the diagnosis of cobalt cardiomyopathy. JACC Cardiovascular Imaging, 8, 1231–1232.

10.

Vasukutty, N. L., & Minhas, T. H. (2016). Systemic effects of cobalt toxicity after revision hip replacement can manifest in intermediate to long term follow-up. Hip International the Journal of Clinical and Experimental Research on Hip Pathology and Therapy, 26, e31–e34.

11.

Maron, B. J., Towbin, J. A., Thiene, G., Antzelevitch, C., Corrado, D., Arnett, D., et al. (2006). Contemporary definitions and classification of the cardiomyopathies: An American Heart Association Scientific Statement from the Council on Clinical Cardiology, Heart Failure and Transplantation Committee; Quality of Care and Outcomes Research and Functional Genomics and Translational Biology Interdisciplinary Working Groups; and Council on Epidemiology and Prevention. Circulation, 113, 1807–1816.

12.

Wexler, R. K., Elton, T., Pleister, A., & Feldman, D. (2009). Cardiomyopathy: An overview. American Family Physician, 79, 778–784.

13.

Mentz, R. J., & O'Connor, C. M. (2016). Pathophysiology and clinical evaluation of acute heart failure. Nature Reviews Cardiology, 13, 28–35.

14.

Burke, A. P. & Butany, J. (2015). Dilated Cardiomyopathy pathology. November 4, 2015. Accessed August 29, 2016 http://emedicine.medscape.com/article/2017823-overview.

15.

Gersh, B. J., Maron, B. J., Bonow, R. O., Dearani, J. A., Fifer, M. A., Link, M. S., et al. (2011). 2011 ACCF/AHA guideline for the diagnosis and treatment of hypertrophic cardiomyopathy: A report of the American College of Cardiology Foundation/American Heart Association Task Force on Practice Guidelines. Circulation, 124, e783–e831.

16.

NIH. (2016). How is cardiomyopathy diagnosed? June 22, 2016. Accessed August 29, 2016 https://www.nhlbi.nih.gov/health/health-topics/topics/cm/diagnosis.

17.

AHA. (2016). Symptoms and diagnosis of cardiomyopathy. April 8, 2016. Accessed August 29, 2016 https://www.heart.org/HEARTORG/Conditions/More/Cardiomyopathy/Symptoms-and-Diagnosis-of-Cardiomyopathy_UCM_444175_Article.jsp#.V3QPr032blY.

18.

Mayo Clinic. (2015). Cardiomyopathy tests and diagnosis. March 17, 2015. Accessed August 29, 2016 http://www.mayoclinic.org/diseases-conditions/cardiomyopathy/basics/tests-diagnosis/con-20026819.

19.

Finley, B. L., Monnot, A. D., Gaffney, S. H., & Paustenbach, D. J. (2012). Dose-response relationships for blood cobalt concentrations and health effects: A review of the literature and application of a biokinetic model. Journal of Toxicology and Environmental Health, Part B, 15, 493–523.

20.

Morin, Y., & Daniel, P. (1967). Quebec beer-drinkers' cardiomyopathy: Etiological considerations. Canadian Medical Association Journal, 97, 926–928.

21.

Centeno, J., Pestaner, J., Mullick, F., & Virmani, R. (1996). An analytical comparison of cobalt cardiomyopathy and idiopathic dilated cardiomyopathy. Biological Trace Element Research, 55, 21–30.

22.

Paustenbach, D. J., Galbraith, D. A., & Finley, B. L. (2014). Interpreting cobalt blood concentrations in hip implant patients. Clinical Toxicology, 52, 98–112.

23.

Unice, K. M., Kerger, B. D., Paustenbach, D. J., Finley, B. L., & Tvermoes, B. E. (2014). Refined biokinetic model for humans exposed to cobalt dietary supplements and other sources of systemic cobalt exposure. Chemico-Biological Interactions, 216, 53–74.

24.

Packer, M. (2016). Cobalt cardiomyopathy: A critical reappraisal in light of a recent resurgence. Circulation: Heart failure, 9, e003604.

25.

Smith-Petersen, M. N. (1948). Evolution of mould arthroplasty of the hip joint. Journal of Bone and Joint Surgery, 30, 59–75.

26.

McKee, G. K., & Watson-Farrar, J. (1966). Replacement of arthritic hips by the McKee–Farrar prosthesis. Journal of Bone and Joint Surgery, 48, 245–259.

27.

Kovochich, M., Fung, E. S., Donovan, E., Unice, K. M., Paustenbach, D. J., & Finley, B. L. (2017). Characterization of wear debris from metal-on-metal hip implants during normal wear versus edge-loading conditions. Journal of Biomedical Materials Research, Part B, Applied Biomaterials. https://doi.org/10.1002/jbm.b.33902.

28.

Jacobs, J. J., Urban, R. M., Gilbert, J. L., Skipor, A. K., Black, J., Jasty, M., et al. (1995). Local and distant products from modularity. Clinical Orthopaedics, 319, 94–105.

29.

Morlock, M. M., Bishop, N., Zustin, J., Hahn, M., Ruther, W., & Amling, M. (2008). Modes of implant failure after hip resurfacing: Morphological and wear analysis of 267 retrieval specimens. Journal of Bone and Joint Surgery, 90(Suppl 3), 89–95.

30.

Catelas, I., Bobyn, J. D., Medley, J. B., Krygier, J. J., Zukor, D. J., & Huk, O. L. (2003). Size, shape, and composition of wear particles from metal-metal hip simulator testing: Effects of alloy and number of loading cycles. Journal of Biomedical Materials Research Part A, 67, 312–327.

31.

Engh, C. A., Jr., MacDonald, S., Sritulanondha, S., Thompson, A., Naudie, D., & Engh, C. (2009). Metal ion levels after metal-on-metal total hip arthroplasty: A randomized trial. Clinical Orthopaedics, 467, 101–111.

32.

Walter, L. R., Marel, E., Harbury, R., & Wearne, J. (2008). Distribution of chromium and cobalt ions in various blood fractions after resurfacing hip arthroplasty. Journal of Arthroplasty, 23, 814–821.

33.

Sidaginamale, R. P., Joyce, T. J., Lord, J. K., Jefferson, R., Blain, P. G., Nargol, A. V., et al. (2013). Blood metal ion testing is an effective screening tool to identify poorly performing metal-on-metal bearing surfaces. Bone and Joint Research, 2, 84–95.

34.

Van Der Straeten, C., Grammatopoulos, G., Gill, H. S., Calistri, A., Campbell, P., & De Smet, K. A. (2013). The 2012 Otto Aufranc Award: The interpretation of metal ion levels in unilateral and bilateral hip resurfacing. Clinical Orthopaedics, 471, 377–385.

35.

Tvermoes, B. E., Paustenbach, D. J., Kerger, B. D., Finley, B. L., & Unice, K. M. (2015). Review of cobalt toxicokinetics following oral dosing: Implications for health risk assessments and metal-on-metal hip implant patients. Critical Reviews in Toxicology, 45, 367–387.

36.

Hartmann, A., Hannemann, F., Lutzner, J., Seidler, A., Drexler, H., Gunther, K. P., et al. (2013). Metal ion concentrations in body fluids after implantation of hip replacements with metal-on-metal bearing: Systematic review of clinical and epidemiological studies. PLoS ONE, 8, e70359–e70384.

37.

Alimonti, A., Bocca, B., Mannella, E., Petrucci, F., Zennaro, F., Cotichini, R., et al. (2005). Assessment of reference values for selected elements in a healthy urban population. Annali dell Istituto Superiore di Sanita, 41, 181–187.

38.

Cobb, A., & Schmalzreid, T. (2006). The clinical significance of metal ion release from cobalt-chromium metal-on-metal hip joint arthroplasty. Proceedings of the Institution of Mechanical Engineers, Part H: Journal of Engineering in Medicine, 220, 385–398.

39.

MacDonald, S. J. (2004). Can a safe level for metal ions in patients with metal-on-metal total hip arthroplasties be determined? Journal of Arthroplasty, 19, 71–77.

40.

van Lingen, C. P., Ettema, H. B., Timmer, J. R., de Jong, G., & Verheyen, C. C. (2013). Clinical manifestations in ten patients with asymptomatic metal-on-metal hip arthroplasty with very high cobalt levels. Hip International, 23, 441–444.

41.

Prentice, J. R., Clark, M. J., Hoggard, N., Morton, A. C., Tooth, C., Paley, M. N., et al. (2013). Metal-on-metal hip prostheses and systemic health: A cross-sectional association study 8 years after implantation. PLoS ONE, 8, e66186–e66195.

42.

Berber, R., Abdel-Gadir, A., Rosmini, S., Captur, G., Nordin, S., Culotta, V., et al. (2017). Assessing for cardiotoxicity from metal-on-metal hip implants with advanced multimodality imaging techniques. JBJS, 99(21), 1827–1835.

43.

Leslie, I. J., Williams, S., Isaac, G., Ingham, E., & Fisher, J. (2009). High cup angle and microseparation increase the wear of hip surface replacements. Clinical Orthopaedics, 467, 2259–2265.

44.

De Haan, R., Pattyn, C., Gill, H. S., Murray, D. W., Campbell, P. A., & De Smet, K. (2008). Correlation between inclination of the acetabular component and metal ion levels in metal-on-metal hip resurfacing replacement. Journal of Bone and Joint Surgery, 90, 1291–1297.

45.

Gilbert, C. J., Cheung, A., Butany, J., Zywiel, M. G., Syed, K., McDonald, M., et al. (2013). Hip pain and heart failure: The missing link. Canadian Journal of Cardiology, 29, 639.e631–639.e632.

46.

Zywiel, M. G., Brandt, J. M., Overgaard, C. B., Cheung, A. C., Turgeon, T. R., & Syed, K. A. (2013). Fatal cardiomyopathy after revision total hip replacement for fracture of a ceramic liner. Bone and Joint Journal, 95, 31–37.

47.

Oldenburg, M., Wegner, R., & Baur, X. (2009). Severe cobalt intoxication due to prosthesis wear in repeated total hip arthroplasty. The Journal of Arthroplasty, 24, 20.

48.

Weber, K. P., Schweier, C., Kana, V., Guggi, T., Byber, K., & Landau, K. (2014). Wear and tear vision. In North American Neuro-Ophthalmology Society (Ed.), 2014 Annual Meeting of the North American Neuro-Ophthalmology Society (pp. 37–38). Minneapolis, MN: North American Neuro-Ophthalmology Society.

49.

Martin, J. R., Spencer-Gardner, L., Camp, C. L., Stulak, J. M., & Sierra, R. J. (2015). Cardiac cobaltism: A rare complication after bilateral metal-on-metal total hip arthroplasty. Arthroplasty Today, 1, 99–102.

50.

Fox, K. A., Phillips, T. M., Yanta, J. H., & Abesamis, M. G. (2016). Fatal cobalt toxicity after total hip arthroplasty revision for fractured ceramic components. Clinical Toxicology, 54, 874–877.

51.

Pelclova, D., Sklensky, M., Janicek, P., & Lach, K. (2012). Severe cobalt intoxication following hip replacement revision: Clinical features and outcome. Clinical Toxicology, 50, 262–265.

52.

Khan, A. H., Verma, R., Bajpai, A., & Mackey-Bojack, S. (2015). Unusual case of congestive heart failure: Cardiac magnetic resonance imaging and histopathologic findings in cobalt cardiomyopathy. Circulation: Cardiovascular Imaging, 8, e003352.

53.

Mosier, B. A., Maynard, L., Sotereanos, N. G., & Sewecke, J. J. (2016). Progressive cardiomyopathy in a patient with elevated cobalt ion levels and bilateral metal-on-metal hip arthroplasties. American Journal of Orthopedics, 45, E132–E135.

54.

Giampreti, A., Lonati, D., & Locatelli, C. A. (2014). Reply to letter by Devlin et al.-Chelation in suspected prosthetic hip-associated cobalt toxicity. Canadian Journal of Cardiology, 30(465), e413.

55.

Giampreti, A., Lonati, D., Vecchio, R., Petrolini, V., Basso, V., Zerbini, F., et al. (2014). Abstract 244: Chelation therapy with intravenous high dose N-acetyl-cysteine for cobalt release from metal on metal hip replacement—A first case report. Clinical Toxicology, 51, 361–363.

56.

Apel, W., Stark, D., Stark, A., O'Hagan, S., & Ling, J. (2013). Cobalt-chromium toxic retinopathy case study. Documenta Ophthalmologica, 126, 69–78.

57.

Manifold, I. H., Platts, M. M., & Kennedy, A. (1978). Cobalt cardiomyopathy in a patient on maintenance haemodialysis. British Medical Journal, 2, 1609.

58.

Kennedy, A., Dornan, J. D., & King, R. (1981). Fatal myocardial disease associated with industrial exposure to cobalt. Lancet, 317, 412–414.

59.

Jarvis, J. Q., Hammond, E., Meier, R., & Robinson, C. (1992). Cobalt cardiomyopathy: A report of two cases from mineral assay laboratories and a review of the literature. Journal of Occupational and Environmental Medicine, 34, 620–626.

60.

Balazs, T., & Herman, E. H. (1976). Toxic cardiomyopathies. Annals of Clinical and Laboratory Science, 6, 467–476.

61.

Alexander, C. S. (1972). Cobalt-beer cardiomyopathy: A clinical and pathologic study of twenty-eight cases. American Journal of Medicine, 53, 395–417.

62.

Seghizzi, P., D'Adda, F., Borleri, D., Barbic, F., & Mosconi, G. (1994). Cobalt myocardiopathy: A critical review of literature. Science of the Total Environment, 150, 105–109.

63.

McDermott, P. H., Delaney, R. L., Egan, J. D., & Sullivan, J. F. (1966). Myocardosis and cardiac failure in men. The Journal of the American Medical Association, 198, 253–256.

64.

Regan, T. J., Lyons, M. M., Ahmed, S. S., Levinson, G. E., Oldewurtel, H. A., Ahmad, M. R., et al. (1977). Evidence for cardiomyopathy in familial diabetes mellitus. Journal of Clinical Investigation, 60, 884–899.

65.

Bell, D. S. (2003). Diabetic cardiomyopathy. Diabetes Care, 26, 2949–2951.

66.

Timoh, T., Bloom, M. E., Siegel, R. R., Wagman, G., Lanier, G. M., & Vittorio, T. J. (2012). A perspective on obesity cardiomyopathy. Obesity Research and Clinical Practice, 6, e175–e262.

67.

Amad, K. H., Brennan, J. C., & Alexander, J. K. (1965). The cardiac pathology of chronic exogenous obesity. Circulation, 32, 740–745.

68.

Factor, S. M., Minase, T., & Sonnenblick, E. H. (1980). Clinical and morphological features of human hypertensive-diabetic cardiomyopathy. American Heart Journal, 99, 446–458.

69.

Hamby, R. I., Zoneraich, S., & Sherman, L. (1974). Diabetic cardiomyopathy. JAMA, 229, 1749–1754.

70.

Alexander, J. K. (1985). The cardiomyopathy of obesity. Progress in Cardiovascular Diseases, 27, 325–334.

71.

Jardine, A. G., & McLaughlin, K. (2001). Cardiovascular complications of renal disease. Heart, 86, 459–466.

72.

Mark, P. B., Johnston, N., Groenning, B. A., Foster, J. E., Blyth, K. G., Martin, T. N., et al. (2006). Redefinition of uremic cardiomyopathy by contrast-enhanced cardiac magnetic resonance imaging. Kidney International, 69, 1839–1845.
Ethics declarations
Conflict of interest
All of the authors (EF, AM, MK, KU, BT, DG, BF, and DP) are or were employed by Cardno ChemRisk, a consulting firm that provides scientific advice to the government, corporations, law firms, and various scientific/professional organizations. Cardno ChemRisk has been engaged by DePuy Orthopaedics, Inc., a manufacturer of prosthetic devices, some of which contain cobalt and chromium, to provide general consulting and expert advice on scientific matters, as well as litigation support. Funding for the preparation of this paper was provided by DePuy. This work was supported by DePuy and they agreed, at the time of funding, that the findings would be published irrespective of the results. This paper was prepared and written exclusively by the authors, without review, or comment by DePuy employees or counsel. This work may be relied upon in medical research and litigation. One of the authors (DJP) has previously testified on behalf of DePuy in hip implant litigation. It is possible that any or all of the authors may be called upon to serve as expert witnesses on behalf of DePuy. The preparation of the paper, including conduct of the literature review, review of the individual papers, integration and synthesis of the findings, the conclusions drawn, and recommendations made are the exclusive professional work product of the authors, and may not necessarily be those of their employer or the financial sponsor of the review.
About this article
Cite this article
Fung, E.S., Monnot, A., Kovochich, M. et al. Characteristics of Cobalt-Related Cardiomyopathy in Metal Hip Implant Patients: An Evaluation of 15 Published Reports. Cardiovasc Toxicol 18, 206–220 (2018). https://doi.org/10.1007/s12012-017-9433-z
Keywords
Cobalt

Cardiomyopathy

Metal-on-polyethylene

Metal-on-metal

Hip implant