Abstract
Roundup (R), a glyphosate (G)-based herbicide (GBH), containing unknown adjuvants is widely dispersed around the world. Used principally by farmers, intoxications have increasingly been reported. We have studied R effects (containing 36 % of G) on right ventricular tissues (male Sprague–Dawley rats, up to 20,000 ppm and female New Zealand rabbits, at 25 and 50 ppm), to investigate R cardiac electrophysiological actions in vitro. We tested the reduced Ca++ intracellular uptake mechanism as one potential cause of the electrical abnormalities after GBH superfusion, using the Na+/K+-ATPase inhibitor ouabain or the 1,4-dihydropyridine L-type calcium channel agonist BAY K 8644 which increases I Ca. R concentrations were selected based on human blood ranges found after acute intoxication. The study showed dose-dependent V max, APD50 and APD90 variations during 45 min of R superfusion. At the highest concentrations tested, there was a high incidence of conduction blocks, and 30-min washout with normal Tyrode solution did not restore excitability. We also observed an increased incidence of arrhythmias at different doses of R. Ouabain and BAY K 8644 prevented V max decrease, APD90 increase and the cardiac inexcitability induced by R 50 ppm. Glyphosate alone (18 and 180 ppm) had no significant electrophysiological effects. Thus, the action potential prolonging effect of R pointing to I Ca interference might explain both conduction blocks and proarrhythmia in vitro. These mechanisms may well be causative of QT prolongation, atrioventricular conduction blocks and arrhythmias in man after GBH acute intoxications as reported in retrospective hospital records.
This is a preview of subscription content, log in to check access.
Access options
Buy single article
Instant access to the full article PDF.
US$ 39.95
Price includes VAT for USA
Subscribe to journal
Immediate online access to all issues from 2019. Subscription will auto renew annually.
US$ 99
This is the net price. Taxes to be calculated in checkout.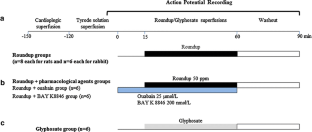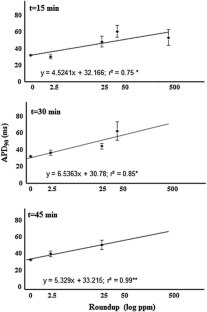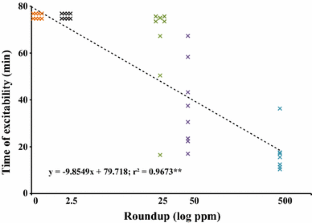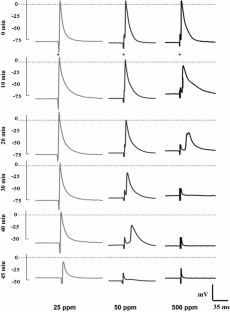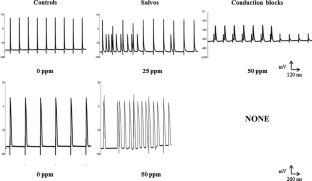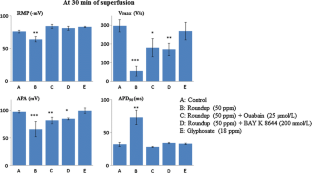 References
1.

Mathur, P. P., & D'Cruz, S. C. (2011). The effect of environmental contaminants on testicular function. Asian Journal of Andrology, 13(4), 585–591. doi:10.1038/aja.2011.40.

2.

Mesnage, R., Bernay, B., & Séralini, G.-E. (2013). Ethoxylated adjuvants of glyphosate-based herbicides are active principles of human cell toxicity. Toxicology, 313(2–3), 122–128. doi:10.1016/j.tox.2012.09.006.

3.

Cavaş, T., & Könen, S. (2007). Detection of cytogenetic and DNA damage in peripheral erythrocytes of goldfish (Carassius auratus) exposed to a glyphosate formulation using the micronucleus test and the comet assay. Mutagenesis, 22(4), 263–268. doi:10.1093/mutage/gem012.

4.

Cox, C., & Surgan, M. (2006). Unidentified inert ingredients in pesticides: Implications for human and environmental health. Environmental Health Perspectives, 114(12), 1803–1806.

5.

Monosson, E. (2005). Chemical mixtures: Considering the evolution of toxicology and chemical assessment. Environmental Health Perspectives, 113(4), 383–390.

6.

Séralini, G.-E., Clair, E., Mesnage, R., Gress, S., Defarge, N., Malatesta, M., & de Vendômois, J. S. (2014). Republished study: Long-term toxicity of a Roundup herbicide and a Roundup-tolerant genetically modified maize. Environmental Sciences Europe, 26(1), 14. doi:10.1186/s12302-014-0014-5.

7.

Cassault-Meyer, E., Gress, S., Séralini, G.-É., & Galleraud-Denis, I. (2014). An acute exposure to glyphosate-based herbicide alters aromatase levels in testis and sperm nuclear quality. Environmental Toxicology and Pharmacology, 38, 131–140. doi:10.1016/j.etap.2014.05.007.

8.

Jeyaratnam, J. (1985). Health problems of pesticide usage in the Third World. British Journal of Industrial Medicine, 42(8), 505–506.

9.

Jeyaratnam, J. (1985). 1984 and occupational health in developing countries. Scandinavian Journal of Work, Environment & Health, 11(3 Spec No), 229–234.

10.

Kim, J., Ko, Y., & Lee, W. J. (2013). Depressive symptoms and severity of acute occupational pesticide poisoning among male farmers. Occupational and Environmental Medicine, 70(5), 303–309. doi:10.1136/oemed-2012-101005.

11.

Kim, J., Shin, D.-H., & Lee, W. J. (2014). Suicidal ideation and occupational pesticide exposure among male farmers. Environmental Research, 128, 52–56. doi:10.1016/j.envres.2013.10.007.

12.

Kim, Y. H., Lee, J. H., Hong, C. K., Cho, K. W., Park, Y. H., Kim, Y. W., & Hwang, S. Y. (2013). Heart rate-corrected QT interval predicts mortality in glyphosate-surfactant herbicide-poisoned patients. The American Journal of Emergency Medicine,. doi:10.1016/j.ajem.2013.09.025.

13.

Lee, H. L., Chen, K. W., Chi, C. H., Huang, J. J., & Tsai, L. M. (2000). Clinical presentations and prognostic factors of a glyphosate-surfactant herbicide intoxication: A review of 131 cases. Academic Emergency Medicine, 7(8), 906–910.

14.

Zouaoui, K., Dulaurent, S., Gaulier, J. M., Moesch, C., & Lachâtre, G. (2013). Determination of glyphosate and AMPA in blood and urine from humans: About 13 cases of acute intoxication. Forensic Science International, 226(1–3), e20–e25. doi:10.1016/j.forsciint.2012.12.010.

15.

Jeyaratnam, J. (1990). Acute pesticide poisoning: A major global health problem. World Health Statistics Quarterly. Rapport Trimestriel de Statistiques Sanitaires Mondiales, 43(3), 139–144.

16.

Chan, Y.-C., Chang, S.-C., Hsuan, S.-L., Chien, M.-S., Lee, W.-C., Kang, J.-J., & Liao, J.-W. (2007). Cardiovascular effects of herbicides and formulated adjuvants on isolated rat aorta and heart. Toxicology In Vitro, 21(4), 595–603. doi:10.1016/j.tiv.2006.12.007.

17.

Koyama, K., Koyama, K., & Goto, K. (1997). Cardiovascular effects of a herbicide containing glufosinate and a surfactant: In vitro and in vivo analyses in rats. Toxicology and Applied Pharmacology, 145(2), 409–414. doi:10.1006/taap.1997.8196.

18.

Testud, F., Grillet, J.-P., & Testud, F. (2007). Produits phytosanitaires: Intoxications aiguës et risques professionnels. Paris: Éditions Eska.

19.

Schiariti, M., Puddu, P. E., & Rouet, R. (1994). Multivariate prediction of spontaneous repetitive responses in ventricular myocardium exposed in vitro to simulated ischemic conditions. International Journal of Cardiology, 45(1), 9–22.

20.

De Liz Oliveira Cavalli, V. L., Cattani, D., Heinz Rieg, C. E., Pierozan, P., Zanatta, L., Benedetti Parisotto, E., & Zamoner, A. (2013). Roundup disrupts male reproductive functions by triggering calcium-mediated cell death in rat testis and Sertoli cells. Free Radical Biology and Medicine, 65, 335–346. doi:10.1016/j.freeradbiomed.2013.06.043.

21.

Pasdois, P., Quinlan, C. L., Rissa, A., Tariosse, L., Vinassa, B., Costa, A. D. T., & Garlid, K. D. (2007). Ouabain protects rat hearts against ischemia-reperfusion injury via pathway involving src kinase, mitoKATP, and ROS. American Journal of Physiology Heart and Circulatory Physiology, 292(3), H1470–H1478. doi:10.1152/ajpheart.00877.2006.

22.

Bechem, M., & Hoffmann, H. (1993). The molecular mode of action of the Ca agonist (−) BAY K 8644 on the cardiac Ca channel. Pflügers Archiv: European Journal of Physiology, 424(3–4), 343–353.

23.

King-Herbert, A. P., Sills, R. C., & Bucher, J. R. (2010). Commentary: Update on animal models for NTP studies. Toxicologic Pathology, 38(1), 180–181. doi:10.1177/0192623309356450.

24.

Puddu, P. E., Legrand, J.-C., Sallé, L., Rouet, R., & Ducroq, J. (2011). I(Kr) vs. I(Ks) blockade and arrhythmogenicity in normoxic rabbit Purkinje fibers: Does it really make a difference? Fundamental & Clinical Pharmacology, 25(3), 304–312. doi:10.1111/j.1472-8206.2010.00920.x.

25.

Rouet, R., Picard, S., Criniti, A., Monti, F., Dawodu, A. A., Ruvolo, G., & Puddu, P. E. (1999). Effects of bimakalim on human cardiac action potentials: Comparison with guinea pig and nicorandil and use-dependent study. Journal of Cardiovascular Pharmacology, 33(2), 255–263.

26.

Cheng, J. (2006). Evidences of the gender-related differences in cardiac repolarization and the underlying mechanisms in different animal species and human. Fundamental & Clinical Pharmacology, 20(1), 1–8. doi:10.1111/j.1472-8206.2005.00384.x.

27.

Spear, J. F., & Moore, E. N. (2000). Gender and seasonally related differences in myocardial recovery and susceptibility to sotalol-induced arrhythmias in isolated rabbit hearts. Journal of Cardiovascular Electrophysiology, 11(8), 880–887.

28.

Zahradníková, A., Minarovic, I., & Zahradník, I. (2007). Competitive and cooperative effects of Bay K8644 on the L-type calcium channel current inhibition by calcium channel antagonists. The Journal of Pharmacology and Experimental Therapeutics, 322(2), 638–645. doi:10.1124/jpet.107.122176.

29.

Séralini, G.-E., Mesnage, R., Defarge, N., Gress, S., Hennequin, D., Clair, E., & de Vendômois, J. S. (2013). Answers to critics: Why there is a long term toxicity due to a Roundup-tolerant genetically modified maize and to a Roundup herbicide. Food and Chemical Toxicology, 53, 476–483. doi:10.1016/j.fct.2012.11.007.

30.

Yao, J. A., & Tseng, G. N. (1997). Azimilide (NE-10064) can prolong or shorten the action potential duration in canine ventricular myocytes: Dependence on blockade of K, Ca, and Na channels. Journal of Cardiovascular Electrophysiology, 8(2), 184–198.

31.

Olorunsogo, O. O. (1990). Modification of the transport of protons and Ca2+ ions across mitochondrial coupling membrane by N-(phosphonomethyl)glycine. Toxicology, 61(2), 205–209.

32.

Schoner, W., & Scheiner-Bobis, G. (2007). Endogenous and exogenous cardiac glycosides and their mechanisms of action. American Journal of Cardiovascular Drugs: Drugs, Devices, and Other Interventions, 7(3), 173–189.

33.

Saini, H. K., & Dhalla, N. S. (2007). Sarcolemmal cation channels and exchangers modify the increase in intracellular calcium in cardiomyocytes on inhibiting Na+-K+-ATPase. American Journal of Physiology Heart and Circulatory Physiology, 293(1), H169–H181. doi:10.1152/ajpheart.00007.2007.

34.

Hoyer, K., Song, Y., Wang, D., Phan, D., Balschi, J., Ingwall, J. S., & Shryock, J. C. (2011). Reducing the late sodium current improves cardiac function during sodium pump inhibition by ouabain. The Journal of Pharmacology and Experimental Therapeutics, 337(2), 513–523. doi:10.1124/jpet.110.176776.

35.

Rohr, S., & Kucera, J. P. (1997). Involvement of the calcium inward current in cardiac impulse propagation: Induction of unidirectional conduction block by nifedipine and reversal by Bay K 8644. Biophysical Journal, 72(2 Pt 1), 754–766.

36.

Hondeghem, L. M. (1978). Validity of V max as a measure of the sodium current in cardiac and nervous tissues. Biophysical Journal, 23(1), 147–152. doi:10.1016/S0006-3495(78)85439-3.

37.

Rudy, Y. (2008). Molecular basis of cardiac action potential repolarization. Annals of the New York Academy of Sciences, 1123, 113–118. doi:10.1196/annals.1420.013.

38.

Jouve, R., Langlet, F., Puddu, P. E., Rolland, P. H., Guillen, J. C., Cano, J. P., & Serradimigni, A. (1986). Cicletanide improves outcome after left circumflex coronary artery occlusion-reperfusion in the dog. Journal of Cardiovascular Pharmacology, 8(1), 208–215.

39.

Picard, S., Rouet, R., Ducouret, P., Puddu, P. E., Flais, F., Criniti, A., & Gérard, J. L. (1999). KATP channels and «border zone» arrhythmias: Role of the repolarization dispersion between normal and ischaemic ventricular regions. British Journal of Pharmacology, 127(7), 1687–1695. doi:10.1038/sj.bjp.0702704.

40.

Li, Q., Lambrechts, M. J., Zhang, Q., Liu, S., Ge, D., Yin, R., & You, Z. (2013). Glyphosate and AMPA inhibit cancer cell growth through inhibiting intracellular glycine synthesis. Drug Design, Development and Therapy, 7, 635–643. doi:10.2147/DDDT.S49197.

41.

Gress, S., Lemoine, S., Séralini, G.-E., & Puddu, P.E. (2014). Glyphosate-based herbicides potently affect cardiovascular system in mammals: Review of the literature. Cardiovascular Toxicology. doi: 10.1007/s12012-014-9282-y.
Acknowledgments
We wish to thank Josefa de Flores Martos Borrego to her technical help for these experiments. We thank also Nature Vivante and CRIIGEN for fellowship grants to Steeve Gress during the development of his Doctoral Thesis to obtain PhD degree in Molecular and Cellular Biology of the University of Caen Basse-Normandie, France.
Conflict of interest
The authors declare that there are no conflicts of interest.
About this article
Cite this article
Gress, S., Lemoine, S., Puddu, P. et al. Cardiotoxic Electrophysiological Effects of the Herbicide Roundup® in Rat and Rabbit Ventricular Myocardium In Vitro. Cardiovasc Toxicol 15, 324–335 (2015). https://doi.org/10.1007/s12012-014-9299-2
Keywords
Roundup

Glyphosate

Action potential duration

Conduction blocks

Pro-arrhythmia

Calcium