Abstract
Some non-antiarrhythmic drugs have the undesirable property of delaying cardiac repolarization, an effect that can be measured empirically as a prolongation of the QT interval by surface electrocardiogram (ECG). The QT prolongation and proarrhythmia potential of famotidine are largely unknown, particularly in individuals that have cardiovascular risk factors such as abnormal electrolyte levels. Based on an analysis of QT/QTc intervals from a database of ECG recordings from a large Korean population (ECG-ViEW, 710,369 ECG recordings from 371,401 individuals), we observed that famotidine administration induced a prolonged QTc interval (above 480 ms, p < 0.05 compared to before-treatment, based on a McNemar test). Furthermore, famotidine induced QT prolongations in 10 out of 14 patients with hypocalcemia and 11 out of 13 patients with hypomagnesemia [difference of mean between before and after famotidine administration; 38.00 ms (95 % confidence interval 2.72–73.28) and 67.08 ms (95 % confidence interval 24.94–109.21), p < 0.05 and p < 0.01 by paired t test, respectively]. In vitro, the IC50 of famotidine for human-ether-a-go-go gene (hERG) channel inhibition was higher than 100 μM as determined by automated patch clamp hERG current assay, implying that hERG channel inhibition is not the underlying mechanism for QT prolongation. These results suggest that famotidine administration increases a proarrhythmic potential, especially in subjects with electrolytes imbalance.
Access options
Buy single article
Instant access to the full article PDF.
USD 39.95
Price excludes VAT (USA)
Tax calculation will be finalised during checkout.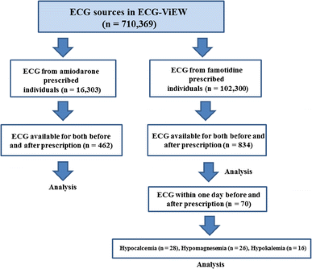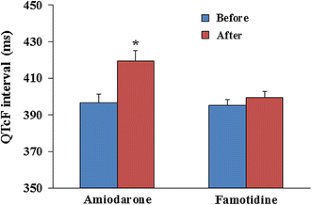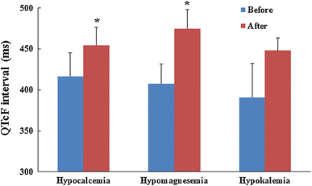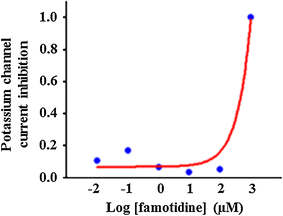 References
Shah, R. R. (2005). Drugs, QTc interval prolongation and final ICH E14 guideline : An important milestone with challenges ahead. Drug Safety: An International Journal of Medical Toxicology and Drug Experience, 28, 1009–1028.

Redfern, W. S., Carlsson, L., Davis, A. S., Lynch, W. G., MacKenzie, I., Palethorpe, S., et al. (2003). Relationships between preclinical cardiac electrophysiology, clinical QT interval prolongation and torsade de pointes for a broad range of drugs: Evidence for a provisional safety margin in drug development. Cardiovascular Research, 58, 32–45.

Darpo, B. (2010). The thorough QT/QTc study 4 years after the implementation of the ICH E14 guidance. British Journal of Pharmacology, 159, 49–57.

Stockbridge, N., Morganroth, J., Shah, R. R., & Garnett, C. (2013). Dealing with global safety issues: Was the response to QT-liability of non-cardiac drugs well coordinated? Drug Safety: An International Journal of Medical Toxicology and Drug Experience, 36, 167–182.

Lee, K. W., Kayser, S. R., Hongo, R. H., Tseng, Z. H., & Scheinman, M. M. (2004). Famotidine and long QT syndrome. The American Journal of Cardiology, 93, 1325–1327.

Sugiyama, A., Satoh, Y., Takahara, A., Nakamura, Y., Shimizu-Sasamata, M., Sato, S., et al. (2003). Famotidine does not induce long QT syndrome: Experimental evidence from in vitro and in vivo test systems. European Journal of Pharmacology, 466, 137–146.

Endo, T., Katoh, T., Kiuchi, K., Katsuta, Y., Shimizu, S., & Takano, T. (2000). Famotidine and acquired long QT syndrome. The American Journal of Medicine, 108, 438–439.

Park, M. Y., Yoon, D., Choi, N. K., Lee, J., Lee, K., Lim, H. S., et al. (2012). Construction of an open-access QT database for detecting the proarrhythmia potential of marketed drugs: ECG-ViEW. Clinical Pharmacology and Therapeutics, 92, 393–396.

Shah, R. R., & Morganroth, J. (2013). ICH E14 Q & A (R1) document: Perspectives on the updated recommendations on thorough QT studies. British Journal of Clinical Pharmacology, 75, 959–965.

Park, M. J., Lee, K. R., Shin, D. S., Chun, H. S., Kim, C. H., Ahn, S. H., et al. (2013). Predicted drug-induced bradycardia related cardio toxicity using a zebrafish in vivo model is highly correlated with results from in vitro tests. Toxicology Letters, 216, 9–15.

Ayad, R. F., Assar, M. D., Simpson, L., Garner, J. B., & Schussler, J. M. (2010). Causes and management of drug-induced long QT syndrome. Baylor University Medical Center Proceedings, 23, 250–255.

Schechter, E., Freeman, C. C., & Lazzara, R. (1984). Afterdepolarizations as a mechanism for the long QT syndrome: Electrophysiologic studies of a case. Journal of the American College of Cardiology, 3, 1556–1561.

Gunasekaran, T. S., & DuBrow, I. (1997). Cisapride-induced long QT interval: What is the role of ranitidine? The Journal of Pediatrics, 130, 679–680.

Nerbonne, J. M., & Kass, R. S. (2005). Molecular physiology of cardiac repolarization. Physiological Reviews, 85, 1205–1253.
Acknowledgments
This study was supported by 13171MFDS224 by Ministry of Food and Drug Safety, Republic of Korea.
Conflict of interest
The authors declare no conflict of interest.
Additional information
Jaesuk Yun and Eun Hwangbo have contributed equally to this work.
About this article
Cite this article
Yun, J., Hwangbo, E., Lee, J. et al. Analysis of an ECG Record Database Reveals QT Interval Prolongation Potential of Famotidine in a Large Korean Population. Cardiovasc Toxicol 15, 197–202 (2015). https://doi.org/10.1007/s12012-014-9285-8
Published:

Issue Date:

DOI: https://doi.org/10.1007/s12012-014-9285-8
Keywords
QT prolongation

Famotidine

ECG-ViEW

Regulation

hERG assay

Korean population