Abstract
Emblica officinalis (EO) has antioxidant properties that could improve redox-sensitive vascular, cardiac and renal changes associated with deoxycorticosterone acetate/1% NaCl high salt (DOCA/HS)-induced hypertension. We determined whether hydroalcoholic lyophilized extract of EO may influence DOCA/HS-induced hypertension by modulating activity of (p) eNOS and endogenous antioxidants. Hypertension was induced in rats by DOCA-salt (20 mg/kg, s.c.) twice weekly for 5 weeks and replacing drinking water with 1% NaCl solution. These rats received cotreatment of different doses of EO (75, 150 and 300 mg/kg/day) for 5 weeks. EO significantly decreased arterial blood pressure and heart rate along with cardiac and renal hypertrophy in a dose-dependent fashion as compared to DOCA control rats. Increased TBARS and decreased endogenous antioxidants including GSH, SOD and GSHPx activity in serum, heart and kidney tissues of hypertensive rats were also normalized. Furthermore, this antihypertensive activity of EO was also linked with increased serum NO, K+ levels and decreased Na+ levels. Moreover, EO robustly increased activated eNOS expression in heart. Our results demonstrate that EO reduces oxidative stress, prevents development and progression of hypertension as well as cardiac and renal hypertrophy in DOCA/HS-induced hypertension via modulation of activated eNOS, endogenous antioxidants, serum NO and electrolyte levels.
This is a preview of subscription content,
to check access.
Access this article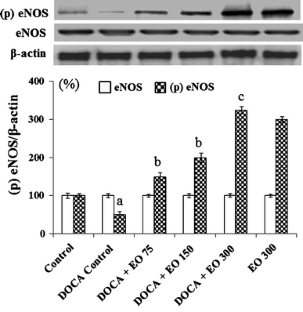 Similar content being viewed by others
References
Mittal, B. V., & Singh, A. K. (2010). Hypertension in the developing world: challenges and opportunities. American Journal of Kidney Diseases: the Official Journal of the National Kidney Foundation, 55, 590–598.

Ansell, B. J. (2005). Evidence for a combined approach to the management of hypertension and dyslipidemia. American Journal of Hypertension, 18, 1249–1257.

Ceriello, A. (2008). Possible role of oxidative stress in the pathogenesis of hypertension. Diabetes Care, 31, S181–S184.

Rybka, J., Kupczyk, D., Kędziora-Kornatowska, K., Motyl, J., Czuczejko, J., Szewczyk-Golec, K., et al. (2011). Glutathione-related antioxidant defense system in elderly patients treated for hypertension. Cardiovascular Toxicology, 11, 1–9.

Vassort, G., & Turan, B. (2010). Protective role of antioxidants in diabetes-induced cardiac dysfunction. Cardiovascular Toxicology, 10, 73–86.

Rodríguez-Iturbe, B., Franco, M., Tapia, E., Quiroz, Y., Johnson, R.J. (2011). Renal inflammation, autoimmunity and salt-sensitive hypertension. Clinical and Experimental Pharmacology & Physiology, Jan 19. [Epub ahead of print] PMID: 21251049.

Kim, H. Y., Okubo, T., Juneja, L. R., & Yokozawa, T. (2010). The protective role of amla (Emblica officinalis Gaertn.) against fructose-induced metabolic syndrome in a rat model. The British Journal of Nutrition, 103, 502–512.

Sharma, A., Sharma, M. K., & Kumar, M. (2009). Modulatory role of Emblica officinalis fruit extract against arsenic induced oxidative stress in Swiss albino mice. Chemico-Biological Interactions, 180, 20–30.

Khan, K. H., & Khan, K. H. (2009). Roles of Emblica officinalis in medicine—A review. Botany Research International, 2, 218–228.

Pozharitskaya, O. N., Ivanova, S. A., Shikov, A. N., & Makarov, V. G. (2007). Separation and evaluation of free radical-scavenging activity of phenol components of Emblica officinalis extract by using an HPTLC-DPPH method. Journal of Separation Science, 30, 1250–1254.

Chen, X., Touyz, R. M., Park, J. B., & Schiffrin, E. L. (2001). Antioxidant effects of vitamins C and E are associated with altered activation of vascular NADPH oxidase and superoxide dismutase in stroke-prone SHR. Hypertension, 38, 606–611.

Ulker, S., McKeown, P. P., & Bayraktutan, U. (2003). Vitamins reverse endothelial dysfunction through regulation of eNOS and NAD(P)H oxidase activities. Hypertension, 41, 534–539.

Ohkawa, H., Oohishi, N., & Yagi, N. (1979). Assay for lipid peroxides in animal tissues by thiobarbituric acid reaction. Analytical Biochemistry, 95, 351–358.

Moron, M. S., Depierre, J. W., & Mannervik, B. (1979). Levels of glutathione, glutathione reductase and glutathione S-transferase activities in rat lung and liver. Biochimica et Biophysica Acta, 582, 67–78.

Lawrence, R. A., & Burk, R. F. (1976). Glutathione peroxidase activity in selenium-deficient rat liver. Biochemical and Biophysical Research Communications, 71, 952–958.

Marklund, S., & Marklund, G. (1974). Involvement of the superoxide anion radical in the autoxidation of pyrogallol and a convenient assay for superoxide dismutase. European Journal of Biochemistry, 47, 469–474.

Bradford, M. M. (1976). A rapid and sensitive method for quantization of microgram quantities effects of age and caloric restriction. Analytical Biochemistry, 72, 248–254.

Bankar, G. R., Nayak, P. G., Bansal, P., Paul, P., Pai, K. S., Singla, R. K., et al. (2011). Vasorelaxant and antihypertensive effect of Cocos nucifera Linn. endocarp on isolated rat thoracic aorta and DOCA salt-induced hypertensive rats. Journal of Ethnopharmacology, 134, 50–54.

Chen, Y. Y., Ji, W., Du, J. R., Yu, D. K., He, Y., Yu, C. X., et al. (2010). Preventive effects of low molecular mass potassium alginate extracted from brown algae on DOCA salt-induced hypertension in rats. Biomedicine and Pharmacotherapy, 64, 291–295.

Kwak, C. J., Kubo, E., Fujii, K., Nishimura, Y., Kobuchi, S., Ohkita, M., et al. (2009). Antihypertensive effect of French maritime pine bark extract (Flavangenol): possible involvement of endothelial nitric oxide-dependent vasorelaxation. Journal of Hypertension, 27, 92–101.

Berthon, N., Laurant, P., Hayoz, D., Fellmann, D., Brunner, H. R., & Berthelot, A. (2002). Magnesium supplementation and deoxycorticosterone acetate–salt hypertension: effect on arterial mechanical properties and on activity of endothelin-1. Canadian Journal of Physiology and Pharmacology, 80, 553–561.

Zicha, J., Dobešová, Z., Behuliak, M., Kuneš, J., Vaněčková, I. (2010). Preventive dietary potassium supplementation in young salt-sensitive Dahl rats attenuates development of salt hypertension by decreasing sympathetic vasoconstriction. Acta Physiologica, Dec 24. [Epub ahead of print] PMID: 21199401.

Wu, R., Millette, E., Wu, L., & de Champlain, J. (2001). Enhanced superoxide anion formation in vascular tissues from spontaneously hypertensive and desoxycorticosterone acetate-salt hypertensive rats. Journal of Hypertension, 19, 741–748.

Jaijoy, K., Soonthornchareonnon, N., Lertprasertsuke, N., Panthong, A., & Sireeratawong, S. (2010). Acute and chronic oral toxicity of standardized water extract from the fruit of Phyllanthus emblica Linn. International Journal of Applied Research in Natural Products, 3, 48–58.
Acknowledgments
This study was supported by a grant from institutional funding agency, AIIMS, New Delhi-110029, India. We are thankful to Sanat product limited, New Delhi, India, for kindly providing hydroalcoholic lyophilized extract of Emblica officinalis as a gift sample.
Conflict of interest
None.
About this article
Cite this article
Bhatia, J., Tabassum, F., Sharma, A.K. et al. Emblica officinalis Exerts Antihypertensive Effect in a Rat Model of DOCA-Salt-Induced Hypertension: Role of (p) eNOS, NO and Oxidative Stress. Cardiovasc Toxicol 11, 272–279 (2011). https://doi.org/10.1007/s12012-011-9122-2
Published:

Issue Date:

DOI: https://doi.org/10.1007/s12012-011-9122-2
Keywords