Abstract
We made an attempt to evaluate the preventive effects of vanillic acid on isoproterenol-induced myocardial infarcted rats. Rats were pretreated with vanillic acid (5 and 10 mg/kg) daily for 10 days. After pretreatment, rats were injected with isoproterenol (100 mg/kg) at an interval of 24 h for 2 days to induce myocardial infarction. Isoproterenol induction increased the activity of serum creatine kinase-MB and increased the levels of serum and heart cholesterol, triglycerides, free fatty acids in rats. It increased the levels of serum low density and very low density lipoprotein cholesterol and decreased the levels of high-density lipoprotein cholesterol. Also, the activity of 3-hydroxy-3methyl glutaryl-coenzyme-A-reductase in the plasma and liver was increased, and lecithin cholesterol acyl transferase activity in the plasma and liver was decreased in isoproterenol-induced rats. Furthermore, isoproterenol-induced rats showed a decrease in myocardial expression of B-cell leukemia/lymphoma-2(bcl-2) gene and an increase in myocardial expression of bcl-2 associated-x (bax)-gene. Vanillic acid pretreated isoproterenol-induced rats positively altered all the above-mentioned biochemical parameters. Vanillic acid pretreatment also reduced myocardial infarct size in myocardial infarcted rats. In vitro study confirmed the potent free radical scavenging effect of vanillic acid. The observed effects are due to free radical scavenging effects of vanillic acid. This study may have a significant impact on myocardial infarcted patients.
Access options
Buy single article
Instant access to the full article PDF.
USD 39.95
Price excludes VAT (USA)
Tax calculation will be finalised during checkout.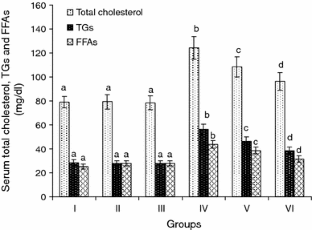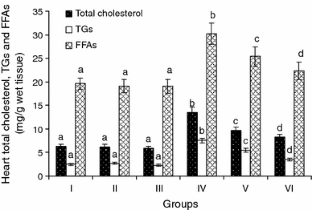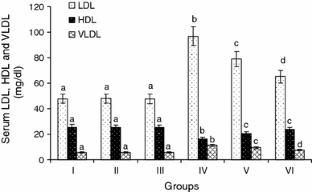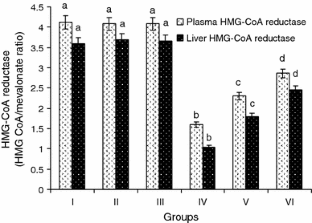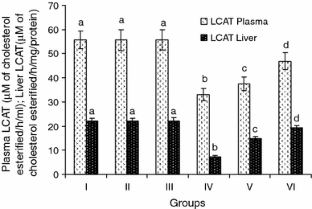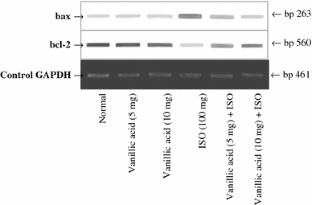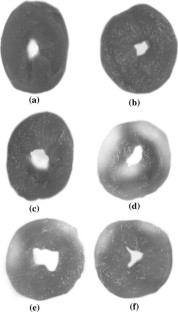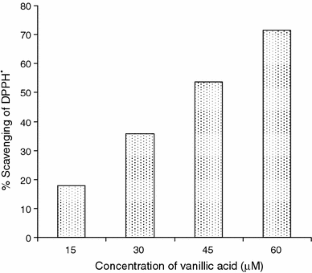 References
De Bono, D. P., & Boon, N. A. (1992). Diseases of the cardiovascular system. In C. R. W. Edwards & I. A. D. Boucheir (Eds.), Davidson's principles and practice of medicine (pp. 249–340). Hong Kong: Churchill Livingstone.

Sushama Kumari, S., Jayadeep, A., Kumar, J. S., & Menon, V. P. (1989). Effect of carnitine on malondialdehyde, taurine and glutathione levels in heart of rats subjected to myocardial stress by isoproterenol. Indian Journal of Experimental Biology, 27, 134–137.

Prabhu, S. N., & Shyamala Devi, C. S. (2006). Efficacy of mangiferin on serum and heart tissue lipids in rats subjected to isoproterenol induced cardiotoxicity. Toxicology, 228, 135–139.

Goldstein, J. L., & Brown, M. S. (1984). Progress in understanding the LDL receptor and HMG-CoA reductase, two membrane proteins that regulate the plasma cholesterol. Journal of Lipid Research, 25, 1450–1461.

Kunapuli, S., Rosanio, S., & Schwarz, E. R. (2006). How do cardiomyocytes die? Apoptosis and autophagic cell death in cardiac myocytes. Journal of Cardiac Failure, 12, 381–391.

Garcia, L., Martinou, I., Tsujimoto, Y., & Martinou, J. C. (1992). Prevention of programmed cell death of sympathetic neurons by the bcl-2 proto-oncogene. Science, 258, 302–304.

Allsopp, T. E., Wyatt, S., Paterson, H. F., & Davies, A. M. (1993). The proto-oncogene bcl-2 can selectively rescue neurotrophic factor-dependent neurons from apoptosis. Cell, 73, 295–307.

Pinon, L. G. P., Middleton, G., & Davies, A. M. (1997). Bcl-2 is required for cranial sensory neuron survival at defined stages of embryonic development. Development, 124, 4173–4178.

Chao, D. T., & Korsmeyer, S. J. (1998). Bcl-2 family: Regulators of cell death. Annual Review of Immunology, 16, 395–419.

Lesage-Meessen, L., Delattre, M., Haon, M., Thibault, J. F., Ceccaldi, B. C., Brunerie, P., et al. (1996). A two-step bioconversion process for vanillin production from ferulic acid combining Aspergillus niger and Pycnoporus cinnabarinus. Journal of Biotechnology, 50, 107–113.

Civolani, C., Barghini, P., Roncetti, A. R., Ruzzi, M., & Schiesser, A. (2000). Bioconversion of ferulic acid into vanillic acid by means of a vanillate-negative mutant of Pseudomonas fluorescens strain BF13. Applied and Environmental Microbiology, 66, 2311–2317.

Duke, J. A. (1992). Handbook of phytochemical constituents of GRAS herbs and other economic plants. Boca Raton: CRC Press.

Varma, R. S., Shukla, A., & Chatterjee, R. K. (1993). Evaluation of vanillic acid analogues as a new class of antifilarial agents. Indian Journal of Experimental Biology, 31, 819–821.

Rai, R. P., & Maurya, M. S. (1966). Synthesis and evaluation of antibacterial activity of vanillin derivatives. Journal of Science and Technology (Peshawar), 4, 275–276.

Delaquis, P., Stanich, K., & Toivonen, P. (2005). Effect of pH on the inhibition of Listeria spp. by vanillin and vanillic acid. Journal of Food Protection, 68, 1472–1476.

Tsuda, H., Uehara, N., Iwahori, Y., Asamoto, M., Ligo, M., Nagao, M., et al. (1994). Chemopreventive effects of beta-carotene, alpha-tocopherol and five naturally occurring antioxidants on initiation of hepatocarcinogenesis by 2-amino-3-methylimidazo [4, 5] quinoline in the rat. Japanese Journal of Cancer Research, 85, 1214–1219.

Folch, J., Lees, M., & Sloane, S. G. H. (1957). A simple method for the isolation and purification of total lipids from animal tissues. Journal of Biological Chemistry, 226, 497–509.

Zlatkis, A., Zak, B., & Boyle, A. J. (1953). A new method for the direct determination of serum cholesterol. Journal of Laboratory and Clinical Medicine, 41, 486–492.

Fossati, P., & Prencipe, L. (1982). Serum triglycerides determined colorimetrically with an enzyme that produces hydrogen peroxide. Clinical Chemistry, 28, 2077–2080.

Falholt, K., Lund, B., & Falholt, W. (1973). An easy colorimetric micro method for routine determination of free fatty acids in plasma. Clinica Chimica Acta, 46, 105–111.

Rao, A. V., & Ramakrishnan, S. (1975). Indirect assessment of hydroxy methyl glutaryl CoA reductase activity in liver tissue. Clinical Chemistry, 21, 1523–1525.

Hitz, J., Steinmetz, J., & Siest, G. (1983). Plasma lecithin: Cholesterol acyltransferase-reference values and effects of xenobiotics. Clinica Chimica Acta, 133, 85–96.

Lowry, O. H., Rosebrough, N. J., Farr, A. L., & Randall, R. J. (1951). Protein measurement with Folin-phenol reagent. Journal of Biological Chemistry, 193, 265–275.

Lie, J. T., Pairolero, P. C., Holley, K. E., & Titus, J. L. (1975). Macroscopic enzyme mapping verification of large, homogenous, experimental myocardial infarcts of predictable size and location in dogs. Journal of Thoracic and Cardiovascular Surgery, 69, 599–605.

Mensor, L. L., Menezes, F. S., Leitao, G. G., Reis, A. S., dos Santos, T. C., Coube, C. S., et al. (2001). Screening of Brazilian plant extracts for antioxidant activity by the use of DPPH free radical method. Phytotherapy Research, 15, 127–130.

Anandan, R., Mathew, S., Sankar, T. V., & Viswanathan Nair, P. G. (2007). Protective effect of n-3 polyunsaturated fatty acids concentrate on isoproterenol induced myocardial infarction in rats. Prostaglandins Leukotrienes and Essential Fatty Acids, 76, 153–158.

Sushama Kumari, S., Varghese, A., Muraleedharan, D., & Menon, V. P. (1990). Protective action of aspirin in experimental myocardial infarction induced by isoproterenol in rats and its effect on lipid peroxidation. Indian Journal of Experimental Biology, 28, 480–485.

Subramanian, R., Ramaswamy, M., & Wasan, K. M. (2003). Role of lipid and lipoprotein metabolizing enzymes in the development of atherosclerosis. Indian Journal of Experimental Biology, 41, 14–25.

Jacksen, G. (1998). Metabolic agents for stable angina. Heart and Metabolism, 1, 10–11.

Esterbauer, H., Gebicki, J., Puhl, H., & Jurgens, G. (1992). The role of lipid peroxidation and antioxidants in oxidative modifications of LDL. Free Radical Biology and Medicine, 13, 341–390.

Prabu, S., Jainu, M., Sabitha, K. E., & Devi, C. S. (2006). Role of mangiferin on biochemical alterations and antioxidant status in isoproterenol-induced myocardial infarction in rats. Journal of Ethnopharmacology, 107, 126–133.

Donnelly, T. J., Sievers, R. E., Vissern, F. L., Welch, W. J., & Wolfe, C. L. (1992). Heat shock protein induction in rat hearts. A role for improved myocardial salvage after ischemia and reperfusion. Circulation, 85, 769–778.

Nishizawa, M., Kohno, M., Nishimura, M., Kitagawa, A., & Niwano, Y. (2005). Non-reductive scavenging of 1, 1-diphenyl-2-picrylhydrazyl (DPPH) by peroxyradical: A useful method for quantitative analysis of peroxyradical. Chemical and Pharmaceutical Bulletin, 53, 714–716.
About this article
Cite this article
Prince, P.S.M., Dhanasekar, K. & Rajakumar, S. Preventive Effects of Vanillic Acid on Lipids, Bax, Bcl-2 and Myocardial Infarct Size on Isoproterenol-Induced Myocardial Infarcted Rats: A Biochemical and In Vitro Study. Cardiovasc Toxicol 11, 58–66 (2011). https://doi.org/10.1007/s12012-010-9098-3
Published:

Issue Date:

DOI: https://doi.org/10.1007/s12012-010-9098-3
Keywords