Abstract
Trace elements (TE) contamination of foods and beverages constitutes a public health issue. In this context, the main objective of this study was to determine metals and metalloids content in coffee and to assess the health risks associated with contaminated coffee consumption. To this end, 44 samples of coffee from different origins, forms, and packaging types were analyzed. TE analysis was performed by ICP-MS after digestion. The data analysis was based on principal components analysis (PCA) and analysis of variance (ANOVA). Health risk assessment was determined by the estimated daily intake (EDI), target hazard quotient (THQ), and hazard index (HI). The findings showed that TE levels in coffee varied widely. The highest levels were related to aluminum (Al) (59.88 ± 54.86 mg/kg), manganese (Mn) (16.26 ± 24.59 mg/kg), copper (Cu) (11.60 ± 11.55 mg/kg), and cadmium (Cd) (9.92 ± 10.32 mg/kg). In terms of coffee form and packaging type, a significant difference (P < 0.0001) was observed in nickel (Ni), chromium (Cr), zinc (Zn), cobalt (Co), Cu, Mn, and Al content. The highest EDI was found in Al (0.0109 mg/kg BW/day) in ground coffee packaged in capsules. In terms of chronic daily intake (CDI), Cd and Al were above the reference dose (RfD). THQ of these elements were greater than 1.0, and HI was above the value of 1.0 in different forms of coffee. More interdisciplinary research on the relationships between the metal concentrations in coffee samples and those in feed, water, and soil would be quite interesting.
Access options
Buy single article
Instant access to the full article PDF.
USD 39.95
Price excludes VAT (USA)
Tax calculation will be finalised during checkout.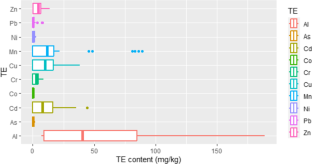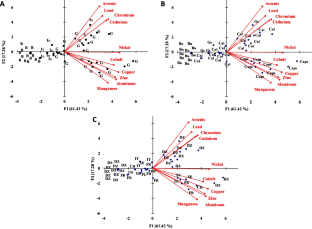 Data Availability
The data collected and analyzed for this study can be shared upon request.
References
Butt MS, Sultan MT (2011) Coffee and its consumption: benefits and risks. Crit Rev Food Sci Nutr 51(4):363–373. https://doi.org/10.1080/10408390903586412

Clarke R, Vitzthum OG (2001) Coffee: recent developments. Blackwell Science

Prakash NS, Combes MC, Somanna N, Lashermes P (2002) AFLP analysis of introgression in coffee cultivars (Coffea arabica L) derived from a natural interspecific hybrid. Euphytica 124:265

Ni J, Wang P, Zheng T, Lv L, Peng H (2021) Consumption of coffee and risk of gestational diabetes mellitus: a systematic review and meta-analysis of observational studies. Front Nutr 8:739359. https://doi.org/10.3389/fnut.2021.739359

Johnston KL, Clifford MN, Morgan LM (2003) Coffee acutely modifies gastrointestinal hormone secretion and glucose tolerance in humans: glycemic effects of chlorogenic acid and caffeine. Am J Clin Nutr 78(4):728–733. https://doi.org/10.1093/ajcn/78.4.728

van Dijk AE, Olthof MR, Meeuse JC, Seebus E, Heine RJ, van Dam RM (2009) Acute effects of decaffeinated coffee and the major coffee components chlorogenic acid and trigonelline on glucose tolerance. Diabetes Care 32(6):1023–1025. https://doi.org/10.2337/dc09-0207

Shearer J, Sellars EA, Farah A, Graham TE, Wasserman DH (2007) Effects of chronic coffee consumption on glucose kinetics in the conscious rat. Can J Physiol Pharmacol 85(8):823–830. https://doi.org/10.1139/y07-070

Zhang WL, Lopez-Garcia E, Li TY, Hu FB, Van Dam RM (2009) Coffee consumption and risk of cardiovascular events and all-cause mortality among women with type 2 diabetes. Diabetologia 52:810–817

Cornelis MC, El-Sohemy A, Kabagambe EK, Campos H (2006) Coffee, CYP1A2 genotype, and risk of myocardial infarction. JAMA 295(10):1135–1141. https://doi.org/10.1001/jama.295.10.1135

Chaudhary NS, Grandner MA, Jackson NJ, Chakravorty S (2016) Caffeine consumption, insomnia, and sleep duration: results from a nationally representative sample. Nutrition 32(11):1193–1199. https://doi.org/10.1016/j.nut.2016.04.005

Liu J, Sui X, Lavie CJ, Hebert JR, Earnest CP, Zhang J, Blair SN (2013) Association of coffee consumption with all-cause and cardiovascular disease mortality. Mayo Clinic Proc 88(10):1066–1074. https://doi.org/10.1016/j.mayocp.2013.06.020

Pakshir K, Dehghani A, Nouraei H, Zareshahrabadi Z, Zomorodian K (2021) Evaluation of fungal contamination and ochratoxin A detection in different types of coffee by HPLC-based method. J Clin Lab Anal 35(11):e24001. https://doi.org/10.1002/jcla.24001

Kowalska G (2021) The safety assessment of toxic metals in commonly used herbs, spices, tea, and coffee in Poland. Int J Environ Res Public Health 18(11):5779. https://doi.org/10.3390/ijerph18115779

Kessler R (2013) The Minamata Convention on Mercury: a first step toward protecting future generations. Environ Health Perspect 121(10):A304–a309. https://doi.org/10.1289/ehp.121-A304

Mishra S, Bharagava RN, More N, Yadav A, Zainith S, Mani S, Chowdhary P (2019) Heavy metal contamination: an alarming threat to environment and human health. In: Environmental biotechnology: For sustainable future. Springer, pp 103–125. https://doi.org/10.1007/978-981-10-7284-0_5

Iftikhar B, Arif S, Siddiqui S, Khattak R (2014) Assessment of toxic metals in dairy milk and animal feed in Peshawar, Pakistan. Br Biotechnol J 4(8):883–893

Abdulkhaliq A, Swaileh K, Hussein RM, Matani M (2012) Levels of metals (Cd, Pb, Cu and Fe) in cow's milk, dairy products and hen's eggs from the West Bank, Palestine. Int Food Res J 19(3):1089–1094

Albals D, Al-Momani IF, Issa R, Yehya A (2021) Multi-element determination of essential and toxic metals in green and roasted coffee beans: a comparative study among different origins using ICP-MS. Sci Prog 104(2):00368504211026162

Morgan JN (1999) Effects of processing on heavy metal content of foods. In: Jackson LS, Knize MG, Morgan JN (eds) Impact of processing on food safety. Springer US, Boston, MA, pp 195–211. https://doi.org/10.1007/978-1-4615-4853-9_13

Bandara R, Indunil GM (2022) Food packaging from recycled papers: chemical, physical, optical properties and heavy metal migration. Heliyon 8(10):e10959. https://doi.org/10.1016/j.heliyon.2022.e10959

National Research Council (1983) Risk assessment in the federal government: managing the process. National Academies Press

Kan X, Dong Y, Feng L, Zhou M, Hou H (2021) Contamination and health risk assessment of heavy metals in China's lead–zinc mine tailings: a meta–analysis. Chemosphere 267:128909. https://doi.org/10.1016/j.chemosphere.2020.128909

Boudebbouz A, Boudalia S, Bousbia A, Habila S, Boussadia MI, Gueroui Y (2021) Heavy metals levels in raw cow milk and health risk assessment across the globe: a systematic review. Sci Total Environ 751:141830. https://doi.org/10.1016/j.scitotenv.2020.141830

Boudebbouz A, Boudalia S, Bousbia A, Gueroui Y, Boussadia MI, Chelaghmia ML, Zebsa R, Affoune AM, Symeon GK (2022) Determination of heavy metal levels and health risk assessment of raw cow milk in Guelma Region Algeria. Biol Trace Elem Res. https://doi.org/10.1007/s12011-022-03308-1

Bousbia A, Boudalia S, Gueroui Y, Ghebache R, Amrouchi M, Belase B, Meguelati S, Belkheir B, Benidir M, Chelaghmia M (2019) Heavy metals concentrations in raw cow milk produced in the different livestock farming types in Guelma province (Algeria): contamination and risk assessment of consumption. JAPS: J Anim Plant Sci 29 (2);386

Bella GD, Licata P, Potortì AG, Crupi R, Nava V, Qada B, Rando R, Bartolomeo G, Dugo G, Turco VL (2022) Mineral content and physico-chemical parameters of honey from North regions of Algeria. Natural Product Research 36(2):636–643. https://doi.org/10.1080/14786419.2020.1791110

Mehdi Y, Mutlaq A, Al-Balas Q, Azzi E, Bouadjela L, Taïbi N, Dakiche H, Touati L, Boudriche L, Bachari K (2018) Physicochemical characterization and determination of chloramphenicol residues and heavy metals in Algerian honeys. Environ Sci Pollut Res Int 25(33):33322–33333. https://doi.org/10.1007/s11356-018-3241-2

Demirezen D, Uruç K (2006) Comparative study of trace elements in certain fish, meat and meat products. Meat Science 74(2):255–260. https://doi.org/10.1016/j.meatsci.2006.03.012

Coffee - Algeria. Available online: https://www.statista.com/outlook/cmo/hot-drinks/coffee/algeria (accessed on 11/01/2023), 2022 (2022).

Škrbić B, Živančev J, Mrmoš N (2013) Concentrations of arsenic, cadmium and lead in selected foodstuffs from Serbian market basket: estimated intake by the population from the Serbia. Food Chem Toxicol 58:440–448. https://doi.org/10.1016/j.fct.2013.05.026

Rohman A, Wijayanti E, Development and validation of atomic absorption spectrometry for the determination of zink and mercury analyzer for determination of Mercury in cream cosmetics. J Food and Pharma Sci2015 3 (2). https://doi.org/10.14499/jfps

Atek M, Laid Y, Mezimeche N, Boutekdjiret L, Lebcir H (2010) L'obésité chez l'adulte en Algérie. Bulletin de l'institut national de santé publique

USEPA-IRIS, US Environmental Protection Agency)'s Integrated Risk Information System. (2002)

Bandara SB, Towle KM, Monnot AD (2020) A human health risk assessment of heavy metal ingestion among consumers of protein powder supplements. Toxicol Rep 7:1255–1262. https://doi.org/10.1016/j.toxrep.2020.08.001

Cherfi A, Abdoun S, Gaci O (2014) Food survey: levels and potential health risks of chromium, lead, zinc and copper content in fruits and vegetables consumed in Algeria. Food Chem Toxicol 70:48–53. https://doi.org/10.1016/j.fct.2014.04.044

R Development Core Team (2018) R: a language and environment for statistical computing. R Foundation for Statistical Computing, Vienna, Austria

Omeje KO, Ezema BO, Okonkwo F, Onyishi NC, Ozioko J, Rasaq WA, Sardo G, Okpala COR (2021) Quantification of heavy metals and pesticide residues in widely consumed Nigerian food crops using atomic absorption spectroscopy (AAS) and gas chromatography (GC). Toxins 13(12):870. https://doi.org/10.3390/toxins13120870

Pigozzi MT, Passos FR, Mendes FQ (2018) Quality of commercial coffees: heavy metal and ash contents. J Food Qual 2018:5908463. https://doi.org/10.1155/2018/5908463

Rehman K, Fatima F, Waheed I, Akash MSH (2018) Prevalence of exposure of heavy metals and their impact on health consequences. J Cell Biochem 119:157–184

Nedzarek A, Torz A, Karakiewicz B, Clark JS, Laszczynska M, Kaleta A, Adler G (2013) Concentrations of heavy metals (Mn, Co, Ni, Cr, Ag, Pb) in coffee. Acta Biochim Pol 60(4):623–627

Varady M, Slusarczyk S, Borzikova J, Hankova K, Vierikova M, Marcincak S, Popelka P (2021) Heavy-metal contents and the impact of roasting on polyphenols, caffeine, and acrylamide in specialty coffee beans. Foods 10(6). https://doi.org/10.3390/foods10061310

Adler G, Nedzarek A, Torz A (2019) Concentrations of selected metals (NA, K, CA, MG, FE, CU, ZN, AL, NI, PB, CD) in coffee. Zdr Varst 58(4):187–193. https://doi.org/10.2478/sjph-2019-0024

Winiarska-Mieczan A, Kwiatkowska K, Kwiecien M, Zaricka E (2021) Assessment of the risk of exposure to cadmium and lead as a result of the consumption of coffee infusions. Biol Trace Elem Res 199:2420–2428

Alamri MS, Qasem AAA, Mohamed AA, Hussain S, Ibraheem MA, Shamlan G, Alqah HA, Qasha AS (2021) Food packaging's materials: a food safety perspective. Saudi. J Biol Sci 28:4490–4499

Mirza A, King A, Troakes C, Exley C (2017) Aluminium in brain tissue in familial Alzheimer's disease. J Trace Elem Med Biol 40:30–36. https://doi.org/10.1016/j.jtemb.2016.12.001

Exley C, Clarkson E (2020) Aluminium in human brain tissue from donors without neurodegenerative disease: a comparison with Alzheimer's disease, multiple sclerosis and autism. Sci Rep 10(1):7770. https://doi.org/10.1038/s41598-020-64734-6

Chen P, Bornhorst J, Aschner M (2018) Manganese metabolism in humans. Front Biosci (Landmark Ed) 23:1655–1679. https://doi.org/10.2741/4665

Erikson KM, Aschner M (2019) Manganese: its role in disease and health. Met Ions Life Sci 19:253–266. https://doi.org/10.1515/9783110527872-016

Uriu-Adams JY, Keen CL (2005) Copper, oxidative stress, and human health. Mol Aspects Med 26(4-5):268–298. https://doi.org/10.1016/j.mam.2005.07.015

Roohani N, Hurrell R, Kelishadi R, Schulin R (2013) Zinc and its importance for human health: an integrative review. J Res Med Sci 18(2):144–157

Xu Z, Wang P, Wang H, Yu ZH, Au-Yeung HY, Hirayama T, Sun H, Yan A (2019) Zinc excess increases cellular demand for iron and decreases tolerance to copper in Escherichia coli. J Biol Chem 294(45):16978–16991. https://doi.org/10.1074/jbc.RA119.010023

Ratnaike RN (2003) Acute and chronic arsenic toxicity. Postgrad Med J 79(933):391–396. https://doi.org/10.1136/pmj.79.933.391

Naujokas MF, Anderson B, Ahsan H, Aposhian HV, Graziano JH, Thompson C, Suk WA (2013) The broad scope of health effects from chronic arsenic exposure: update on a worldwide public health problem. Environ Health Perspect 121(3):295–302. https://doi.org/10.1289/ehp.1205875

States JC, Srivastava S, Chen Y, Barchowsky A (2009) Arsenic and cardiovascular disease. Toxicol Sci 107(2):312–323. https://doi.org/10.1093/toxsci/kfn236

Seilkop SK, Oller AR (2003) Respiratory cancer risks associated with low-level nickel exposure: an integrated assessment based on animal, epidemiological, and mechanistic data. Regul Toxicol Pharmacol 37(2):173–190. https://doi.org/10.1016/s0273-2300(02)00029-6

Lamson DW, Plaza SM (2002) The safety and efficacy of high-dose chromium. Altern Med Rev 7(3):218–235

Masharani U, Gjerde C, McCoy S et al (2012) Chromium supplementation in non-obese non-diabetic subjects is associated with a decline in insulin sensitivity. BMC Endocr Disord:12 (31). https://doi.org/10.1186/1472-6823-12-31

Asbaghi O, Naeini F, Ashtary-Larky D, Kaviani M, Rezaei Kelishadi M, Eslampour E, Moradi S, Mirzadeh E, Clark CCT, Naeini AA (2021) Effects of chromium supplementation on blood pressure, body mass index, liver function enzymes and malondialdehyde in patients with type 2 diabetes: A systematic review and dose-response meta-analysis of randomized controlled trials. Complement Ther Med 60:102755. https://doi.org/10.1016/j.ctim.2021.102755

Hossini H, Shafie B, Niri AD, Nazari M, Esfahlan AJ, Ahmadpour M, Nazmara Z, Ahmadimanesh M, Makhdoumi P, Mirzaei N, Hoseinzadeh E (2022) A comprehensive review on human health effects of chromium: insights on induced toxicity. Environ Sci Pollut Res Int 29(47):70686–70705. https://doi.org/10.1007/s11356-022-22705-6

Meyer PA, Brown MJ, Falk H (2008) Global approach to reducing lead exposure and poisoning. Mutat Res 659(1-2):166–175. https://doi.org/10.1016/j.mrrev.2008.03.003

Wani AL, Ara A, Usmani JA (2015) Lead toxicity: a review. Interdiscip Toxicol 8(2):55–64. https://doi.org/10.1515/intox-2015-0009

Spivey A (2007) The weight of lead. Effects add up in adults. Environ Health Perspect 115(1):A30–A36. https://doi.org/10.1289/ehp.115-a30

USEPA-IRIS, US Environmental Protection Agency)'s Integrated Risk Information System USEPA-IRIS. (2002)

Taghizadeh SF, Azizi M, Hassanpourfard G, Rezaee R, Karimi G (2022) Assessment of carcinogenic and non-carcinogenic risk of exposure to metals via consumption of coffee, tea, and herbal tea in Iranians. Biol Trace Elem Res:1–8. https://doi.org/10.1007/s12011-022-03239-x

Wang X, Sato T, Xing B, Tao S (2005) Health risks of heavy metals to the general 375 public in Tianjin, China via consumption of vegetables and fish. Sci Total 376 Environ 350:28–37
Ethics declarations
Conflict of Interest
The authors declared no competing interests.
Additional information
Publisher's Note
Springer Nature remains neutral with regard to jurisdictional claims in published maps and institutional affiliations.
Rights and permissions
Springer Nature or its licensor (e.g. a society or other partner) holds exclusive rights to this article under a publishing agreement with the author(s) or other rightsholder(s); author self-archiving of the accepted manuscript version of this article is solely governed by the terms of such publishing agreement and applicable law.
About this article
Cite this article
Anissa, Z., Sofiane, B., Adda, A. et al. Evaluation of trace metallic element levels in coffee by icp-ms: a comparative study among different origins, forms, and packaging types and consumer risk assessment. Biol Trace Elem Res 201, 5455–5467 (2023). https://doi.org/10.1007/s12011-023-03582-7
Received:

Accepted:

Published:

Issue Date:

DOI: https://doi.org/10.1007/s12011-023-03582-7
Keywords