Abstract
Some studies have suggested an association between serum copper and bone density. Few studies have explored the association between copper intake and osteoporosis and bone mineral density (BMD). Our research aims to assess the associations of copper intake with the risk of osteoporosis in United States adults using the National Health and Nutritional Examination Surveys (NHANES). A total of 8224 individuals were included in our study. Osteoporosis was defined that BMD values surpass 2.5 standard deviations (SD) below the mean of the young adult reference group. Copper intake from diets and supplements was estimated by using two 24-h recall surveys. After adjustment for all the covariates of interest, the odds ratios (ORs) (95% confidence interval (CI)) between the risk of osteoporosis and total copper intake across quartiles 3 and 4 compared with quartile 1 were 0.48 (0.31–0.74) (P < 0.01) and 0.41 (0.26–0.65) (P < 0.01), respectively. The mean total femur BMD and total spine BMD of the highest dietary copper intake quartile (Cu 1.51 mg/d) was 0.03 g/cm2 and 0.02 g/cm2 greater than the lowest quartile. Our results indicate that dietary and total copper intake was positively associated with increasing BMD in US adults and negatively associated with the risk of osteoporosis in US adults.
Access options
Buy single article
Instant access to the full article PDF.
USD 39.95
Price excludes VAT (USA)
Tax calculation will be finalised during checkout.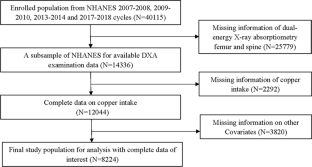 Data Availability
The data of this study will be made available on reasonable request.
Code Availability
The code of this study will be made available on reasonable request.
Acknowledgements
The authors thank the National Center for Health Statistics of the Centers for Disease Control and Prevention for sharing the data.
Ethics declarations
Ethics Approval
NHANES was approved by the National Center for Health Statistics Research Ethics Review Board.
Consent to Participate
Not applicable.
Consent for Publication
Not applicable.
Competing Interests
The authors declare no competing interests.
Additional information
Publisher's Note
Springer Nature remains neutral with regard to jurisdictional claims in published maps and institutional affiliations.
Shuangfei Ni and Huafeng Zhang jointly supervised this work.
About this article
Cite this article
Fan, Y., Ni, S. & Zhang, H. Associations of Copper Intake with Bone Mineral Density and Osteoporosis in Adults: Data from the National Health and Nutrition Examination Survey . Biol Trace Elem Res 200, 2062–2068 (2022). https://doi.org/10.1007/s12011-021-02845-5
Received:

Accepted:

Published:

Issue Date:

DOI: https://doi.org/10.1007/s12011-021-02845-5
Keywords