Abstract
Elevated levels of heavy metals like cadmium (Cd) and manganese (Mn) are known to lead to oxidative damage-related oto-toxicity and decreased levels of chromium (Cr) and selenium (Se) are known to lead to oto-toxicity due to reduced anti-oxidant activity. The aim of the present study was to evaluate serum levels of Cd, Mn, Cr, and Se and their relationship with tinnitus. A total of 48 patients with tinnitus (Group 1) and 40 healthy controls (Group 2) were included in the study. All participants were applied audiology tests. Severity of tinnitus was measured with Tinnitus Severity Index Questionnaire (TSIQ) in group 1. Serum Mn, Cd, Cr, and Se measurements were done by using The Agilent ICP-MS system consisted of a 7700 coupled plasma mass spectrometry (ICP-MS). Serum Cd, Mn, and Cr levels were higher in group 1 and Se level was lower in group 1 than that of group 2. We may conclude that Cd, Mn, Cr, and Se levels could play an important role in etio-pathogenesis of tinnitus, and thereby supplementation or reduction of these elements could be considered as novel therapeutic goals.
Access options
Buy single article
Instant access to the full article PDF.
US$ 39.95
Tax calculation will be finalised during checkout.
Subscribe to journal
Immediate online access to all issues from 2019. Subscription will auto renew annually.
US$ 399
Tax calculation will be finalised during checkout.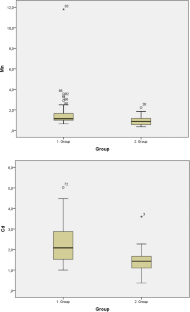 References
1.

Köksoy S, Eti CM, Karataş M, Vayisoglu Y (2018) The effects of yoga in patients suffering from subjective tinnitus. 22(01):009–013

2.

Martinez-Devesa P, Waddell A, Perera R, Theodoulou M (2007) Cognitive behavioural therapy for tinnitus. (1)

3.

Zenner H-P, Delb W, Kröner-Herwig B, Jäger B, Peroz I, Hesse G, Mazurek B, Goebel G, Gerloff C, Trollmann R (2017) A multidisciplinary systematic review of the treatment for chronic idiopathic tinnitus. 274(5):2079–2091

4.

Heller AJ (2003) Classification and epidemiology of tinnitus. 36(2):239

5.

Shargorodsky J, Curhan GC, Farwell WR (2010) Prevalence and characteristics of tinnitus among US adults. 123(8):711–718

6.

Günay O, Borlu A, Horoz D, Günay İ (2011) Tinnitus prevalence among the primary care patients in Kayseri, Turkiye. 33(1):39–46

7.

Person OC, Puga ME, da Silva EM, Torloni MR (2016) Zinc supplementation for tinnitus. (11)

8.

Koç S, Akyüz S, Somuk BT, Soyalic H, Yılmaz B, Taskin A, Bilinc H, Aksoy N (2016) Paraoxonase activity and oxidative status in patients with tinnitus. 20 (1):17

9.

Yaşar M, Şahin Mİ, Karakükçü Ç, Güneri E, Doğan M, Sağıt M (2017) The Role of Trace Elements in Tinnitus. 176(1):65–72

10.

Berkiten G, Kumral TL, Yıldırım G, Salturk Z, Uyar Y, Atar Y (2015) Effects of serum zinc level on tinnitus. 36 (2):230–234

11.

Coelho C, Witt SA, Ji H, Hansen MR, Gantz B, Tyler R (2013) Zinc to treat tinnitus in the elderly: a randomized placebo controlled crossover trial. 34(6):1146–1154

12.

Forman H-J, Fridovich I (1973) On the stability of bovine superoxide dismutase. 248(8):2645–2649

13.

Savastano M, Brescia G, Marioni G (2007) Antioxidant therapy in idiopathic tinnitus: preliminary outcomes. 38(4):456–459

14.

Signorelli SPG, Martini R, Di Pino L, Marraro S, Neri S (1992) Comportamento di alcuni parametri endoteliali (MDA) e coagulativi (Fibrinogeno e betatromboglobulina) in soggetti normali e arteriopatici. Min Angiol 17:77

15.

Paravicini TM, Sobey CG (2003) Cerebral vascular effects of reactive oxygen species: recent evidence for a role of NADPH-oxidase. 30(11):855–859

16.

Clerici WJ, Yang L (1996) Direct effects of intraperilymphatic reactive oxygen species generation on cochlear function. 101(1–2):14–22

17.

Takumida M, Anniko M, Popa R (1998) Possible involvement of free radicals in lipopolysaccharide-induced labyrinthitis in the Guinea pig: a morphological and functional investigation. 60(5):246–253

18.

Aubert A, Bernard C, Clauser P, Harpey C, Vaudry H (1990) A cellular anti-ischemic agent, trimetazidine prevents the deleterious effects of oxygen free-radicals on the internal ear. In: Annales D'oto-laryngologie et de Chirurgie Cervico Faciale: Bulletin de la Societe D'oto-laryngologie des Hopitaux de Paris. pp. 28–35

19.

Neri S, Mauceri B, Cilio D, Bordonaro F, Messina A, Malaguarnera M, Savastano M, Brescia G, Manci S, Celadini M (2002) Tinnitus and oxidative stress in a selected series of elderly patients. 35:219–223

20.

Gopal KV, Thomas BP, Mao D, Lu H (2015) Efficacy of carnitine in treatment of tinnitus: evidence from audiological and MRI measures—a case study. 26(3):311–324

21.

Zoidis E, Seremelis I, Kontopoulos N, Danezis GP (2018) Selenium-dependent antioxidant enzymes: actions and properties of selenoproteins. 7(5):66

22.

Seidman MD, Babu S (2003) Alternative medications and other treatments for tinnitus: facts from fiction. 36(2):359

23.

Yilmaz T, Koçcan EG, Besler HT, Yilmaz G, Gürsel B (2004) The role of oxidants and antioxidants in otitis media with effusion in children. 131(6):797–803

24.

Jain S, Lim G (2006) Chromium chloride inhibits TNFα and IL-6 secretion in isolated human blood mononuclear cells exposed to high glucose. 38(01):60–62

25.

Järup L, Berglund M, Elinder CG, Nordberg G, Vanter M (1998) Health effects of cadmium exposure–a review of the literature and a risk estimate. 1–51

26.

Choi Y-H, Park SK (2017) Environmental exposures to lead, mercury, and cadmium and hearing loss in adults and adolescents: KNHANES 2010–2012. 125(6):067003

27.

Ozcaglar HU, Agirdir B, Dinc O, Turhan M, Kilinçarslan S, Oner G (2001) Effects of cadmium on the hearing system. 121(3):393–397

28.

Ding D, Roth J, Salvi R (2011) Manganese is toxic to spiral ganglion neurons and hair cells in vitro. 32(2):233–241

29.

Ho JH, Leikin JB, Dargan PI, Archer JR, Wood DM, Brent J (2017) Metal-on-metal hip joint prostheses: a retrospective case series investigating the association of systemic toxicity with serum cobalt and chromium concentrations. 13(4):321–328

30.

Folmer RL (2002) Long-term reductions in tinnitus severity. 2(1):3

31.

Neri S, Signorelli S, Pulvirenti D, Mauceri B, Cilio D, Bordonaro F, Abate G, Interlandi D, Misseri M, Ignaccolo L (2006) Oxidative stress, nitric oxide, endothelial dysfunction and tinnitus. 40(6):615–618

32.

Davies KJ Oxidative stress: the paradox of aerobic life. In: Biochemical Society Symposia, 1995. Portland Press Limited, pp 1–31

33.

Halliwell B (1989) Free radicals, reactive oxygen species and human disease: a critical evaluation with special reference to atherosclerosis. 70(6):737

34.

Celik M, Koyuncu I (2018) A comprehensive study of oxidative stress in tinnitus patients. 70(4):521–526

35.

Gilles A, Ihtijarevic B, Wouters K, Van de Heyning P (2014) Using prophylactic antioxidants to prevent noise-induced hearing damage in young adults: a protocol for a double-blind, randomized controlled trial. 15(1):1–5

36.

Arikan TA, Kelles M (2019) Plasma selenium and cadmium levels in patients with chronic otitis media in a Turkish population and their relation to inflammation markers. 189(1):55–63

37.

Kim S-J, Jeong H-J, Myung N-Y, Kim M-C, Lee J-H, So H-S, Park R-K, Kim H-M, Um J-Y, Hong S-H (2008) The protective mechanism of antioxidants in cadmium-induced ototoxicity in vitro and in vivo. 116(7):854–862

38.

Agirdir BV, Bilgen I, Dinc O, Ozçağlar HÜ, Fişenk F, Turhan M, Oner G (2002) Effect of zinc ion on cadmium-induced auditory changes. 88(2):153–163

39.

Roels H, Lauwerys R, Buchet JP, Genet P, Sarhan MJ, Hanotiau I, de Fays M, Bernard A, Stanescu D (1987) Epidemiological survey among workers exposed to manganese: effects on lung, central nervous system, and some biological indices. 11(3):307–327

40.

Yazdkhasti F, Abtahi H, Mozafarinia K (2016) Serum iron, copper, zinc, chromium, manganese levels in idiopathic tinnitus patients in comparison with healthy individuals. 33(2):59

41.

Roth JA, Salvi R (2016) Ototoxicity of divalent metals. 30(2):268–282

42.

Lee DY, Kim YH (2018) Urine cotinine should be involved in initial evaluation of tinnitus in adolescents. 11(4):242

43.

Hazane-Puch F, Benaraba R, Valenti K, Osman M, Laporte F, Favier A, Anderson RA, Roussel A-M, Hininger-Favier I (2010) Chromium III histidinate exposure modulates gene expression in HaCaT human keratinocytes exposed to oxidative stress. 137(1):23–39

44.

Huiyong Y, Libin X, Porter N (2011) Free radical lipid peroxidation: mechanism and analysis. 111:5944–5972

45.

Kaya H, Koç AK, Sayın İ, Güneş S, Altıntaş A, Yeğin Y, Kayhan FT (2015) Vitamins A, C, and E and selenium in the treatment of idiopathic sudden sensorineural hearing loss. 272(5):1119–1125
Ethics declarations
Conflict of Interest
The authors have no conflict of interest.
Additional information
Publisher's Note
Springer Nature remains neutral with regard to jurisdictional claims in published maps and institutional affiliations.
About this article
Cite this article
Atila, N.E., Atila, A., Kaya, Z. et al. The Role of Manganese, Cadmium, Chromium and Selenium on Subjective Tinnitus. Biol Trace Elem Res 199, 2844–2850 (2021). https://doi.org/10.1007/s12011-020-02420-4
Received:

Accepted:

Published:

Issue Date:
Keywords
Tinnitus

Trace elements

ICP-MS

Serum